Corsair Obsidian 900D Super Tower Chassis Review
---
---
---
Peter Donnell / 9 years ago
Introduction
---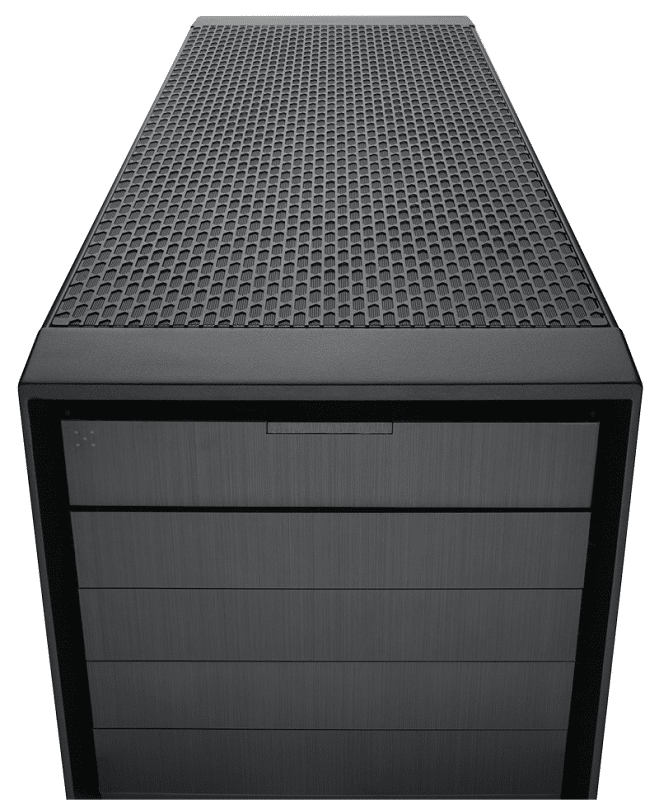 The Corsair 900D is a chassis that needs very little introduction, it is one of the great lords of the chassis world and has been ever since it was first created. It is huge, it is expensive and it packs more features than most anything else on the market. It's the prime example of what Corsair can do and while we've seen it at many trade shows and gaming events, packed to the brim with water-cooled graphics cards, we never really get to take a closer look at what it has to offer, nor are you really allowed to touch other people's 900D builds as they're often worth thousands of pounds.
Our build isn't going to be an epic water cooling rig, we here at eTeknix have seen that, what we want to do is take a good look at the chassis, not the systems people put inside it. At £299 each, the 900D is a far cry from cheap, and it is even further away from the kind of tech your average consumer will have use for. It's also incredibly big, so big that most desks wouldn't be tall enough or deep enough to accommodate it! This chassis is the reserve of the enthusiast market, those looking for something crazy. Or in Corsairs own words, the 900D is "understated overkill".
Just look at the specifications below, five radiator mounts, two of which are capable of housing 480mm radiators, fifteen fan mounting locations, even more if you mount push/pull fans on your radiators. Then we have nine hard drive bays, with room for fifteen bays if you purchase additional cages, four 5.25″ bays, ten expansion bays and room for not one, but two power supplies. To put it another way, this chassis has room for an insane amount of components!
Technical Specifications
Includes three 120mm AF120L and one 140mm AF140L exhaust fan
Brushed aluminium front fascia with full cast aluminium surround structure front and rear
Five radiator mounting points:

Front: up to 360mm
Top: up to 480mm (4 x 120) or 420mm (3 x 140)
Bottom side one: up to 480mm (4 x 120) or 420mm (3 x 140)
Bottom side two (with PSU installed): up to 280mm (2 x 140) or 240mm (2 x 120)
Rear: 140mm or 120mm

Up to fifteen total fan mount locations
Nine tool free 3.5" and screw-in 2.5" combo hard drive bays for maximum storage, upgradable to fifteen total (requires purchasing two additional cages)
Four tool-free 5.25" drive bays
Dual USB 3.0, quad USB 2.0 front panel I/O
Tool free side panel access to top panels.
Magnetic latch bottom HDD/Radiator chamber access with swing-out doors.
Full side panel window
Removable lower rad covers allow you to customize between cooling and clean, refined appearance
Three hot-swap bays integrated into one of three included modular hard drive cages
Ten expansion slots for multi-GPU dream systems
Dual PSU bays
CPU backplate cutout and rubber grommeted cable routing holes
Easily removable dust filters and fan covers
Snap-down cable routing latches and extra routing space behind the motherboard tray
PSU – ATX (not included)
So let's get right to it and see just how far your £299 goes when you purchase a super tower chassis like the 900D.
The box is pretty standard stuff, but does feature a few suggestions for the chassis, these include using it for a liquid cooled gaming rig, or a monster file server.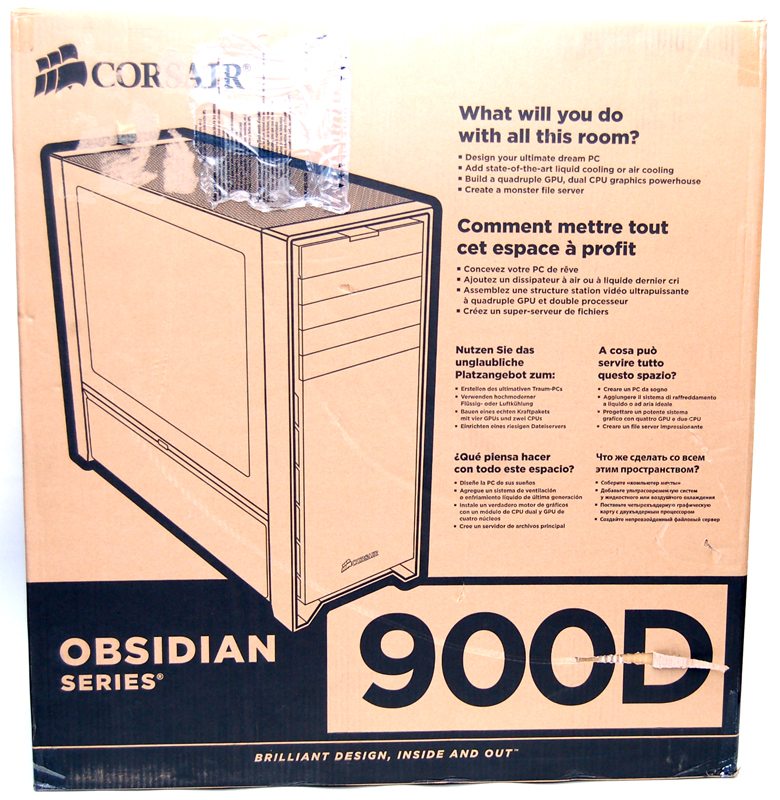 Around the back we have the technical specifications, as well as a great break down image of the chassis major components.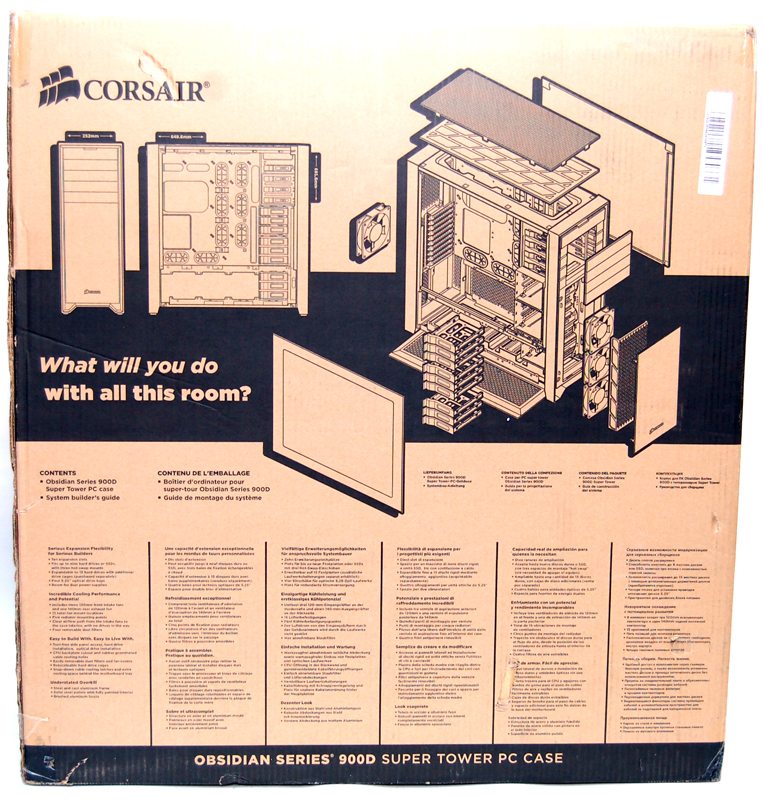 In the box there was a very limited quick start guide, leaving many of the chassis components and fittings to the imagination, a full manual would have been better. There are enough fittings and fixtures to get all major components installed, and Corsair even include a handy L-shaped screw driver to reach some of the trickier screws on the expansion slots.