Corsair Peripherals for around £150 – But Are They Any Good?
---
---
---
Peter Donnell / 4 years ago
---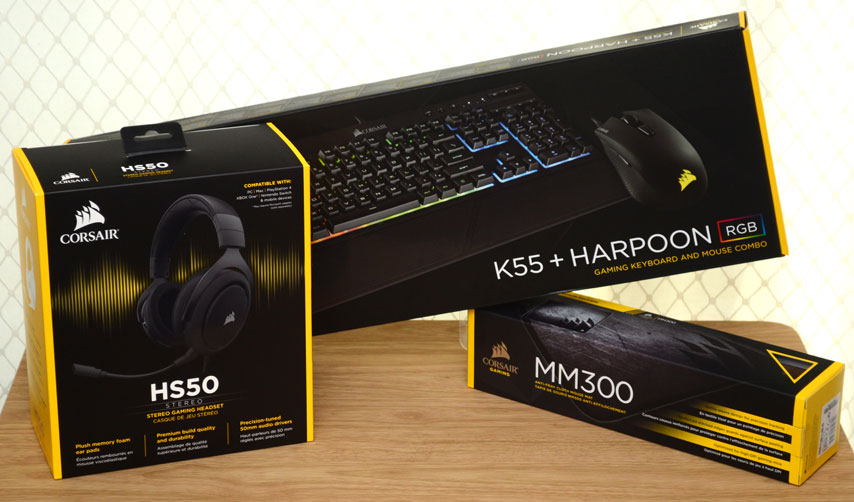 Corsair Peripherals!
Building a kick-ass gaming PC can be a demanding yet enjoyable adventure. Furthermore, it can also be affordable and it can be ludicrously expensive. We've done guides on how to build your first PC, such as these affordable systems. However, did you leave much in your budget for peripherals, or did you blow almost all of it on your shiny new GPU? Just how much can you get on a tight budget for gaming peripherals. Sure, you can go to your local supermarket and pick up some barely put together unbranded peripherals, but it's unlikely they're suitable for much gaming.
Why Corsair?
Corsair has a solid reputation in the gaming market. From their fantastic PC chassis, PSU and other hardware, to their keyboards, mice, headsets, and beyond. People love owning hardware from popular brands, and I don't blame them. However, while Corsair has keyboards that cost £150+ and other expensive peripherals, do you really have to spend big to get great performance? I don't think you do. Today, we have their HS50 headset, one of the best affordable stereo headsets on the market, as well as their K55 keyboard and Harpoon gaming mouse. Conveniently those last two even come in a slightly cheaper bundle. Finally, an MM300 mouse mat to complete the package. The total price for all this is around £150, which is pretty fantastic for a full setup, and less than the price of a single Corsair high-end mechanical keyboard.
Featured Hardware
HS50 Stereo Headset
K55 RGB Gaming Keyboard
Harpoon RGB Gaming Mouse
MM300 Gaming Mouse Mat
Specifications
For in-depth specifications of each device, please visit the official Corsair website here.
Disclaimer?
This isn't a paid feature or an advertisement, despite it looking like one. This is an article of my own creation, and while it focuses on Corsair hardware, expect to see other similar articles in the near future, with similar approaches using many other brands hardware, tailored towards various tasks, budgets and setups. Such as this Roccat one we did a few weeks ago!