Corsair Sabre RGB Pro Gaming Mouse Review
---
---
---
Peter Donnell / 6 months ago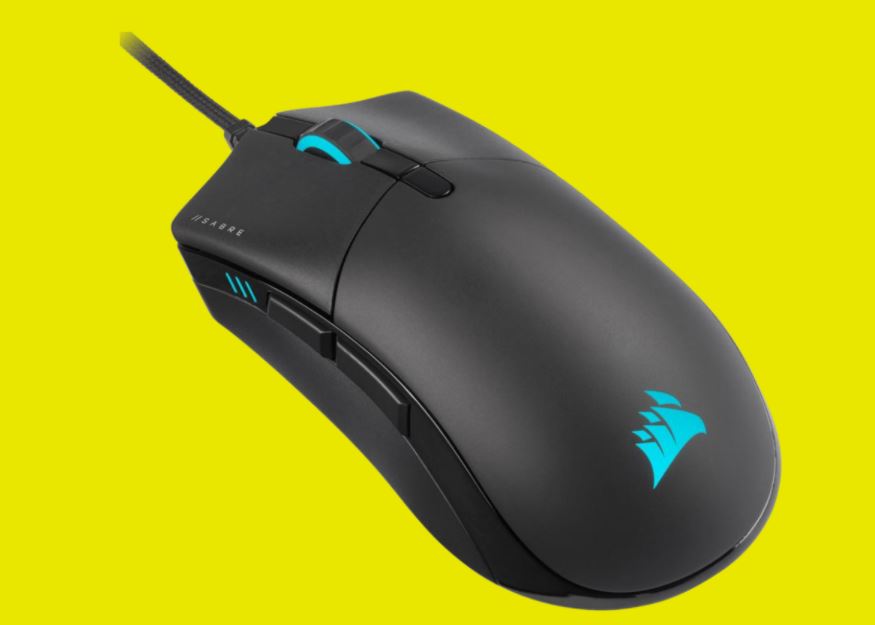 Gaming mice used to come with ways of adding more weight to balance them and adjust their feel, but it seems those days are long gone. The age of the heavy mouse is making way for the new wave of ultra-light gaming mice! Anything under 100 grams seems to be the goal, and they're proving extremely popular with gamers around the world. Today, Corsair is having a go at it with the Sabre RGB Pro Gaming Mouse. It clocks in at just 74g, so it should be pretty nimble. That's certainly not the lightest ultra-light I've seen, but it's certainly packing more features than many of its rivals too.
Corsair Sabre RGB Pro
This mouse isn't just built to be light, it's built for some serious speed too. Everything about it is tuned for class-leading performance. Corsair has equipped it with their new AXON Hyper-Processing Technology, allowing it to run with an 8000Hz polling rate. Corsair Quickstrike Buttons and Omron switches, a low-drag paracord cable, and the stunning PixArt PWM3392 sensor, which can deliver 450 IPS and 50G acceleration, as well as 1 DPI resolution steps up to a whopping 18,000 DPI. If most gaming mice are like sports cars, this one is a hypercar!
Features
Built for Champions: CORSAIR CHAMPION SERIES products are designed for and tested by top esports professionals – helping to carry you to victory with a tournament-grade mouse featuring a comfortable ergonomic shape for claw and palm grips, long-term comfort, and fast movement with hyper-responsive inputs.
Ultra-Light Agility: Weighing in at just 74g to support rapid movements and twitch reflexes, the SABRE RGB PRO's sturdy design keeps up with your longest matches.
CORSAIR QUICKSTRIKE Buttons: Spring-loaded design delivers zero gap between the primary mouse buttons and their switches, so your clicks, shots, and spells are faster than ever.
CORSAIR AXON Hyper-Processing Technology: Transmits your movements and clicks to your PC up to 8x faster than conventional gaming mice with 8,000Hz hyper-polling.
Drag-Reducing Paracord Cable: An extremely light and flexible cable with a paracord weave dramatically reduces resistance and drag to keep your mouse movements fluid and agile.
Native 18,000 DPI Optical Sensor: A custom PixArt PMW3392 sensor, with 450 IPS tracking at up to 50G acceleration, delivers unbeatable precision fully customizable in 1 DPI resolution steps.
Durable OMRON Switches: Built with trusted OMRON left and right-click switches, guaranteeing tournament-grade performance for 50 million clicks.
Five Onboard DPI Presets: Can be re-programmed to tune your sensitivity steps on the fly, and cycled through using a dedicated DPI button with LED indication.
Dynamic Two-Zone RGB Backlighting: Choose from preset lighting effects or create your own with near-limitless customization in iCUE software.
100% PTFE Glide Pads: Mouse feet built from ultra-low friction PTFE pads offer the smoothest glide and quickest movements and are easy to replace if it gets worn down on your journey to the top.
Powerful iCUE Software: Enables quick DPI adjustments, with custom macros or button remaps for all six mouse buttons in a single interface.
What Corsair Had to Say
"The CORSAIR SABRE RGB PRO CHAMPION SERIES Gaming Mouse is designed for and tested by esports pros, weighing an ultra-light 74g and equipped with a drag-reducing flexible paracord cable for responsive, unhindered movements. CORSAIR QUICKSTRIKE Buttons ensure every click is immediate and responsive, while CORSAIR AXON hyper-processing technology delivers inputs to your PC up to 8x faster with 8,000Hz hyper-polling. The SABRE RGB PRO is equipped with an 18,000 DPI optical sensor customizable in single DPI steps, with a DPI button to cycle through five presets on-the-fly. Finished with high-quality materials such as 50 million click-rated OMRON switches and 100% PTFE glide pads, the SABRE RGB PRO cuts through the competition."