Corsair Vengeance M65 FPS Laser Gaming Mouse Review
---
---
---
Peter Donnell / 11 years ago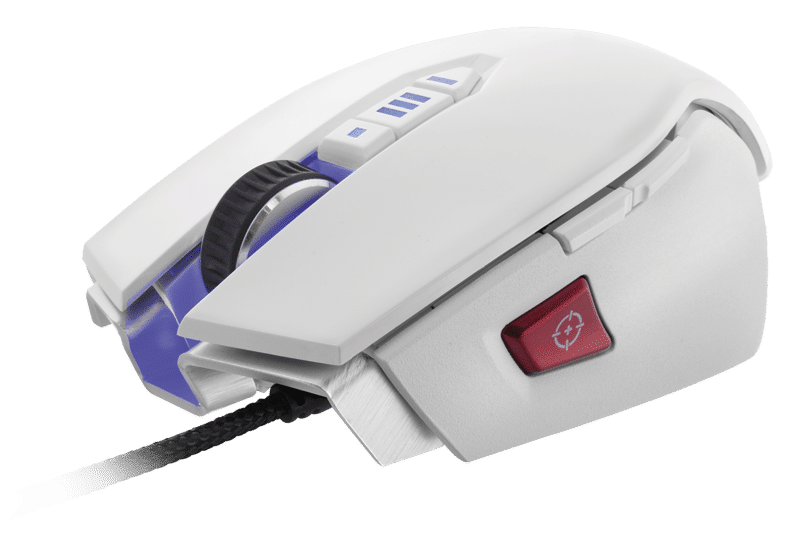 Corsair is one of the biggest names in the business when it comes to computer components, with a range that includes many award-winning products such as their SSDs, RAM, Chassis, Keyboards, Mice and more. There is no doubt that Corsair have a strong following in the gaming community thanks in no small part to some of their high performance gaming peripherals, but there is certainly much more to the company that just gaming, with a strong history of producing reliable products since they company formed back in 1994.
"Founded as Corsair Microsystems in 1994, Corsair originally developed Level 2 cache modules for OEMs. After Intel incorporated the L2 cache in the processor with the release of its Pentium Pro processor family, Corsair changed its focus to DRAM modules, primarily in the server market. In 2002, Corsair began shipping DRAM modules that were specifically designed to appeal to computer overclocking enthusiasts. From its roots in  high-performance memory, Corsair has expanded its award-winning product portfolio to include ultra-efficient power supplies, builder-friendly cases, ground-breaking CPU coolers, blazing-fast solid-state drives, and other key system components."
In the last 20 years Corsair has gone from strength to strength and right now they have one of the strongest product lineups of any brand on the market, and I'm hoping quite a bit that the M65 gaming mouse I'm looking at today not only lives up to my standards as a gamer, but also as a fan of some previous Corsair products.
Gaming is big business and when you start to get to the standards of a performance gaming mouse, which in most cases cost £50 and beyond, your starting to get pretty serious about it. The M65 is prices at a fraction under £50 at most popular retailers and for a gaming mouse that's pretty good value, so long as the performance is up to scratch of course. Yet £50 is still a fair bit of money to a lot of people (myself included) and once you start paying that for a product like a gaming mouse your going to want to see a good amount of performance, build quality and overall reliability for your money, all of which I will be looking for today.
In terms of features, the M65 doesn't disappoint and with onboard profiles (selectable from the mouse), aluminum frame, weight adjustment system and more, which is a very impressive feature set for a mouse in this price range.
Onboard Profile Storage
Aluminum Unibody Design
Adjustable Weight System
Selectable Response Time
Tune the performance for your desktop surface by choosing between 1000Hz, 500Hz, 250Hz, or 125Hz (1ms, 2ms, 4ms or 8ms).
High-Mass, solid metal, rubberized scroll wheel
Switches Rated for 20 Million Clicks
Soft-Touch Materials
PTFE Glide Pads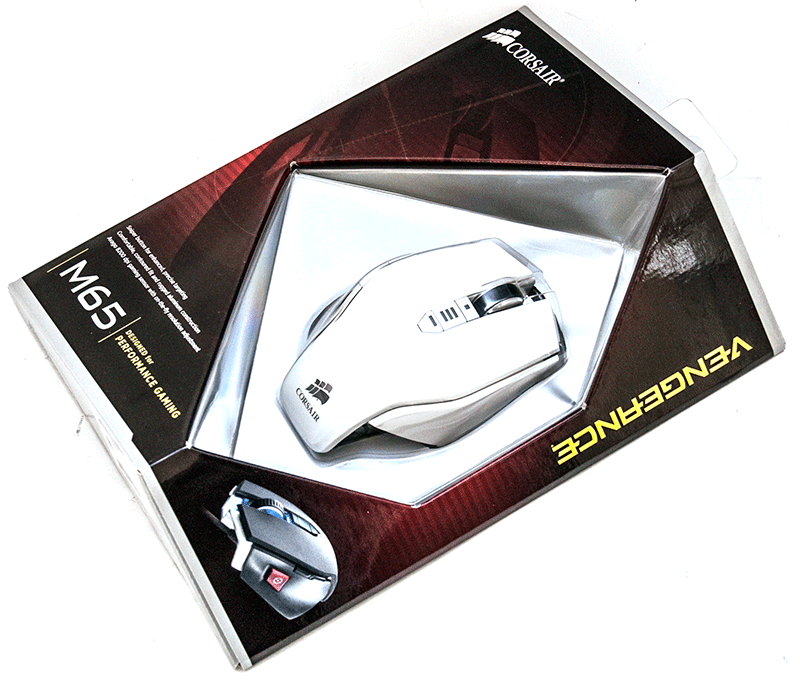 The M65 comes neatly packed with the Vengeance branding and a plastic window so we can get a great view of the mouse its self, not too important today of course as I will be taking it out of the packaging. There we no extras in the box other than a simple user leaflet, but in fairness, that's all we really need and any software required can be downloaded from the Corsair website with ease.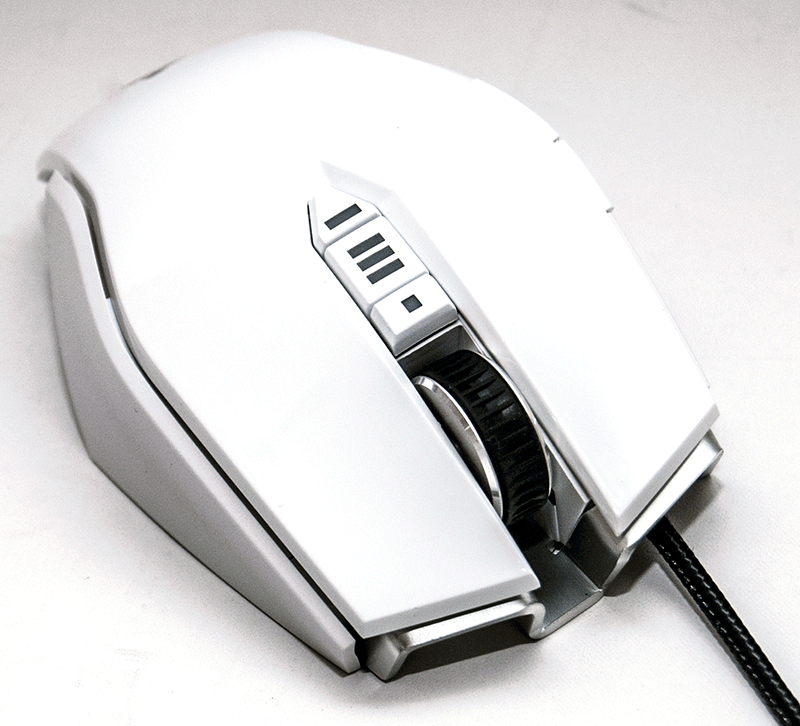 Finished in a high gloss white, the top shell of the mouse is a single mould of plastic that forms the left and right mouse buttons. In the middle we have a DPI sensitivity up button, a 3 LED sensitivity indicator and a DPI sensitivity down button, perfect for calibrating the mouse on the fly while gaming, or even while your just browsing the web.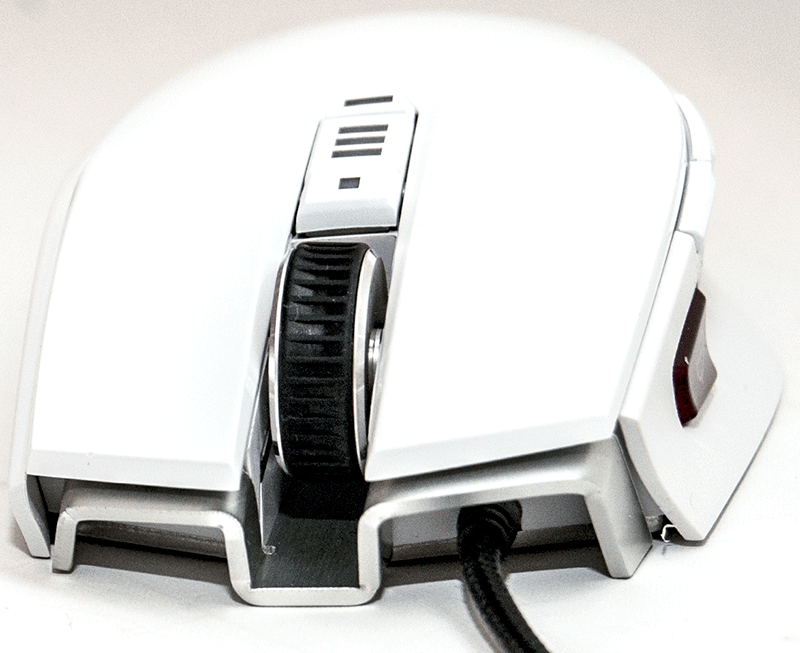 In the centre we have a very high quality metal scroll wheel with a rubber grip coating, the mouse wheel also features a light but nicely tactile "bump" when rolling and a much stronger "click" when pressed, both of which are important for feedback while gaming. Here you can also see the custom shape of the aluminum chassis as it arches under the mouse, not only does exposed aluminum look seriously cool, the shape also reminds me of the air intakes of a fighter jet or sports car.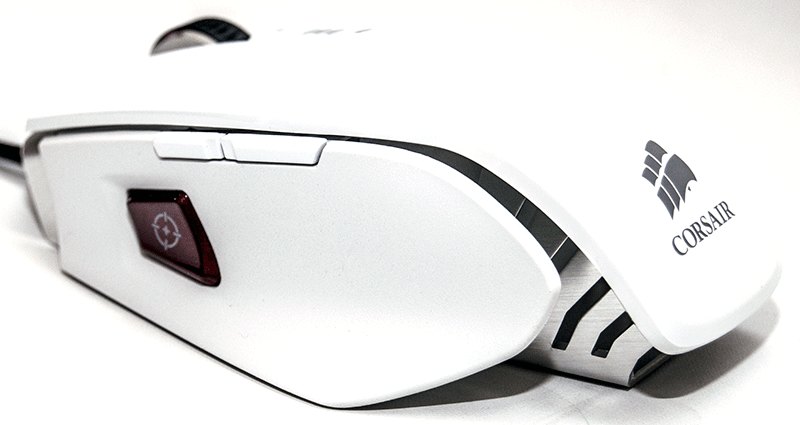 Down the left side of the mouse we have a soft touch textured panel, a stark contrast to the high gloss textureless top panel of the mouse, here you will also find the forward and back tab buttons which are also lightly textured and finally the one that you cannot miss, the cool looking big red button. This is your on the fly DPI switch that can be used to change you sensitivity when the button is held, perfect for dropping down and getting maximum precision on those all important long-range shots, hence the cross hair logo on the button.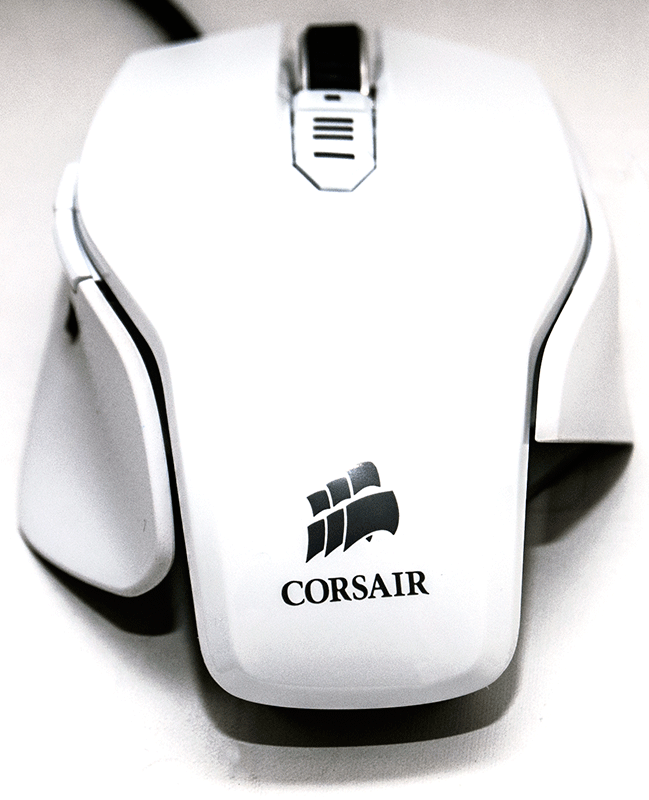 The back of the mouse features a steep curve that fits nicely into the palm of your hand and the cutaway between the side panels are well placed, so don't feel like they're sticking out in any way.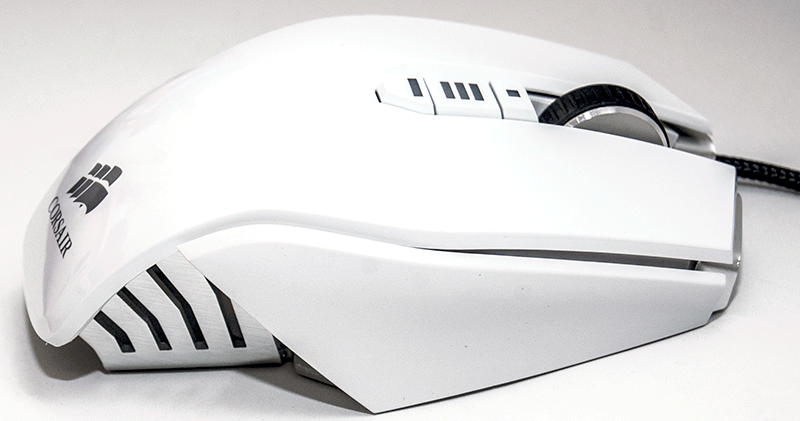 The right side panel also features the textured surface of the left side, both panels combined give you something you can really get a grip on, it compliments the glossy top quite nicely and I really like the mixture of textures. Here you can also see the back part of the exposed aluminum chassis which runs under the mouse, featuring finned cut-outs that certainly adds a touch of coolness to the overall design.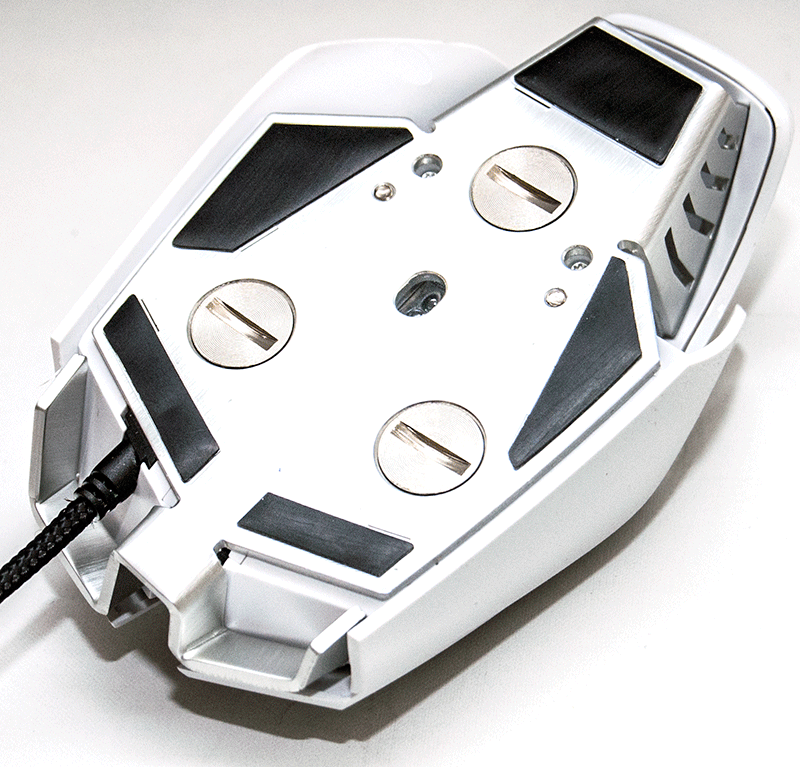 The underside of the mouse is constructed of the same single piece of aluminum and this will go a long way to making the mouse strong, durable and hopefully reliable, not to mention it looks fantastic. There's a selection of five teflon slipmats here and this should provide a good amount of glide on almost any gaming surface.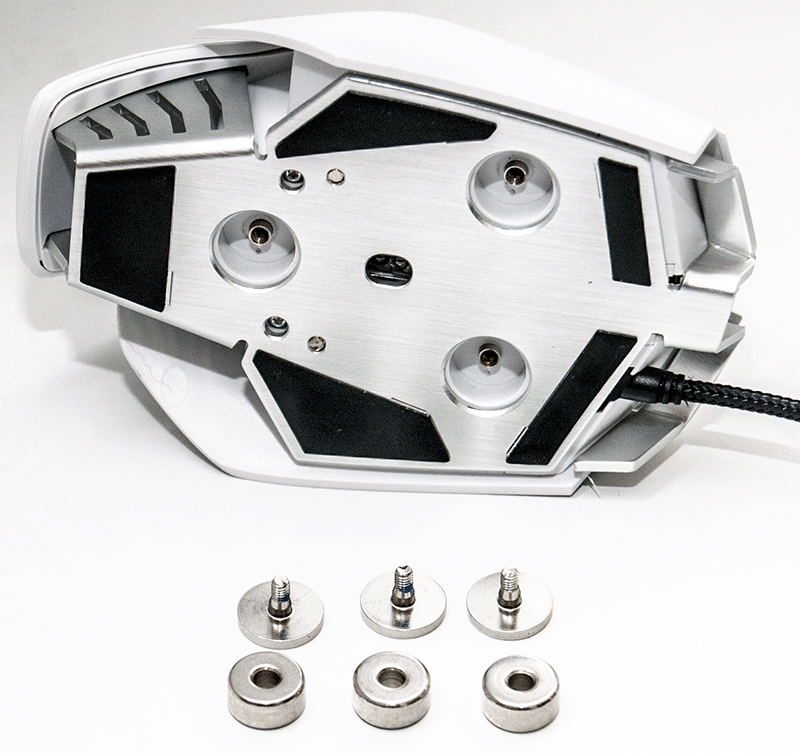 Aside from the center laser sensor we also have three removable weights, each of which is held in by a weighted screw and removing or added each of these will help you balance the weight and feel of the mouse to your liking.
Setup & Installation
initial setup is as simple as plug-and-play, your good to get on with your work and gaming out of the box without any issues. However, if you really want to explorer that the M65 has to offer, the included software must be installed, here you can customise macros, button configurations, sensitivity, lift off hight, DPI presets, sniper button sensitivity, monitor your gaming surface quality and more, its impressively versatile and much more than I expected within this price range.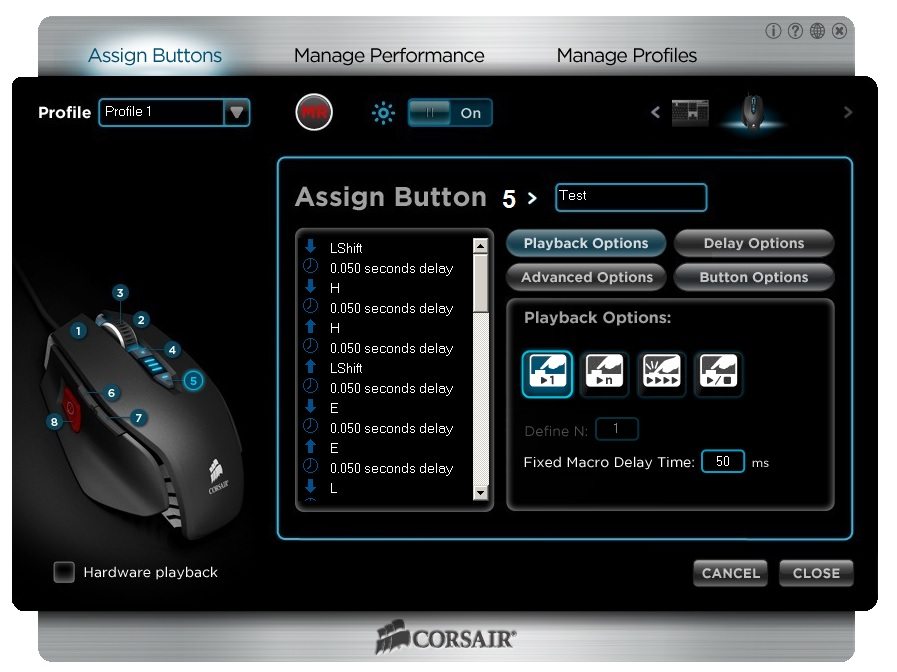 Gaming
Given that this mouse features a sniper button it only seemed fair to use it in a game that is really going to allow me to reap the benefits of such a feature. Straight into Battlefield 3 and got my self into a few good camping spots and while it took me a few attempts at calibrating the sensitivities to my preference, once I had the right ones dialed in there was an immediate and massive improvement in my accuracy, especially at long-range. Having a quick turning speed is vital in games like BF3 yet having it set high can really effect your shooting accuracy, where most mice require you to use the DPI toggle up/down keys, being able to push that sniper button is far more effective, quicker and it means you never have to take your finger off the trigger, literally.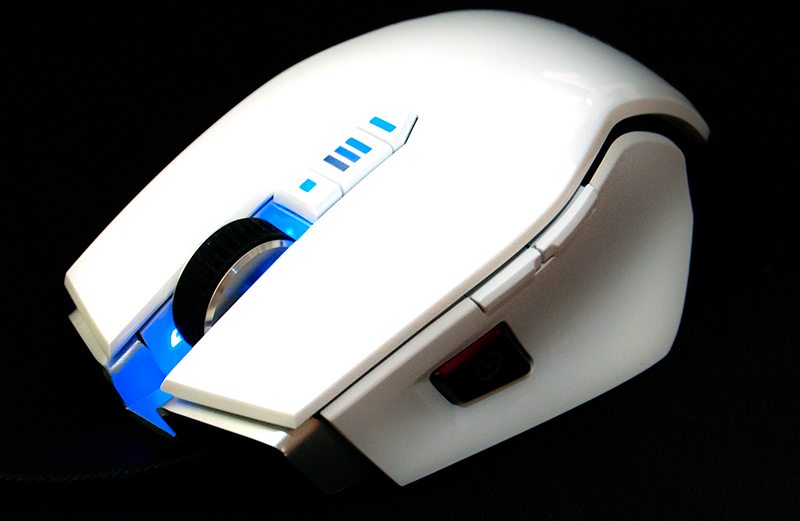 General Performance
The customisable weight and the plentiful slipmats on the base of the mouse make it ideal for just about any gaming surface, while I prefer a softer mat, the M65 performs flawlessly on cloth, padding and even just the wood of your desk without missing a beat.
Browsing the web, working in Photoshop and other general day-to-day tasks are well suited to the M65. It features nice ergonomics and the buttons are nicely placed to make for a comfortable experience over long periods of time and being able to go from work to gaming isn't a problem for the mouse thanks to its customisable profiles and on the fly DPI adjustments.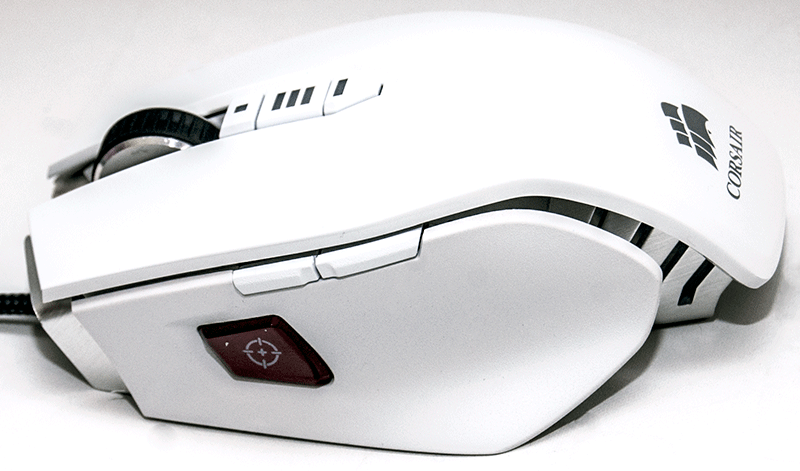 Overall I think Corsair have out done them selves here, the M65 is easily one of the most feature packed mice within this price range and while I expected to be impressed by it given Corsairs reputation in the industry, I wasn't expecting a level of build quality, performance and features as what I found here today.
When I look around the reviews I have done in the past and my own general knowledge of other products as a consumer and a gamer myself, I see quite a lot of choice for around £50 from just about every major peripheral manufacturer and while they all offer something great for around £50, I can see any that offer the same as Corsair for such a modest investment. Most mice within this price range usually feature a two piece plastic mould construction that is simply screwed or clipped together, yet Corsair have gone the extra mile in terms of build quality and of course style by giving this mouse an Aluminum chassis, with three high quality ergonomic top panels bolted on top that looks and feels like a product that should cost nearly twice as much as it does.
Extra value for money can be found with the customisable macros, the very cool looking sniper button that actually does improve gaming performance, rock solid all round performance for day-to-day tasks and being able to customise and balance the weight of the mouse thanks to the included weight system on the underside is a massive bonus for many.
Gaming is big business and having the best tool for the job can make or break your gaming experience, while this won't necessarily make you a better gamer it does go a long way to making your gaming experience more enjoyable and the less you have to worry about your peripherals performance and settings, the more you can focus on your mission. I really like this mouse and I think Corsair have hit on a winner here, a verdict I expect many other gamers will agree with.