Corsair Voyager Air 2 1TB Wireless Hard Drive Review
---
---
---
Ryan Martin / 9 years ago
Introduction and A Closer Look
---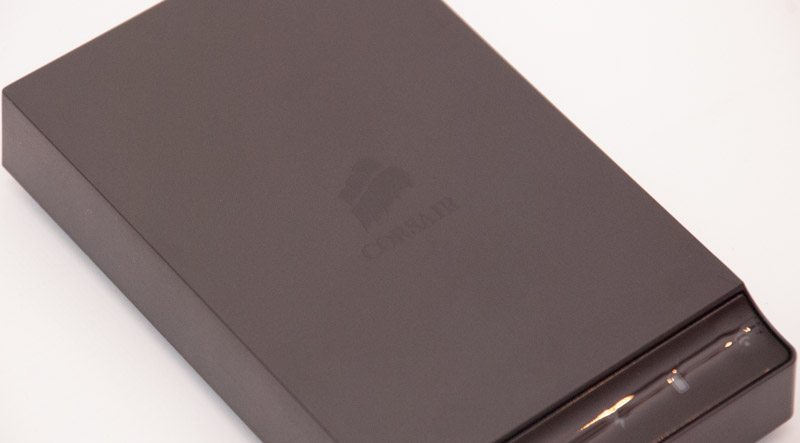 For the modern computer user a smartphone or tablet is a vital accessory: sure the desktop PC is great for a lot of things the notebook, tablet and smartphone aren't, but some times you just need to get away from the desk. Yet one of the main issues with mobile computing form factors is that they lack the storage capacity of the desktop form factor- most consumer tablets and smartphones will sport less than 64GB which is hardly a mind blowing amount of storage. How do you get around that? Well cloud storage is one option but generally speaking you will always be fairly limited by your ability to upload to it, even if download is fairly snappy. A better option is network attached storage (NAS) but even that can be fairly cumbersome and still isn't portable, unless you're fairly technical and are capable of setting up your own internet gateways for access outside your home. When you've exhausted those options the new Corsair Voyager Air 2 offers a smart alternative.
The Voyager Air 2 is, quite obviously, Corsair's second iteration of the Voyager Air product line. The new variant comes with some improvements over the past generation such as improved software, a redesigned enclosure and DLNA compatibility for improved media accessiblity. It also loses a few things, around 20% of the price and a Gigabit ethernet port. That aside the raw concept is still the same: a battery powered 2.5 inch hard drive enclosure that you connect to directly with WiFi. This connection is made fairly simply as the Voyager Air 2 is capable of broadcasting its own WiFi network and SSID and can accept multiple client connections and numerous simultaneous streams. Indeed it all sounds very exciting so let's take a look at what the product has to offer in this review.
Packaging and Contents
The Voyager Air 2 comes neatly presented in a fairly compact box.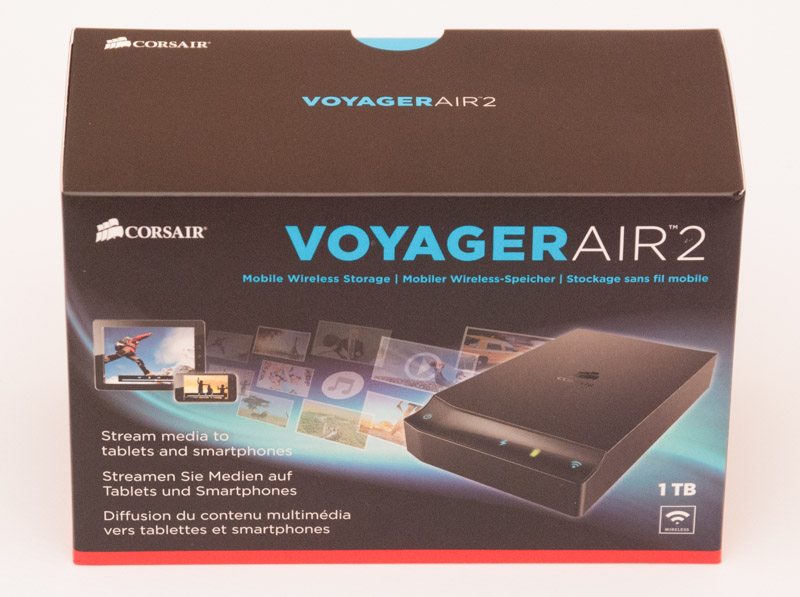 Around the back of the box we find a more detailed description of the product and crucially information about the provided app and where to download it.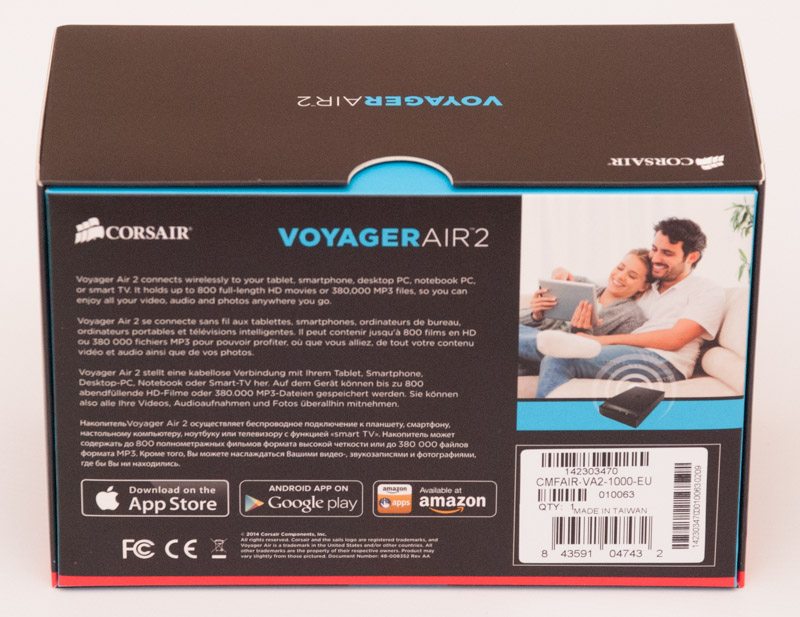 The accessory package is very basic, a normal USB 3.0 cable with a micro USB 3.0 connector for the Voyager Air 2, and an instruction manual in multiple languages.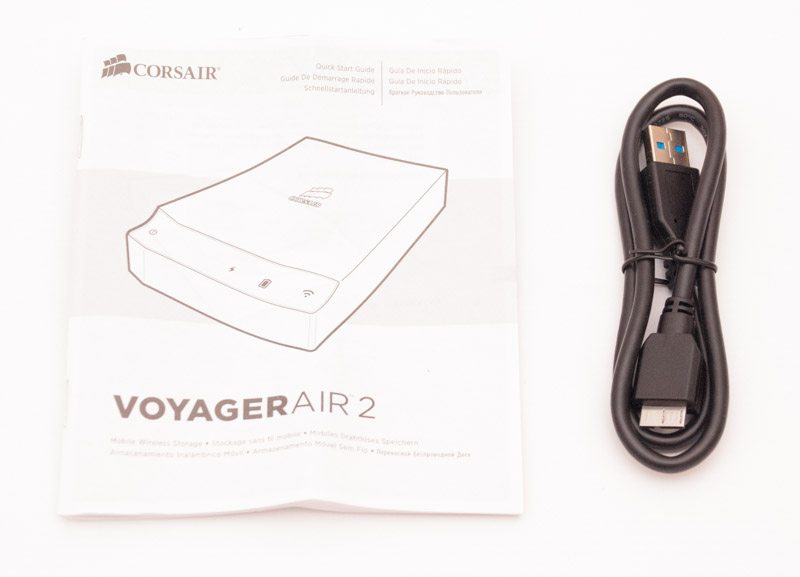 A Closer Look
The unit itself is fairly compact thanks to the use of a 2.5 inch hard drive, as opposed to a 3.5 inch drive. The use of the 2.5 inch drive also means lower power consumption and space for the battery and wireless module that give this device so much functionality.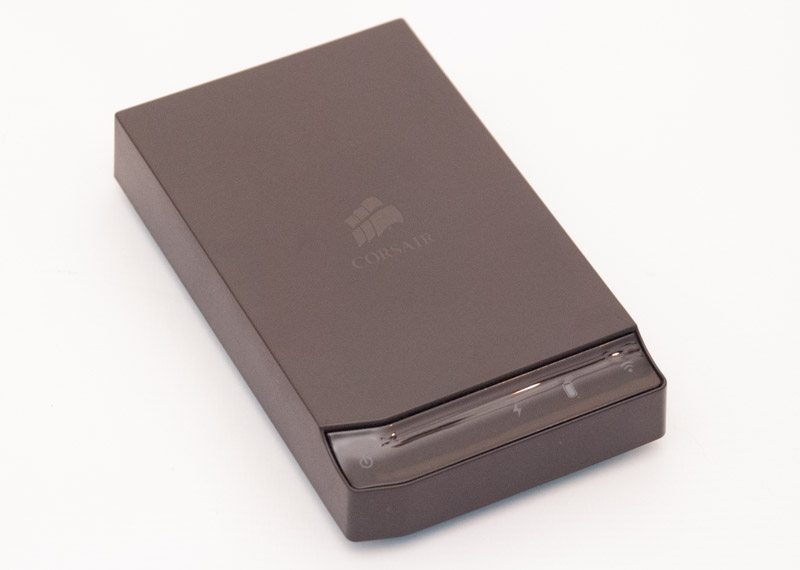 At the front we find the buttons and LED indicators combined. There are two buttons, one on the left which is the power button and one on the right which turns the WiFi on and off. Both the buttons are "trackpad style" in that they are on a rocker mechanism, much like you'd have on a left/right mouse click button on a notebook trackpad. The LEDs are as follows: device power indicator, direct power indicator (through the rear power jack), battery indicator (which changes colour depending on the remaining battery capacity) and the WiFi indicator (which is either on and blue, or off).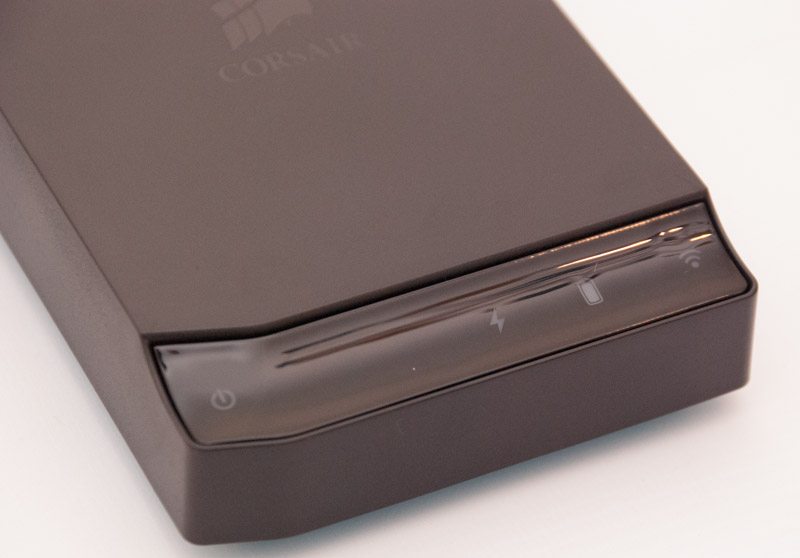 At the back of the unit there's a micro USB 3.0 connector as well as a power jack, Corsair do sell wall plug adapters and Car adapters to power this unit but sadly these are both separate purchases and are not included with the unit.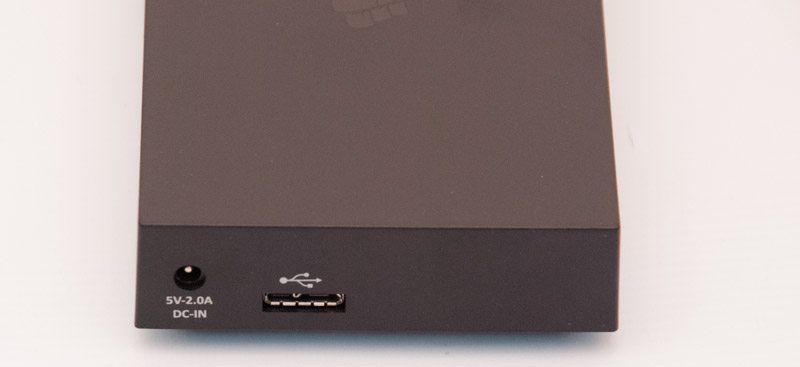 When you fire up the Voyager Air 2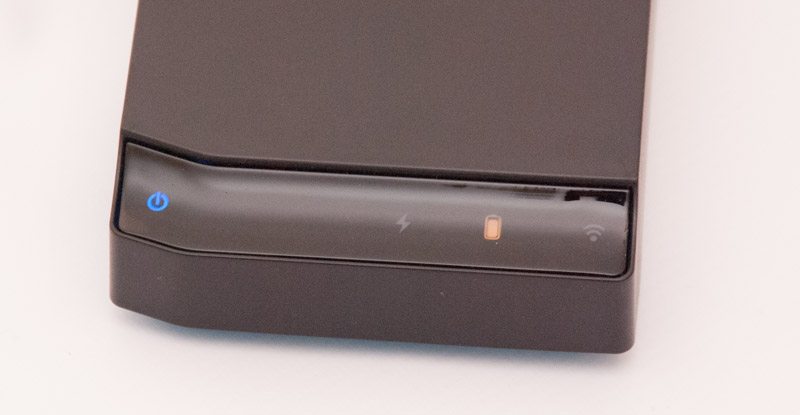 The bottom of the unit is fitted with a rubber material which serves two purposes: vibration (noise) dampening and slip prevention.