Cougar 450K Hybrid Mechanical Gaming Keyboard Review
---
---
---
Peter Donnell / 5 years ago
A Closer Look
---
The general design of the keyboard is certainly quite stylish, with some really dark black plastics that have a light textured matte finish to them, but also have a slightly glossy quality to them too. The rear corners of the keyboard are cut away too, giving it a nice visual break from the usual rectangular design of so many other keyboards.

At its core, this is a fairly standard keyboard layout, so there are no crazy macro switches dotted around it, but there is a nice little FN shift key here, allowing you to access a range of macro functions from the rest of the keyboard, all of which can be configured using the UIX software, but saved to the keyboards on-board memory for ease of use.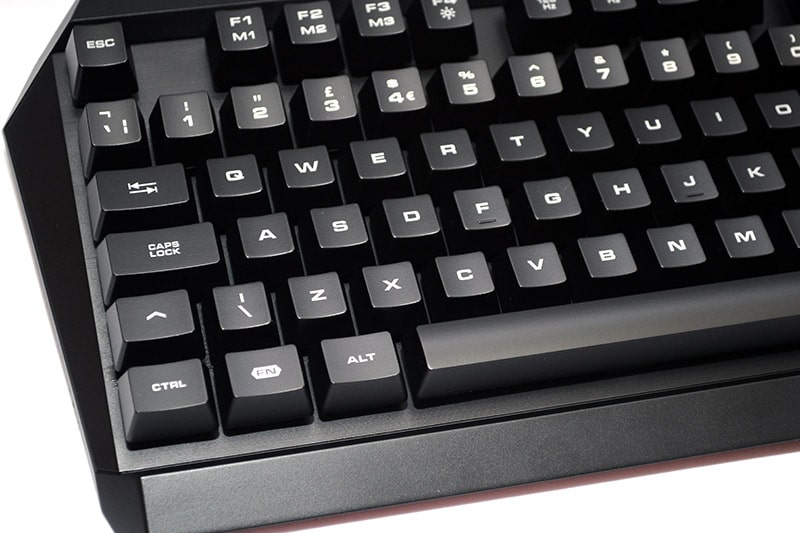 The key caps are nicely designed, with large and clear lettering that really stands out. The F1-3 keys have a secondary function for profiles, and F4 has a master lighting control; all accessible via the FN-shift key.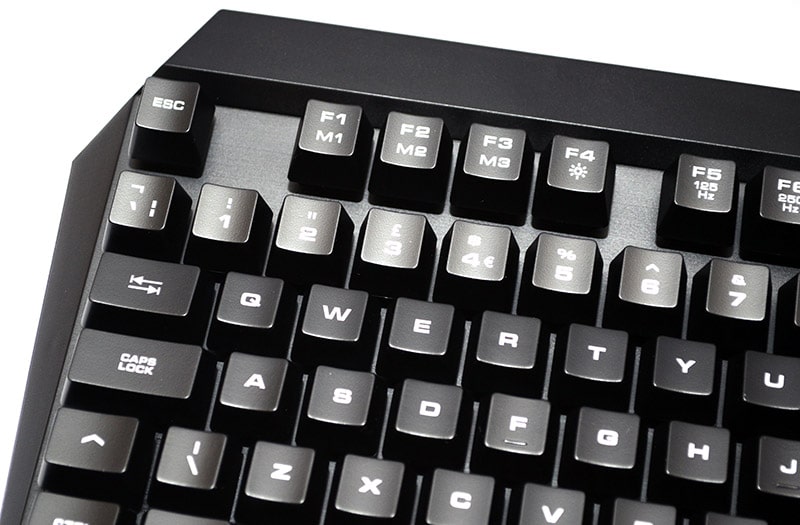 Moving across the top, you'll find more FN-shift functions, such as the adjustable polling rate, and some multimedia keys. While I do prefer dedicated multimedia keys, these are certainly better than not having any, and it's a big advantage for flicking through your music collection while working or gaming.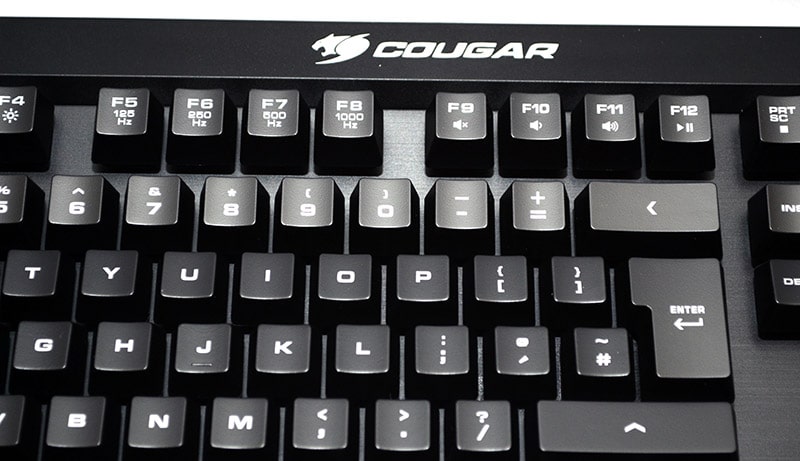 There's a full-size number pad on the right, all pretty straight forward stuff. The backplate for the keys is nicely designed, it may be plastic, but it has a light texture that looks like black brushed aluminium; it's a minor detail, but a nice one.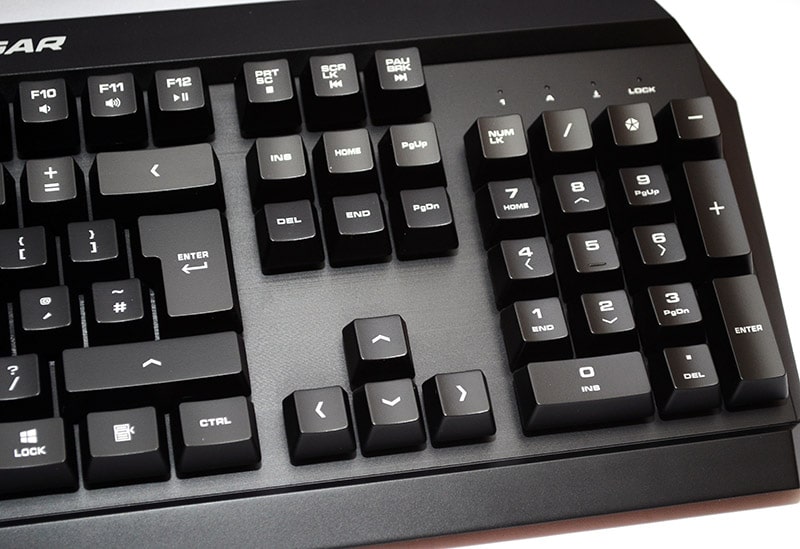 There's a little bit of trim at the bottom edge of the keyboard too, it's not big enough to get in your way or use as a wrist rest, but it does help with the overall rigidity of the keyboard and gives the keys a nice recessed look.
There's a little red trim at the front edge of the keyboard, but on the underside, there's certainly a lot more of it. There are a few firm rubber grips, helping keep it planted on your desk when you're mashing at the keys. There's also a few holes, which allow for any spilt drinks to drain through the keyboard, handy if you're a little clumsy.

There's two flip-up feet at the back for those that like to increase the typing angle, and you'll be glad to know there are also two extra grips on these, so you're not losing too much traction by doing so.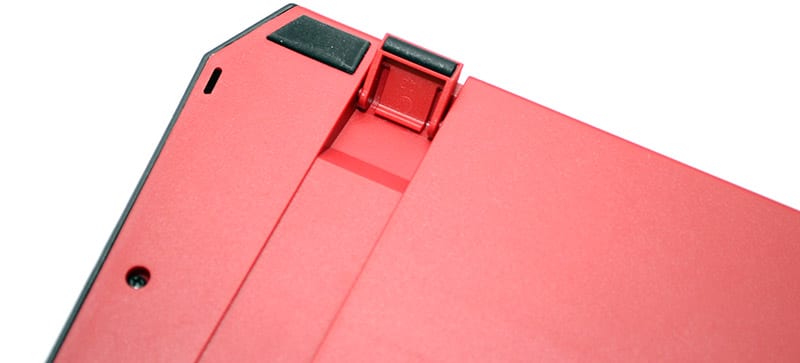 The LED lighting on this keyboard leaves a lot to be desired. It looks nice enough in a darker room, but here in a reasonably well lit room, it looks quite faded, even on the brightest of the three settings. This is especially noticeable on the number row, which seems to look like the light isn't quite catching the keys fully. It's nice to have, but I'd be more inclined to leave it turned off during the day and only use it on a night-time when it provides an actual benefit to use rather than for visual flair.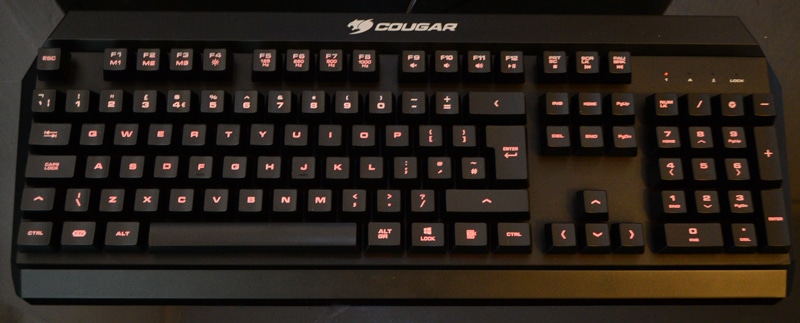 Lighting aside, the keyboard is a lot of fun to use. It may look pretty standard in terms of key layout, but having a range of macro functions add a nice dynamic that really helps in more demanding games. I set a few macros as program launchers, as well as a few commands for when I'm playing Elder Scrolls Online and it certainly worked well enough. Being able to save all these settings to the keyboard is great too, as it means I can take the keyboard with me and not have to worry about software. The keys have a really nice tactile pop to them too, it's not as nice as say, MX Brown Switches, but it's still an improvement over normal membrane switches. The tactile feel gives you a good response for fast keystrokes and is fast enough for a frantic game of League of Legends.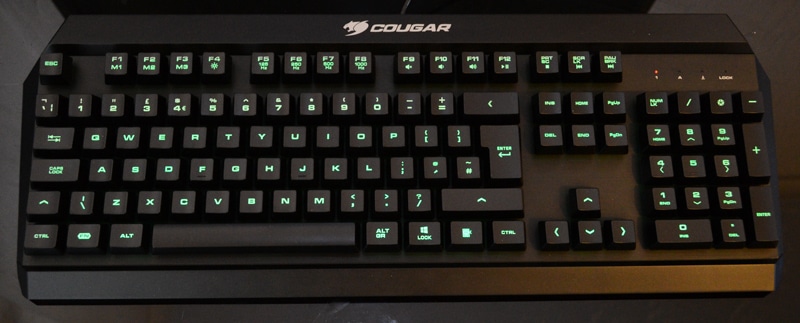 Day to day work and gaming are both a joy, it's light and fast to type on, not too noisy and has just enough features to leave you feeling satisfied. The multimedia functions are a welcome bonus if you listen to a lot of music, the macro keys work really well and while not the brightest, the LED lighting is a nice extra touch to have.