Cougar Armor S Gaming Chair Review
---
---
---
Peter Donnell / 2 years ago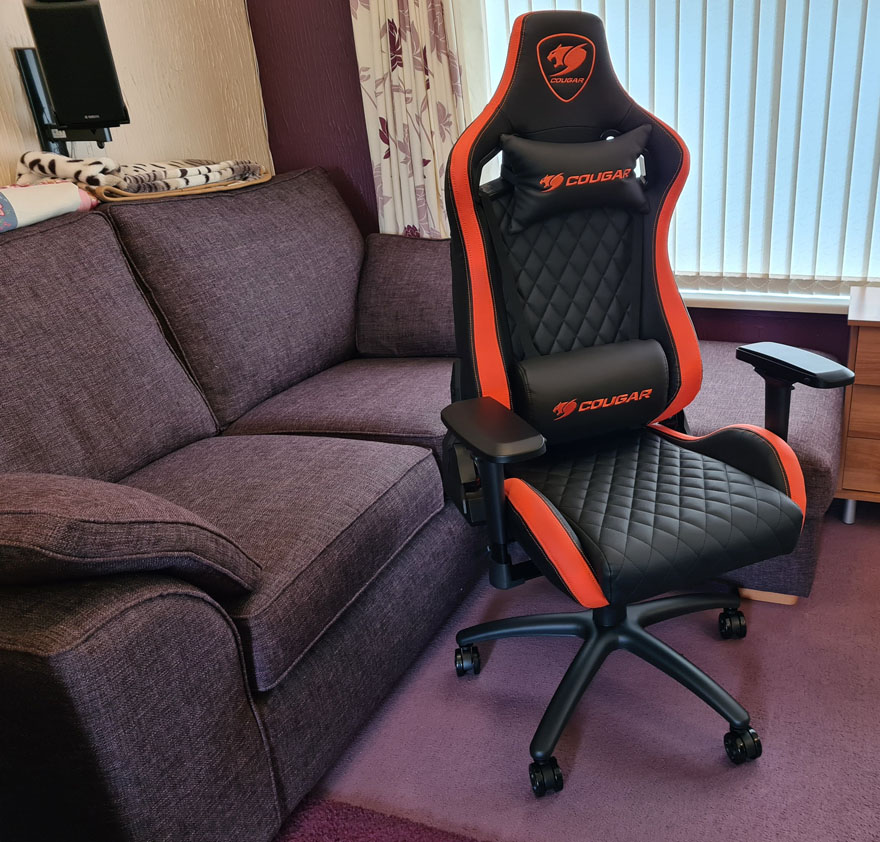 Cougar is easily one of my favourite gaming brands. Sure, they may not be as big as the likes of MSI, ASUS or Corsair, but that's because they mostly focus on components and peripherals, rather than hardware like motherboards and GPUs. Cougar has a staggering range of PC cases, keyboards, mice, headsets, and a host of gaming furniture too. Today, I'll be digging into their new Armor S gaming chair, which is designed (and priced) to be an upper-mid-tier solution. It'll ideally suit those wanting something above more standard models, offering the features and designs we've come to expect from more expensive models, but at a much more competitive price.
Cougar Armor S
The Cougar Armor S is certainly well equipped, with a high-back reclining design that's loaded with ergonomic tricks to improve the overall comfort and usability. The back can be reclined and locked, while also providing side wings, a head pillow and a lumbar support pillow for improved comfort. There's a tilting/rocking base with lock, height adjustable gas lift, and multi-adjustment armrests too. This is impressive, as that's a feature set and design that rivals that of brands like noblechair, but at almost half the price.
Features
Body-embracing High Back Design- Endowed with an ergonomic design created especially for gamers, COUGAR Armor S has been created to comfortably support your body. Its high back structure will properly support your lower back, minimizing tension there.
Breathable Premium PVC Leather – Armor S brings you only the best. Its extra-thick premium PVC leather feels good to the touch and allows air to pass through, which will keep you fresh and comfortable.
Head and Lumbar Pillow – To provide additional support and comfort, Armor S includes two comfortable pillows for your head and lumbar region. Focus on the game!
Continuous Reclining – With Armor S you are not restricted to fixed steps when reclining your chair. Instead of being limited to a few options, you can find the exact point that maximizes your comfort and stay there. 180º Reclining​ Armor S allows you to recline up to 180º. Stay straight while working and lie down for resting when you're over.
Ultimate Quality: Class 4 Gas Lift Cylinder – The heart of any gaming chair is its gas lift cylinder. We have not skimped in quality for this vital component and decided to use a Class 4 Gas Lift Cylinder to guarantee unparalleled safety and reliability.
What Cougar Had to Say
"ARMOR S Play like a King COUGAR Armor S has been designed for those who want not only superb comfort but also a set of luxury features that bring their gaming experience to a new level. With premium PVC leather, a high-density special foam and a unique diamond check pattern, this gaming throne is fit for the kings of the online arenas. COUGAR Armor S brings you the comfort you need to thoroughly enjoy long gaming sessions. Fully adjustable and made of first quality materials, this gaming chair also features the unique COUGAR design that has become a sign of the passion for gaming."