Cougar Panzer Max Full-Tower Chassis Review
---
---
---
Peter Donnell / 6 years ago
Introduction
---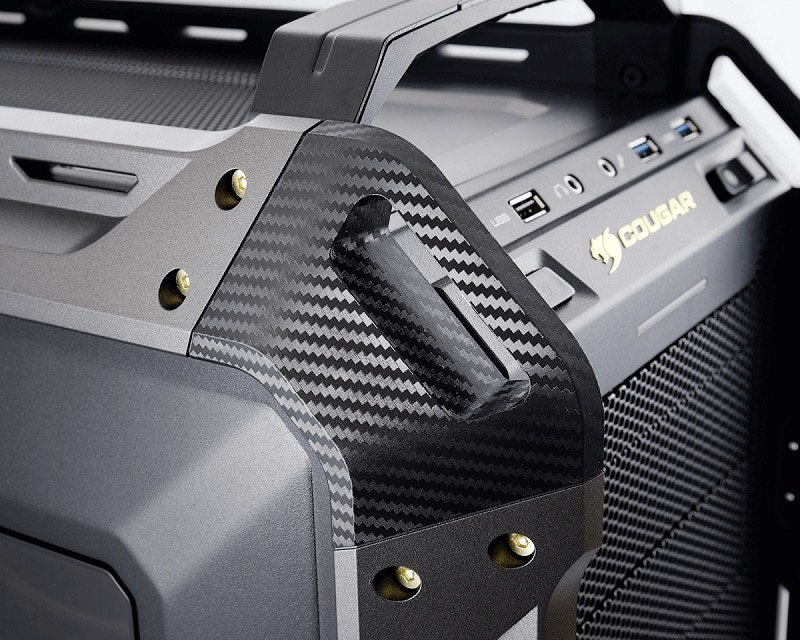 Picking the right chassis can be a demanding task, with so many options on the market to choose from. However, if you're looking for something for a high-end build, you know you're going to want a lot of high-end features, such as room for a lot of storage, water/air cooling, huge graphics cards and often more than one of them, excellent cable routing and no doubt more. Cougar thinks that they have the answer, with their gaming-focused Panzer MAX, a full-fat, feature packed ATX full-tower that looks as aggressive as its specifications would suggest.
"Panzer MAX brings you unprecedented levels of freedom when designing your system. Its support for six different motherboard form factors and up to four double slot 390mm graphics cards allows you to install all the computing power you need, while the possibility to host up to six storage devices will provide plenty of space for your files." – Cougar

"Cooling is a key factor for gamers, overclockers and PC enthusiasts in general, and PANZER MAX offers all they could ask for. With support for up to eight fans and four water cooling radiators, you will enjoy more than enough cooling horsepower to keep even the most advanced components safe from overheating. To complement this, its intelligent cable management system will keep all the cables behind the motherboard tray, allowing air to flow unobstructedly and dissipate the internal components' heat." – Cougar
With room for high-end E-ATX motherboards, multiple full-size graphics cards, plenty of storage bays, extensive cooling support, and more, the Panzer MAX certainly sounds good on paper, so let's get it out of the box and take a closer look at what it has to offer.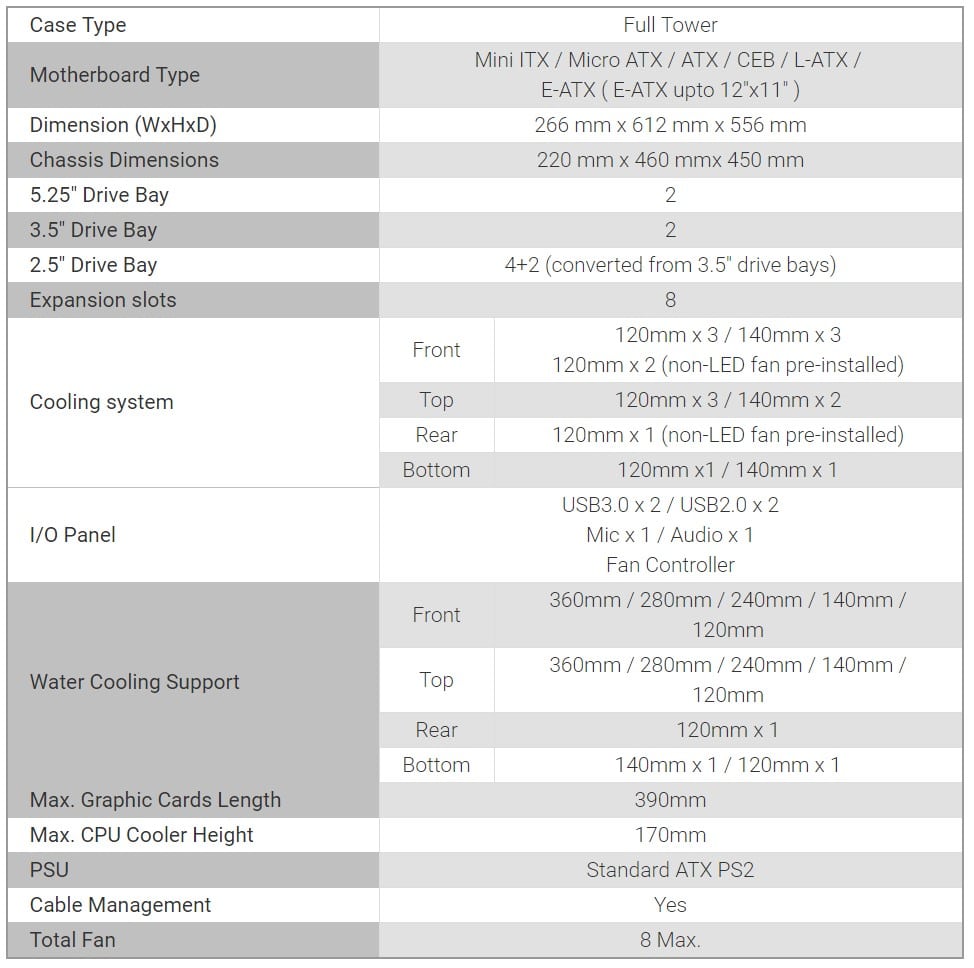 ———————–
A Closer Look – Exterior
---
The first thing you'll notice about the Panzer MAX is that it's pretty bulky, it stands tall, long and wide, giving it a rugged and almost futuristic-military appearance. It's covered in reinforcing rails, exposed bolts, carbon fiber decals, thick panels and more that make it look like it would survive being airdropped for a 10,000ft. That being said, it does look pretty durable, but it also feels it, the chassis is heavy and rigid and that bodes well for those wanting to put a lot of water cooling in there.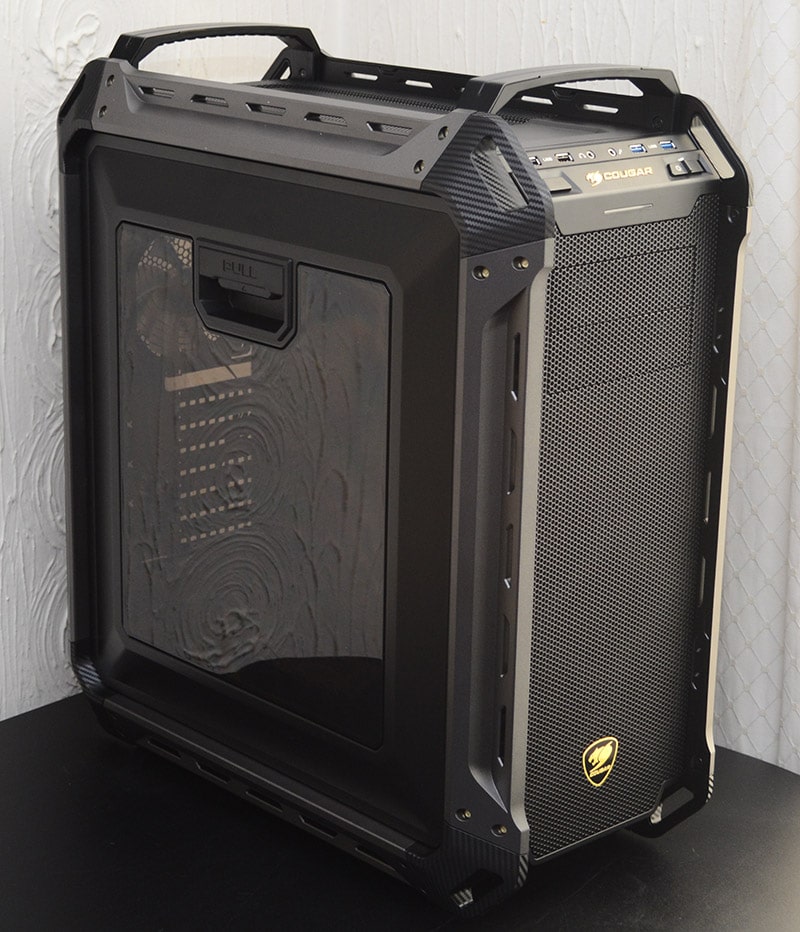 The side panel features a tinted window to show off your build, and comes with a tool-free mount; just pull up on the side handle and the panel lifts right out with ease.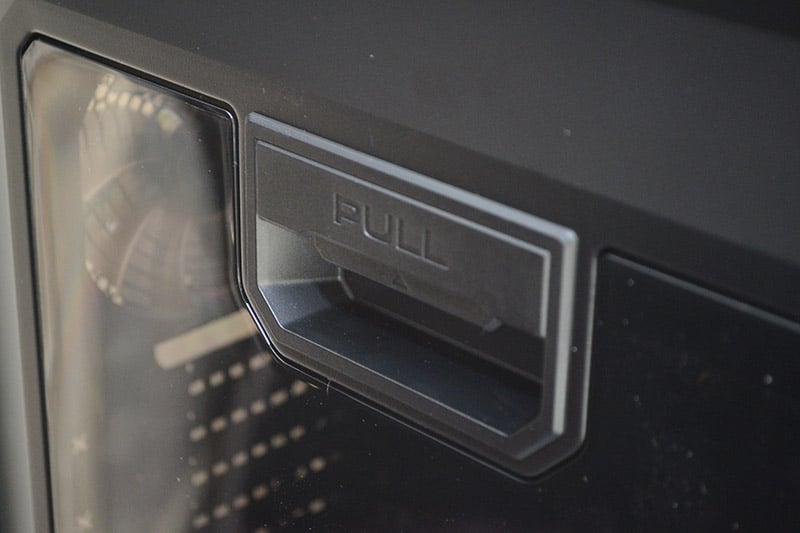 The right side panel has a popped out shape, providing greatly increased cable routing space behind the motherboard.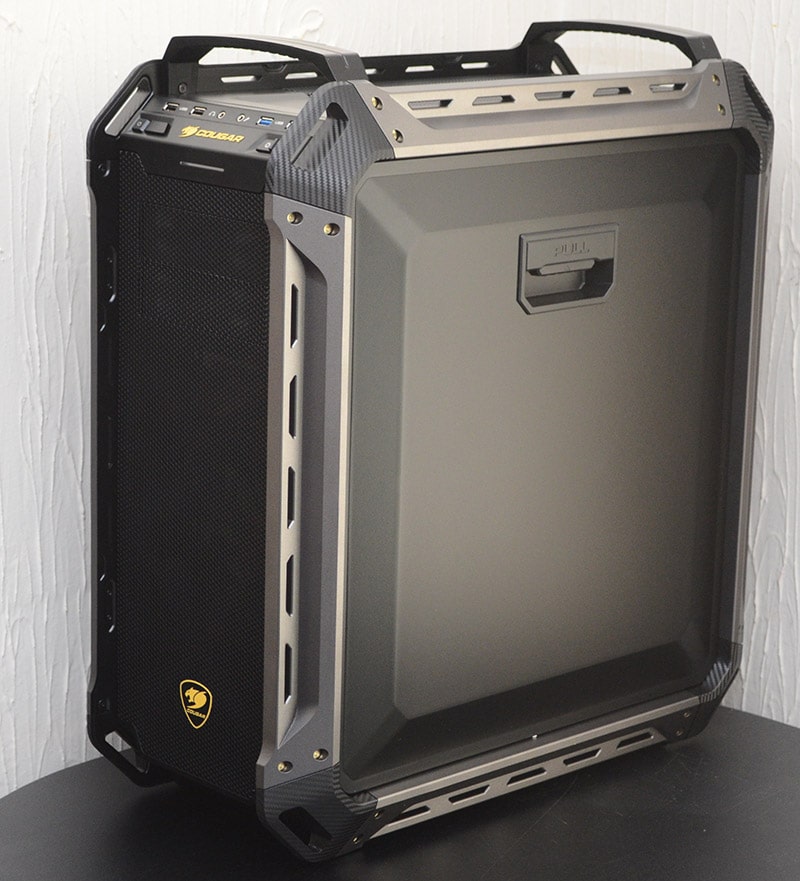 The right side panel is also tool-free and has another one of those quick release handles.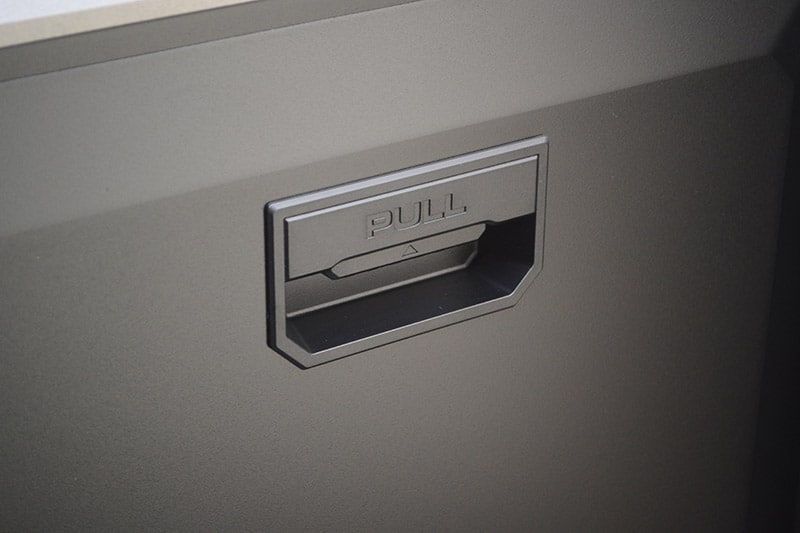 The front panel features a huge ventilated cover, giving you a huge amount of airflow for any front mounted cooling.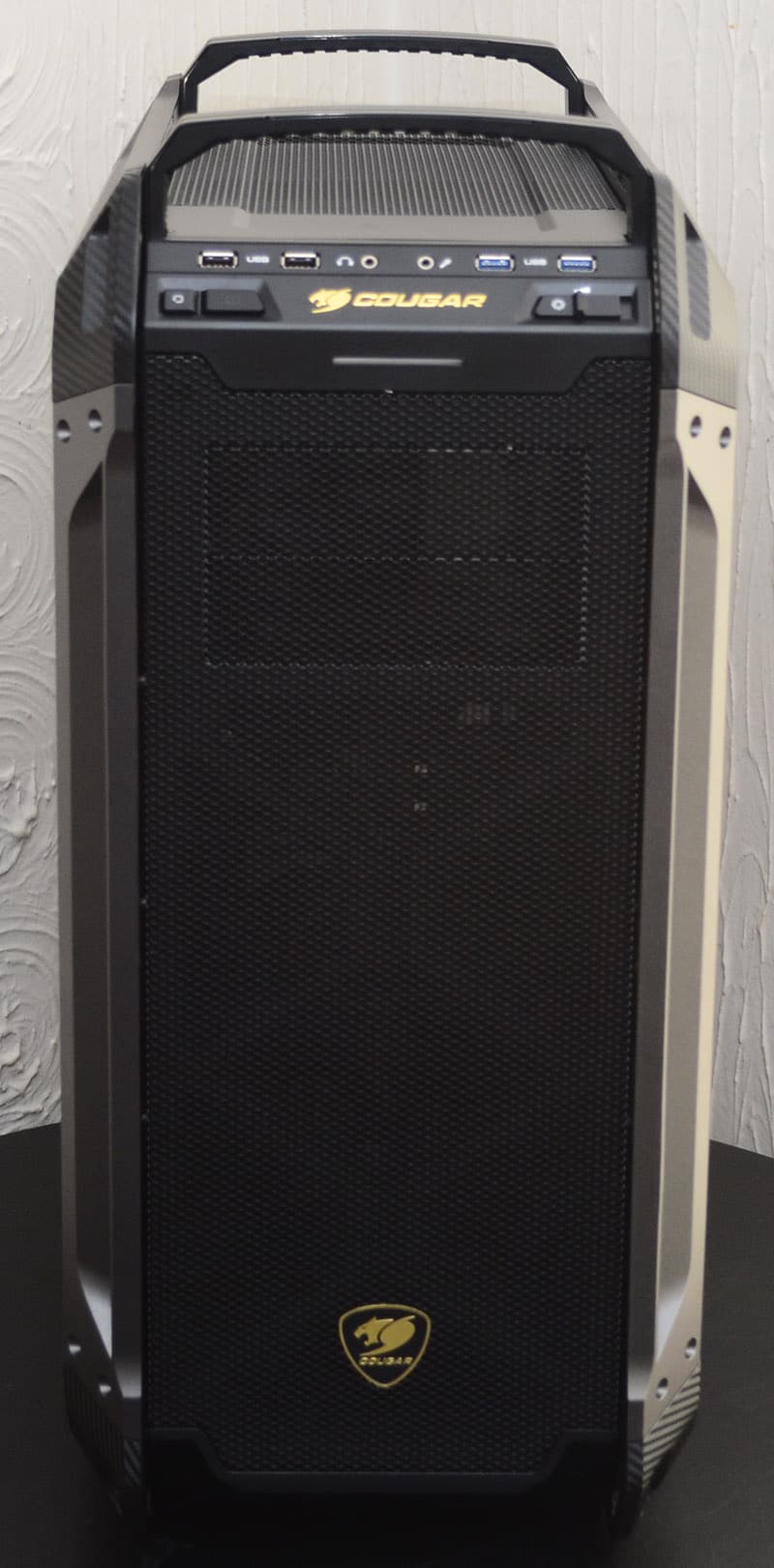 The I/O panel at the top is well equipped too, offering up four USB ports, HD audio jacks, the usual power controls, as well as a three-speed single channel fan controller.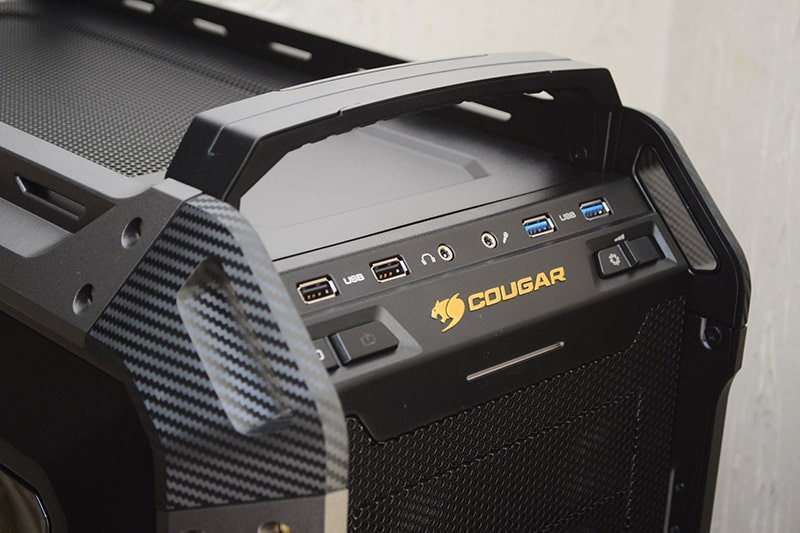 The front panel can be pulled off, allowing you to clean the mesh filter. I would have absolutely preferred a slide out filter, as these mesh ones do tend to get clogged up quite bad and can be a hassle to clean. Behind the front panel, two pre-installed 120mm LED fans, although as we saw on the last page, there's room for a variety of fan/radiator configurations here.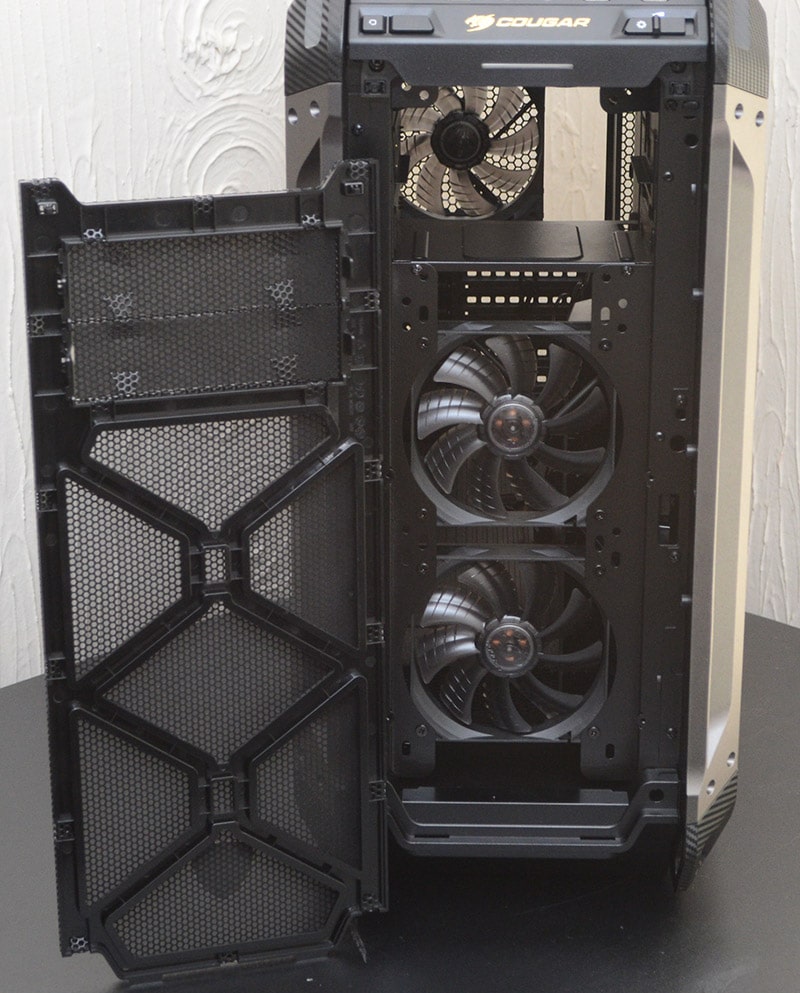 There are two heavy-duty handles mounted to the top of the chassis, capable of holding an impressive 35KG, meaning you can lift your chassis with confidence; a welcome tool for those who like to take their big rig to LAN gaming events.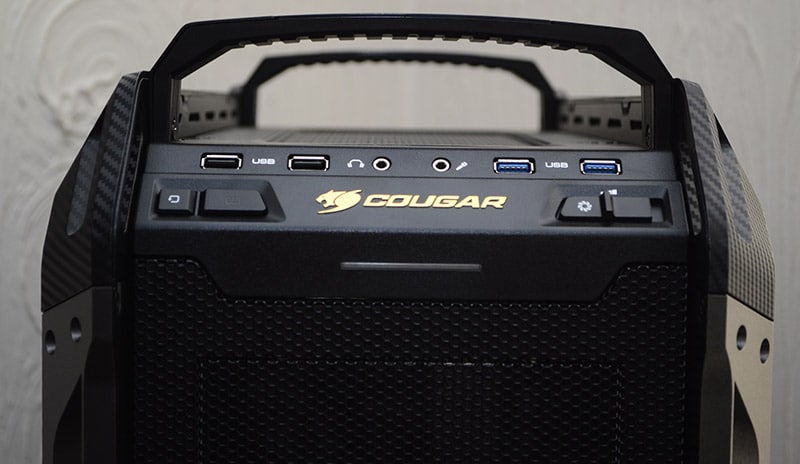 The corners of the chassis are all bolted together, with exposed brass finish fittings. These contrast very nicely with the carbon fiber finish corner pieces, and the titanium gray finish of the main rails.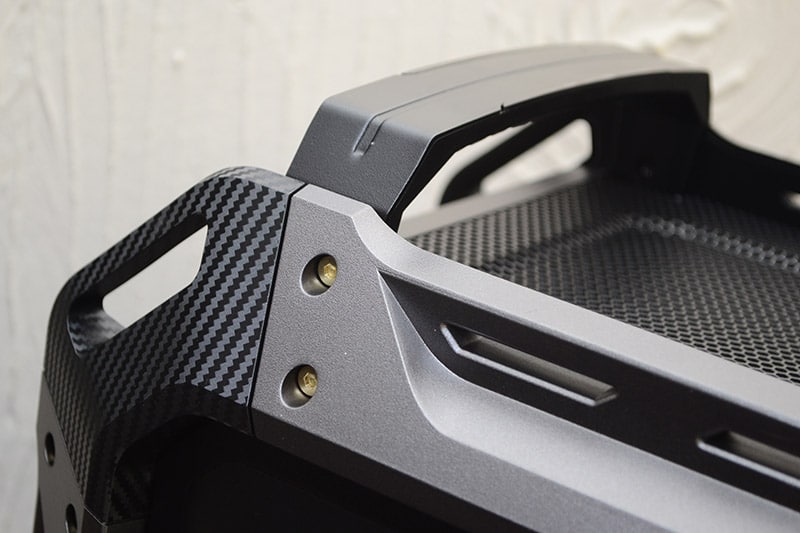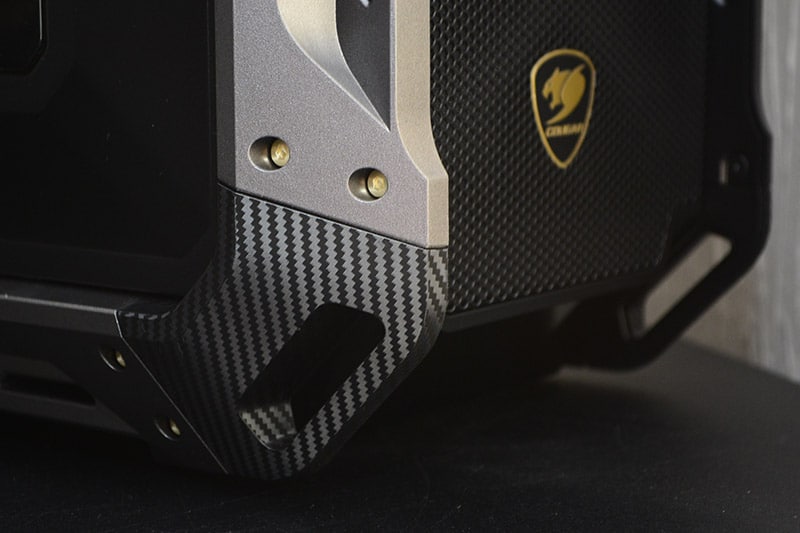 Around the back, you can see just how much of a wide-boy this chassis really is! At the top, a 120mm fan mount, with a fan already pre-installed, and below that, 8 expansion slots and three pop-out routing grommets. Finally, a bottom mounted PSU cut-out.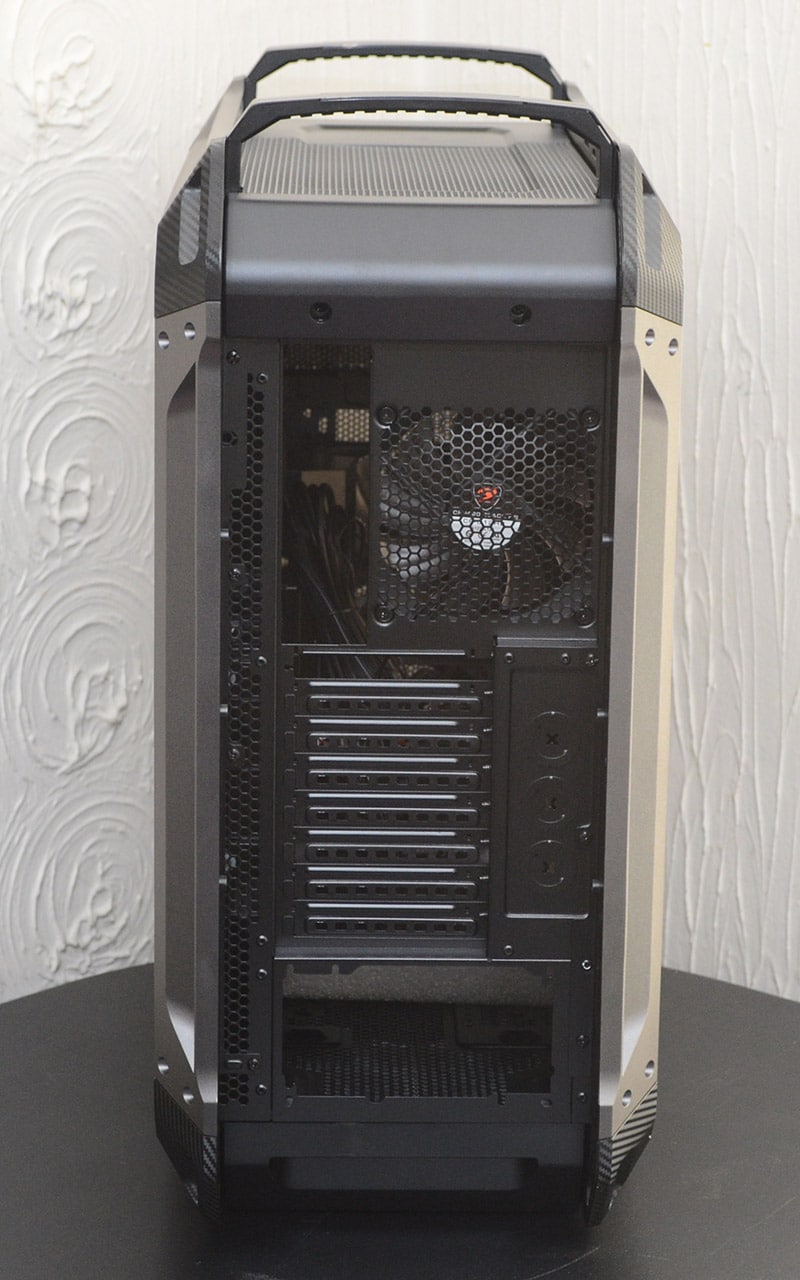 There's a full-height strip of ventilation for heat exhaust behind the motherboard tray too, and we'll show you why that's here in just a moment.
The top panel uses a push-click-release mounting system for easy access to the top fan/radiator mounts. There are two sections, the ventilated cover, and a solid cover towards the front.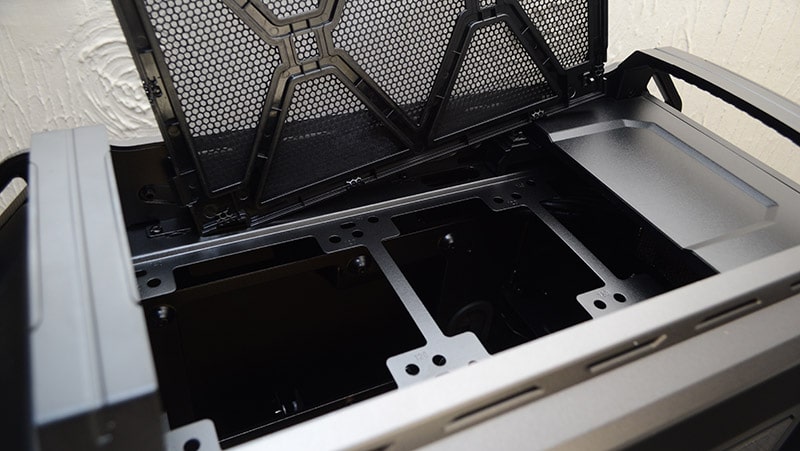 Here you'll find 120/240mm mounts.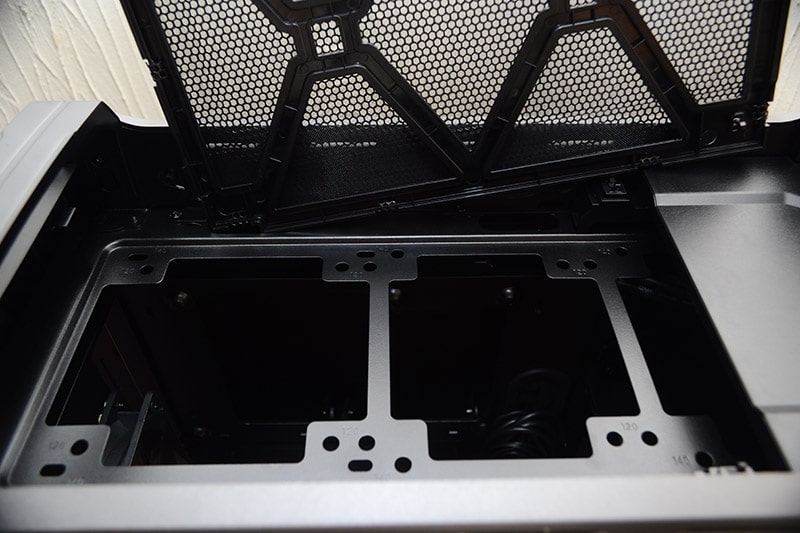 Pop off the front cover, and you'll see room to go up to 360mm also.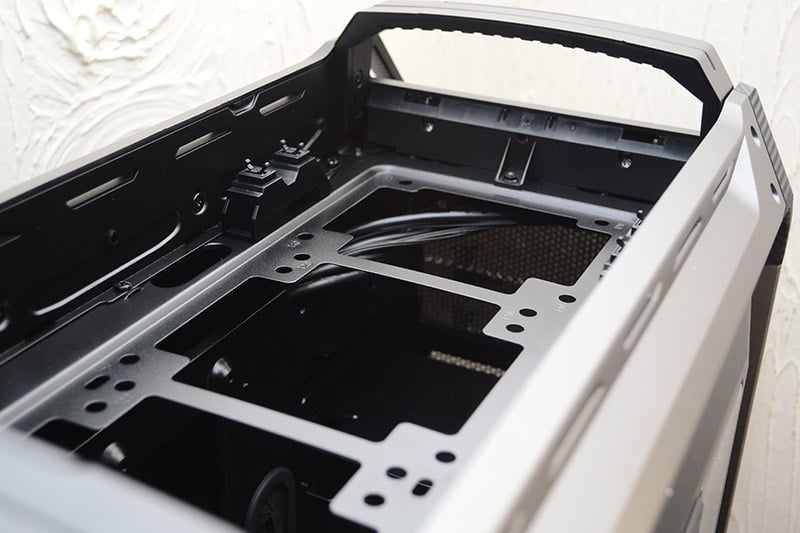 On the base of the chassis, some full-wide heavy-duty feet provide great ground clearance and stability, as well as providing good airflow to the bottom fan/PSU air intakes, which are covered with a magnetic fitted dust cover for easy maintenance.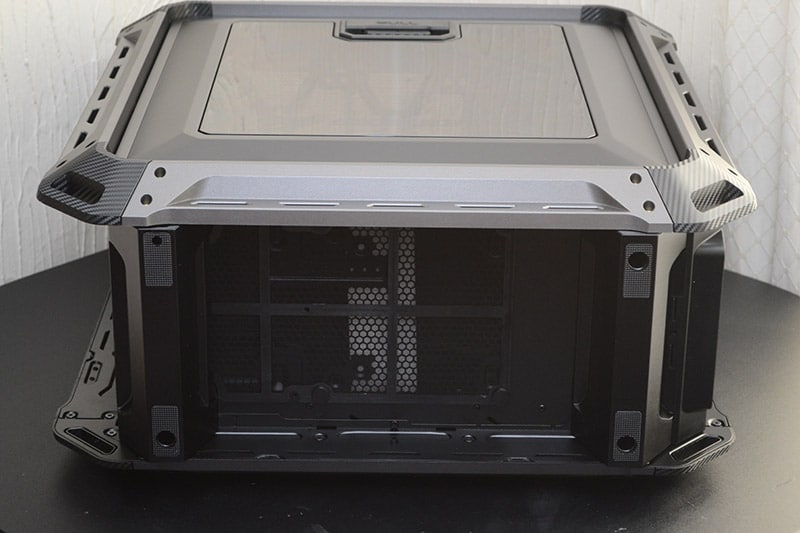 ———————–
A Closer Look – Interior
---
Pop the side panel off using the quick release handle, and you can get instant and easy access to your chassis interior.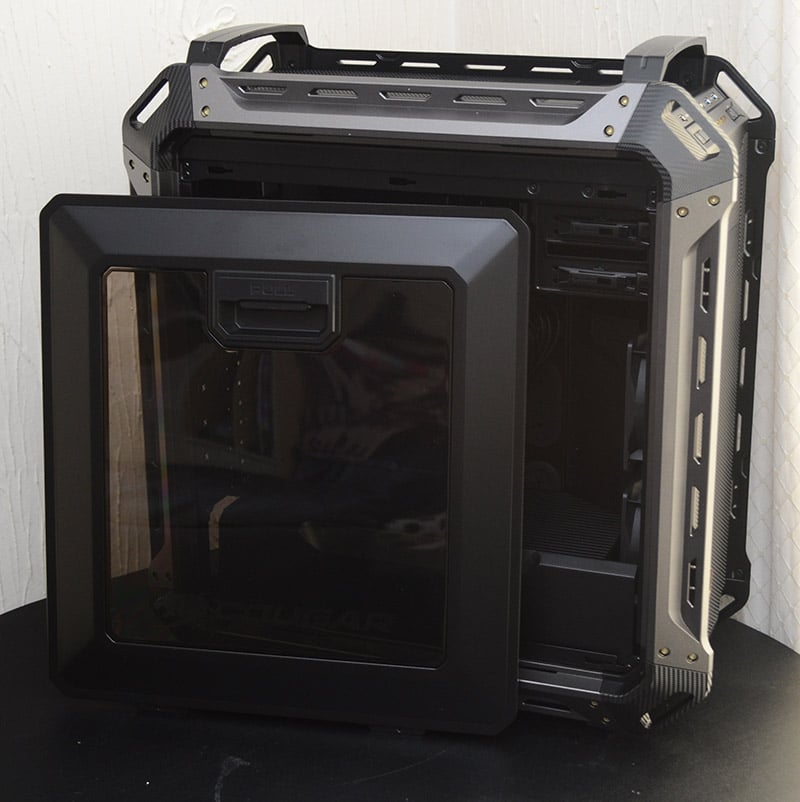 The mechanism is pretty chunky for the panel lock and looks and feels pretty durable.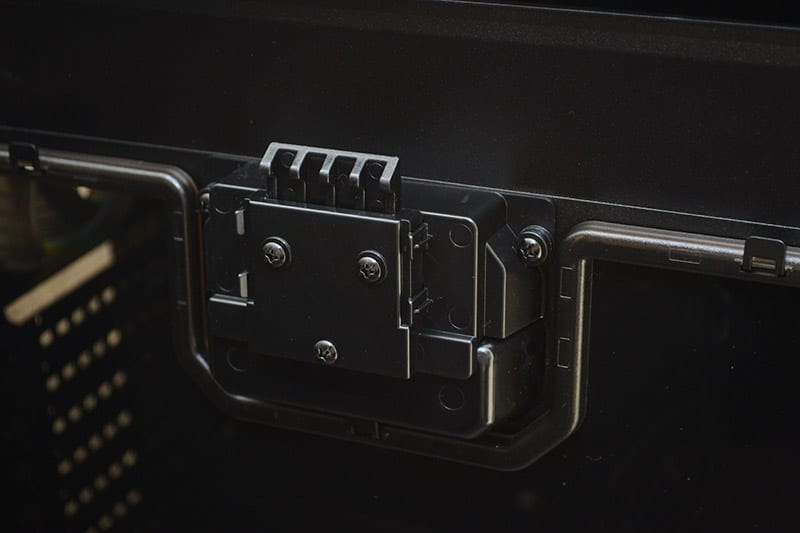 There's a huge amount of space on the interior, and it looks super clean too. This is due to two major things, no visible hard drive bays, and a full-length shroud in the base.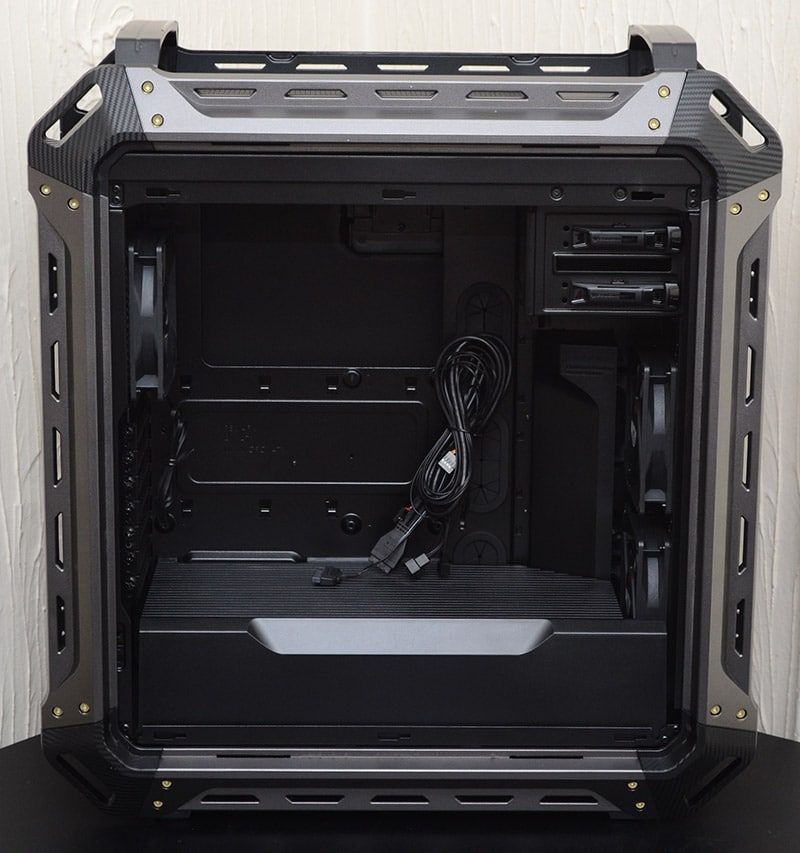 The shroud is plastic, but it has a really nice design to it while offering a great way to cover the bulk of the cable routing and the power supply.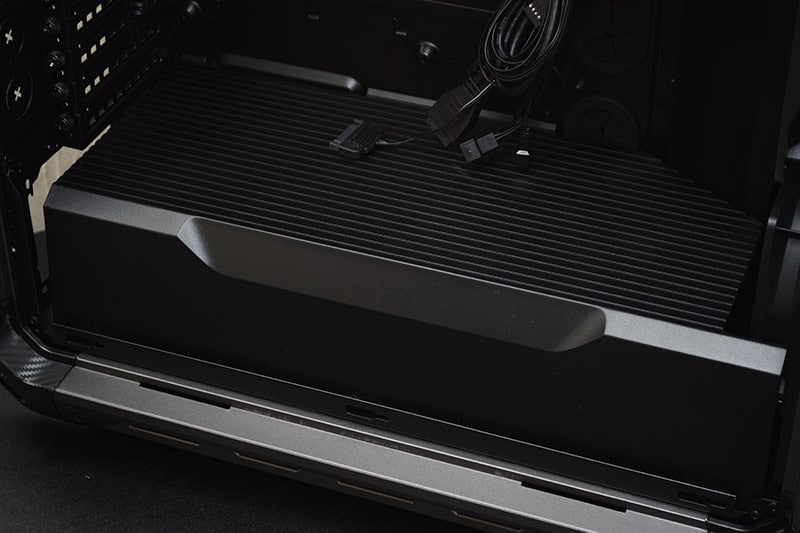 In the rear, all the expansion slots are fitted with easily accessible thumbscrews and reusable covers.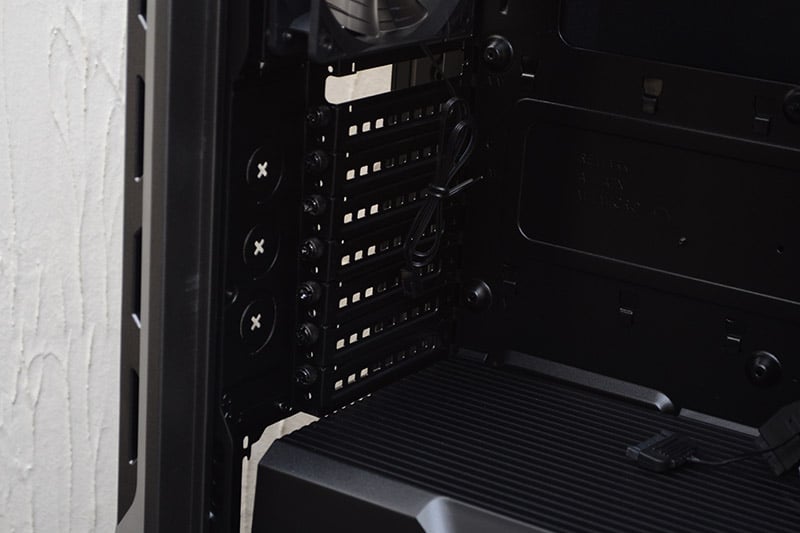 The rear 120mm fan is the same design at the two in the front panel and I'm very happy to see they're all great looking high-quality fans, adding to the overall value of the chassis.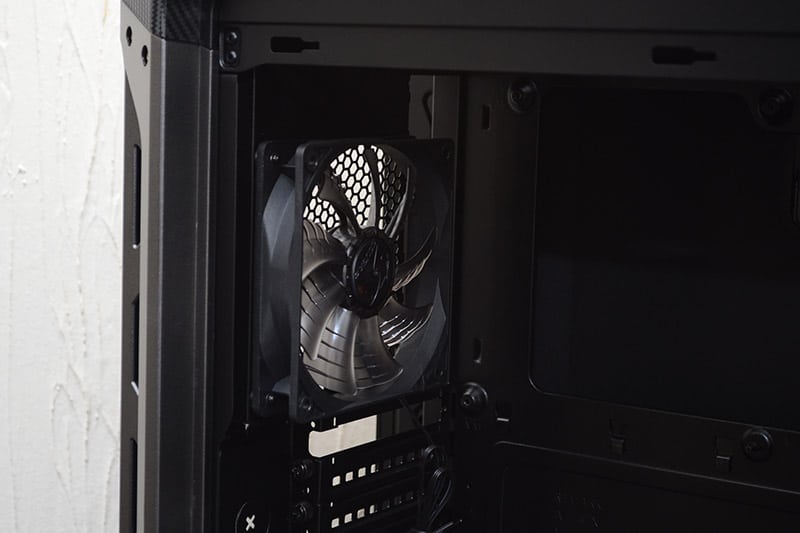 Two 5.25″ drive bays tucked in the top right, handy for usual devices, but you can also use them as extra 3.5″ drive trays if you need to.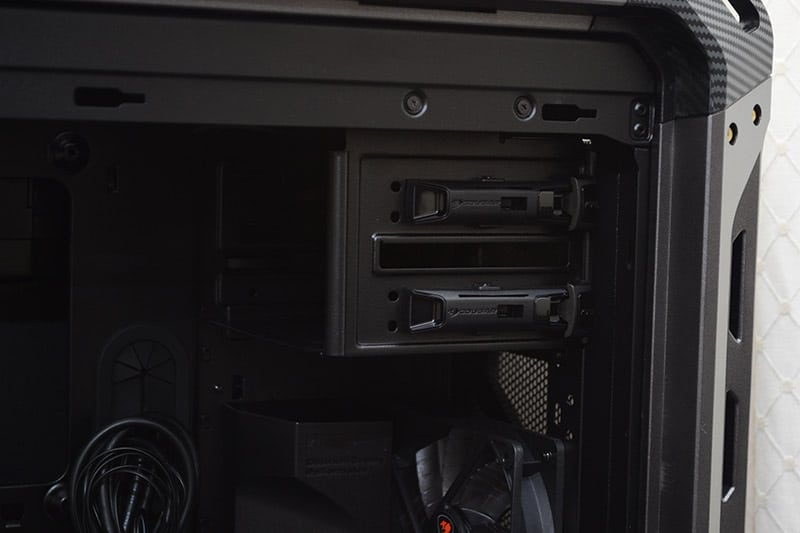 There's loads of room up front for thick radiators, but you'll notice the front fan can drop a little below the shroud providing airflow to components under there. There's also an air guard at the back, directing airflow behind the motherboard for your rear mounted storage devices.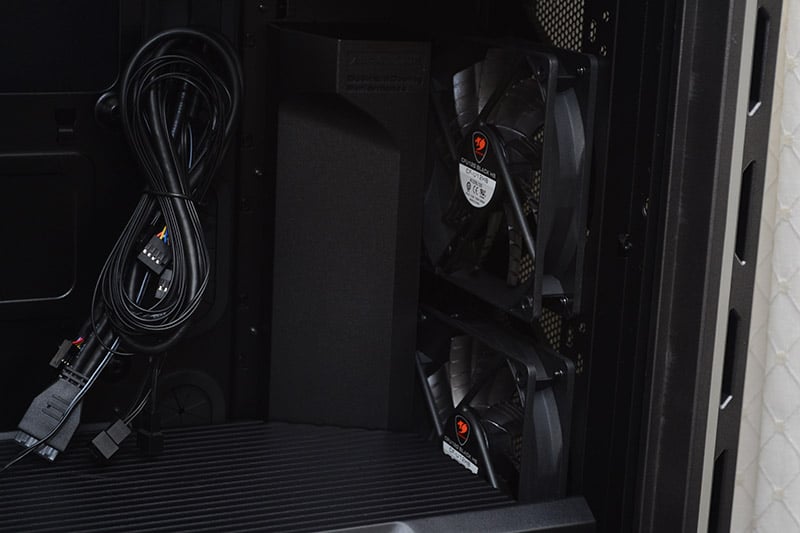 There's a huge amount of space behind the motherboard, and there needs to be to deal with the cable routing for such a well-equipped chassis, but also for the fact all the storage bays are back here.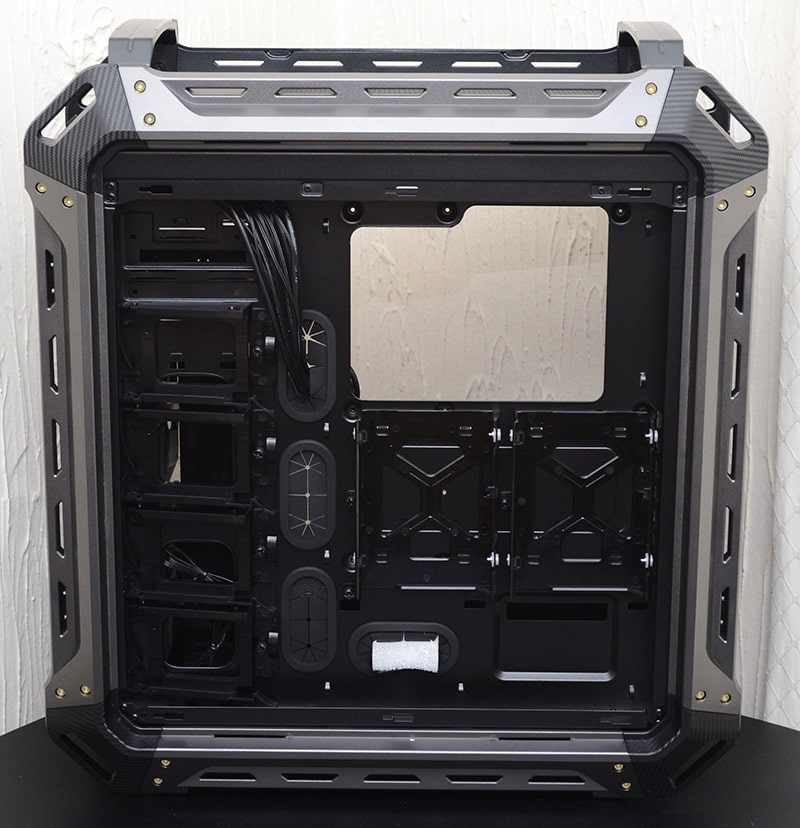 There are four easily removable 2.5″ drive bays on the left side, as well as a few large cable routing grommets.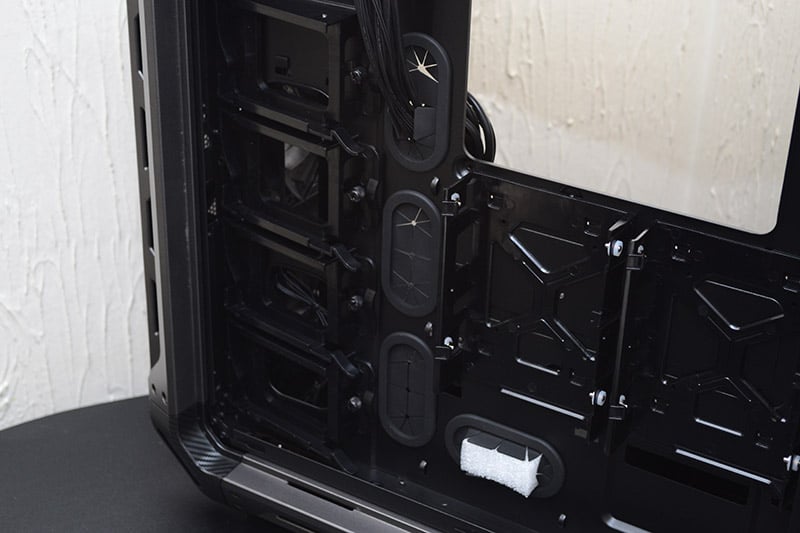 On the right, two removable 3.5″ drives, giving you lots of bays to play around with.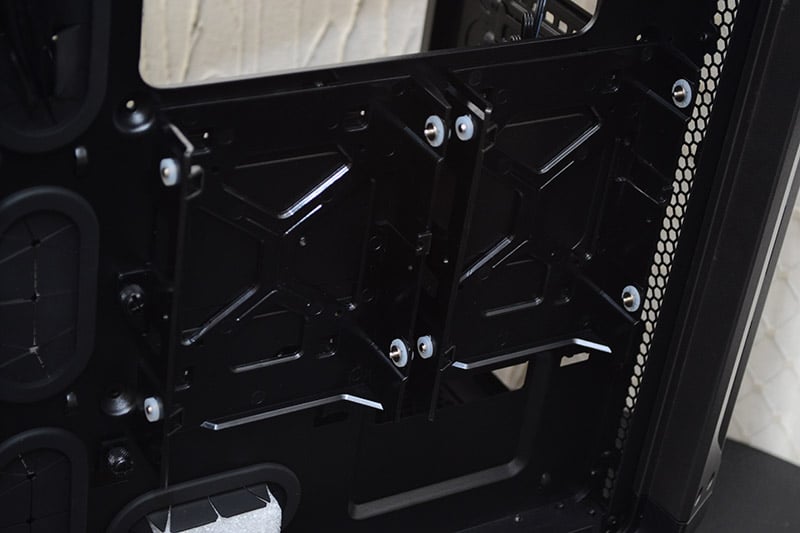 ———————–
Complete System
---
First things first, let's get our SSD installed in one of those rear bays. They're slide and lock, meaning they're tool free and easy to use.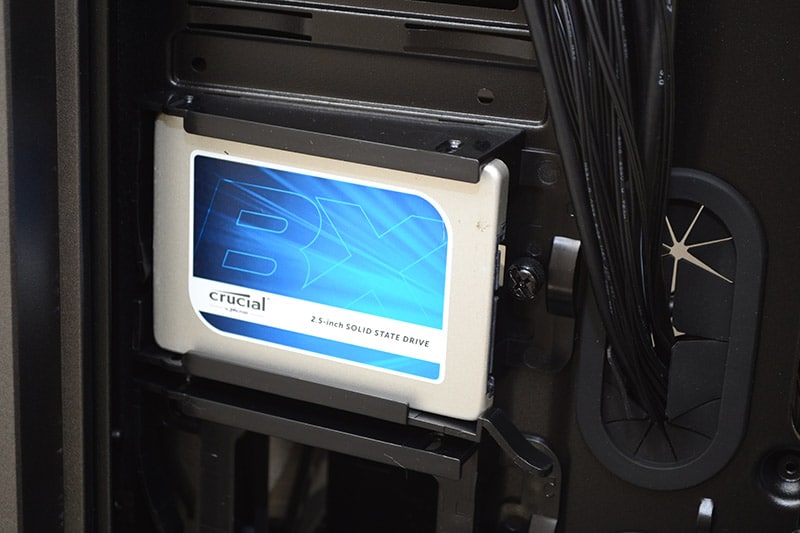 The PSU shroud is easily removed without the use of tool too, giving you easy access to those bottom fan mounts and the PSU fittings.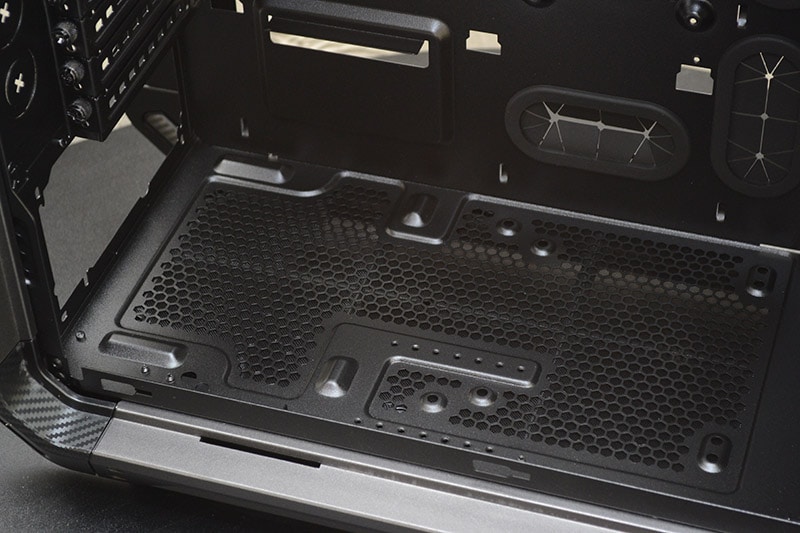 Just screw the PSU into place, fit your cables, cover it all up and it'll look great!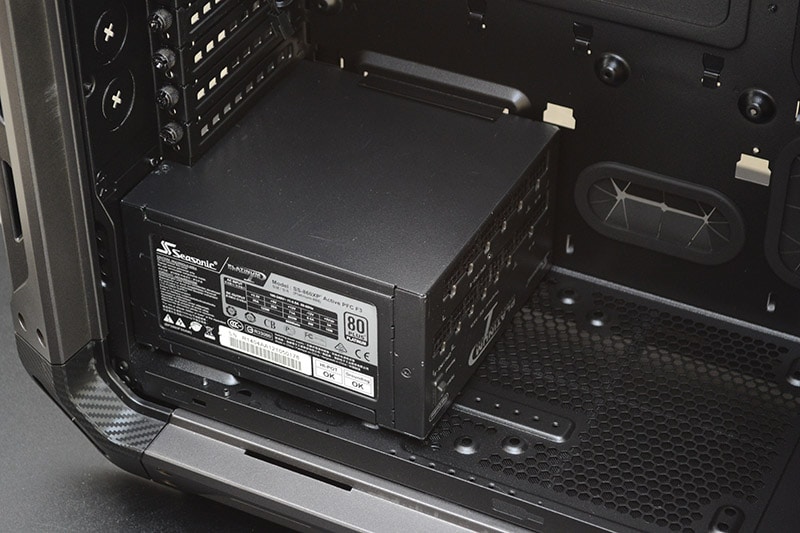 Cable management is truly epic on this chassis, as there are plenty of grommets in all the right places, as well as vast amounts of routing space behind the motherboard and under the shroud. Overall, this means you're going to have a super clean-looking build with minimal effort.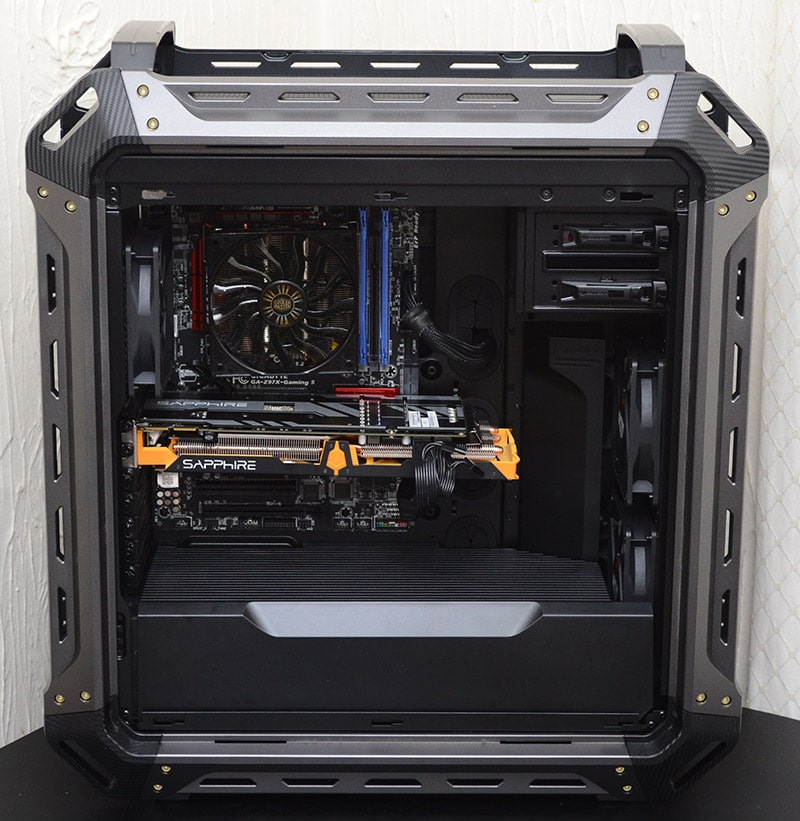 There's a good amount of clearance here for the GPUs, perfect for a multi-GPU setup, and even the longest GPUs on the market aren't going to pose an issue, as there are no front hard drive bays to conflict with.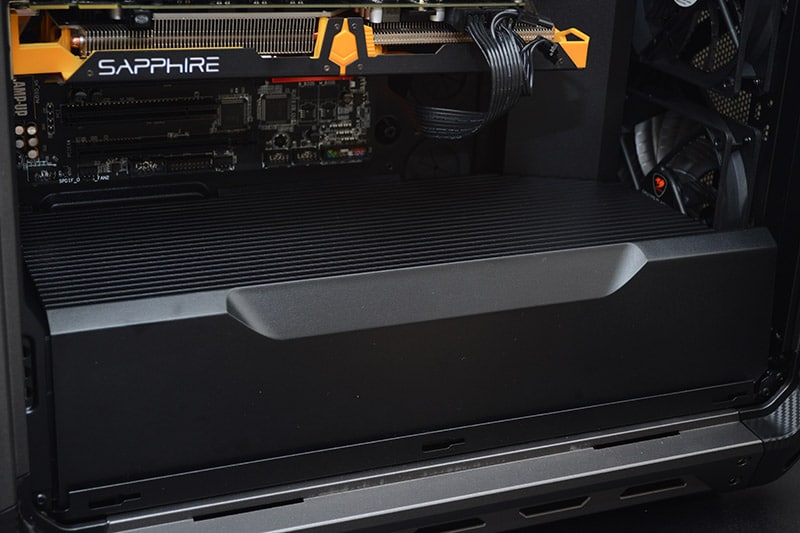 There's loads of room up front, so thick radiators shouldn't prove an issue at all. There is one thing I would like to see improved though, as much as I love the cable shroud, there's no routing hole on the top of it for side-loading GPU power cables, meaning they trail under the card.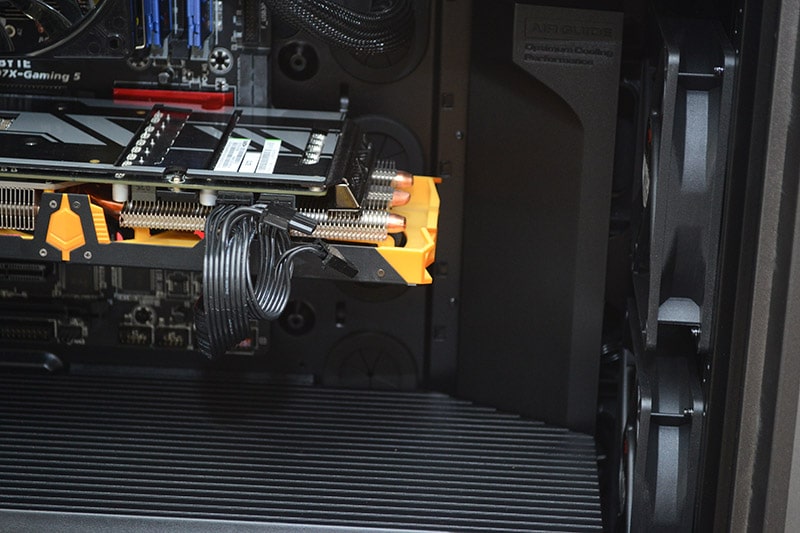 The extra-wide design of the chassis is awesome, it means that even the biggest high-end air coolers should fit with ease, and it also means lots of room at the back for AIO coolers of custom radiators.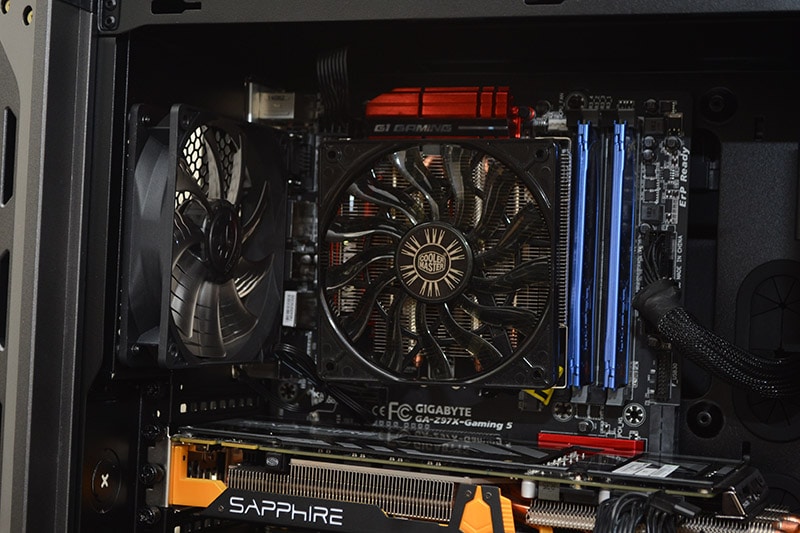 Easily accessible cable routing right beside the motherboard, helping minimize cable trail.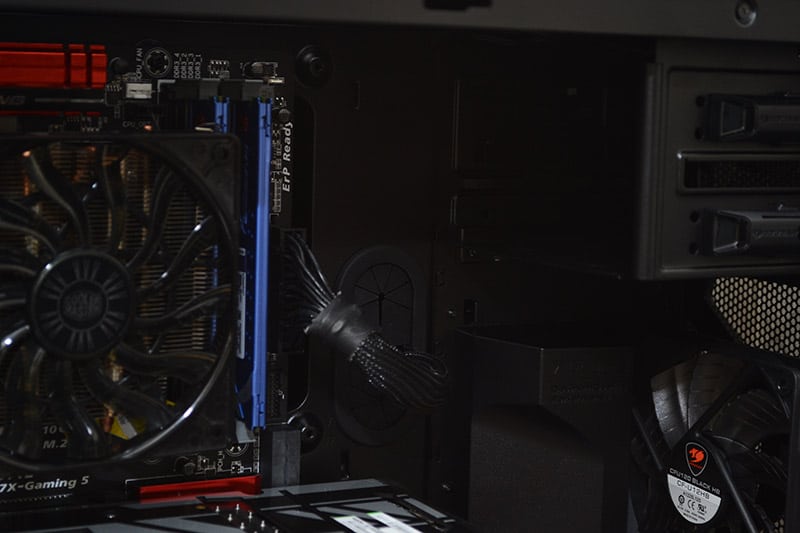 Overall, this is one slick-looking build both inside and out, so let's complete the last part and get the side panel back in place.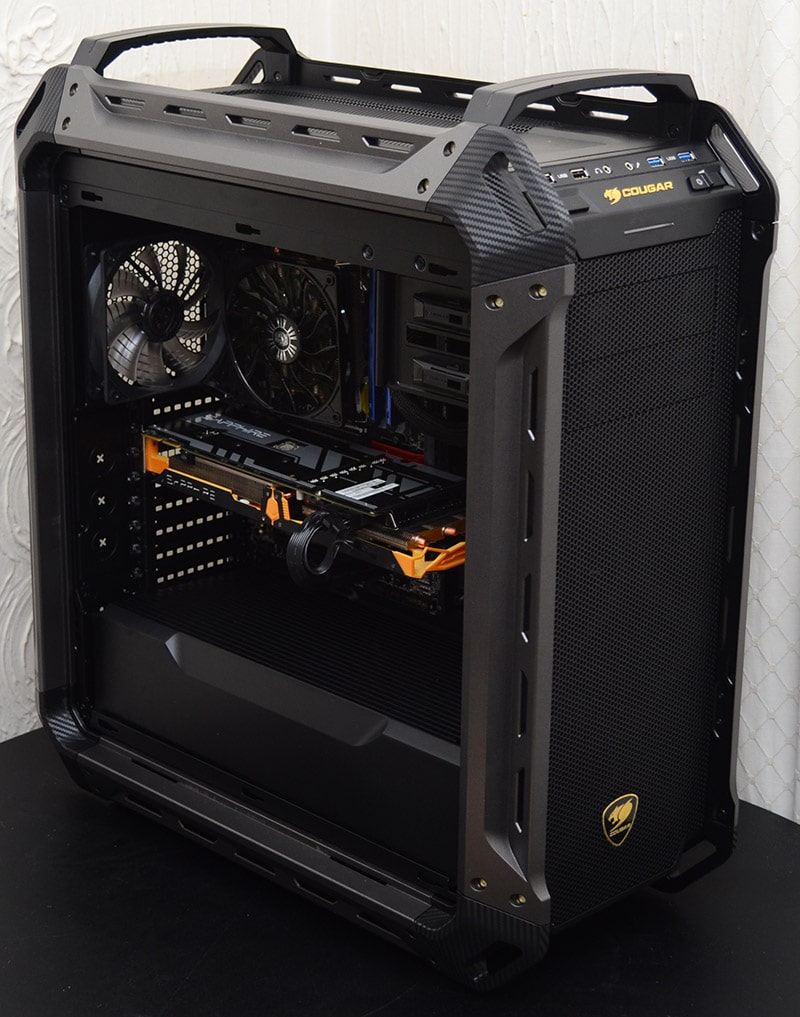 Even though cable management is fantastic in this chassis, the dark tint on the side panel means that black fittings and cables will be pretty much hidden from view further, while showing off highlights and lighting very nicely.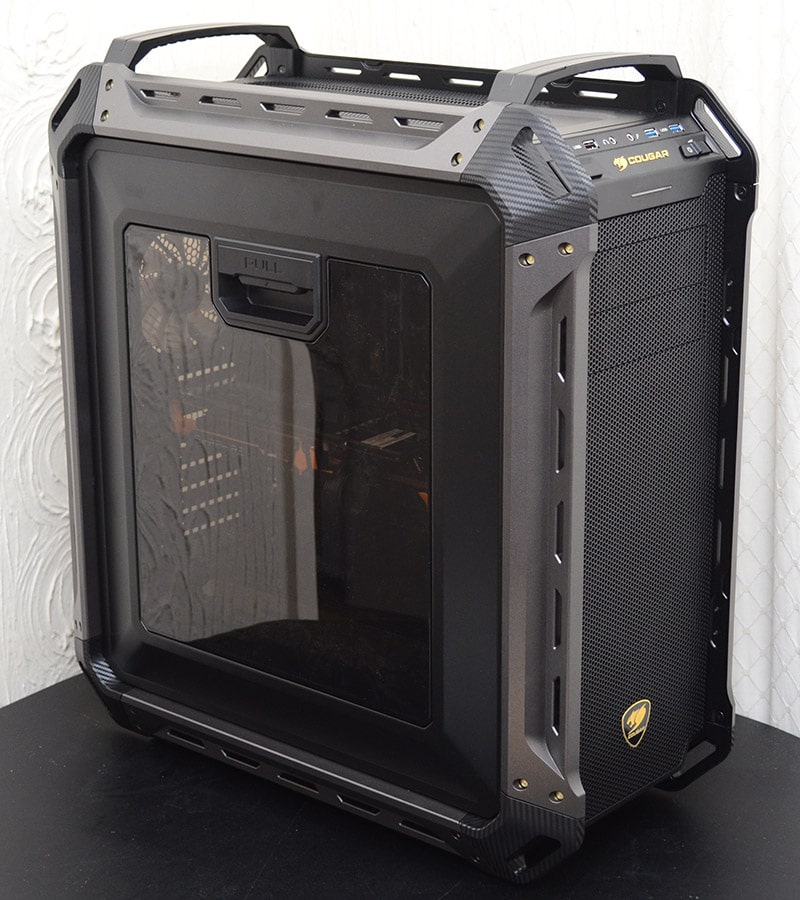 ———————–
Final Thoughts
---
Price
The Cougar Panzer Max Full-Tower Gaming Chassis is available for pre-order from Overclockers UK for £114.95, which doesn't sound cheap, but I would honestly throw my wallet at the monitor right now, it's worth every penny of the retail price.
Overview
Cougar has knocked it out of the park with their latest chassis, it promised high-end features and it certainly delivered. There are a couple of minor tweaks that I would make to make it even better, but they're hardly deal breakers given what's on offer at this price. First up, a cable routing hole in the PSU shroud to pass through GPU cables, that would be handy, and so would a slide out and washable dust filter on the front panel; other than that, I can't fault this chassis.
Build quality is insane, with thick heavy-duty panels, and a rugged design that is securely bolted together. This means that you would be comfortable in fitting a heavy-duty water cooling loop and high-end hardware in here, and still be able to pick it up with confidence by those chunky carry handles on the top panel. If you like taking a big rig to LAN gaming sessions, this is going to be a great tool to have. Also, let's not forget the added bonus that the top panel is designed to hold your keyboard; one less thing to carry on its own.
In terms of specifications, the Panzer Max ticks all the right boxes, with large motherboard support, room for the biggest graphics cards on the market, an extra-long PSU, plenty of storage and more cable routing space than you're ever likely to need. On top of that, there is extensive cooling support thanks to the wide design and plentiful mounts, and the fact that it comes with three high-quality fans pre-installed.
The price may seem daunting given that it's in the triple digits, but when you look at the price of the CM Storm Trooper, Corsair 600C/Q, Antec P380, Corsair 750D, NZXT Phantom, to name but a few, the Panzer Max is either the same price or cheaper, and has competitive specifications, so it's certainly strong competition for some of the more established and popular full towers on the market.
Pros
Unique design
Durable build quality
Competitive price
Excellent component compatibility
Rear mounted storage bays
PSU shroud
Lots of cable routing space
Fan controller
3 x pre-installed fans
Durable carry handle/keyboard holder design
Cons
Neutral
Front filter design could be improved for practicality
A GPU cable pass-through on the shroud would be a welcome addition to future models
"The Cougar Panzer Max is one of the coolest chassis we've seen this year! A unique design, incredible build quality and loads of features to make your build look and performance great."