Cougar Revenger Optical Gaming Mouse and Bunker Bungee Review
---
---
---
Peter Donnell / 4 years ago
Introduction
---
Cougar is quickly growing to be one of our favourite peripheral brands, as they have released consistently great performing products that are well made, well designed and very competitively priced. This is obviously something that's going to put them in good favour with consumers too, and with that in mind, we have pretty high expectations of their new gaming mouse, the Cougar Revenger. For a little bonus treat, today we'll be taking a look at another product in this review too, the Bunker Mouse Cable Bungee, so enjoy the "yo'dawg I heard you like reviews" vibe.
"COUGAR Revenger's PMW 3360 sensor is the ultimate refinement of a respected sensor lineage, and it shows in its performance. Consistency and accuracy are the two keywords that define Revenger's sensor behavior. The ability to fine tune its DPI level up to 12,000 DPI will allow you to enjoy its unrivalled precision on a wide range of situations and screens, from laptops to massive multi-screen and 4k setups." – Cougar
The Revenger is very well equipped, with fully programmable buttons, RGB lighting, a powerful macro engine with their UIX software, a 12,000 DPI optical sensor and much more. It certainly sounds great on the specs table, so let's take a quick look at the Bunker too and we'll get them both out of the box for a bit of play time.
"With Revenger, you're not restricted to a mouse pad anymore. Its advanced tracking technology will allow you to perform at high levels even on wooden or steel surfaces." – Cougar
As with all the Cougar products we've seen in the past, the Revenger comes in a nicely designed box, showing off the main spec and product right up front, with a nice technical breakdown on the reverse of the box.
The box opens out, giving you a good look at the actual product; handy for those looking at it in a retail store.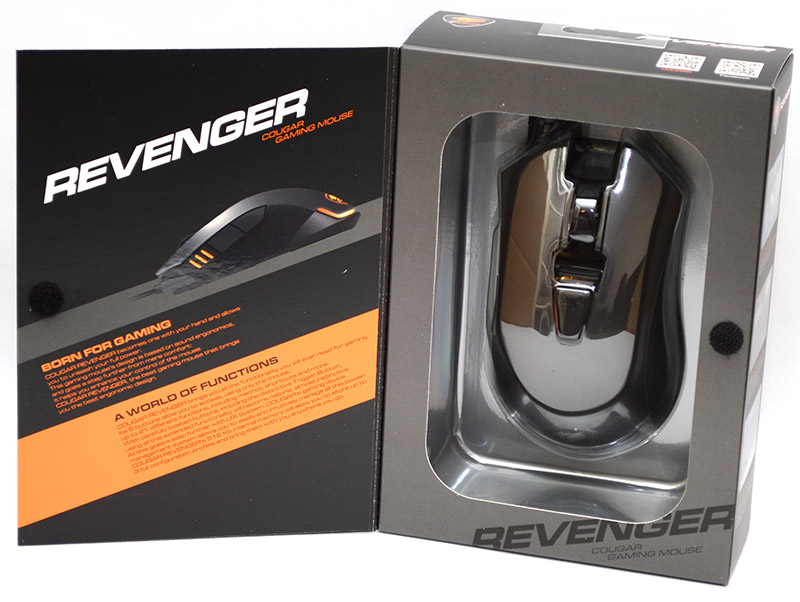 In the box, you'll find the mouse, which comes hard-wired with a lightweight cable to prevent drag, as well as a durable custom shaped USB header with gold plating. You'll also find a user manual, as well as some nice stickers to place on your desktop.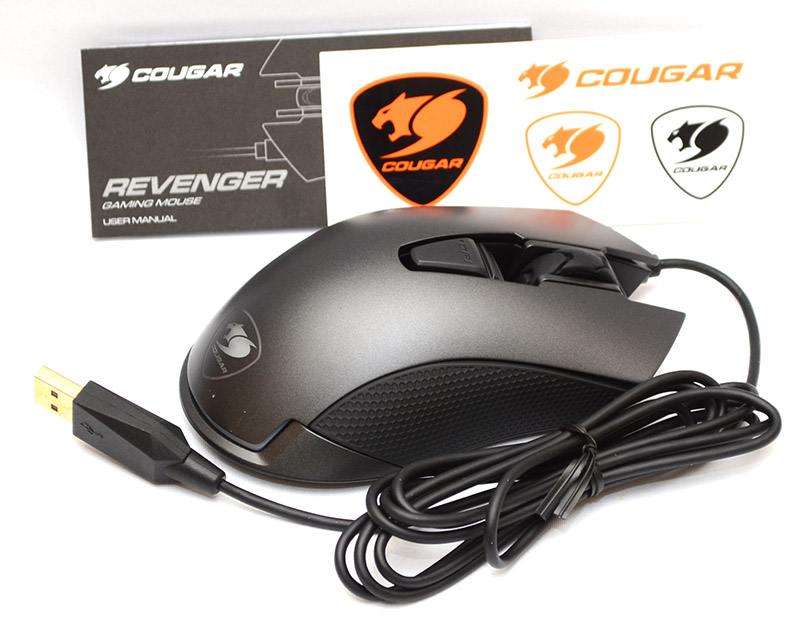 "COUGAR Bunker is the perfect solution for those gamers who want to enjoy the superior reliability, response and accuracy of a wired gaming mouse while at the same time preventing the mouse cord from getting in their way." Reads the Cougar website. "With a patented design that provides unsurpassed durability, stability and portability, COUGAR Bunker is one of the best investments a serious gamer can make."
The Bunker box is pretty self-explanatory, and we'll take a closer look at that in a little while.