Creative G3 Portable Gaming DAC AMP Review
---
---
---
Peter Donnell / 2 years ago

The world of high-end audio is a complex one, with endless solutions for music lovers and movie fans. However, what about us gamers? That's where the Creative Sound Blaster G3 comes in. Designed to be a portable gaming DAC and AMP, you can add their powerful sound processing to your own microphone and headphones/headset with ease.

It's a USB Type C device, but it also includes a Type A adaptor, so it'll connect directly to PC, PS4, Switch, Mac, and more. Just plug, play, and enjoy.

Creative has been a commanding voice in the world of gaming and PC audio for as long as most of us can remember. With their recent success of SXFI and the continued popularity of SoundBlaser peripherals, I'm pretty hyped to test out their new amp today.
What Creative Had to Say
"Sound Blaster G3 is our very first external USB DAC and Amp sound card that is powered by USB-C and is made to work directly with your PS4, Nintendo Switch, PC, and Mac via a plug-and-play format with USB audio — all without the need for separate driver support! Debuting our latest GameVoice Mix feature for gaming audio/voice chat balance, the Sound Blaster G3 also comes with direct volume and mic control, as well as a dedicated Sound Blaster Command mobile app for on-the-fly audio customization without having to exit your game's screen. If all you have ever known is the default audio on your consoles, try the G3. We'll let its performance speak for itself." – Creative
———————–
Packaging & Specifications
As you can see, the box is pretty compact, which I like, it's less waste to recycle. There is a small picture on the front and a few badges, but not much else really.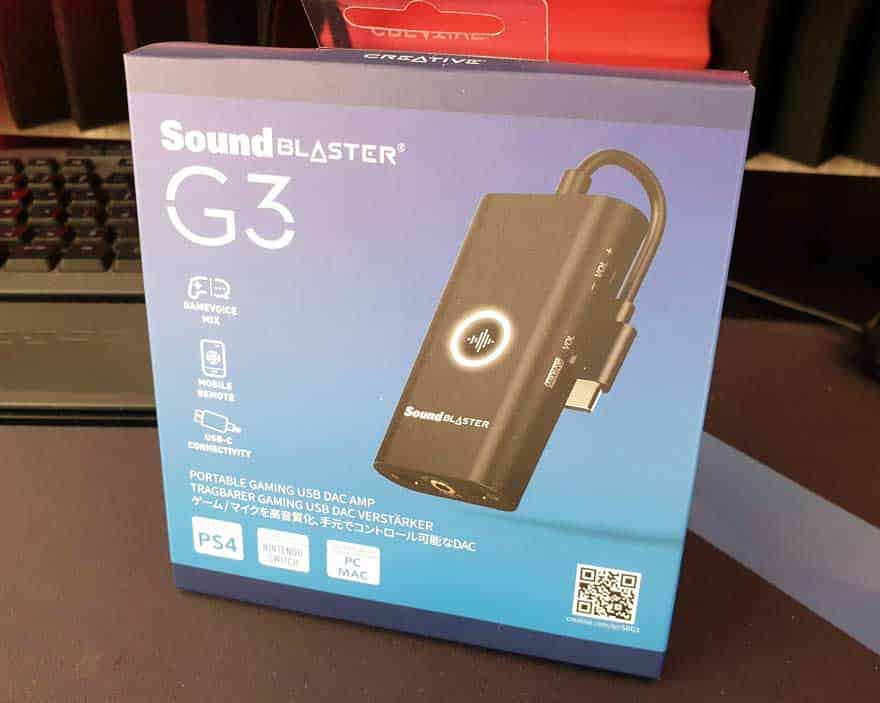 Around the back, it's pretty much the same, just details the connectivity but doesn't really tell us much about the product. Basically, if you're picking this up in a retail store, good luck figuring out all that it does. However, there is a QR code on the front that takes you right to their main product page, and that tells you everything, so it's not that bad.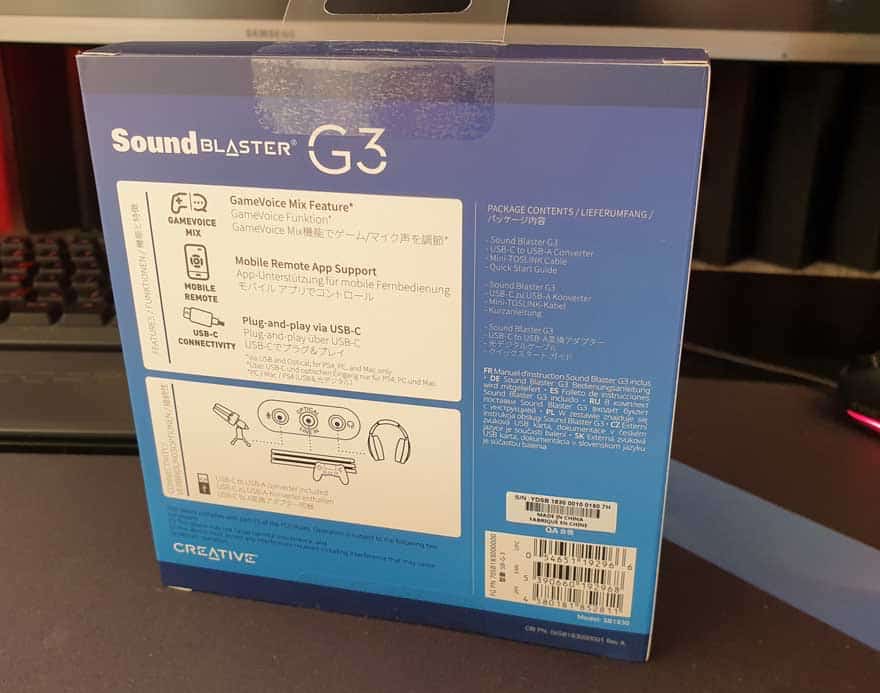 The hardware is all nicely packaged and comes protected with soft foam on all sides.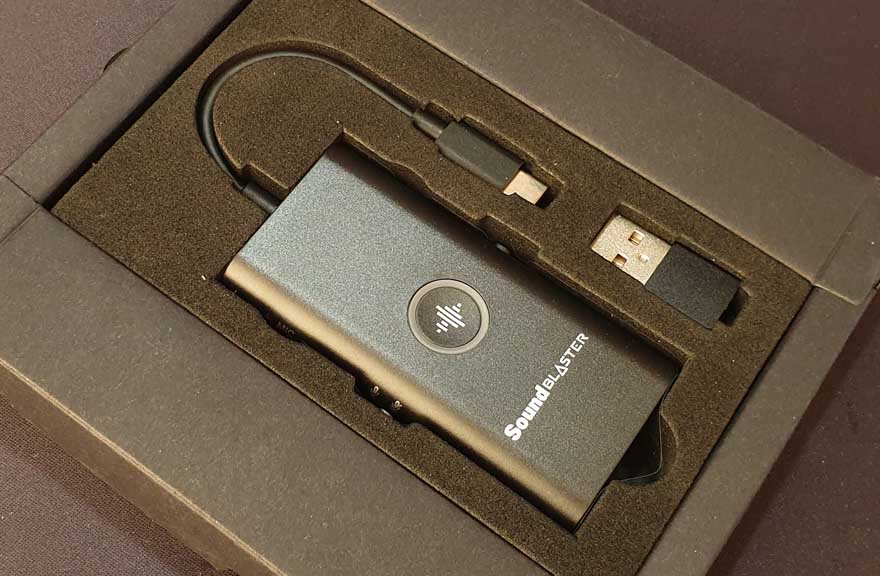 App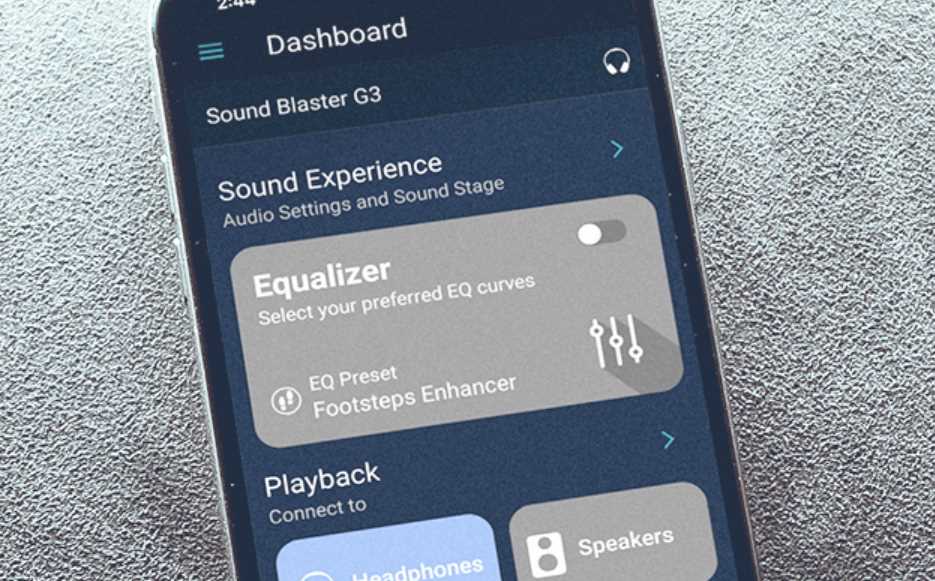 You can download the Sound Blaster Command app for Android here, Apple devices here, PC here, or Mac here.
Compatibility
As you can see, pretty much everything is supported over the range. However, you can't use Gamevoice Mix on the Switch, but otherwise, you're good to go.
Features
As you can see, it's extremely capable despite the compact size. Able to power up to 300 Ohm headphones and power even the most demanding drivers, with a great DNR, and wide support for high-resolution audio formats.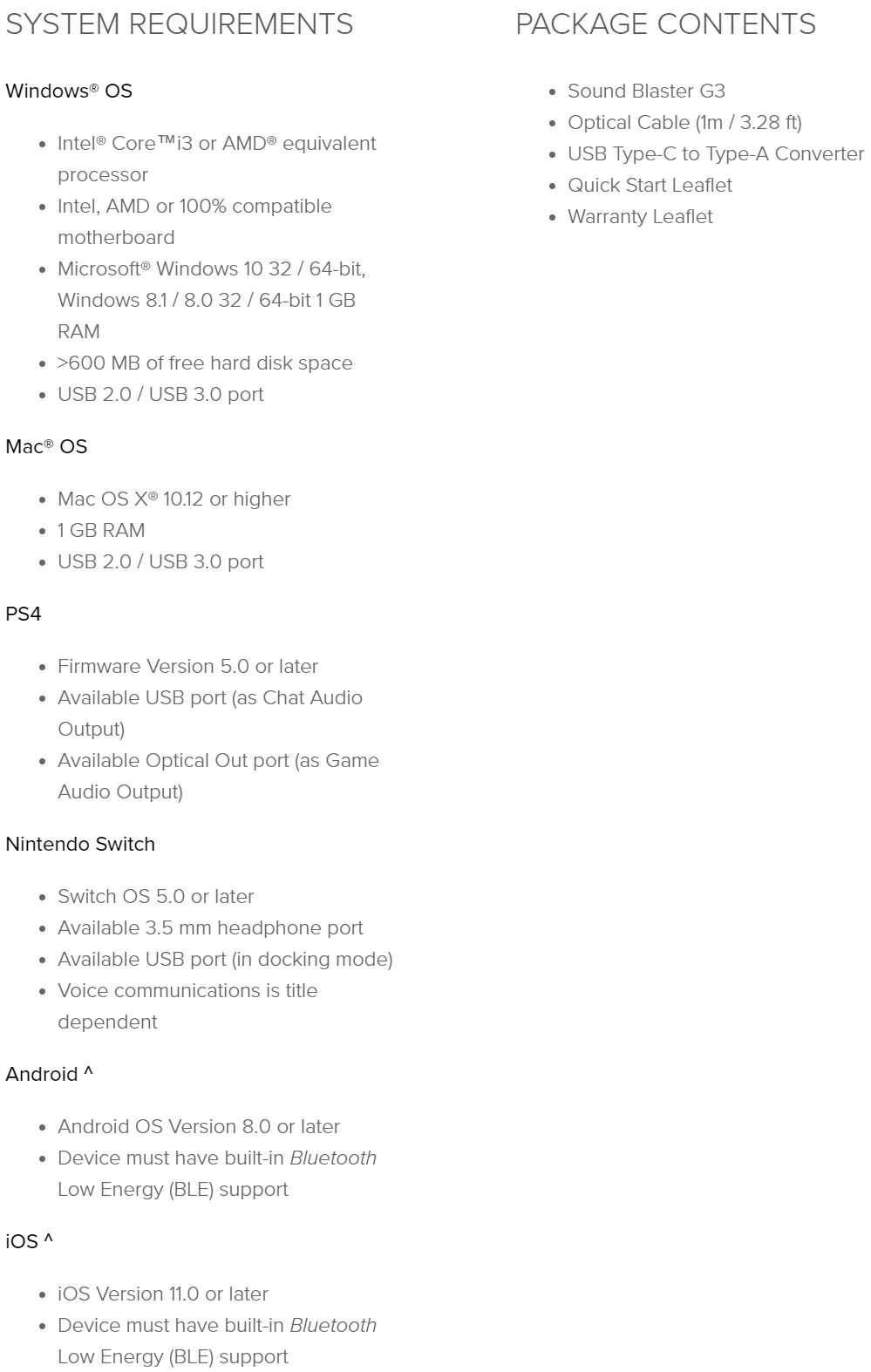 ———————–
A Closer Look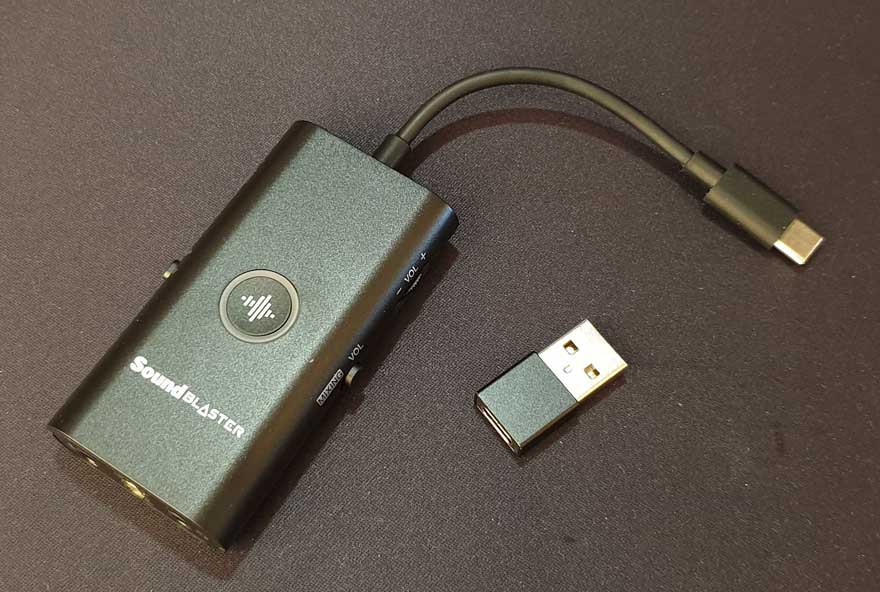 The amp is a pretty simple looking device, which is great, as you don't need anything too complicated. What you want to do is enjoy your gaming, not tinker with a complex amp setup. However, this is small enough that it should get in the way of your experience, and should be pretty easy to travel with too; handy for Nintendo Switch users.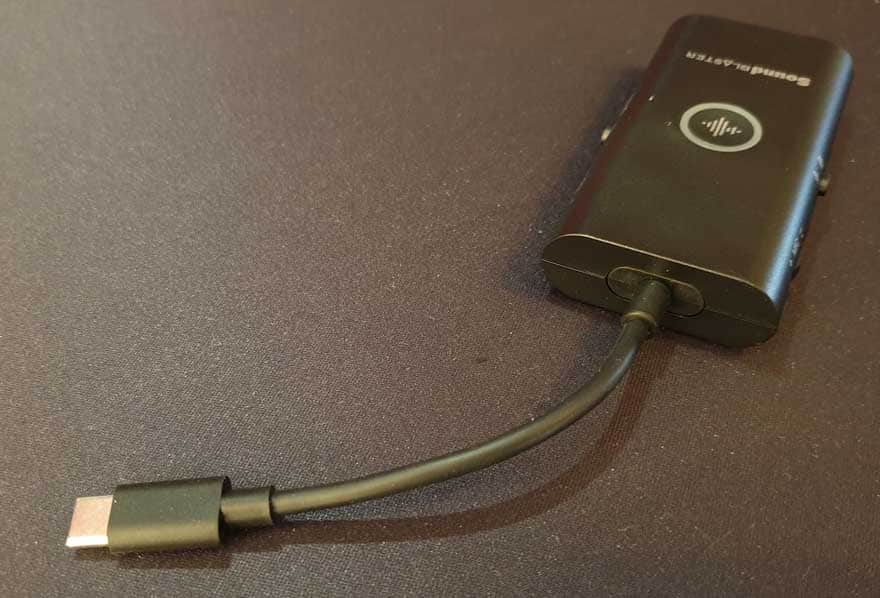 Down the front of the amp, there are three sockets, all clearly labelled too. One for the microphone, one for the headphones, and an optical in.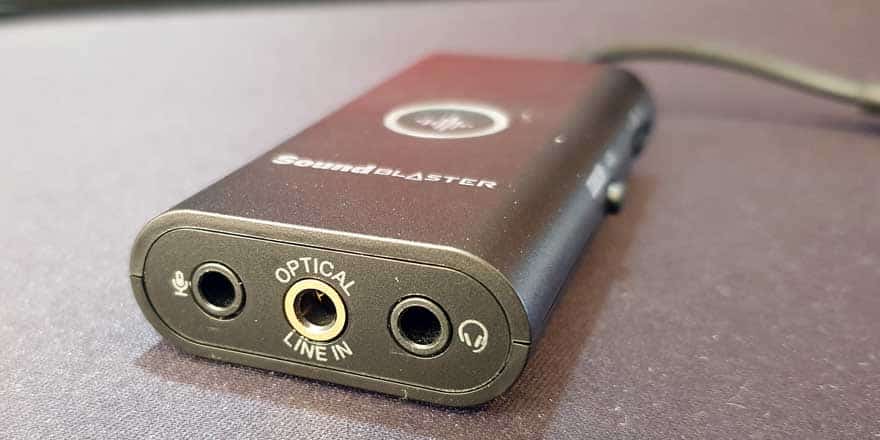 Down the side, you'll find a master volume control at the top, as well as a toggle switch to adjust the mix of voice/game audio on the same dial. I'd rather they just included two dials though.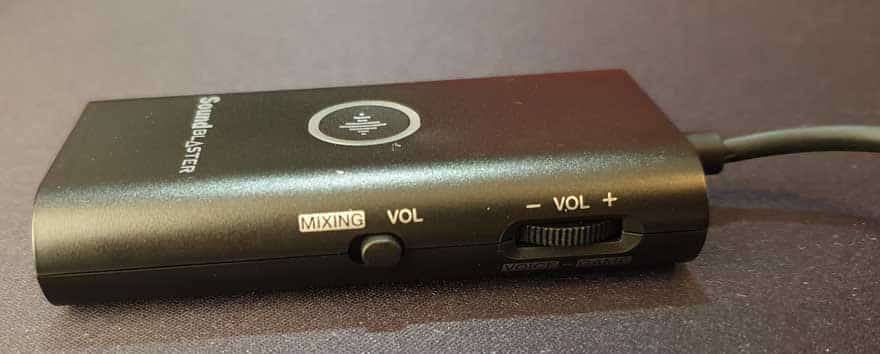 On the other side, you'll find a master volume control for the microphone, as well as a master mute button should you need the privacy. It seems then, you're not short on volume controls!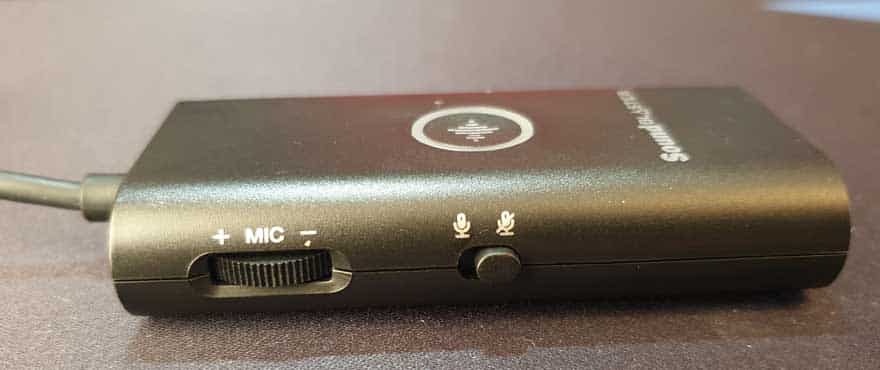 On the top, you'll find a short hard-wired USB Type-C cable. As I said before though, there is a Type-A adaptor included should you need it. For example, the Type-A can be used for the docked Nintendo Switch, but Type-C can connect directly to the handheld portion of the console.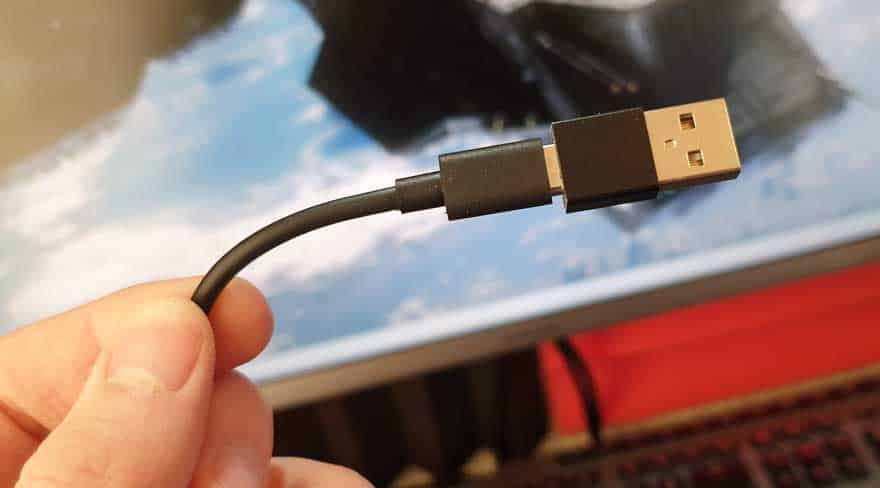 ———————–
Setup & Performance
The Creative SoundBlaster G3 is actually quite a simple beast in its most typical day to day uses. Plus in the USB cable to power the device, which can also provide the audio on compatible devices, or connect the optical cable as required. Then plug in your headphones and boom, you're rocking.
Honestly, it's that simple, plug and play, and you've got a fantastic headphone amp. Plugging your favourite Sennheiser headphones into the TV headphone jack just isn't going to get the job done. However, this amp has processing grunt that'll rival most high-end home AV receivers, albeit with a more focused input/output range. For that alone, it's great, but there's a lot more than just providing the driving force for great sounding headphones.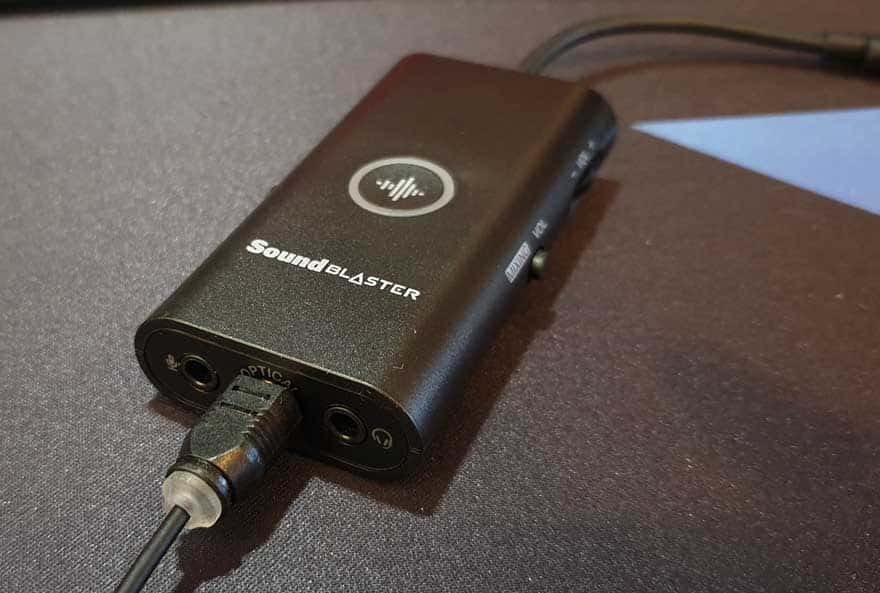 With an impressive 24-bit sound output, it'll give you the best your consoles, PC and mobile devices can deliver. It doesn't quite do the same job as my Creative SXFI with the fancy holography, but it will give you powerful processing none the less.
The fun lies in the software, which is actually similar to the software on their fantastic Katana PC soundbar/sub. Here you can dial in an enormous bass response, treble, mid-range punch, or even temper the tones. There's a lot to do here, but it's basically an EQ and mixing desk. However, you can do this from your mobile, desktop, etc, it's all easy. However, what matters is the big button, we all wanna push the big button.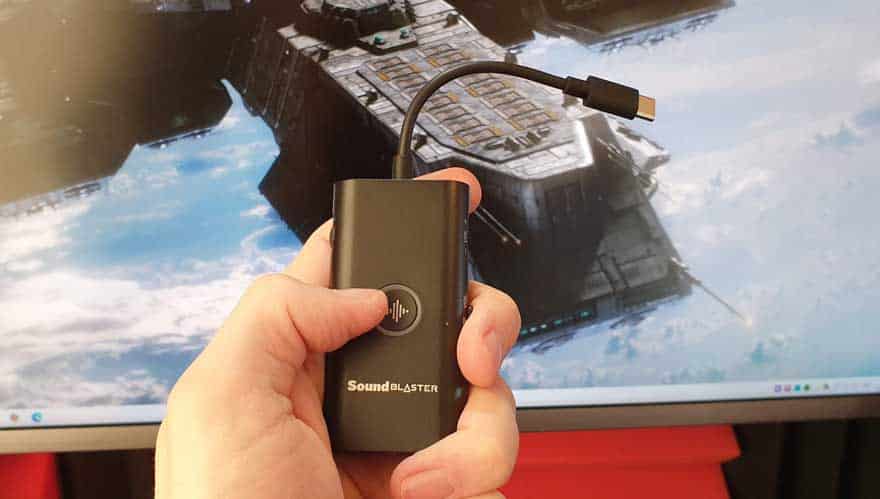 Right in the middle of the control, you'll find your SBX profile, setup whichever profile you want, hit it, and you're rocking. There are many gaming presets built-in, but honestly, a little experimentation goes a long way. I personally think cinema profiles are the best, but I do play mostly single-player games.
The mixing features are OK if a little complicated to control from the actually amp its self. However, I didn't find it something that required constant maintenance. Take the time, dial it in just how you like it and with any luck, you'll be able to leave it alone for quite some time.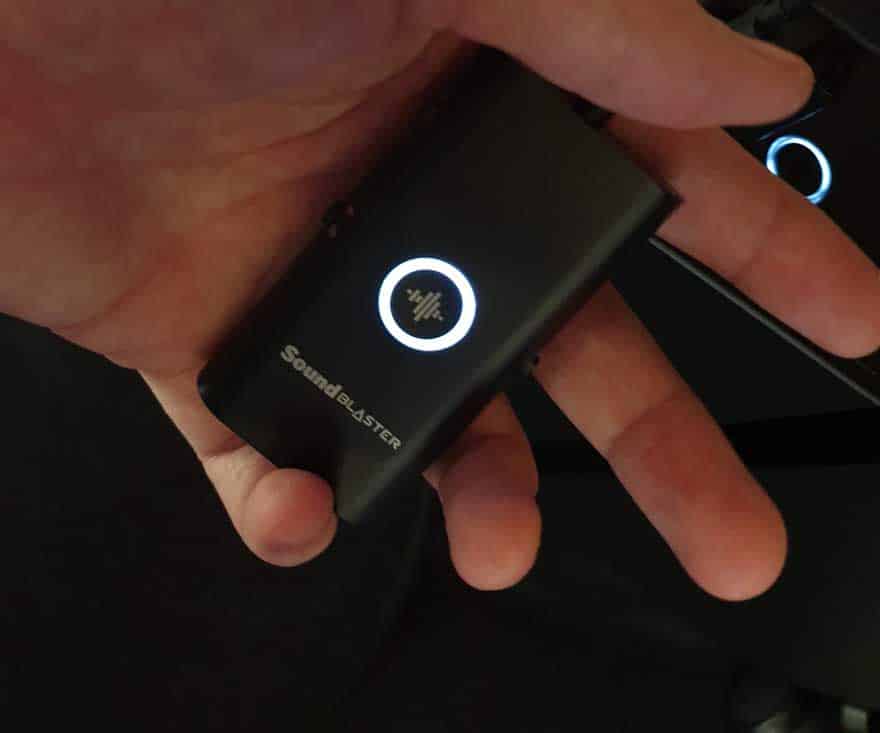 ———————–
How Much Does it Cost?
The Creative SoundBlaster G3 USB-C Gaming USB DAC and AMP is available now from Amazon UK for just £54.99 and Amazon US for just $59.99. That's amazing value for the quality of hardware included, especially given it works on just about every major device and it's very portable.
Overview
I'm a huge fan of Creative, always have been and if they keep up the good work, I always will be. While I'm not about to throw out my Creative Super X-Fi AMP for the SoundBlaster G3. However, they're quite different beasts, and for gaming on consoles particularly, the G3 is perfect for the job. Just plug, play and go.
Software
While it is plug and play, you will want the app or even the desktop software to configure it. The default profile gives you an excellent "wow" EQ to the sound that'll suit most, but it's still worth having a tinker. I actually think the software is better than the dials on the controller. While I do love that they have profiles for Call of Duty, Overwatch and loads of others, I still recommend making your own profile. Get it tuned how you want it and you'll likely only need the volume wheel once in a while, easy.
Hardware
For a tiny amp, it's no slouch, being able to push out 300 Ohm of amplification, while the DAC will run PCM 16-bit, 48.0, 96.0 kHz, PCM 24-bit, 48.0, 96.0 kHz. The addition of a powerful dynamic range of 100dB, CrystalVoice tech, and that optical input, and you've got one heck of a setup. I love being able to plug it into the Switch too, it really amps things up and doesn't chew up much battery life either.
Gaming and Beyond
If you've got a good set of headphones, even something that's £40-100, mid-range, from the likes of Corsair, Turtle Beach, SteelSeries, this little amp will really give them a shot in the arm. If you've got great headphones that cost a small fortune, they'll ensure you're able to get the most out of them. I'll admit, not everyone needs a good amp, some just don't care. However, if you want to spark life into your movies, music and games, this is a pretty affordable way to do it!