Creative Sound Blaster Audigy FX V2 & DBPRO Review
---
---
---
Peter Donnell / 4 months ago
A Closer Look
The new PCB design is a little smaller than the old one. Unfortunately, I don't have one to hand, but Creative says it's 16% smaller. It's also just a little bit cleaner and neater too. The old one had some brighter ports towards the back that looked a little old school by today's standards. A lot of the hardware is now black or silver, giving it a much more uniform look overall.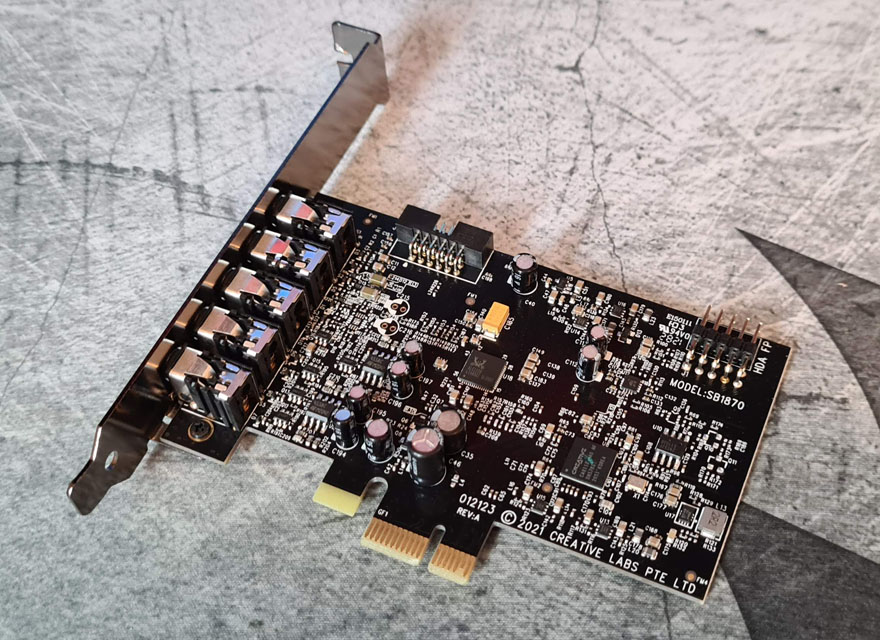 It appears the card users G-Luxon, a Taiwanese brand that's been going for over 40 years. They're pretty decent, though, and fitting with the overall price range of this soundcard. You'll find Nichicon caps in their (much more) expensive products, such as the X7.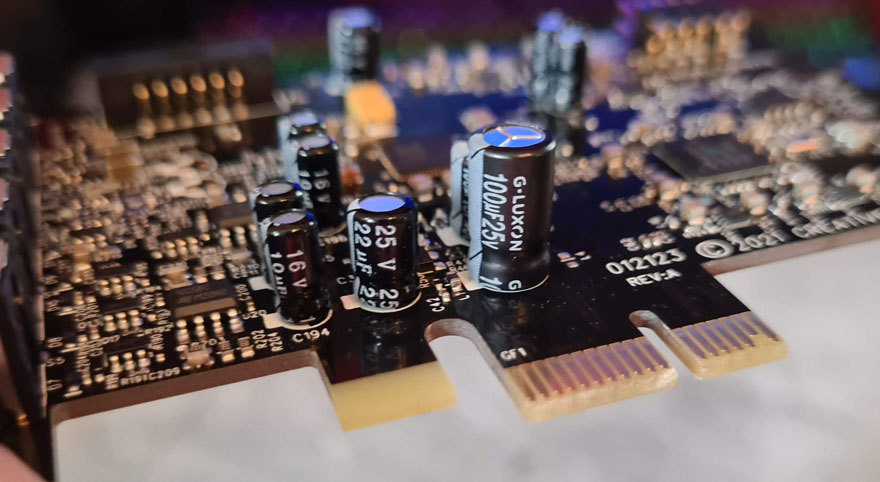 The chipset in the middle is an ALC1220, a few years old now but well tried and tested. It's quite a mid-range chip, it's very cost-effective, but it matches the card's requirements in terms of I/O. However, it does explain why the add-on card adds DSD support, as it's not native on this chipset. Again, most likely to balance the cost, as few people will really need that add-on card.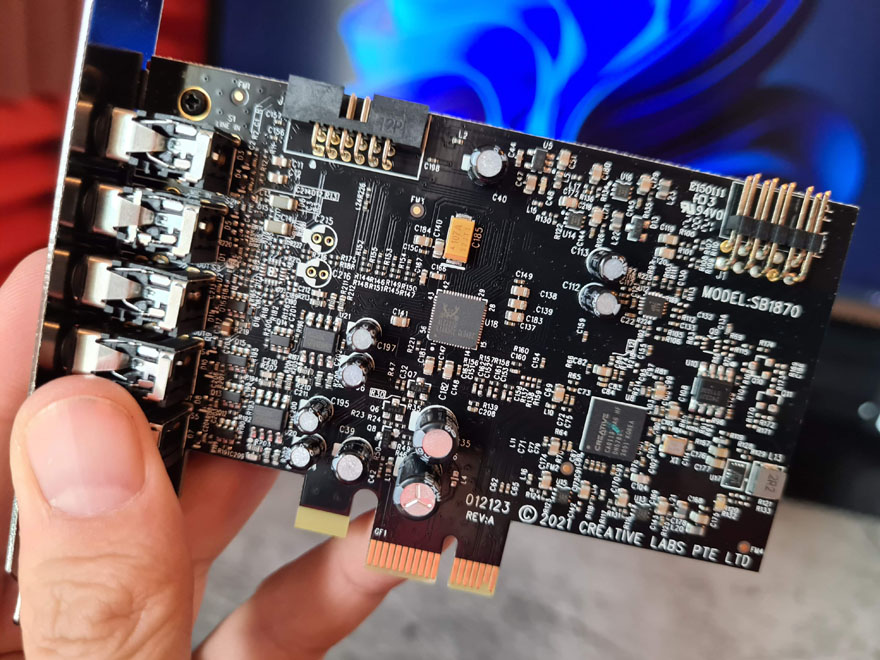 There's a secondary chipset, one of their CA0113-4AG controller chips, which has been found on Creative cards for around 8 years now, so we know it's reliable.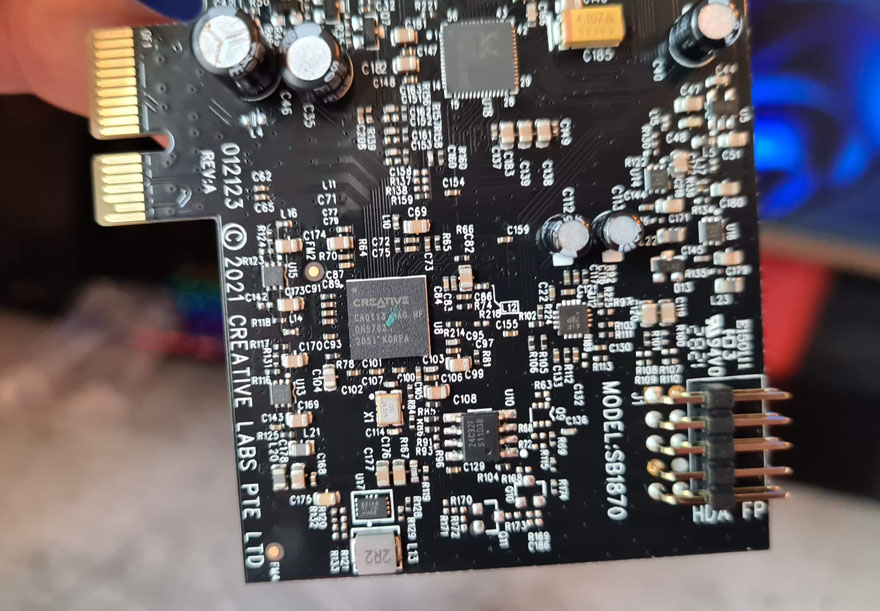 Overall though, there's nothing too complex going on here, compared to something like the AE-5 card I reviewed last year, but that was a significantly more expensive product, but I think it's fair to say this card isn't lacking in features, it's just kept simple to keep the cost fair to the consumer.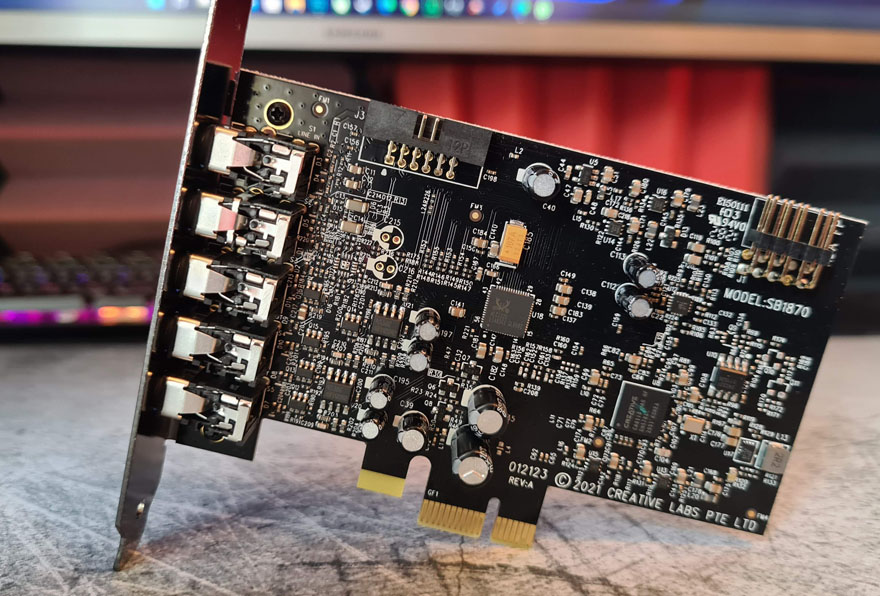 A handy HDA FP pin header, so you can use the microphone/headphone jacks on the front of your PC case.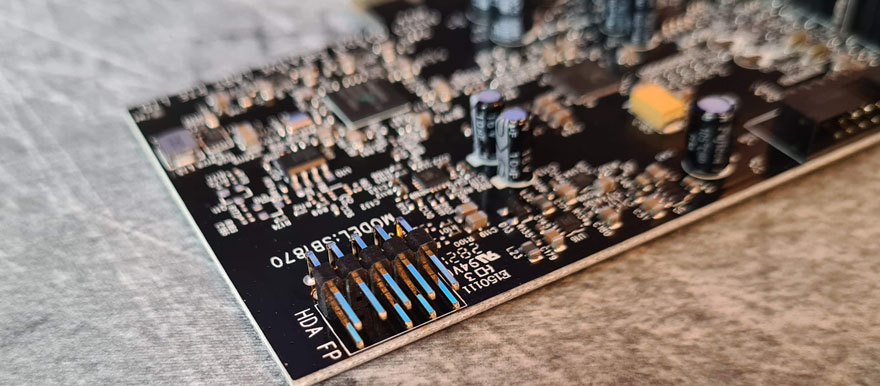 There's a header here that looks similar to USB 3, but it's a good bit smaller. This is actually for connecting the daughterboard, if you purchase one that is.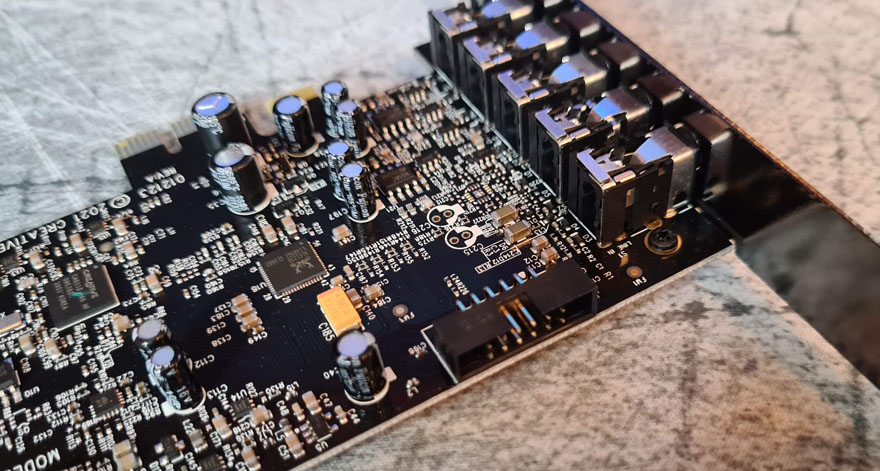 The card can fit in a 1x PCIe lane, so you can push it away from those more important GPU slots if you really need to. Of course, just make sure you have a free slot to being with too.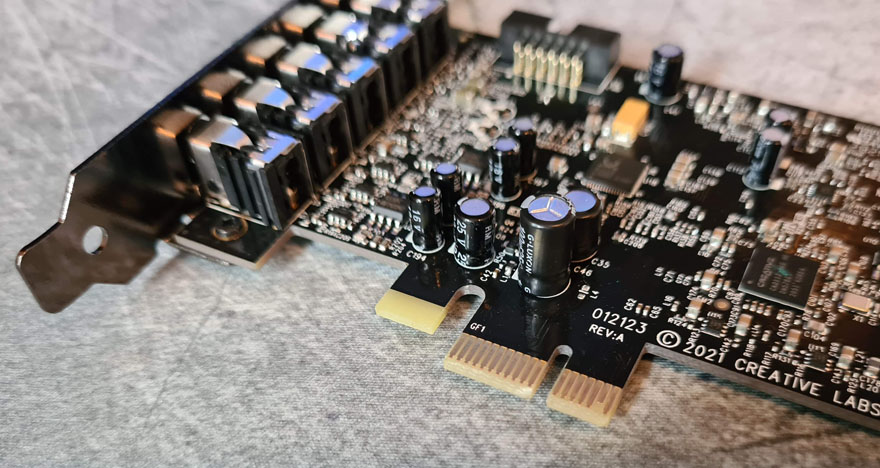 Around the back, a lovely black PCB, albeit ruined by that large sticker, but you're not likely to see much of this card once it's installed.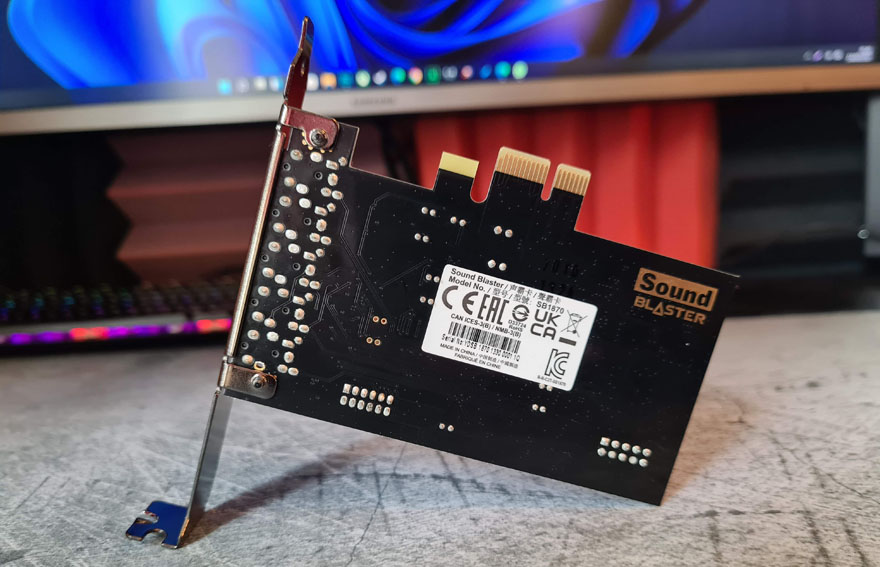 At the rear, you have five ports:
Line-in port – Mobile Devices / MP3 Players
Mic-in port – External Microphone (Mono)
Headphone / Front (L/R) port – 4-pole Headset / Headphone / Front channels for Stereo Speaker or 5.1 Analog Speaker System
Rear (L / R) port – 5.1 Analog Speaker System
Center / Subwoofer port – 5.1 Analog Speaker System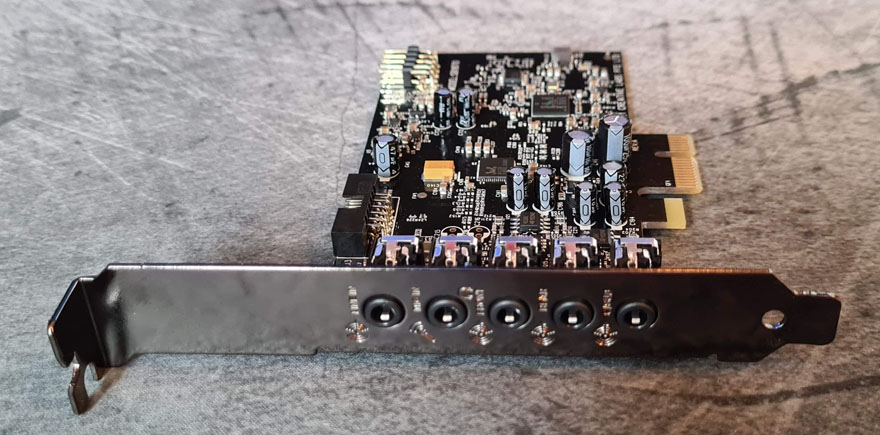 Are you using a low profile system? You can attach this half-height plate should you need to.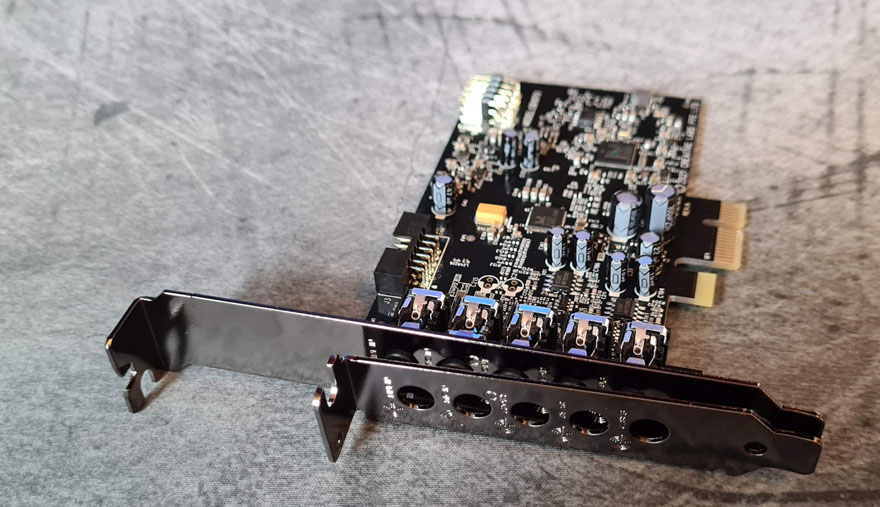 Speaking of size, this board is a lot more compact than you might think. He's the first thing I thought of for scale because a ruler didn't come to mind for some reason. It measures 117.4 x 121 x 21.6 mm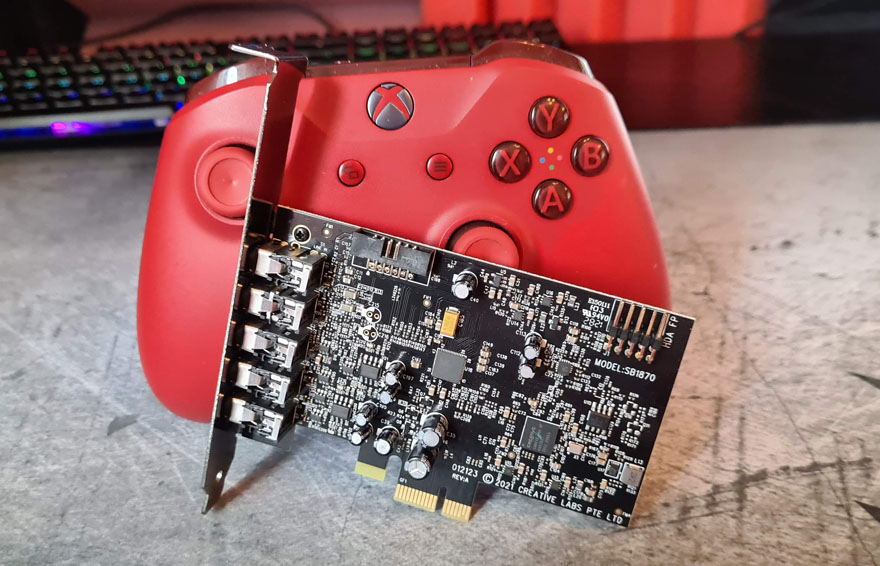 The DBPRO is even smaller, and actually, it's hard to see that this can do much of anything, but I'm sure it does.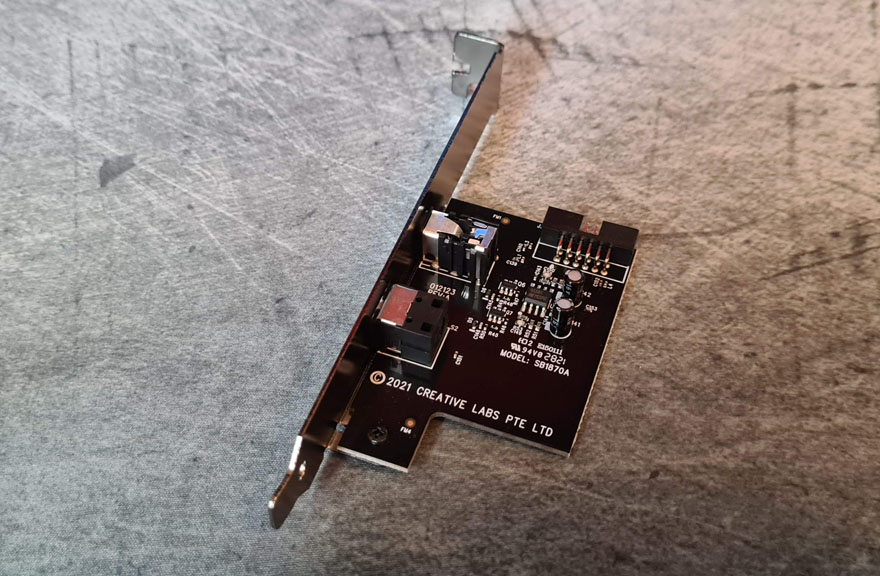 There is a 4558C Op Amp in the middle (the larger chip), no doubt to drive the additional two speakers in the 7.1 configurations. It's also safe to assume the other smaller chips are both the controller for the optical port, as well as hardware to allow for DSD256 audio decoding, which can then be sent back to that ALC chipset in a format it can understand.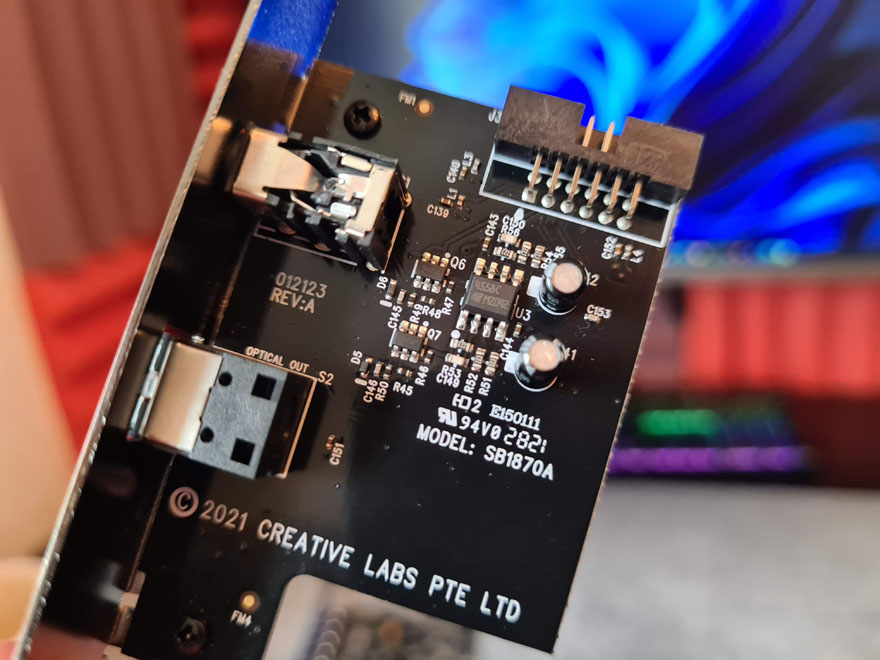 Much like the main card, there's a connection port on the side to pair the two together.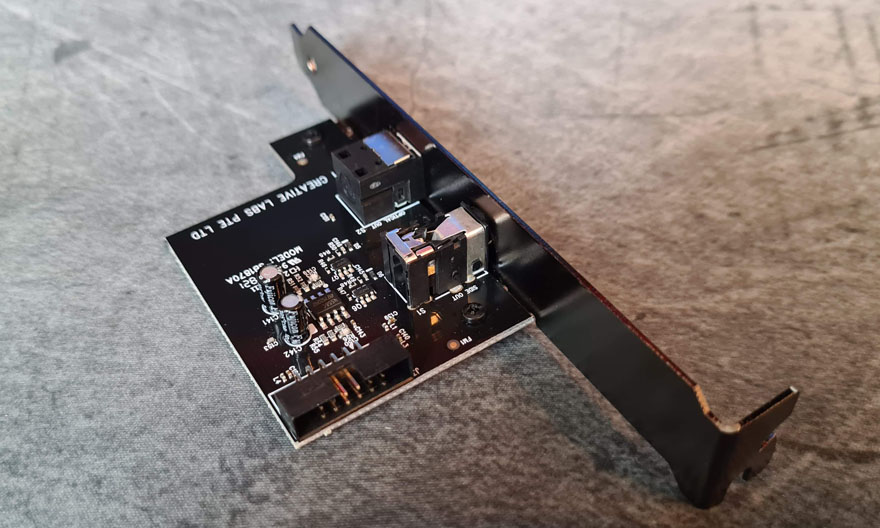 Plus a single optical port and audio jack on the rear.

The cable to pair the cards is quite long too, handy if your only slots are far apart or you need the cable to reach past a couple of graphics cards.