Creative Sound Blaster Katana V2 Review
---
---
---
Peter Donnell / 2 years ago
Five years ago, Creative launched their incredible Katana soundbar, and it was mighty impressive. It surprised me with just how freaking powerful it was, and frankly, I was always a little scared to take the volume up too much. The combination of multiple amplifiers and a dedicated subwoofer were always ready to impress. However, Now Creative is back again with the even more powerful Sound Blaster Katana V2! It's bigger, it's louder, it has some impressive new features, and I have absolutely no doubt it's going to blow me away… possibly literally if it's really louder than the old model. The old model was 75W RMS, but that's not 126W RMS, and it promises to do much more than simply be louder.
Sound Blaster Katana V2
The original design has been heavily modified, with a new speaker configuration in the soundbar its self, as well as a much larger 6.5″ subwoofer compared to the old 5.25″ design. It's still the same width, but it's a little taller and deeper, and the subwoofer housing is a bit larger now too. There's a lot of improvements to connectivity too, with the latest Bluetooth 5.0, HDMI ARC, and USB-C now added. There's also a headphone line out for SXFI processing, which is properly fantastic. Super X-Fi is surround sound holography, and something I've been a daily user of for a few years now, but there's also SXFI Battle Mode processing for the soundbar, a customisable remote control, a wall mounting kit, built-in RGB lighting and more. Really, it's everything you would expect from a "V2" of something, there's just more stuff!
Features
Tri-Amplified Multi-Channel Processing
SXFI Battle Mode
Scout Mode
SXFI Out (Headphones)
Dolby Audio Decoder (Via ARC and Optical)
True 5.1 Playback
68% More Powerful than V1
Customisable RGB Lighting
Customisable Remote Control
Dedicated Subwoofer
Built-in Beamforming Microphones
What Creative Had to Say
Explore uncharted audile territories and achieve elevated sound experiences with Sound Blaster Katana V2! Bringing back not only the finest features of its predecessor such as the revolutionary tri-amplified design, the Sound Blaster Katana V2 now sports an all-new sleek, matte black build, upgraded list of comprehensive connectivity options, and further engineered to deliver 68% more power than before! Immerse yourself in rich and flawless audio dynamics, and even stronger bass reproduction with the improved tweeters and subwoofer.
We've also further stepped up the audio processing game on Sound Blaster Katana V2 by equipping it with not just the Sound Blaster chip, but also the Super X-Fi UltraDSP chip as well-so you can continue your gaming adventure with multi-channel surround sound in your headphones late at night. With all these major upgrades and more, make the soundbar system the center of your audio hub.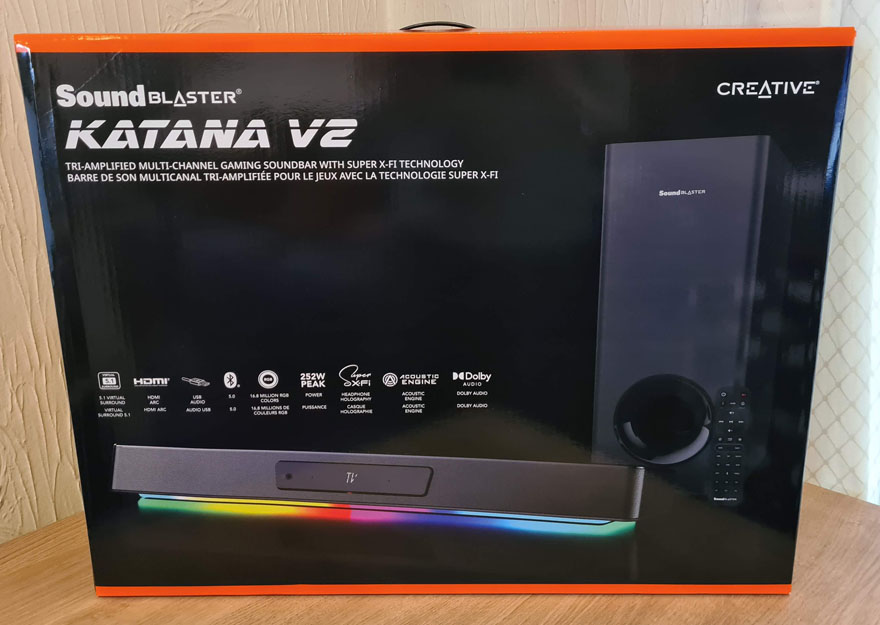 Launch Trailer