Creative Sound Blaster X7 Deskop DAC & Amplifier Review
---
---
---
Peter Donnell / 7 years ago
Introduction
---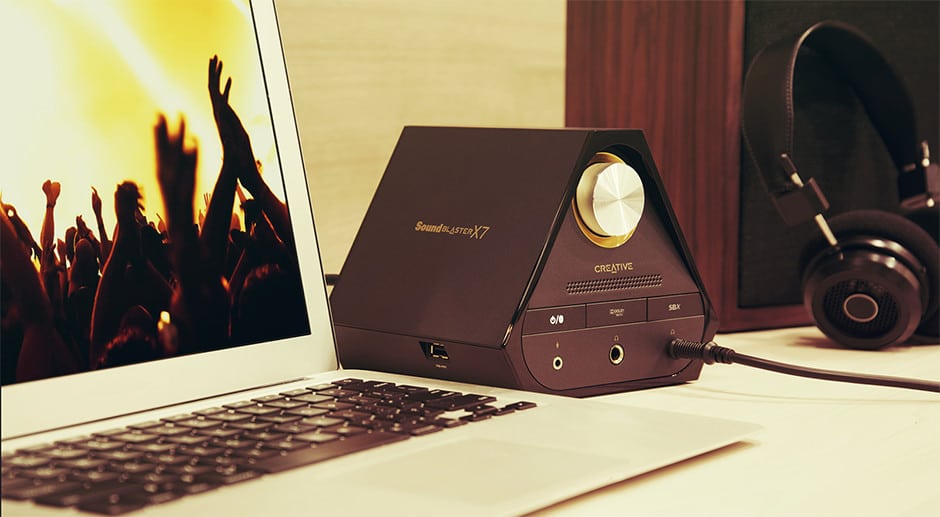 A lot of attention gets put on high-end displays and graphics, but while technology has made great advances in pushing graphics to 4K monitors, 3D displays, and all kinds of other cool stuff, I see a lot of people neglecting their audio experience, be that as part of their home cinema setup, or their desktop audio. While I must admit that motherboard technology has made huge advances, with many brands such as MSI and Gigabyte for example, putting high-end audio hardware directly onto their motherboards, I have yet to hear one that was comparable to a standalone unit.
Audio Performance
Signal-to-Noise Ratio (DAC): 127dB
Signal-to-Noise Ratio (ADC): 123dB
24-bit recording sampling rates: 44.1, 48, 96, 192 kHz
24-bit playback sampling rates: 44.1, 48, 88.2, 96, 176.4, 192 kHz
Stereo Direct Playback at 24-bit / 44.1, 48, 88.2, 96, 176.4, 192 kHz
Surround Playback at 24-bit / 44.1, 48, 88.2, 96 kHz
Dolby Digital Decoding
Frequency Response
20 Hz – 90 kHz (24-bit/192kHz)
Maximum Power Output
50W + 50W (4Ω, 1kHz, 10% THD)¹
38W + 38W (4Ω, 1kHz, 10% THD)²
27W + 27W (8Ω, 1kHz, 10% THD)¹
27W + 27W (8Ω, 1kHz, 10% THD)²
Rated Power Output
37W + 37W (4Ω, 1kHz, 1% THD)¹
35W + 35W (4Ω, 1kHz, 1% THD)²
22W + 22W (8Ω, 1kHz, 1% THD)¹
20W + 20W (8Ω, 1kHz, 1% THD)²
Total Harmonic Distortion
0.05% (1kHz, 4Ω, 33W)¹
0.05% (1kHz, 4Ω, 30W)²
¹ Requires upgrade to high power AC-DC adapter (24V 6A)
² Using bundled AC-DC adapter (24V 2.91A)
Creative and their Sound Blaster range have a lot of years experience in the audio business, unless you've been lost on a desert island for the last couple of decades, you will have heard of them and many of you have either owned or used their products in some context at least once. I'm seeing more and more desktop AMP and DAC hardware in recent years and as the music industry continues to push away from crude quality MP3's that plagued early MP3 players years ago, higher bitrate audio files, high-quality audio streaming services and a whole lot more are now offering up audio in up to 24-bit/192kHz high-resolution formats.

If you're investing £300+ into a 4K monitor and god knows how much more in graphics cards, a CPU and other components, is it really too much to set aside another £329.99 to get your audio on par with the rest of your setup? That's what I hope to find out today.
First, let's take a quick look at a full walkthrough with Ryan Schliepier of Creative, at the level of features included in this setup, because if I were to put them into writing, I'll be doubling the size of this review; prepare to be blown away by the feature set on this unit!
This is a premium grade product, so as you would expect, it comes with virtually every kind of connection you could possibly need. One thing that did really surprise me is that the unit comes with five power cables, FIVE! No matter where you are in the world, you shouldn't have a problem plugging this thing in.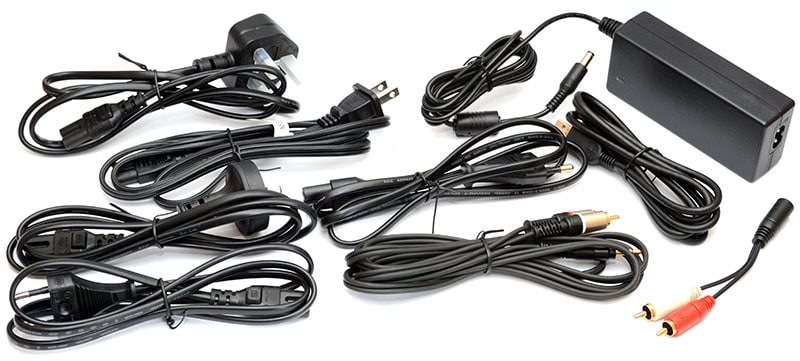 All the cables that are included are of a high quality and will help you get this thing plugged in and setup from day one.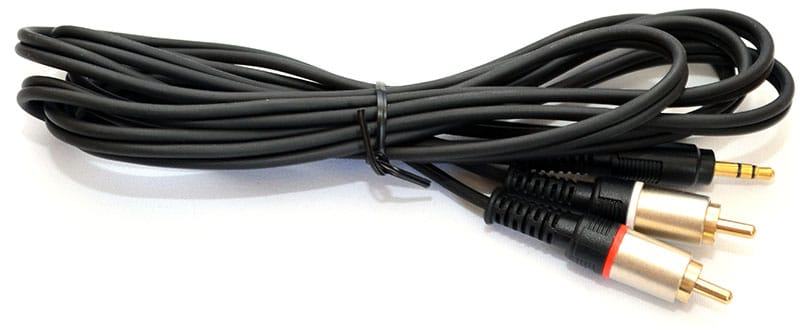 This funny looking thing is a headphone stand and we'll take a close look at how that works in a few minutes.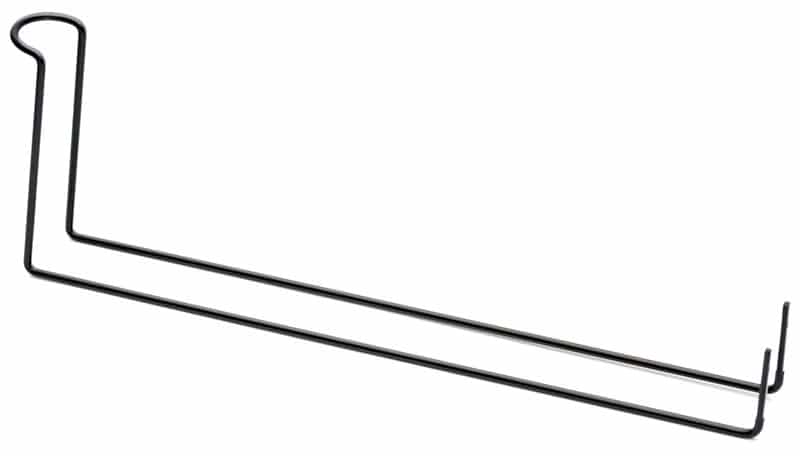 The unit is very nicely designed and while it is quite big, it's not so big that it would be imposing on your desktop. The shape of it also means it takes up less cubic space on your desktop and aesthetically speaking, it's a lovely looking bit of kit.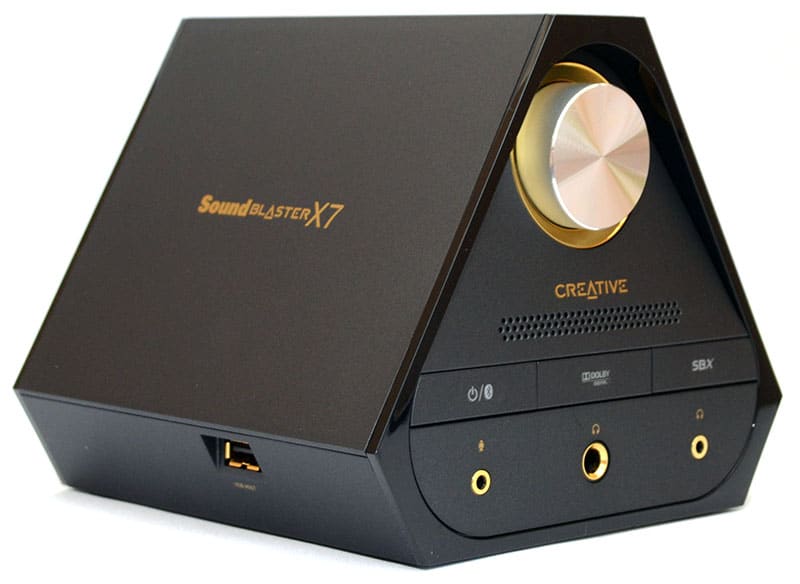 As you saw in the video above, the unit has a great range of connections. On the front panel you've got a gorgeous volume dial, which was infinite rotation in either direction, rather than a lock to lock volume dial. There's headphone jacks for both 3.5mm and 1/4″ and a microphone line-in for those who like to use a dedicated mic. Then you've got the power/Bluetooth and SBX control switches. In the middle there's some ventilation, behind which you'll find two beam-forming microphones.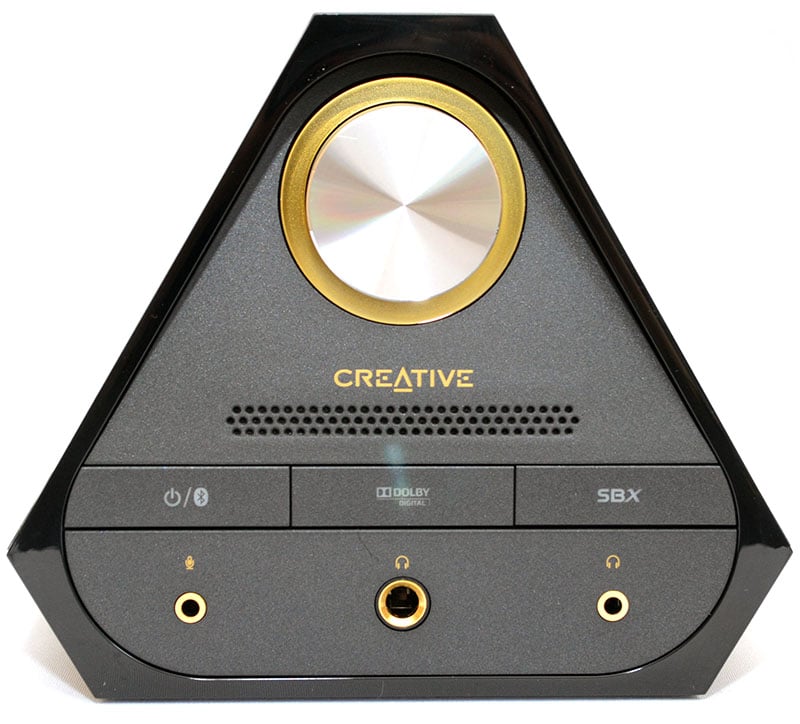 On the right side, you'll see a small NFC logo, you can tap your phone or any other NFC compatible device and immediately sync up the audio through the unit. This is great for playing songs from your phone or tablet, but it can also be used to make hands-free calls via the built-in microphones and your own speakers or headphones.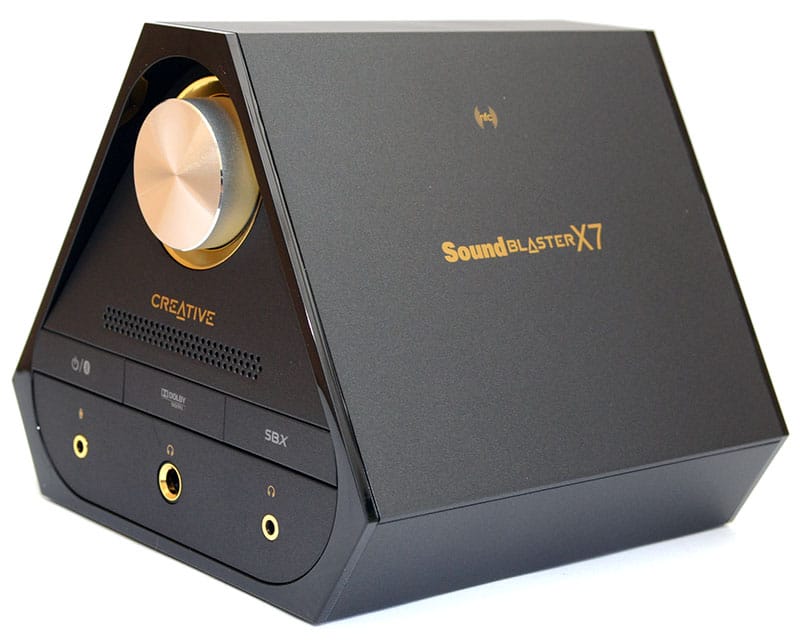 Around the back, we see a plethora of connections. You've got options for 4ohm and 9ohm impedance for two bare wire terminals and RCA/Jack outputs for 5.1 setups. There's stereo line in, optical passthrough and USB, not forgetting the built-in Bluetooth support; if you've got anything audio related, you can connect it!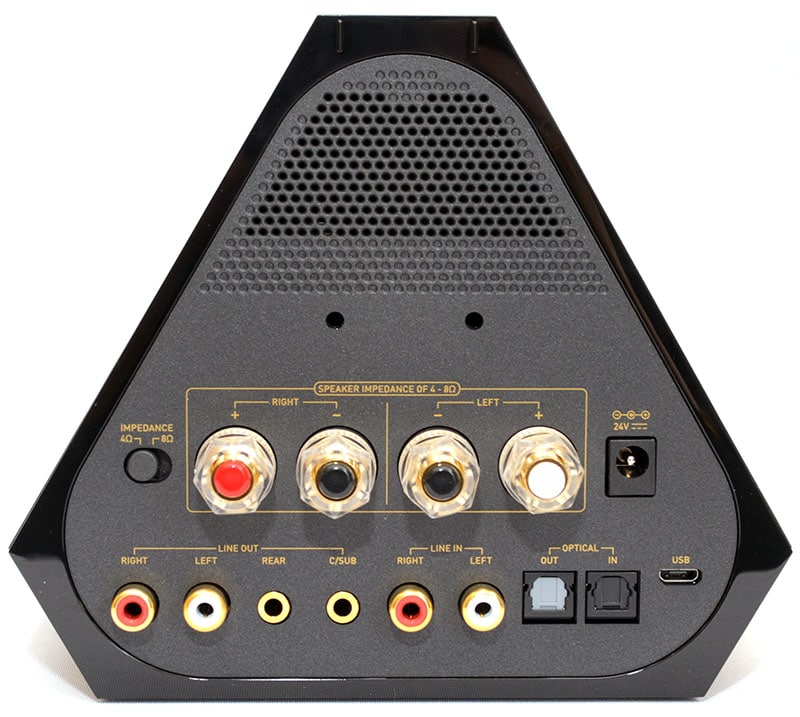 All the fittings are of a premium quality, with gold-plated ports and high-quality screw fittings for the wire terminals.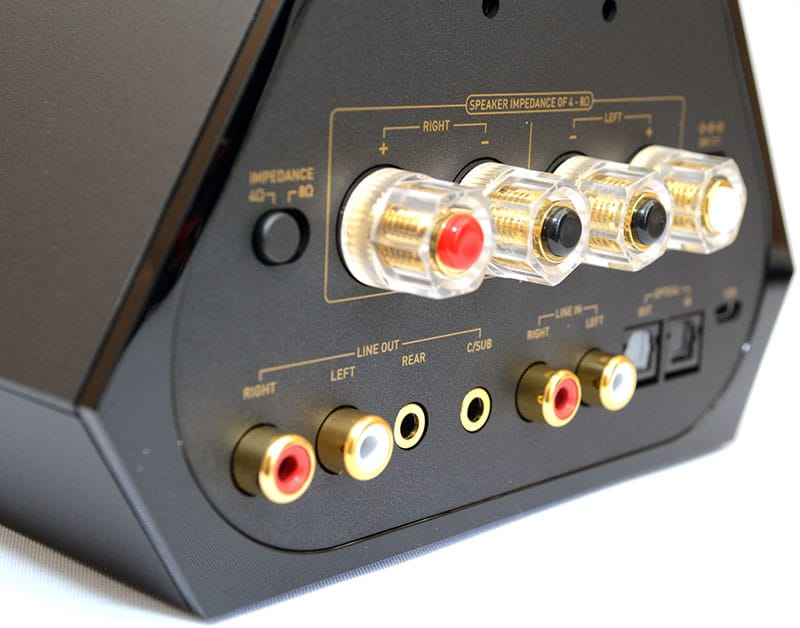 At the top, there's some passive cooling holes and two small holes for mounting the headphone stand.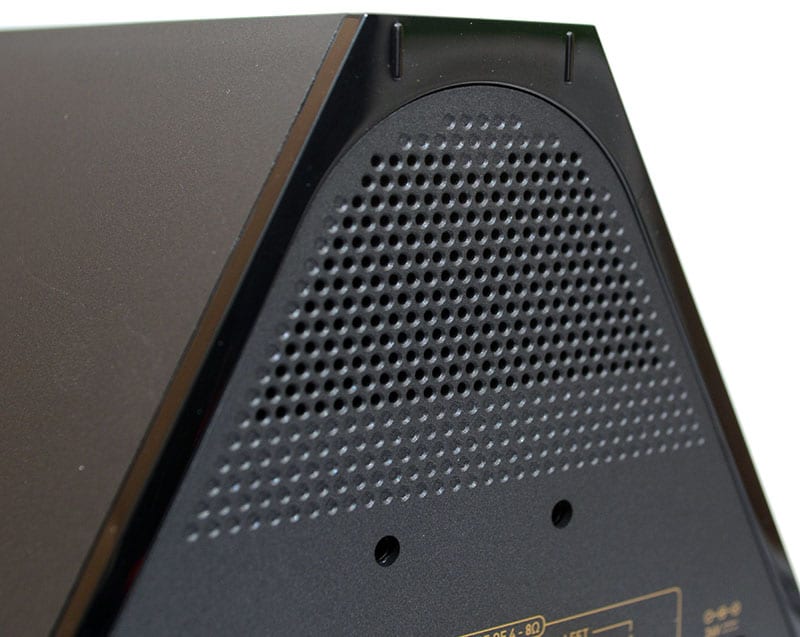 The headphone stand is optional and is perfect for keeping your favourite set within easy reach.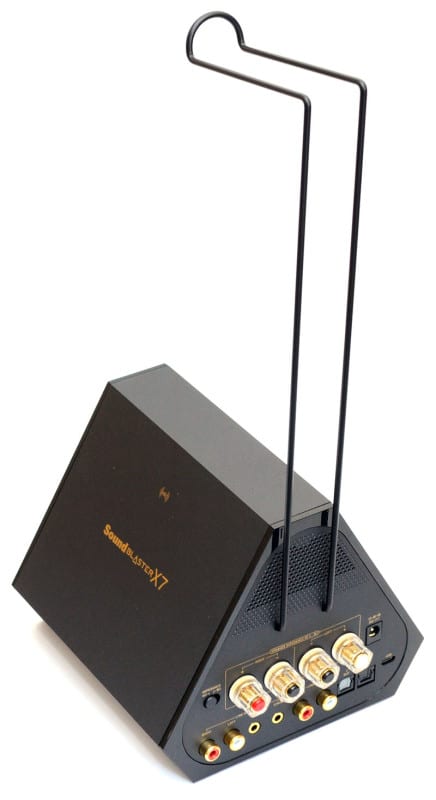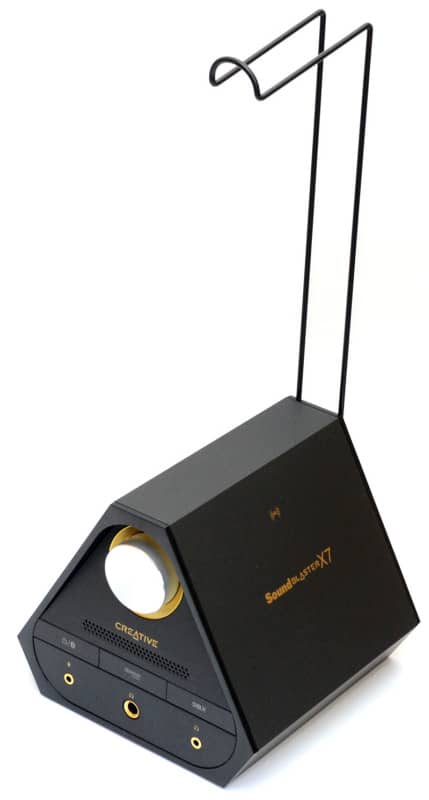 Down the left side, you'll find a USB Host port, perfect for charging your phone or even your headset.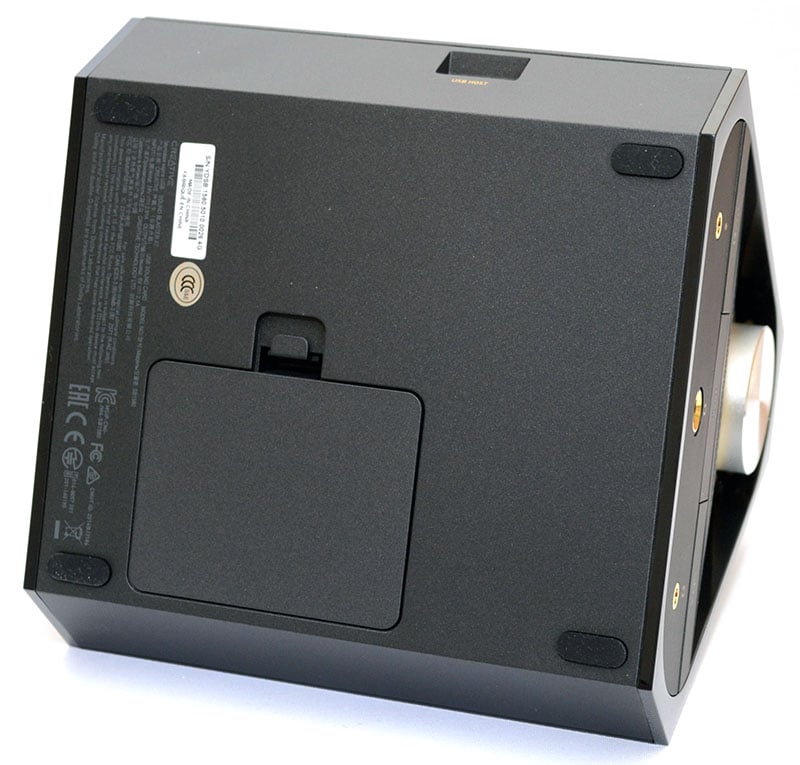 On the underside, there's a removable cover, behind which you can see some of the workings of the AMP/DAC. Here you can see the removable op-amps, which you can replace yourself if you have the money and the desire to do so.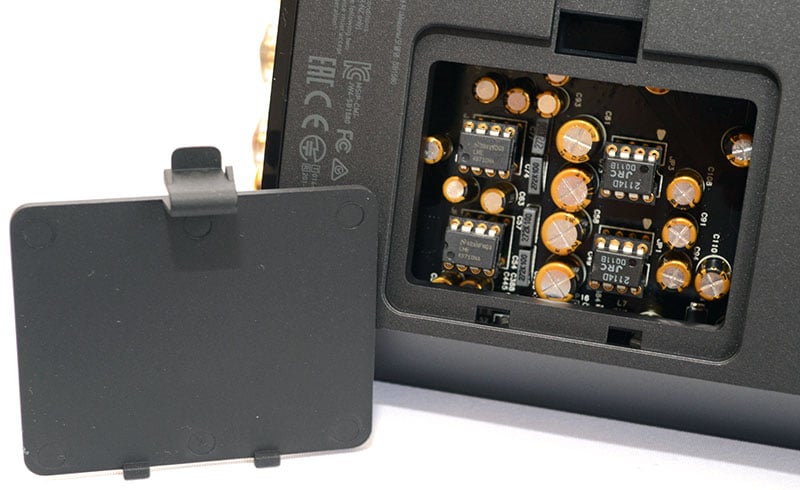 Overall, this is one stunning looking setup and no, the headset in the picture isn't included in the bundle, but I figured a Creative brand headset would look nice on the stand.