Creative Sound Blaster X7 Deskop DAC & Amplifier Review
---
---
---
Peter Donnell / 7 years ago
Introduction
---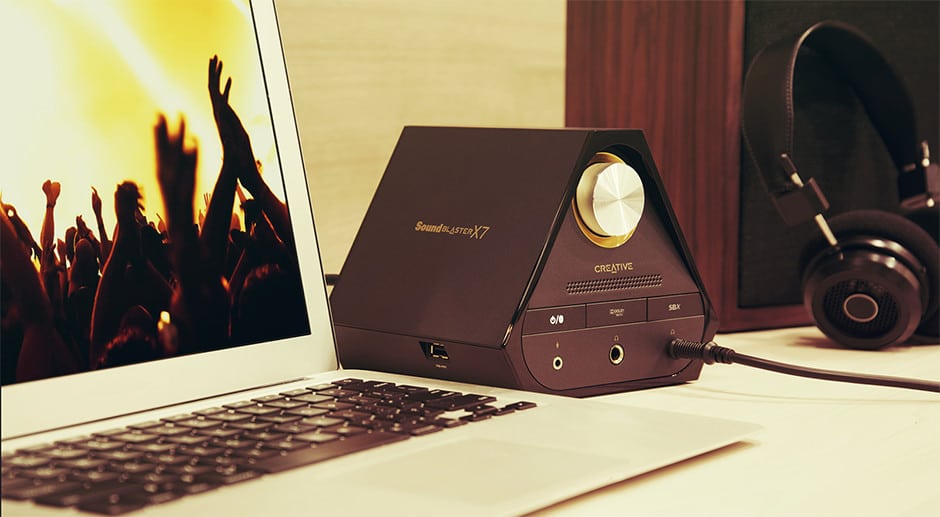 A lot of attention gets put on high-end displays and graphics, but while technology has made great advances in pushing graphics to 4K monitors, 3D displays, and all kinds of other cool stuff, I see a lot of people neglecting their audio experience, be that as part of their home cinema setup, or their desktop audio. While I must admit that motherboard technology has made huge advances, with many brands such as MSI and Gigabyte for example, putting high-end audio hardware directly onto their motherboards, I have yet to hear one that was comparable to a standalone unit.
Audio Performance
Signal-to-Noise Ratio (DAC): 127dB
Signal-to-Noise Ratio (ADC): 123dB
24-bit recording sampling rates: 44.1, 48, 96, 192 kHz
24-bit playback sampling rates: 44.1, 48, 88.2, 96, 176.4, 192 kHz
Stereo Direct Playback at 24-bit / 44.1, 48, 88.2, 96, 176.4, 192 kHz
Surround Playback at 24-bit / 44.1, 48, 88.2, 96 kHz
Dolby Digital Decoding
Frequency Response
20 Hz – 90 kHz (24-bit/192kHz)
Maximum Power Output
50W + 50W (4Ω, 1kHz, 10% THD)¹
38W + 38W (4Ω, 1kHz, 10% THD)²
27W + 27W (8Ω, 1kHz, 10% THD)¹
27W + 27W (8Ω, 1kHz, 10% THD)²
Rated Power Output
37W + 37W (4Ω, 1kHz, 1% THD)¹
35W + 35W (4Ω, 1kHz, 1% THD)²
22W + 22W (8Ω, 1kHz, 1% THD)¹
20W + 20W (8Ω, 1kHz, 1% THD)²
Total Harmonic Distortion
0.05% (1kHz, 4Ω, 33W)¹
0.05% (1kHz, 4Ω, 30W)²
¹ Requires upgrade to high power AC-DC adapter (24V 6A)
² Using bundled AC-DC adapter (24V 2.91A)
Creative and their Sound Blaster range have a lot of years experience in the audio business, unless you've been lost on a desert island for the last couple of decades, you will have heard of them and many of you have either owned or used their products in some context at least once. I'm seeing more and more desktop AMP and DAC hardware in recent years and as the music industry continues to push away from crude quality MP3's that plagued early MP3 players years ago, higher bitrate audio files, high-quality audio streaming services and a whole lot more are now offering up audio in up to 24-bit/192kHz high-resolution formats.

If you're investing £300+ into a 4K monitor and god knows how much more in graphics cards, a CPU and other components, is it really too much to set aside another £329.99 to get your audio on par with the rest of your setup? That's what I hope to find out today.
First, let's take a quick look at a full walkthrough with Ryan Schliepier of Creative, at the level of features included in this setup, because if I were to put them into writing, I'll be doubling the size of this review; prepare to be blown away by the feature set on this unit!
This is a premium grade product, so as you would expect, it comes with virtually every kind of connection you could possibly need. One thing that did really surprise me is that the unit comes with five power cables, FIVE! No matter where you are in the world, you shouldn't have a problem plugging this thing in.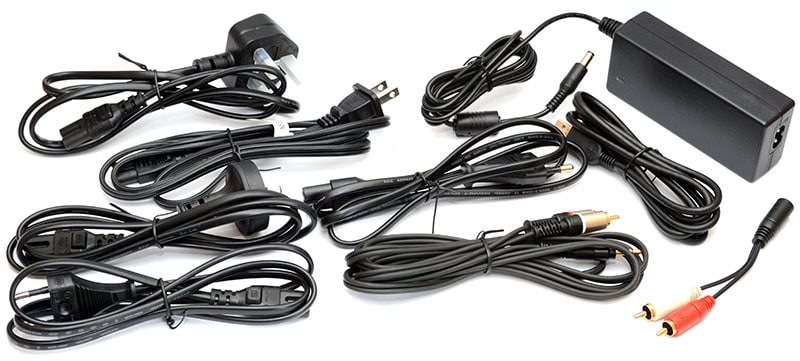 All the cables that are included are of a high quality and will help you get this thing plugged in and setup from day one.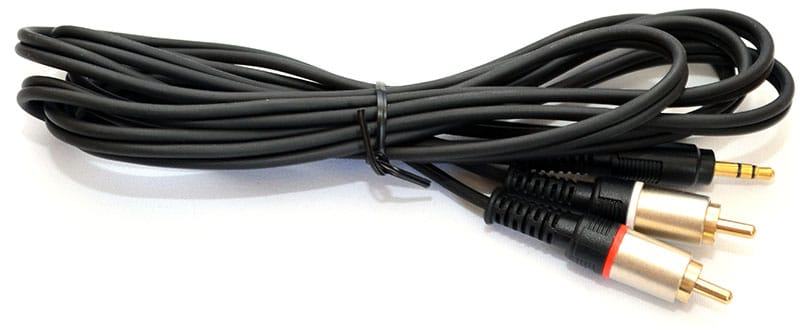 This funny looking thing is a headphone stand and we'll take a close look at how that works in a few minutes.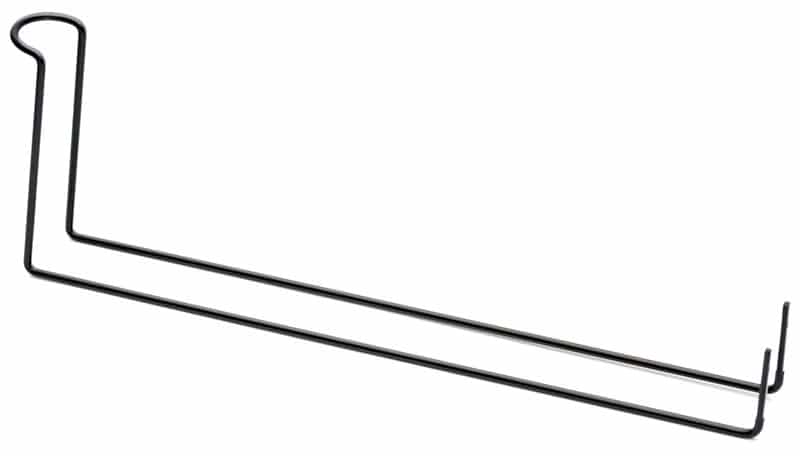 The unit is very nicely designed and while it is quite big, it's not so big that it would be imposing on your desktop. The shape of it also means it takes up less cubic space on your desktop and aesthetically speaking, it's a lovely looking bit of kit.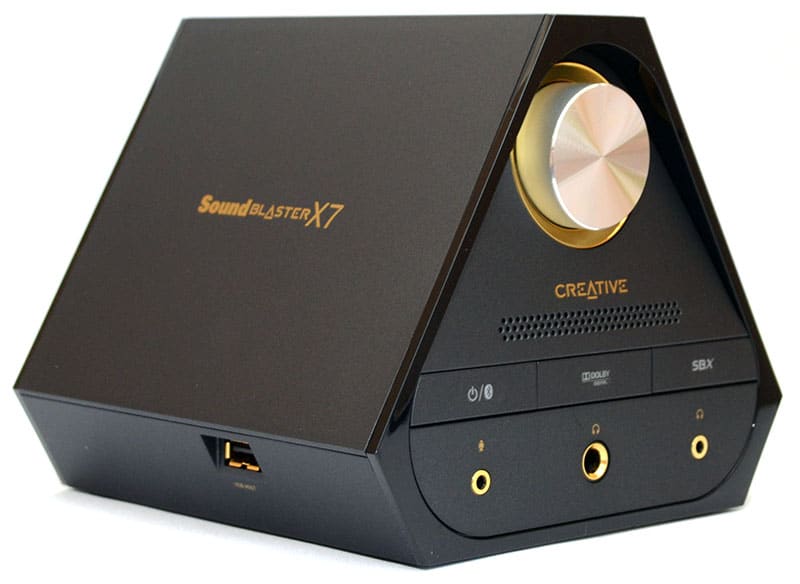 As you saw in the video above, the unit has a great range of connections. On the front panel you've got a gorgeous volume dial, which was infinite rotation in either direction, rather than a lock to lock volume dial. There's headphone jacks for both 3.5mm and 1/4″ and a microphone line-in for those who like to use a dedicated mic. Then you've got the power/Bluetooth and SBX control switches. In the middle there's some ventilation, behind which you'll find two beam-forming microphones.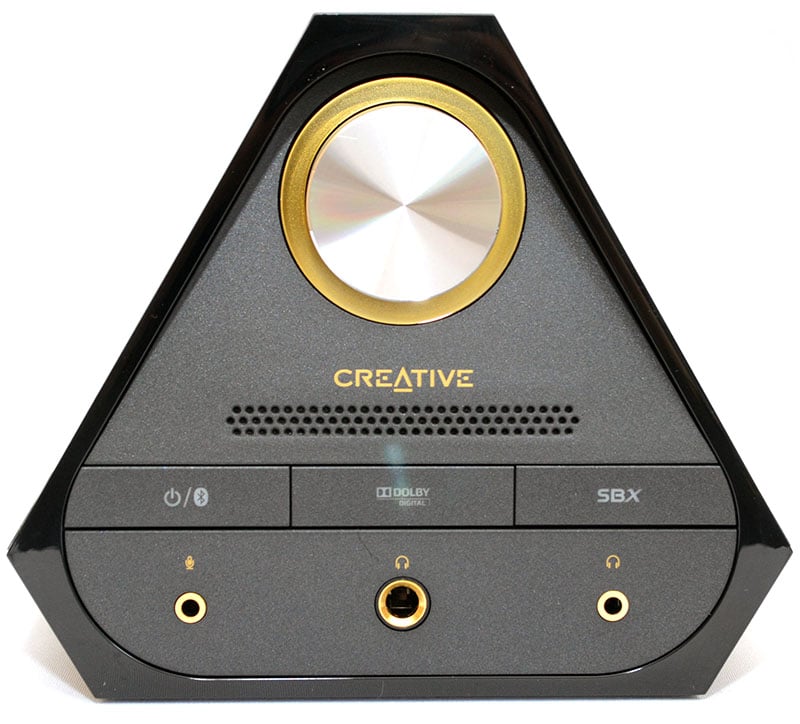 On the right side, you'll see a small NFC logo, you can tap your phone or any other NFC compatible device and immediately sync up the audio through the unit. This is great for playing songs from your phone or tablet, but it can also be used to make hands-free calls via the built-in microphones and your own speakers or headphones.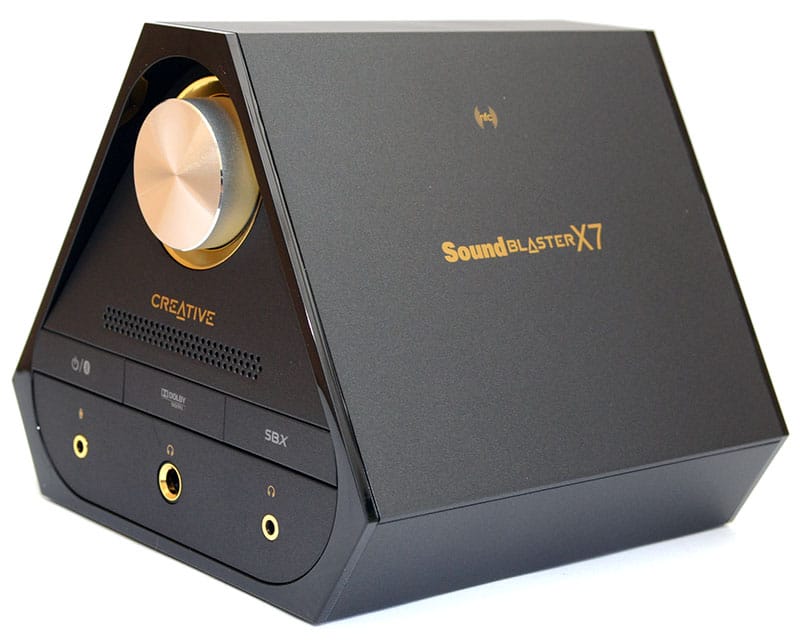 Around the back, we see a plethora of connections. You've got options for 4ohm and 9ohm impedance for two bare wire terminals and RCA/Jack outputs for 5.1 setups. There's stereo line in, optical passthrough and USB, not forgetting the built-in Bluetooth support; if you've got anything audio related, you can connect it!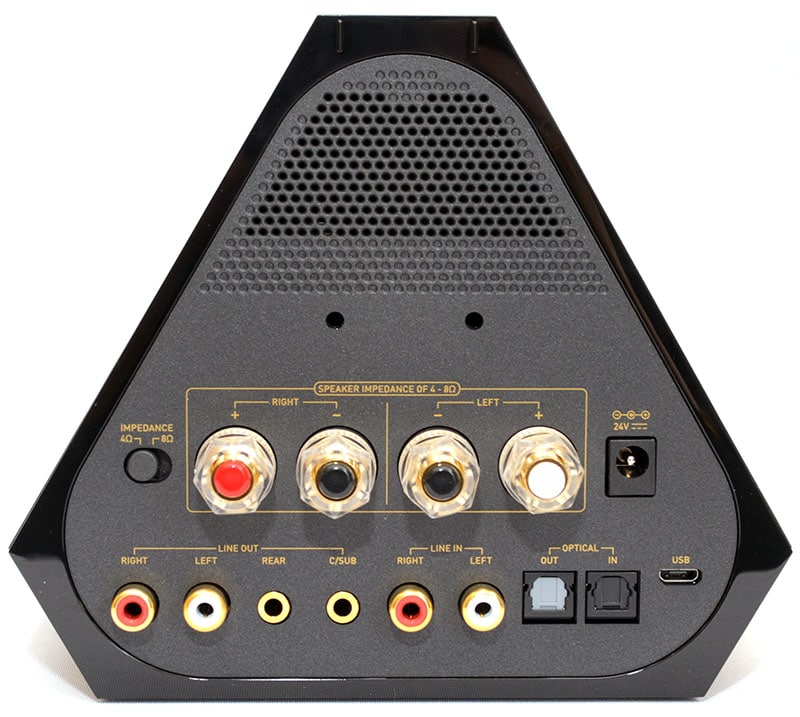 All the fittings are of a premium quality, with gold-plated ports and high-quality screw fittings for the wire terminals.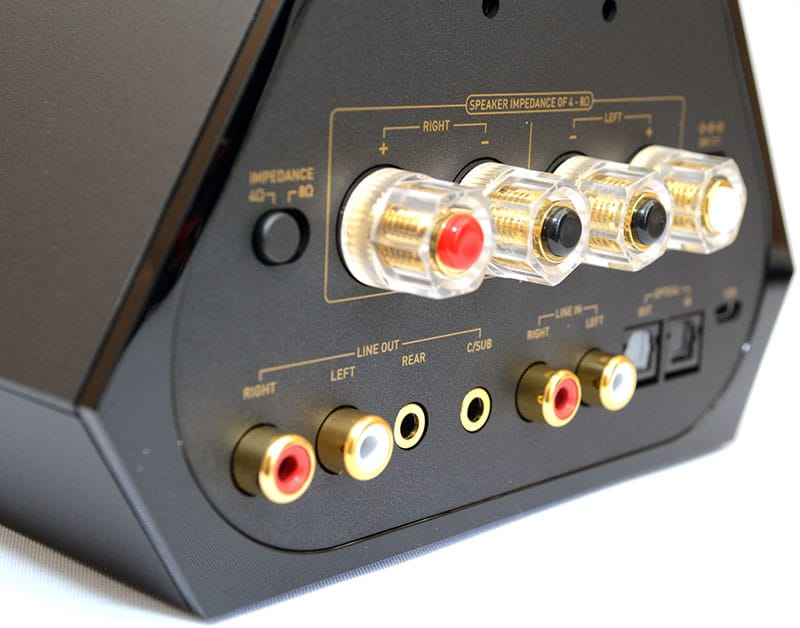 At the top, there's some passive cooling holes and two small holes for mounting the headphone stand.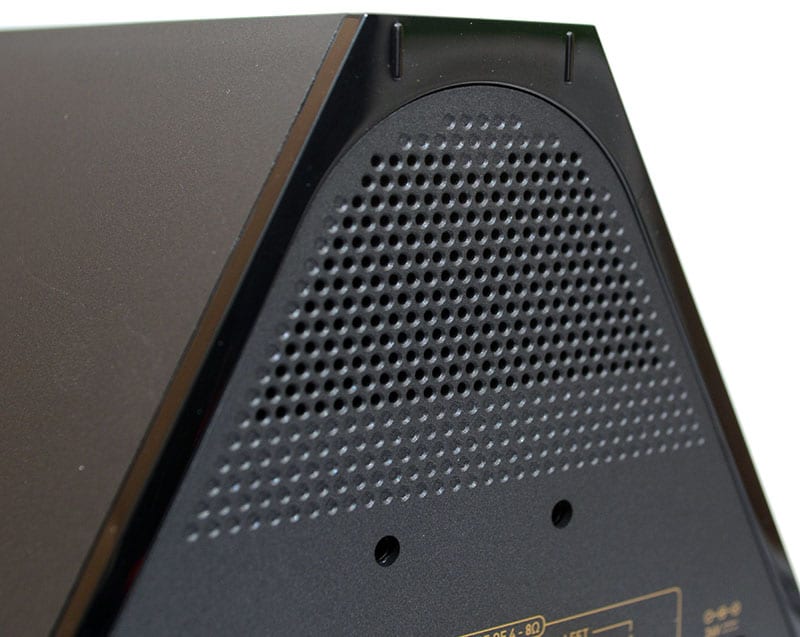 The headphone stand is optional and is perfect for keeping your favourite set within easy reach.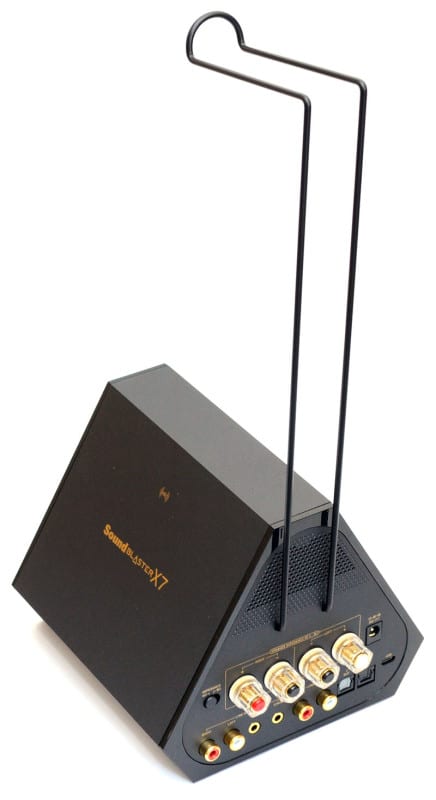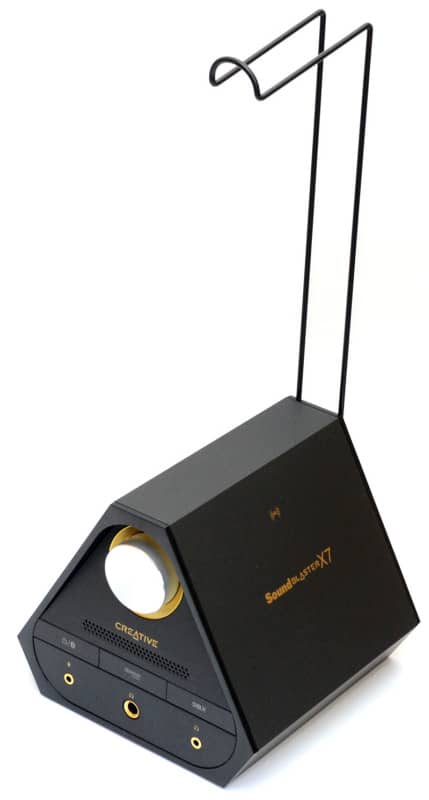 Down the left side, you'll find a USB Host port, perfect for charging your phone or even your headset.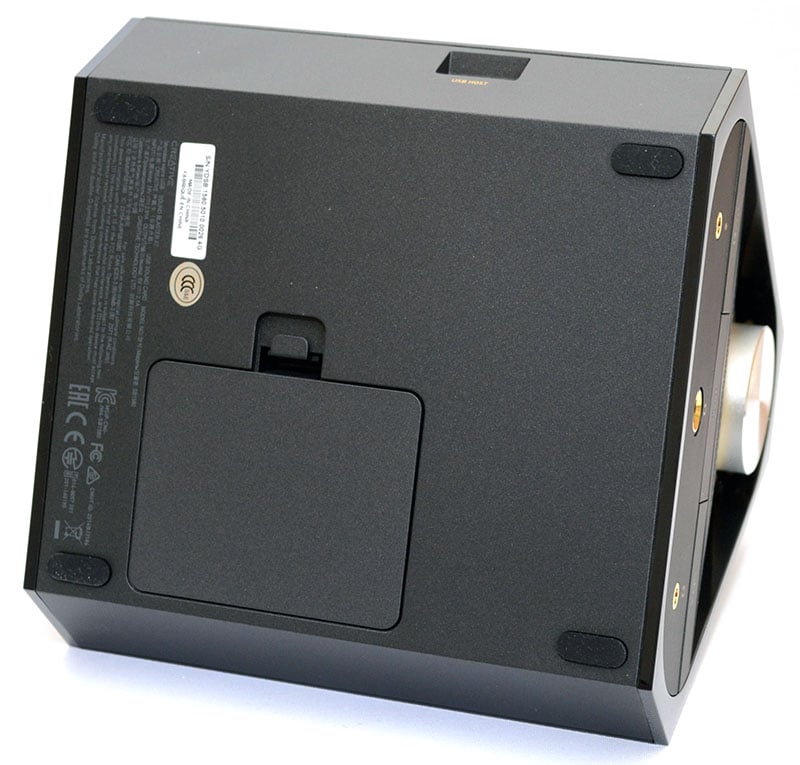 On the underside, there's a removable cover, behind which you can see some of the workings of the AMP/DAC. Here you can see the removable op-amps, which you can replace yourself if you have the money and the desire to do so.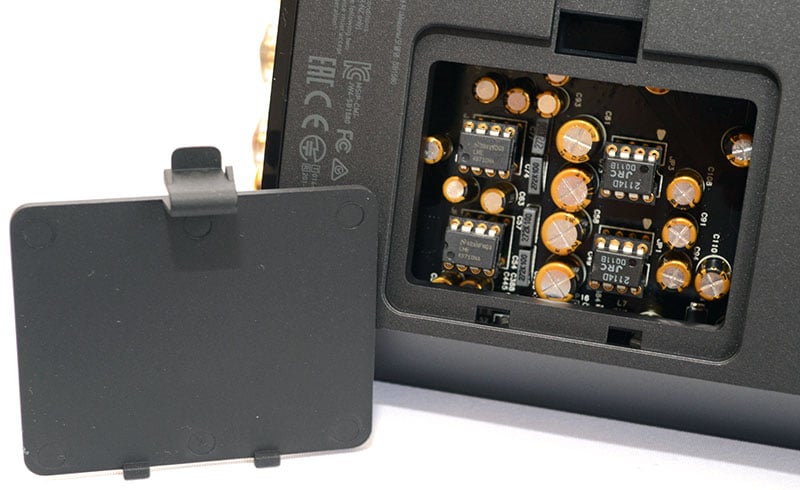 Overall, this is one stunning looking setup and no, the headset in the picture isn't included in the bundle, but I figured a Creative brand headset would look nice on the stand.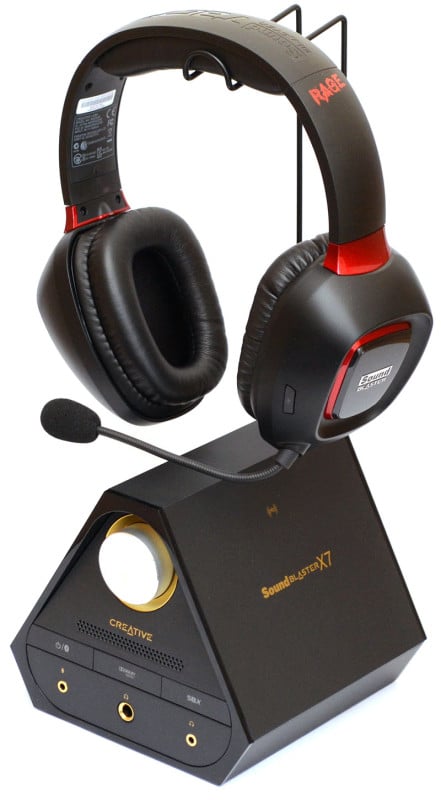 ———————–
Performance
---
Testing audio hardware is a very subjective matter, there are some of us who prefer a bright sound, a warmer sound, others who prefer crushing bass frequencies. How you go about achieving your desired sound can vary greatly, much in the same way two different sports cars could take the same corner at the same speed, but take on a completely different feel for the driver. For me personally, I like a well-balanced sound that is full of detail, with a little warmth on the mid frequencies, like those you would find from a valve powered guitar amplifier.
The X7 is packed full of impressive hardware and there's no doubt in my mind that it has an impactful effect on the audio performance of anything I've connected to it so far. The most important aspect for me personally is the very powerful headphone amplifier and given that I test a lot of headsets and headphones in my day-to-day work, having something that can do them justice is a great thing to have. Taking a headset, such as the Mionix Nash 20 and plugging it into my motherboards on-board audio sounds great; then again I do have decent on-board audio from my MSI MPower board. However, plugging it into the X7 and running it through the DAC/AMP housed within it, brings out a whole range of sonic performance that simply wasn't there before. Bass sounds fuller and punchier, the mid-tone warmth is full of textures that really bring out the finer details in rhythm guitar parts and the highs are bright and clear. Hit the SBX button on the front and the sound is further enhanced, the only downside being that I found cymbals on drum tracks sounded a little too bright, but the clarity on the vocal tracks certainly took on a more natural tone that was very pleasing to the ear.
The plethora of connection options is almost dizzying and being able to connect a set of monitors, a desktop surround system, headphones, a gaming headset and much more is a wonderful thing to have to hand, without having to play around behind your computer, or with often larger dedicated AV receivers. High-end headphones do benefit greatly from the powerful amp, modest headsets and headphones not so much, but if you're connecting a £30 headset to a £300+ AMP, you really need to reevaluate your setup and your budget.
The biggest benefit I can see and of course, hear, is the ability to wire in some really good bookshelf speakers. If you own a set of good speakers, then you're going to be blown away; quite literally if you give the volume wheel a good spin. What's even better is that the same amp that can now power your speakers, can also run your headset, your microphone, your computer audio or any other line-in for that matter through the speakers you most desire. The NFC setup is really cool too, just tap your phone on the side of the amp and you can pair it up for playing back movies, music, or taking calls thanks to the amps built-in microphone and have the audio come through your speakers or headphones.
I guess the thing that I enjoy the most about this unit is that it all works so simply, there's no complicated setup, no crazy advanced controls that you need to worry about; you just plug it in and it sounds great.
———————–
Final Thoughts
---
Price
The price of this unit is a lot, there's no getting past that, but it is on par with similar offerings from a few rivals, such as the EB range from Silverstone. However, the X7's feature set can be found across a range of other competing products, but this is the first time I've seen them together in a single, small and stylish unit. The X7 can be picked up from most major retailers for around £330, although I've seen some go as high as £440. At the time of writing there was a fantastic deal for just £283 at Scan.co.uk.
Overview
This product couldn't be hitting the market at a better time. There's already a well-established enthusiast market for audio, but the custom PC market is also booming right now. People are spending £500-1000 on graphics cards setups for their systems, often SLI/Crossfire, which is great for gaming, but bad news for audio. Having a few graphics cards in your system often means you're limited on PCI slots. A lack of PCI slots means no room for a really good soundcard and even if you do have space, you don't want to hamper the airflow to your GPUs. The X7 removes this problem by putting the unit up on your desktop, while at the same time, offering more features than you could likely ever fit into a single PCI card.
You've got more terminals at the back than you would get on a soundcard, or with on-board audio, especially the wired terminals. You've got dual headphones jacks, a microphone port, a built-in microphone (and a damn good one at that), NFC pairing, audiophile grade AMD/DAC, swappable op-amps, a built-in headphone stand, a host USB port for charging devices, the list goes on! Yes this unit is expensive, but high-end audio hardware, just like high-end graphics hardware, always has been. You get a huge amount of features for your money, you get excellent performance and if you're spending £100+ on speakers and/or headphones and want to realise their full potential, then this is the way to get it; you wouldn't spend £1000 on a Titan X and hook it up to a 800×600 monitor, would you?
In terms of design, the unit looks stunning, it's not overly imposing on your desk, has nice build quality and everything you need is within easy reach and designed to be user-friendly. The addition of a headphone stand is a welcome bonus too, as it means you can keep all your favourite audio hardware within easy reach on your desktop at all times.
Pros
Exceptional sound processing
Powerful AMP/DAC combo
Bluetooth pairing
Built-in microphone
Optical pass-through
Wired terminals for 4/8Ohm
600Ohm headphone amp
NFC
Extensive selection of cables included in the box
Headphone stand
Great aesthetics
Upgradable op-amps
USB charging port
Cons
Neutral
The price is high, but you do get what you pay for in terms of features and performance
The additional cost of buying good speakers and/or headphones may further add to your budget worries
"We normally reserve our Extreme Performance award for internal hardware components, but the X7 has no rivals with this level of features, in this form factor and at this price; a solid all-round performer for those who want to get the best audio experience they can from their desktop PC, mobile or any other connected device."
Thank you Creative for providing us with this sample.