Creative Super X-Fi Review
---
---
---
Peter Donnell / 5 years ago
A Closer Look and Performance
---
The Super X-Fi amp is no bigger than most USB flash drives. Albeit it's much slimmer overall and incredibly lightweight. They could have built this out of plastic, but their choice of aluminium was not to just make it look more premium. The whole body of the unit acts as a heatsink, as I have noticed it does get a little warm while in use. That's no surprise though, as it packs some impressive hardware on the interior. It uses their new UltraDSP chipset which was developed specially for this device. It also features the AKM 4377 DAC. Those two combined give this thing as much, if not more, processing power than many desktop and PCIe AMP/DAC combos. If anything, it's remarkable that they've made it so damn small.
Controls
The controls are pretty straight forward. There's a Super X-Fi mode on/off button. The only use I have found for this button is to see how the audio would sound without the processing, which is quite amusing to hear the difference. However, once you hear it on, you won't want it off. More on that in a moment though. There's a simple volume up and down control, as well as a multi-function play/pause button. Pretty much like you would find on many headphones or a Bluetooth headset designed for mobile use.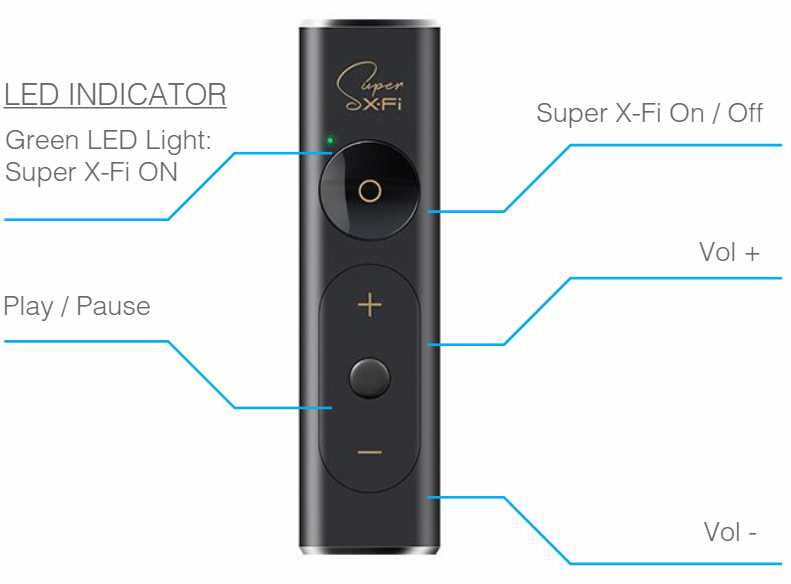 Connections
On one end, you'll find a USB Type-C connection. It comes with a tiny USB C to C cable, which is ideal for my Samsung S9+. However, Apple users like eTeknix boss Andy, need to use an Apple courage to Type C adaptor; which works just fine. On PC, I use a USB A to C cable, although any kind of USB adaptor or adaptor cable seems to do the trick just fine, the Super X-Fi doesn't seem fussy.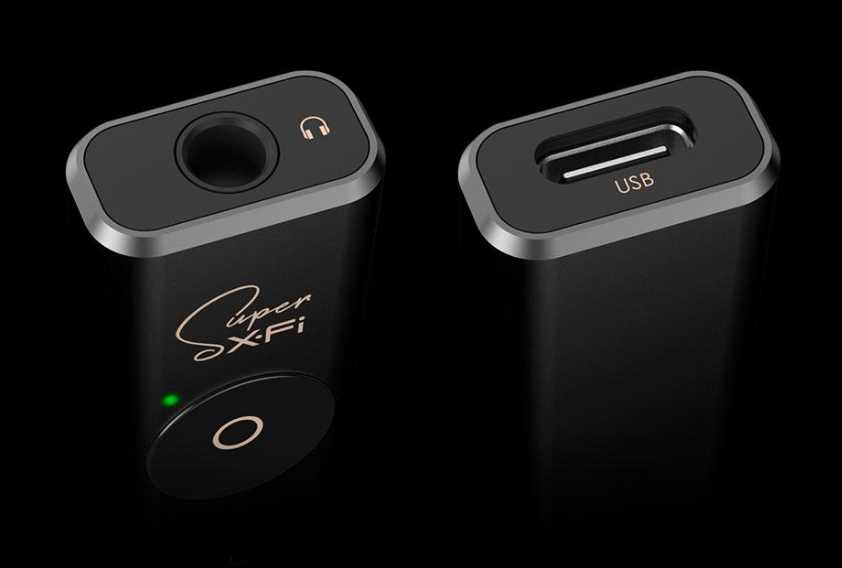 On the other end, a simple 3.5mm headphone jack. This amp is capable of driving headphones of up to 600 Ohm, which is nothing short of remarkable. On a larger amplifier or powerful soundcard, this would be pretty high-end stuff. But on a freaking tiny dongle, it's jaw-droppingly impressive. That's all there is to this thing, plug, play, enjoy.
Software
To use the Super X-Fi, you do need to download the Super X-Fi app. With this app, you can create an account, take the required pictures of your ears, and upload them to the cloud. This will then create your custom profile for you, which you can then flash to the dongle.
In the app, you may also select which headphones you have. The number of recommended headphones that Creative have personally certified is growing steadily. However, if you don't have a confirmed set, you can use any. Just select the default profile for either over-ear or in-ear headphones respectively. We've tried it with two sets from Creative, but found equally impressive results with many other headphones; more on that in a moment.
Super X-FI Certified Headphones
"Although you may use any headphone, we recommend that you use headphones that have been certified for use with Super X-Fi for the best possible experience. Super X-Fi processing with certified headphones accounts and compensates for changes in audio output caused by the headphones to ensure audio reaches your ears as intended." – Creative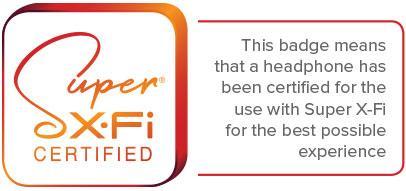 Playback
The app has a built-in music player, which is OK I guess. However, once you have set up the Super X-Fi, you don't need the app at all. You can only set up on mobile though, but once done, you can play on your console, PC, etc, as all your settings and profiles are stored on the device. Just reconnect it to the app to make changes, of course.
Audio Performance
Instead of pumping music directly into your ears, as headphones traditionally do. The Super X-Fi amp creates a soundstage that places the speakers in front of you, or all around you, depending on what type of audio you're listening to. When you're sitting in your comfortable chair at home, you have your music playing through your favourite speakers, it's not right into your ears. You'll have the speakers often located in a triangle arrangement like my poor MSPaint diagram demonstrates. What the ear mapping and processing of Super X-Fi does is recreates how your ears process sound as if it were coming from those speakers, even while it's playing on headphones.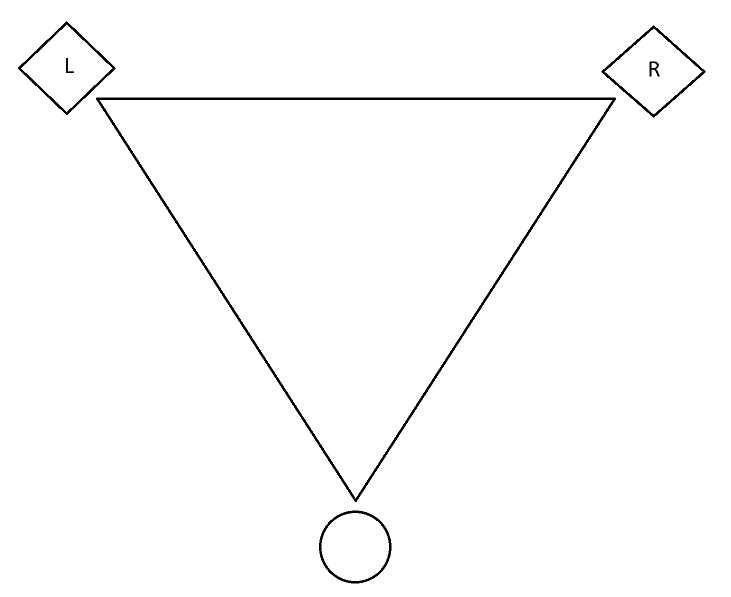 Do I Really Need Ear Pictures?
What's interesting is just how personal the profiles really are. I've tried listening to a few other peoples profiles, and them to mine, and well… they suck really bad. I listened to eTeknix owned Andy's profile. All I heard was one ear being slightly out of sync to the other, it was all off, and sounded quite flat overall. He heard mine and felt it sounded too open. The deal then is to make sure you have your own profile! Yes, you really need to take those pictures.
Burn The Witch!
The effect isn't anything like virtual surround technology. Admittedly, in the last few years, headphone virtualization has made leaps and bounds. I use Dolby Atmos Headphone and DTS Headphone:X quite a lot. The effect is superb and quite convincing overall. Super X-Fi makes them all sound like absolute trash, and that's a bold claim I know, but honestly, virtual surround can suck it as far as I'm concerned.
When we demoed the 5.2.2 high-end home cinema setup that Creative made at CES 2019, it was a mighty sound system, with dual subwoofer, a real bone shaker of a setup. We were set with a trigger that muted the speakers when we put the headphones on, and muted the headphones but triggered the speakers when we took them off. Switching between the two was the first evidence of witchcraft I've ever witnessed. Watching Avatar, and a few other movies, we simply couldn't tell the difference. Mind was blown, and I'm still trying to put it back together again actually.
Real World Testing
Because Creative made a sound map for us while we were there, I can now enjoy THAT sound system at any time. It's something I'm eager to see developed. Could they stand in the middle of the Royal Albert Hall, map the speaker channels, then download that acoustic template to my amp? I'm betting they can, and this is only just the beginning of what Headphone Holography is capable of.
Even on the profile that I made myself with pictures of my ears, the effect is profound. Listening to music, playing games, and movies is pretty remarkable. However, it's up close and personal live material that really makes your hairs stand on end. Live Aid performance of Queen? A quiet acoustic gig video, even listening to Andy waffle on about a product in an eTeknix YouTube video. It puts the voice right up in front of you, and you feel like you have a front row seat to anything.
I used the amp on the flight home from Las Vegas to London. Then on the train from London to Leeds, and I've been using it on my PC for gaming and music ever since I got back. It's a versatile bit of kit, and more so, on mobile, I didn't notice any significant drain in battery usage of my phone either, which was a pleasant surprise.