Crucial MX100 512GB Solid State Drive Review
---
---
---
Chris Hadley / 9 years ago
Introduction
---

The SSD market these days is flooded with high performance drives that are geared to push the boundaries of what is possible both on the SATA interface, but now also on the mSATA and M.2 platforms as the desktop market moves forward in an era where speed is everything and where the focus in my eyes is too concentrated. There are, however loads of options out there on the budget end of the scale and it comes as no surprise, due to the leaking of information from a handful of sources, that Crucial have been working away to update their SSD portfolio to bring a fresher and better performing budget drive to the market.
Set to replace the M500, which I took a look at little over a year ago, the MX100 is Crucial's answer to the growing demand for budget drives that offer both strong levels of performance and high capacities – 128GB drives, for some users, simply does not cut it any more. Built on a platform comprising of Marvell's latest 88SS9189 controller with a custom revision of the firmware, specifically for the MX100, the drive features Micron's latest 16nm NAND design with capacities ranging from 128GB right up to 512GB as we have in this review. Crucial are pushing this drive towards the upgrade market, where users may have a small, older SSD already in their systems, or more commonly as a performance upgrade to a system which is running on an ageing hard drive. Whichever background the user is coming from, with speeds of up to 550MB/s read and 500MB/s write (on the 512GB drive) with IOPs levels of around 90k read and 85k write – again on the 512GB model, users are certainly set to see a significant boost in performance over their current setup.
In addition to high performance levels, Crucial have also made the drive cheaper to run, with a design over the M500 which is reportedly 94% more efficient, requiring around 150mW of power under full load and around 100mW when sat idle and with a high level of endurance that tops 72TB – that's 40GB of data being written to the drive each day for 5 years straight, a 3-year warranty is added on top – just in case anything does go wrong.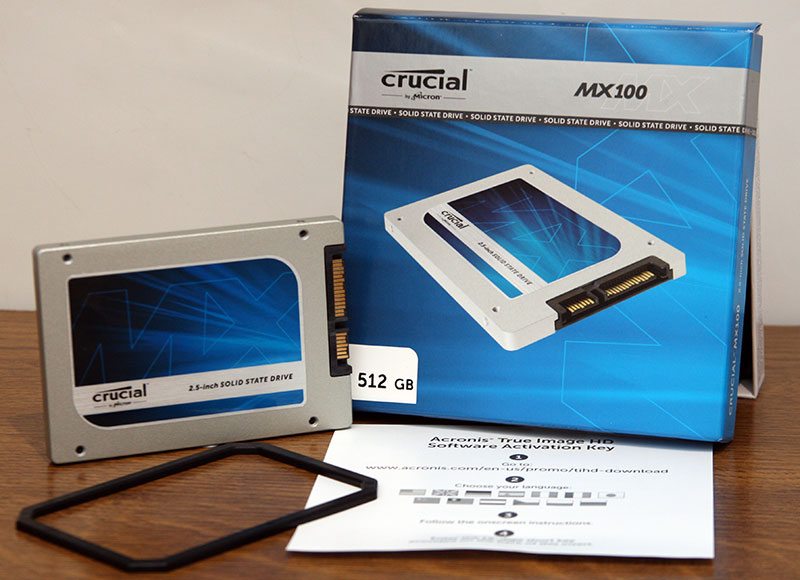 In order to make the upgrade process as easy as possible, a copy of Acronis True Image Home is bundled in with each drive, allowing the users current installation of Windows and all of their data to be moved over to the drive with ease and this can mean that in under an hour you can have your system upgraded to a high performance SSD whilst leaving you with the desktop environment and setup that you had with the older drive. For laptops that require a 9.5mm drive for installation, a 2.5mm spacer is included which can be stuck on to the drive in a couple of seconds.