Crucial MX500 1TB 2.5-Inch Solid State Drive Review
---
---
---
Bohs Hansen / 3 years ago
Introduction
---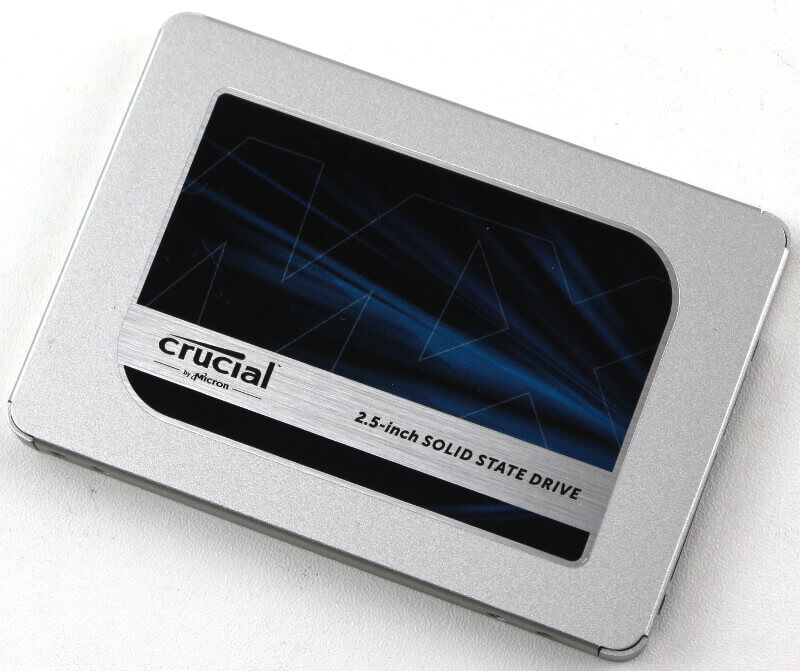 I've been part of quite a few Crucial launches and I'm glad to be part of the MX500 as well. The new series continues the features and performance that we're used to from Crucial and Micron and it is also the first use of Micron's latest 64-layer 3D TLC NAND in a mainstream consumer product. The initial launch consists of a single 1TB 2.5-inch drive, but more capacity and model options will be available shortly.
Design
Crucial's MX500 is a drive with classic shapes, especially the 2.5-inch version. The standard size and 7mm height make it compatible with almost any system out there. In the future, Crucial will launch M.2 models of this series too which will come in a 2280 size. This is another size which has gained mainstream traction and as such, Crucial hits a wide market with this series.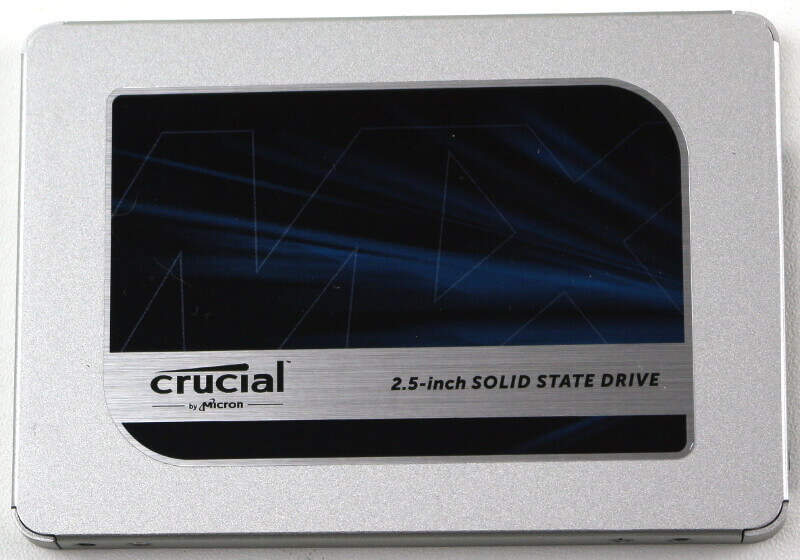 Capacity and Model Options
Initially, there is just this 1TB model of the drive available. But soon, there will be smaller and larger versions too. From 250GB and up to 2TB, allowing you to get the space you need for all your data. Whether you only have a few office files and photos or you got a full Steam library which you want to keep installed at all times, the MX500 can do it. In the event that you wonder, only the 2.5-inch version will be available with up to 2TB capacity. The M.2 module's largest capacity will be 1TB.
Now you might wonder why Crucial's initial release contains only a single capacity option. The reason for this is simple. It allows the company to optimise the product and deliver you the best product possible. Instead of having to focus on 3-6 SKUs, they only have to worry about one. At the same time, the entire manufacturing and package process is adapted to the new series and optimised, thus allowing them to deliver a better product with less trouble. You also avoid pesky firmware updates to fix performance as we've seen the need to on some drives in the past. Of course, the MX500 does support firmware upgrades in the event that they're needed.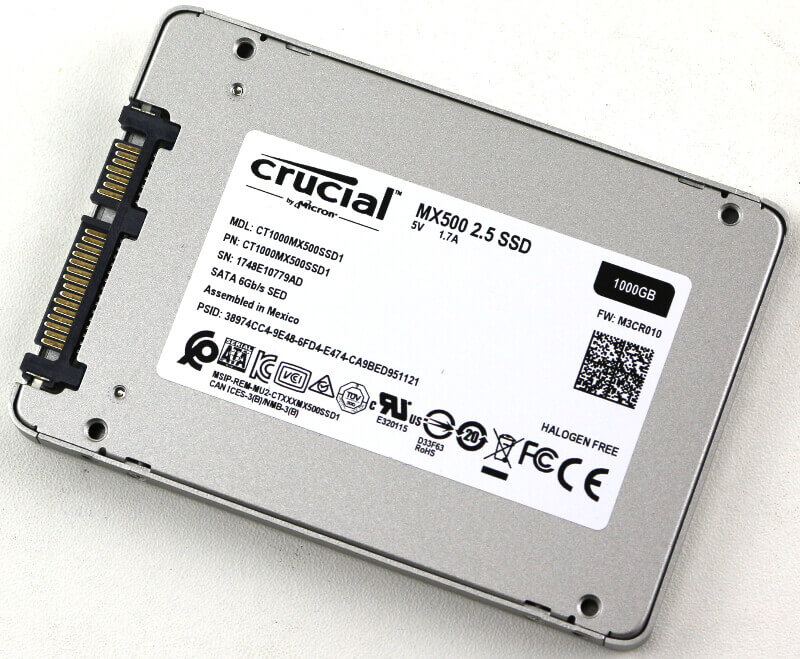 Performance
The performance is one of the things most of you reading this are interested in. When we navigate the SATA3 segment, there are natural limitations to the performance. Still, there are large differences between the drives in this segment and how well they perform. Especially under continuous writes. From our previous reviews, we know that the predecessor to the MX500, the MX300, was one of the best drives to deliver a consistent performance across the entire board. Whether the MX500 is just as good in that area is one of the reasons I'm doing this review. And any review for that matter. We want to know just how good it is for various tasks.
But getting back to the performance as such. Each drive has a performance rating from the manufacturer and it's no different here. The MX500 1TB is rated at 560MB/s and 510MB/s sequential read and write operations. The random read and write performance is rated at 95K and 90K. All of these numbers are very impressive for a SATA drive and they already promise an even performance.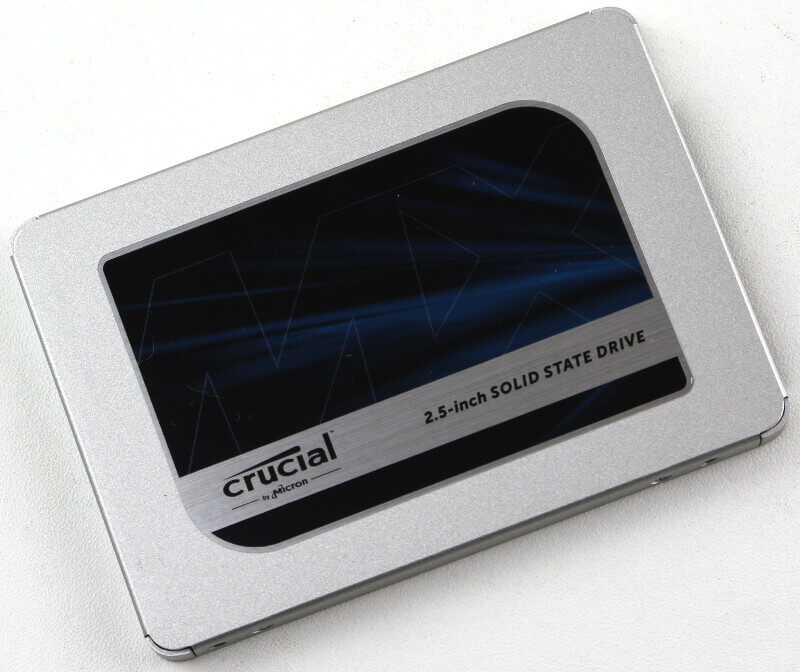 Controller and NAND
The Crucial MX500 is the first consumer product to use Micron's 64-layer 3D TLC NAND. This 2nd generation 3D NAND comes in a stackable 64-layer design for a 256-gigabit component. The NAND is designed with CMOS Under the Array as Crucial calls it, and it allows them to minimise the footprint of the die.
At just 50 square millimetres, it's the world's smallest 256-gigabit die. When you put that NAND into TLC mode, it enables a massive data storage on minimal space and at a low cost. The NAND also features built-in circuitry which allows for much better control, but we'll get to that part under the features.
Besides the NAND, there's also a controller and some DRAM for caching. The controller is a proven component in the form of Silicon Motion's SM2258. We've previously seen the controller in other drives and it always does well.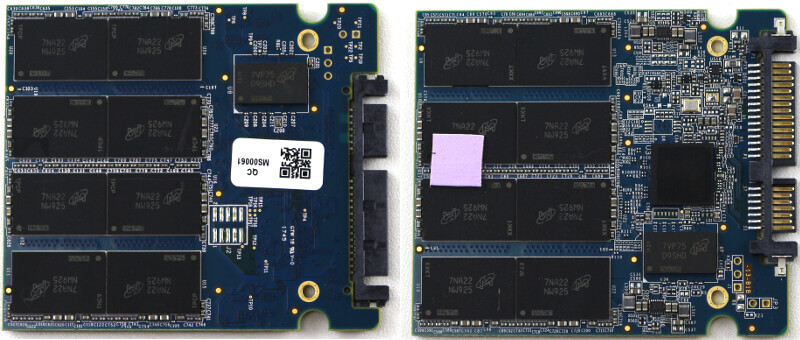 Endurance and Power Consumption
Micron's SSDs incorporate advanced technology for defect and error management. They use various combinations of hardware-based error correction algorithms, data parity protection, firmware-based static and dynamic wear-levelling algorithms. That turns into a 1.8 million hours mean time before failure (MTBF) and a 360TB total bytes written (TBW) rating. If those numbers don't mean much to you, then the 5-years limited warranty should. Crucial is clearly proud of their MX500 and they have a lot of faith in its durability.
Besides the obvious speed and noise advantages of a solid state drive over a hard disk drive, there's also a much lower power consumption. When idle, the MX500 consumes as little as 65mW and 75mW when active. During the supported Device Sleep mode (DEVSLP), the drive will consume as little as 4mW.

Basic Features
Before we get to the more advanced features inside the MX500, let's have a look at the basics. We've learned above that it supports DEVSLP and naturally, you get NCQ, SMART, and Trim support too. The MX500 also supports secure erase and sanitize block erase commands along with Sanitize Crypto Scramble. Static and dynamic wear levelling technologies help with the endurance of the drive. With such a set of basic features, the drive is well equipped for any task.
Other features which Crucial users have become used to is hardware-based encryption with AES-256 and TCG/Opal 2.0-compliance.
NAND-Integrated Power-Loss Protection
Power-loss protection isn't something new as such, but it usually involves extra components in the form of capacitors. That can be a problem with M.2 drives, for example, which have very limited space for all the components. The MX500 offers the same protection, but it does so without the capacitors. I really love this feature as I like things simple. And simple doesn't mean lack of functionality or features, it just means done in the most effective and cleanest way possible.
The NAND-integrated power loss immunity is possible thanks to the integrated circuitry. The same function with fewer components is a win for everyone.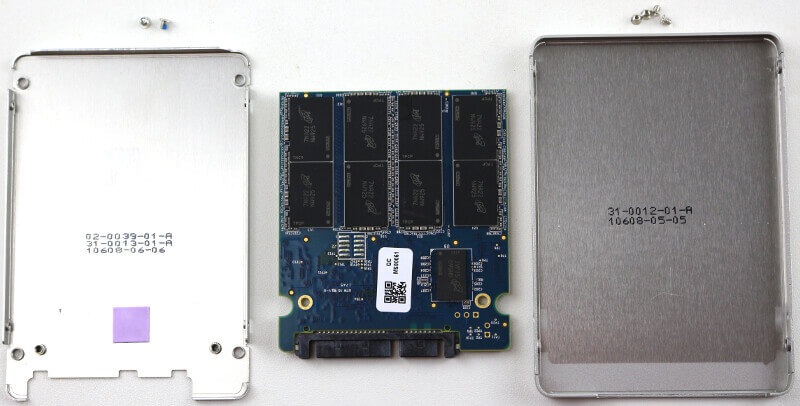 Dynamic Write Acceleration
Write performance is a common problem for TLC drives which operate with a static write acceleration setup. Typical client environments tend to perform write operations in bursts of commands with idle time between these bursts.
Crucial's approach with a dynamic write acceleration can handles such situations a lot better. It uses the SSD's native NAND array dynamically without sacrificing user-addressable capacity. The advances in Micron NAND technology enable the SSD firmware to achieve acceleration in an on-the-fly mode. It switches between SLC and TLC modes to create a high-speed SLC pool that changes in size and location with usage conditions. Idle times between write bursts will be used to free additional capacity for accelerated write performance.
The power consumption per-byte written is also lower during accelerated operation. That can reduce the overall power consumption and heat production. Both of those attributes are bonuses in any case.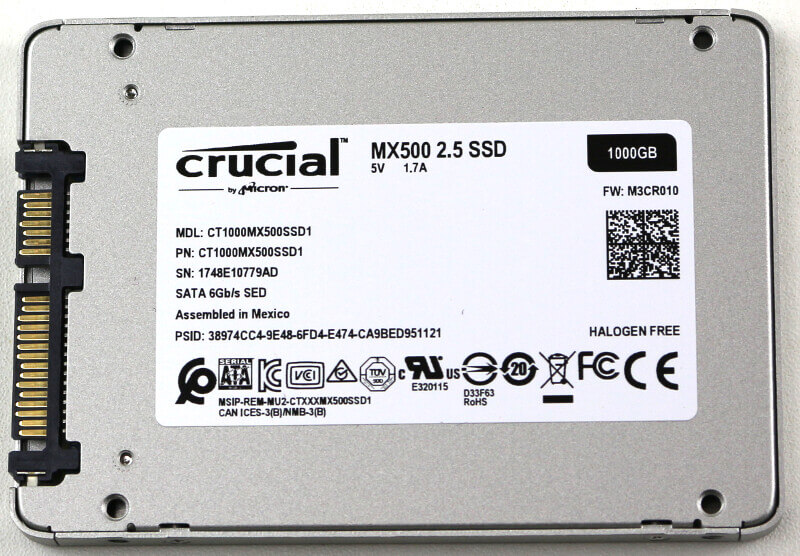 Adaptive Thermal Monitoring
The drive also features adaptive thermal monitoring, making sure that heat won't be an issue. In the event of things getting too hot, the drive will slow data throughput once the drive temperature goes past 70°C. The drive may also shut down completely in order to prevent permanent damage to the SSD and to the host computer. However, that will only happen if the temperature exceeds the maximum but a huge amount. Such a situation indicates that there's a lot more wrong and that you'll need a look at your system in general.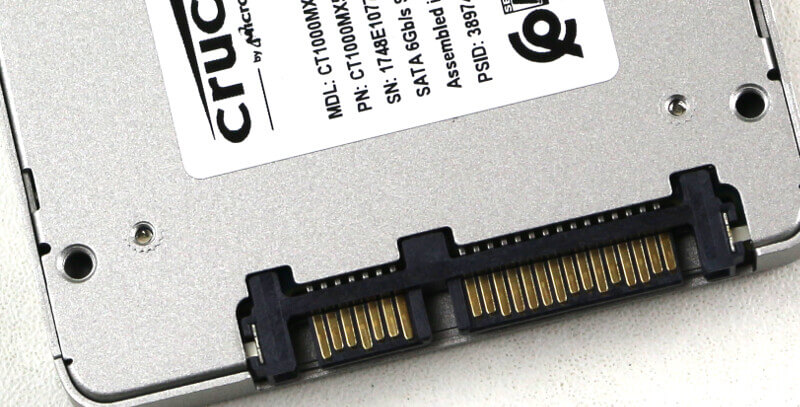 Feature Highlights
Large capacity options
Consistent performance
Micron 64-layer 3D TLC NAND
Dynamic Write Acceleration
NAND-Integrated power-loss protection
Package and Accessories
Crucial's packaging looks familiar as the MX500 comes in a similarly designed box to the other Crucial models. The front has a picture of the drive and a sticker with the included capacity.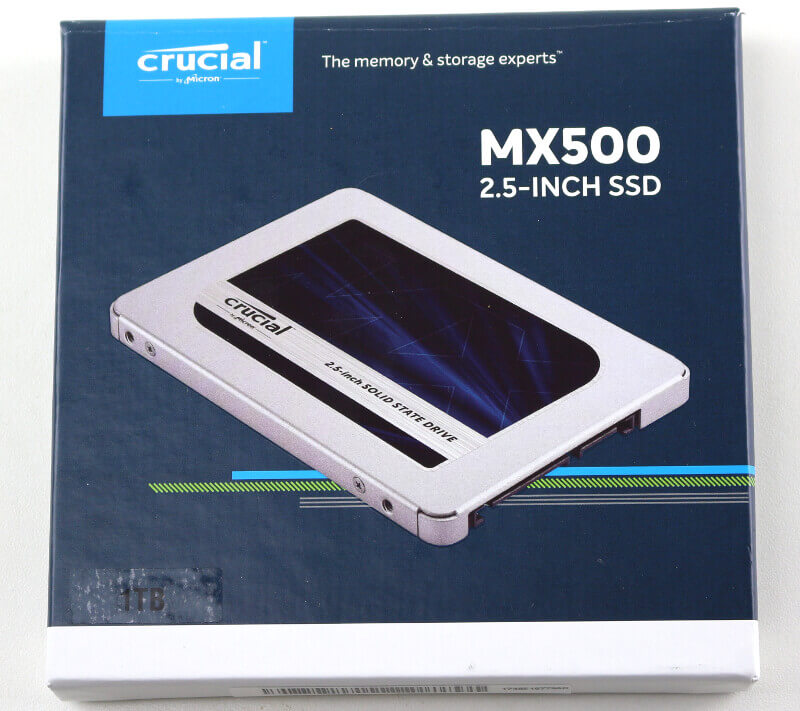 The rear side explains a bit more about the SSD and what's included.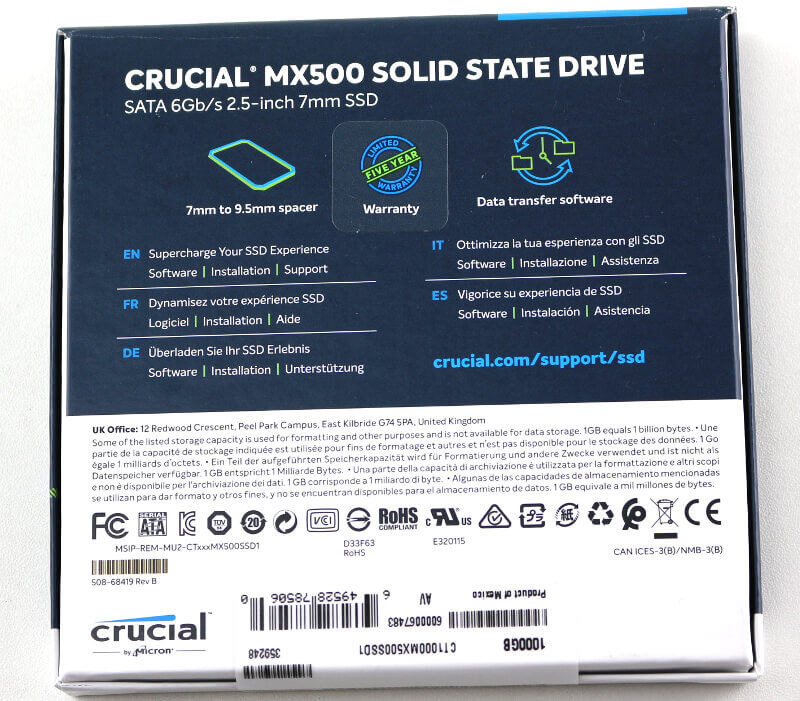 Once you open the box, you'll notice something new, a Get Started guide. Now this in itself isn't new, but it's a new initiative from Crucial. The target, to make the installation easier. From hardware to software and data migration.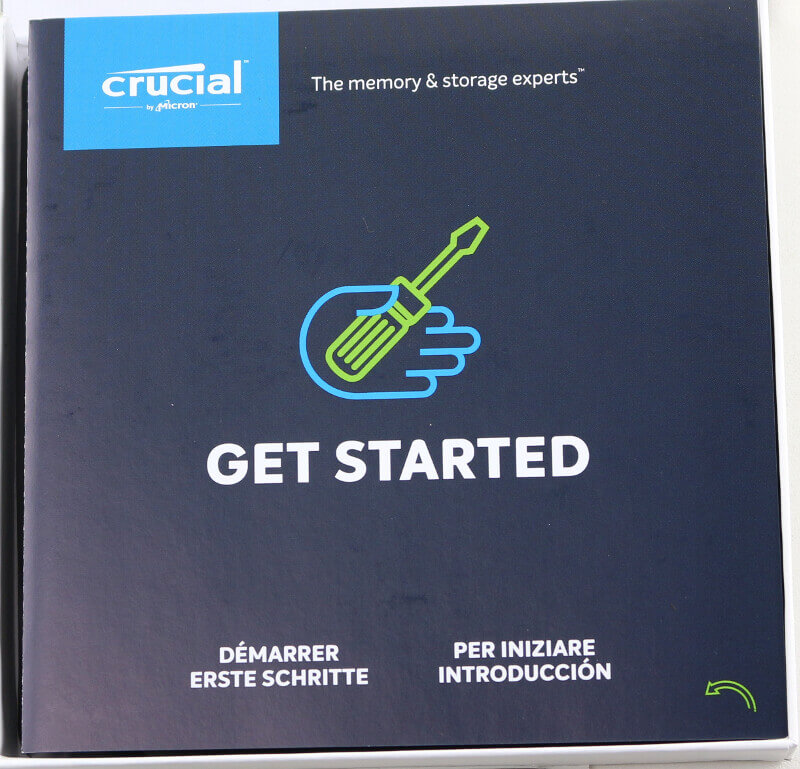 Now the guides aren't limited to Crucial drives as such, so anyone can take advantage of the general information on how to install an SSD. And while a help like this isn't new as such, it's a welcome addition. Making the switch easier for novice users will surely be a bonus, not just for this series of SSDs.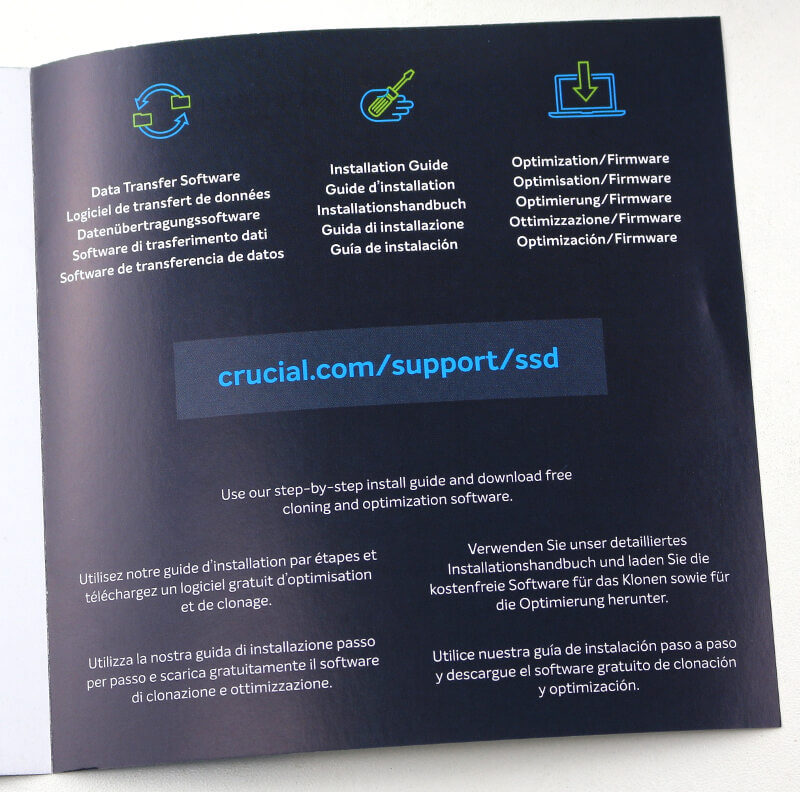 Crucial also includes a spacer which makes the drive compatible with 9.5mm high slot-in bays.