Crucial MX500 1TB M.2 SATA SSD Review
---
---
---
Bohs Hansen / 4 years ago
Introduction
---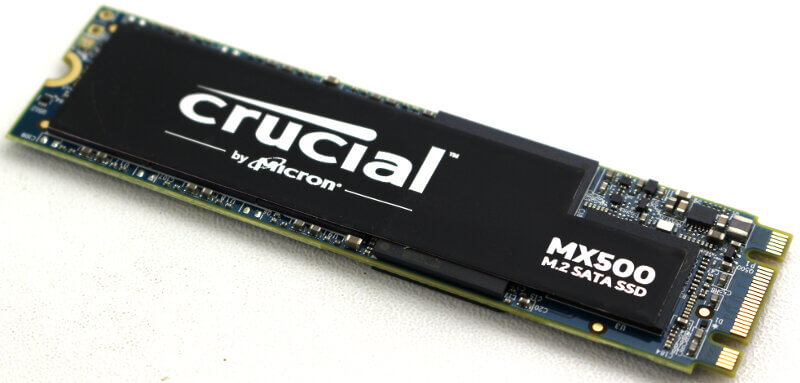 Crucial MX500 1TB M.2 SATA SSD Review
I had a look at Crucial's MX500 once before when the series was launched a couple of months ago. Back then, there was a single capacity with 1TB. While great, that wasn't for everyone. Since then, Crucial has launched other capacity options as well as another form factor version. Today I'm taking a closer look at the M.2 version (product link) which also comes with an amazing 1TB capacity.

Crucial MX500 M.2 SATA SSD
While the 2.5-inch version is available with up to 2TB capacity, the M.2 comes with a maximum of 1TB. That's still a whole lot of storage in a very small form factor. Other capacity options of this SSD include a 500GB and a 250GB version in this form factor.
The 2280 M.2 NGFF form factor makes the drive compatible with close to any modern system, whether it's a desktop, SFF, or mobile system. One of the clear advantages of M.2 modules is that you don't need to run any cables. Plug it in, fasten it with a screw, and you are ready. That fact allows you to have a very clean setup with less airflow blockage.

Why SATA When There's NVMe?
A lot of people might ask themselves, why should I get a SATA drive when NVMe drives are so widely available. Well, the question is answered quite simple: The costs. SATA-based drives are quite a bit cheaper than their NVMe brothers. Yet, they still deliver a great performance and one that is above that of the old-school mechanical HDDs. You get more capacity for the money that you would with an NVMe drive.
Underlying Hardware, NAND and Controller
The Crucial MX500 is the first consumer product to use Micron's 64-layer 3D TLC NAND. This 2nd generation 3D NAND comes in a stackable 64-layer design for a 256-gigabit component. The NAND is designed with CMOS Under the Array as Crucial calls it, and it allows them to minimise the footprint of the die.
At just 50 square millimetres, it a really small 256-gigabit die. When you put that NAND into TLC mode, it enables a massive data storage on minimal space; and at a low cost. The NAND also features built-in circuitry which allows for much better control, but more on that later.
Besides the NAND, there's also a controller and some DRAM for caching. The controller is a proven component in the form of Silicon Motion's SM2258. We've previously seen the controller in other drives, and it always performs well.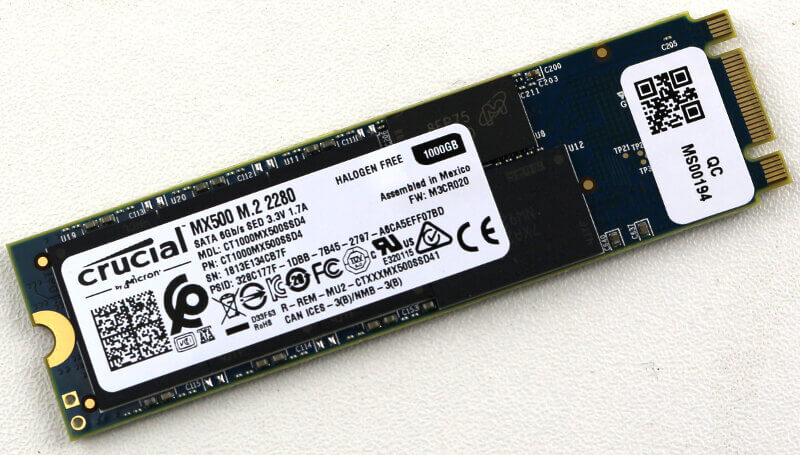 Performance and Endurance
All versions of the MX500 come with the same performance ratings, and that's unusual. However, it does speak for the quality of the NAND. With 560MB/s sequential reads and 510MB/s sequential writes, the drive is maxing out the SATA3 interface quite well. The random read and write performance is rated at 95K and 90K IOPS. That's not bad at all either.
Straight up performance is just one side of a story; the other is endurance. After all, we'll want the drive to last for a very long time. With a rating of 360TB TBW (Total Bytes Written), the 1TB MX500 has that in spades. That number equals to 197GB per day for a five year period. The 500GB version has a 180TB TBW rating while the smallest 250GB has a 100TB rating.
Micron's SSDs incorporate advanced technology for defect and error management. They use various combinations of hardware-based error correction algorithms, data parity protection, firmware-based static and dynamic wear-levelling algorithms. That turns into a 1.8 million hours mean time before failure (MTBF)

Crucial is backing the MX500 with a 5-year warranty which underlines the durability of the drive. They clearly have a lot of confidence in it.
Power Consumption
Besides the apparent speed and noise advantages of a solid state drive over a hard disk drive, there's also a much lower power consumption. When idle, the MX500 consumes as little as 65mW and 75mW when active. During the supported Device Sleep mode (DEVSLP), the drive will consume as little as 4mW.
Basic Features
Before we get to the more advanced features inside the MX500, let's have a look at the basics. We've learned above that it supports DEVSLP and naturally, you get NCQ, SMART, and Trim support too. The MX500 also supports secure erase and sanitise block erase commands along with Sanitize Crypto Scramble. Static and dynamic wear levelling technologies help with the endurance of the drive. With such a set of basic features, the drive is well-equipped for any task.
Other features which Crucial users have become used to is hardware-based encryption with AES-256 and TCG/Opal 2.0-compliance.
NAND-Integrated Power-Loss Protection
Power-loss protection isn't something new as such, but it usually involves extra components in the form of capacitors. That can be a problem with M.2 drives such as this one. The modules simply have very limited space for all the components. The MX500 offers the same protection, but it does so without the need for extra capacitors. I really love this feature as I like things simple. And simple doesn't mean lack of functionality or features, it just means done in the most effective and cleanest way possible.
The NAND-integrated power loss immunity is possible thanks to the integrated circuitry. The same function with fewer components is a win for everyone.

Dynamic Write Acceleration
Write performance is a common problem for TLC drives which operate with a static write acceleration setup. Typical client environments tend to perform write operations in bursts of commands with idle time between these bursts.
Crucial's approach with a dynamic write acceleration can handles such situations a lot better. It uses the SSD's native NAND array dynamically without sacrificing user-addressable capacity. The advances in Micron NAND technology enable the SSD firmware to achieve acceleration in an on-the-fly mode. It switches between SLC and TLC modes to create a high-speed SLC pool that changes in size and location with usage conditions. Idle times between write bursts will be used to free additional capacity for accelerated write performance.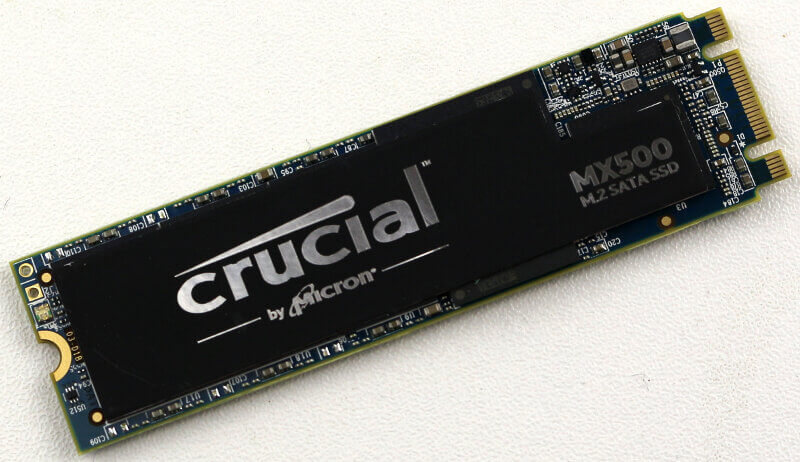 The power consumption per-byte written is also lower during accelerated operation. That can reduce the overall power consumption and heat production. Both of those attributes are bonuses in any case, even more so in the M.2 form factor than it is in the 2.5-inch drives.
Adaptive Thermal Monitoring
The MX500 features adaptive thermal monitoring, making sure that heat won't be an issue. In the event that it gets too hot, the drive will slow data throughput once the drive temperature goes past 70°C. The drive may also shut down completely in order to prevent permanent damage to the SSD and to the host computer. However, that will only happen if the temperature exceeds the maximum by a huge amount. Such a situation indicates that there's a lot more wrong and that you'll need a look at your system in general.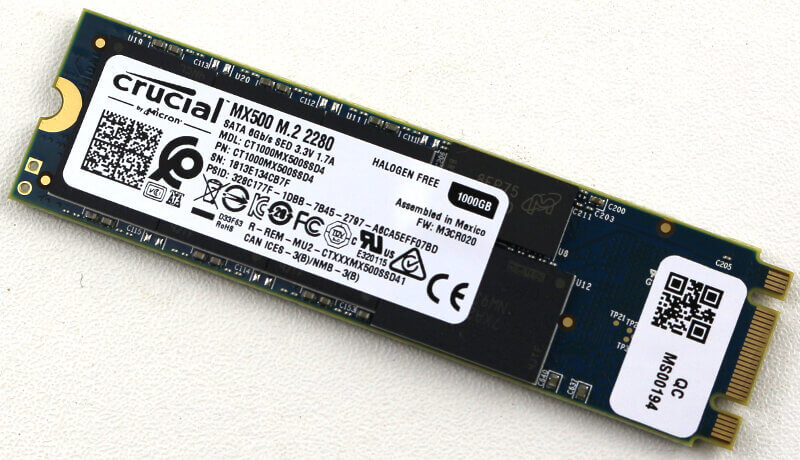 Feature Highlights
Large capacity options and multiple form factors
Consistent performance
Micron 64-layer 3D TLC NAND
Dynamic Write Acceleration
NAND-Integrated power-loss protection
Package and Accessories
There isn't a whole lot to say to the packaging. It is a simple blister pack of the same kind you know from memory modules.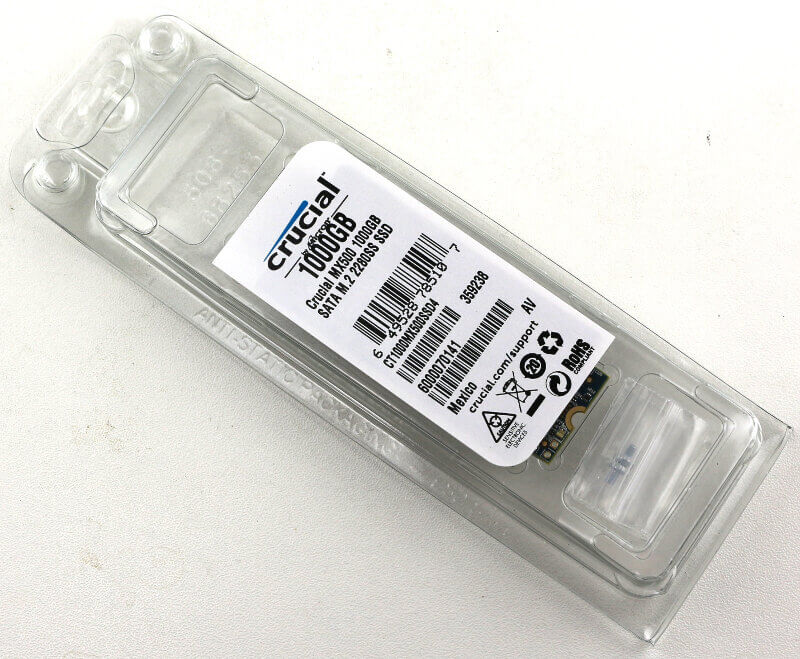 Inside is the drive, of course.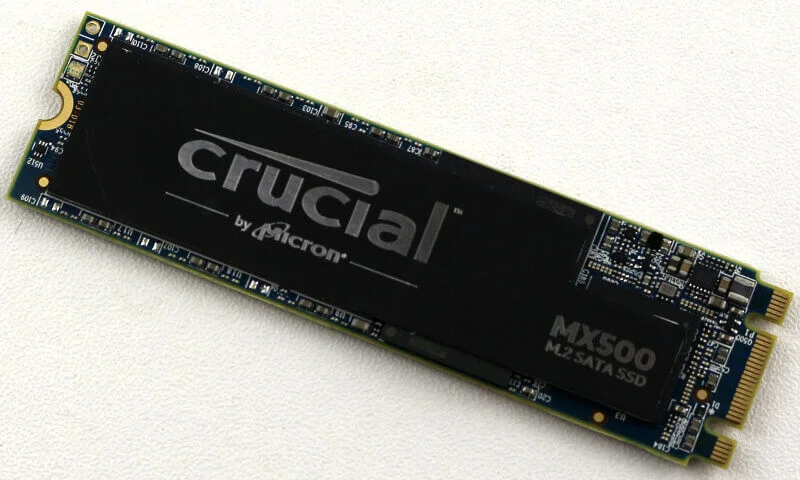 But you also get two screws for the event that you lost the one for your M.2 adapter or motherboard slot. There's also a leaflet with download instructions for Acronis True Image, which is free with the MX500.