Cryorig A40 Ultimate 240mm AIO Hybrid CPU Cooler
---
---
---
Peter Donnell / 6 years ago
Introduction
---
Ready to take your cooling to the next level? Long-time air cooling enthusiasts and experts Cryorig have thrown aside their focus on air and headed out to innovate the world of AIO water coolers. Today we've got their A40 Ultimate, the beefier and more powerful version of their popular A40, now featuring a thicker radiator for those who need to deal with high TDP processors and heavy overclocks.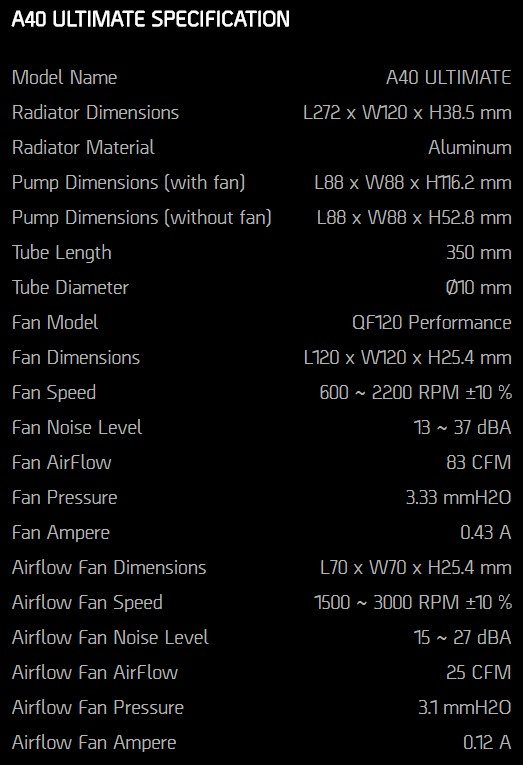 "Heatpipe based air cooling units provide a great combination of system airflow and CPU cooling. It's CPU cooling heat capacity however, is limited by the size of the heatsink, and quantity of heatpipes. This creates a upper limit for cooling capacity due to practical size. At CRYORIG, we create solutions for problems. Being experts of air cooling, we thought why not take the best of both worlds, sometimes it is as simple as sticking a fan to it! More airflow, better cooling! Our PWM controlled Airflow fan can modify fan RPM speed based on the heat and processing load of the system." – Cryorig
Using Cryorigs innovative hybrid design which places a smaller fan above the AIO pump, the A40 Ultimate helps maintain airflow around your motherboard components much like a traditional air cooler would. This means cooler hardware and can easily result in more stable overclocks, especially given that AIO coolers often just focus on the CPU, we see this as a huge benefit.
Packaging and Accessories
The box is very nicely designed, with lots of technical details around the sides. There's information about the thick radiator, easy installation and their Airflow Fan system right on the front.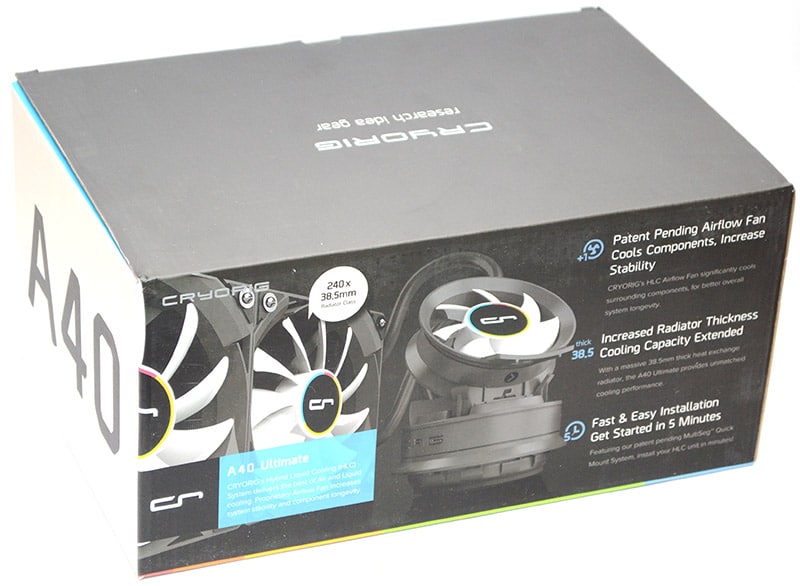 Around the back, you'll find complete dimensions for all major components, socket support, fan specifications and more.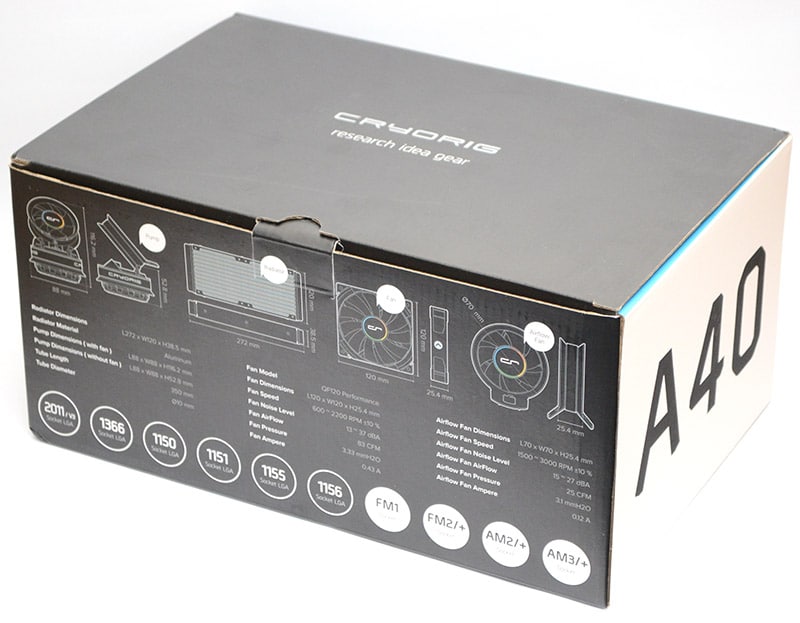 In the box, you'll find two nice looking 120mm 2200RPM fans, each fitted with a black braided PWM cable.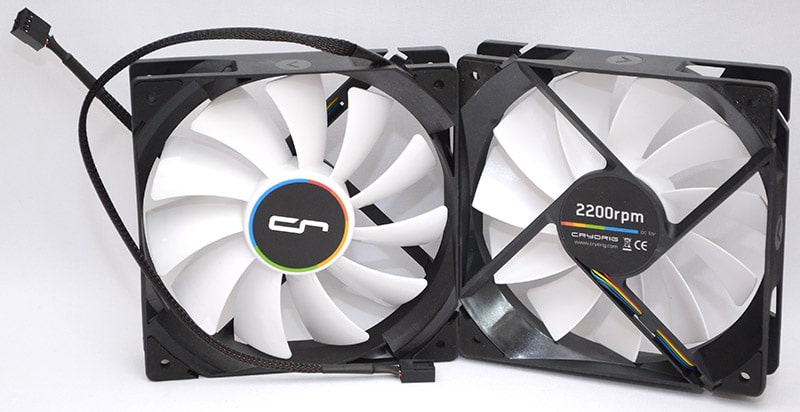 Also included is a smaller custom fan that clips onto the pump, allowing for extra airflow within the system. It comes with a short PWM header that plugs directly into the pump.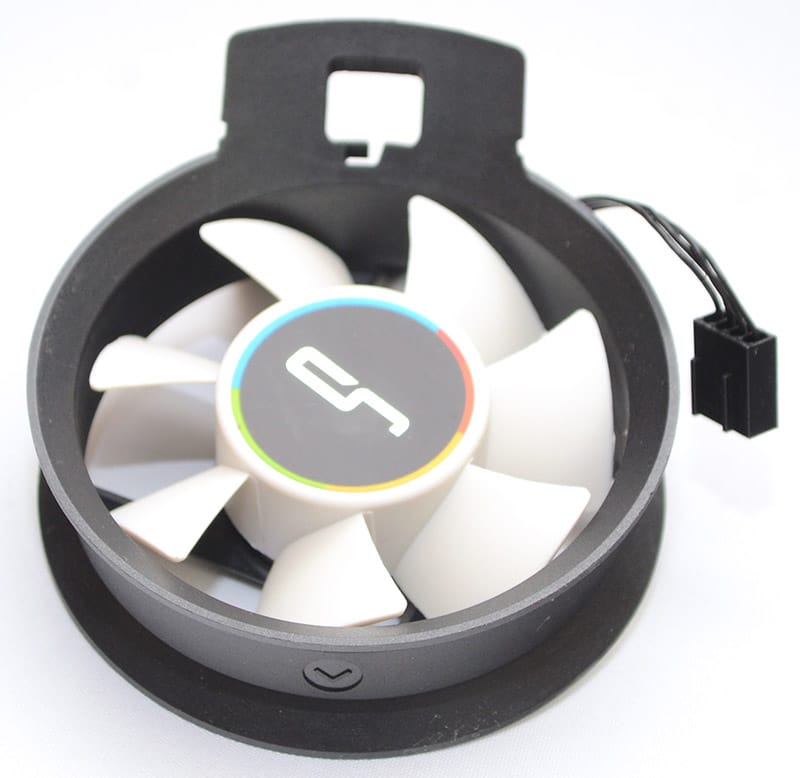 This fan can run up to 3000RPM, which could get noisy, but it's unlikely you'll ever need or want to run it at max.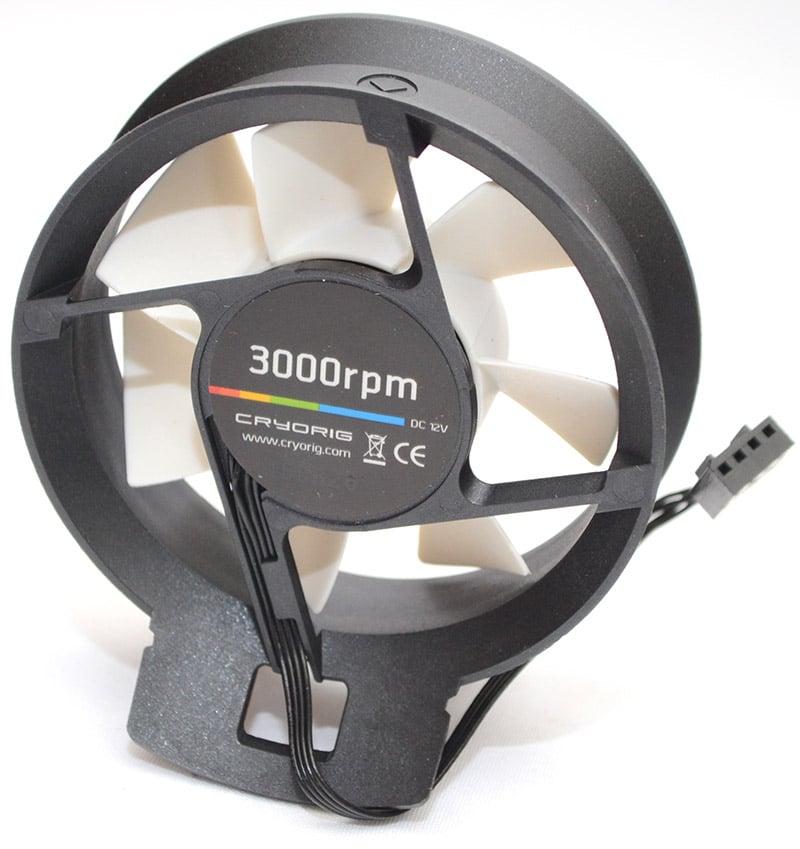 There are comprehensive install guides for all supported sockets, an Intel and AMD universal backplate, high-quality fitting screws, and the AMD retention bracket, while the Intel is pre-installed on the pump.