Cryorig A80 280mm Hybrid Air and AIO CPU Cooler Review
---
---
---
Peter Donnell / 5 years ago
Introduction
---

Cryorig has won many awards for their high-end air cooling products, pushing the limits of what is possible for air cooling and delivering some of the best aesthetics the market has ever seen. Now they're turning their cooling abilities to the world of AIO water coolers, and today we have their top model, the A80 Ultimate, a 280mm hybrid AIO that is sure to help you take command of your CPU, even when pushing high-end overclocks.
The problem with AIO coolers is that they take the heat from the CPU and move it to the edge of the case and blow the heat through the radiator with fans, this is great for the CPU, however, it means that your motherboard and surrounding components don't get the same kind of airflow they would with an air cooler. Air coolers move air around the socket a lot more than an AIO. Cryorig thinks that they have the solution, as their A-series cooler have an extra fan above the pump that helps keep everything cooler, and could improve system stability, especially when overclocking.
"Conventional Closed Looped Cooling exists a fundamental flaw. With no fan on the CPU hot components surround the CPU are left with no airflow. Heat builds up around these often extremely vital components like the Voltage Regulator and lowers system stability and component life span." – Cryorig
"Heatpipe based air cooling units provide a great combination of system airflow and CPU cooling. It's CPU cooling heat capacity however, is limited by the size of the heatsink, and quantity of heatpipes. This creates a upper limit for cooling capacity due to practical size." – Cryorig
Equipped with a 280mm aluminium radiator, two powerful QF140mm fans, and support for all major sockets, the A80 Ultimate is certainly a capable unit on paper; let's get the box and take a closer look at what is on offer.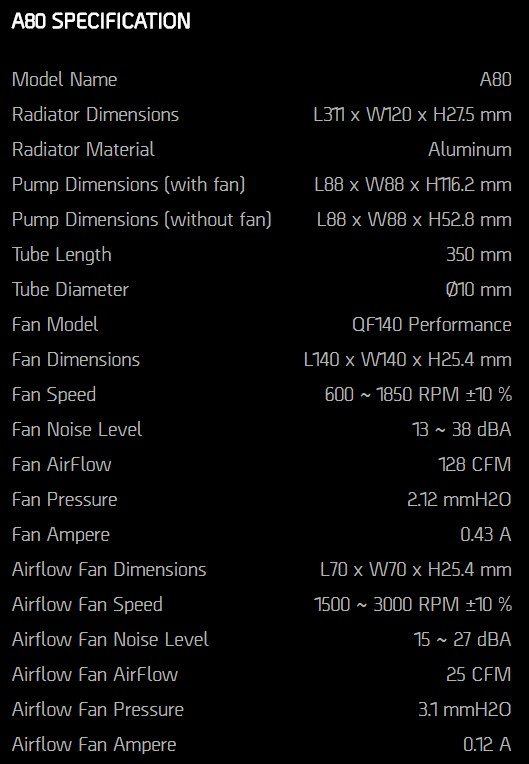 Packaging & Accessories
The A80 is a large cooler, so the box is pretty hefty too. There's some nice graphics on there, as well as plenty of technical information for those that need it.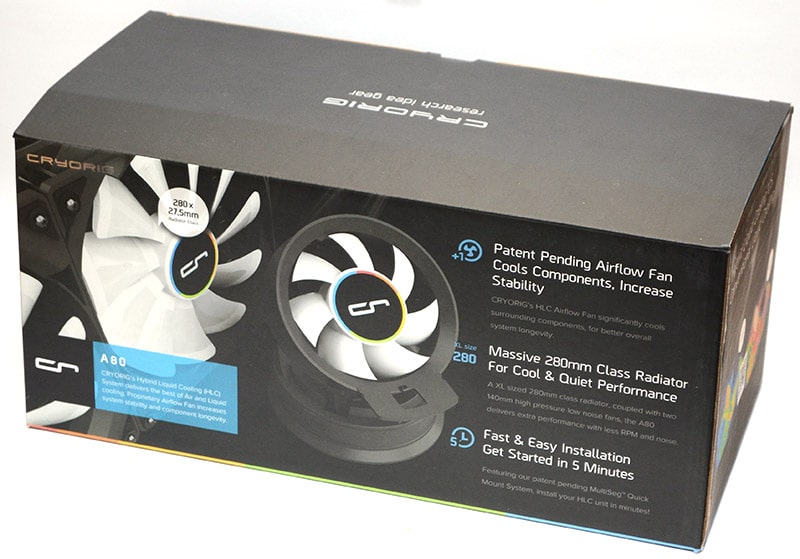 Around the back, complete dimensions and support information; handy if you're looking at the box in a retail store.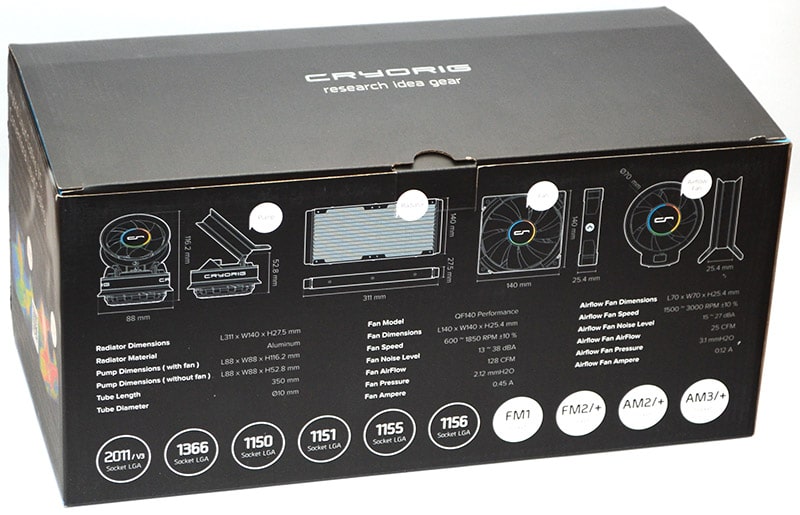 In the box, you'll find the AMD retention bracket while the Intel one is pre-installed on the pump. There's also an Intel and AMD backplate, thumbscrews, and fan/radiator mounting screws.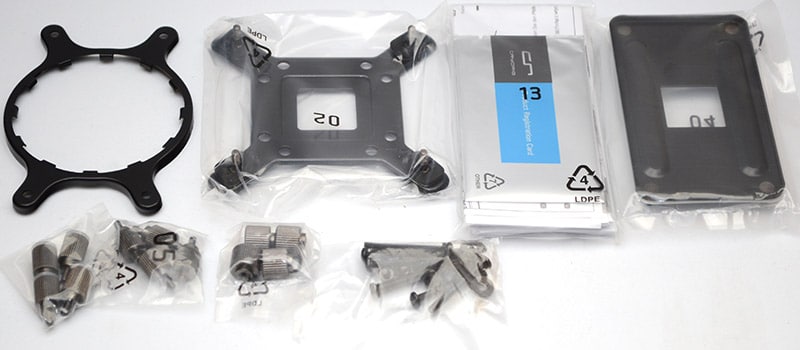 There are three fans included in the box, two 1850RPM PWM 140mm fans for the radiator, as well as a cheeky 3000RPM PWM 70mm fan for the hybrid air cooling feature.