Cryptocurrency Crash Sees Panic Live Stream Sales From Chinese Miners!
---
---
---
Mike Sanders / 1 year ago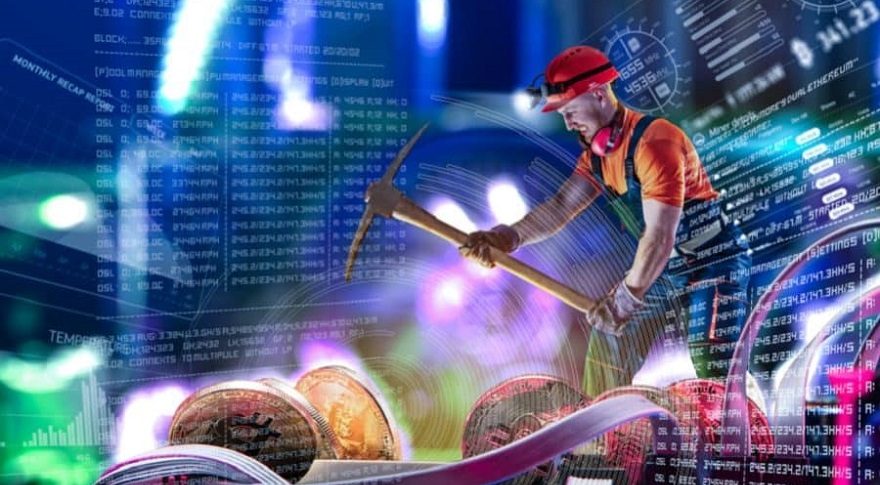 Within the space of just one month, the value of Bitcoin has nosedived, and with it, it's taken many other cryptocurrency coins down with it too! – With its value currently floating around the region of $20,000, while this might still sound like a substantial sum, it shouldn't be ignored that this has fallen by around $10,000 (give or take) in just the last 30 days.
Put simply, we're a long way from the heady days seen last November when Bitcoin was worth around $60,000!
With all this in mind though, where does the land lie in terms of all those colossally huge mining operations that popped up all over the world? You know, the ones who kept buying all the graphics cards leaving us humble PC gaming consumers up a certain creek without a certain implement when it came to upgrades? – Well, according to Twitter user '@hms1193', it appears that, while it might have taken a while, what goes around does indeed come around!
GPU flood is here.

Chinese miners and South Asian ecafes now dismantling their mining rigs and putting cards up for auction on livestreams.

3060 Ti's going for $300-$350 US … pic.twitter.com/kphmIt7vZw

— Hassan Mujtaba (@hms1193) June 21, 2022
Chinese Cryptocurrency Miners Go into Fire Sale Mode!
Specifically citing from the Chinese market, the source claims that absolutely masses of industrial-scale mining operations are now absolutely desperate to move their once highly-profitable graphics cards on! – Why are they doing this though? Well, ultimately, it likely comes down to three key factors:
Bitcoin is down and shows little sign of a strong recovery any time soon. As such, many operations are probably no longer currently running at a profit. Or, at least, not enough of one to overcome the huge risks they're taking
Huge risks? Well, for the last year the Chinese government has been hugely clamping down on mining operations. Specifically, because they're not happy about people exploiting their relatively low energy prices
New graphics cards are on the way, and as soon as these drop, you can pretty much guarantee that the value of all current models should fall and especially so on the 2nd-hand market! – Might as well sell while the going is just on the verge of starting to get bad!
Just how desperate are they to move these on though? Well, it seems that absolutely masses of live streams have popped up in China that are literally just selling ex-mining GPUs all day long!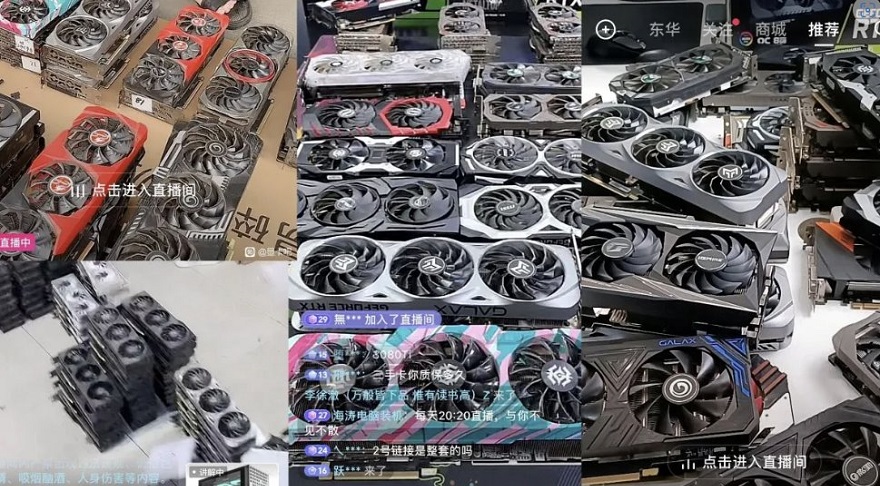 Should I Buy One?
With reports claiming some (apparently) pretty nice deals (a 3060 Ti for circa £250 certainly sounds nice considering what they're still retailing for here), I think it should be said that buying any of these graphics cards would likely be an extraordinarily bad idea! – While they certainly look nice, if these have been purely put to the task of mining Ethereum all day long, they've likely had an exceptionally hard life!
You will, of course, have no warranty, and the likelihood is that whatever lifespan the graphics card originally had has probably at least been cut in half!
All in all, if you want a new graphics card, just keep your eyes on retailers. With next-gen models set to arrive in the next 3-4 months, deals and sales will undoubtedly be seen as manufacturers look to clear current-gen stock.
Now, forgive me while I go and sip on my whiskey while playing the world's smallest violin for these (apparently now former) cryptocurrency miners!
What do you think? Would you ever consider buying an ex-mining graphics card? If you've already done so, what was your personal experience like? – Let us know in the comments!