Curiosity Rover Sends Picture From Mars
---
---
---
Mike Sanders / 3 years ago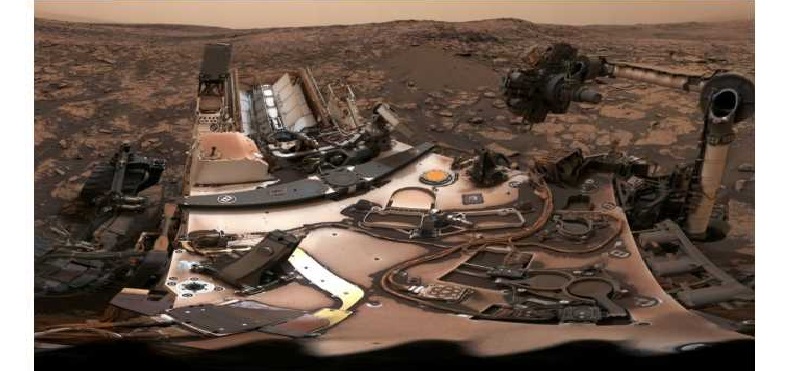 Curiosity Rover Sends Picture From Mars
Back in November 2011, the Curiosity Rover was launched with a mission to get to Mars and explore the surface. Having successfully made the trip, it's fairly safe to say that so far things have been going really well. Since arriving it has sent a lot of data back to Earth already, the latest, in a report via SkyNews, is a selfie showing the rover on the surface of our neighbouring red planet.
No Martians Detected
While no Martials have been noted, at least not yet, the Curiosity Rover, along with it's smaller partner, Opportunity, have been hard at work. Despite that though, not everything has entirely gone according to plan. For example a month ago, Mars experienced (and still is) quite a nasty storm. The storm has kicked a lot of dust up into the atmosphere which has affected Opportunities solar power capability. It is, however, feared that the 2nd rover might actually be lost as the storm itself was unusually strong.
Curiosity has no such problems as it just happens to be nuclear powered.
Dust in the wind… and on my deck. Explore the surface of #Mars with me in this new #360video. Best in @YouTube app: https://t.co/na8oXc5Ify pic.twitter.com/8tRFu3Y2w3

— Curiosity Rover (@MarsCuriosity) September 6, 2018
Not The First Time We've Seen This!
This isn't the first time that NASA has released images from Mars. Back in June, pictures were revealed from the Curiosity Rover. There were, however, prior to the aforementioned storm.
We do, however, always love to see stuff like this. The chances that I will see man step foot on Mars in my lifetime don't look great. Personally, I'd settle for another moon landing. The more we explore though, the more we learn. It'll happen someday!
What do you think? – Let us know in the comments!