Cyberpower Hyper Liquid 100 GTX 1080 Gaming PC Review
---
---
---
John Williamson / 6 years ago
Introduction
---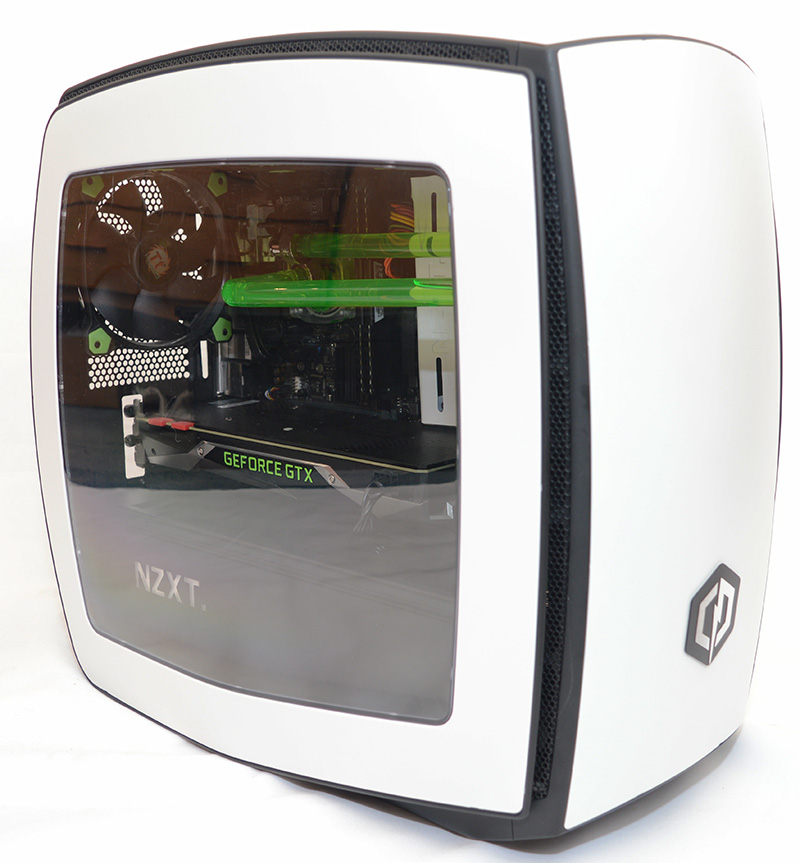 Successfully building a stylish and powerful gaming system isn't overly challenging thanks to the wealth of tutorial videos and hardware experts littered around numerous forums ready to offer useful advice. Not only that, the majority of component installation revolves around common sense and can be completed by those without a high level of technical expertise. Subsequently, the low barrier to entry has caused some proponents of self-builds to question the need for pre-configured systems. While this argument certainly has some validity to it, there's still legitimate reasons why you might want to consider ordering a custom PC from a reputable company like Cyberpower. First and foremost, cable management is tricky, especially when opting for small-form-factor builds. Also, having accessible customer service and a lengthy warranty period is an alluring prospect.
On another note, custom loop liquid cooling can be daunting to newcomers because the slim possibility of leaks lingers on people's minds. As a result, I strongly believe this is the one key area system integrators can specialise in and provide a service which removes all the hassle. Also, custom loops certainly require more patience and a greater level of technical experience. Some of you might remember earlier this year PC Specialist unveiled their Liquid Series which allowed customers to enjoy a custom loop at numerous price points. Given the success of this endeavour, Cyberpower has unleashed their own custom loop range which has different complexities while opting for the best possible components. To mark this new series, Cyberpower sent out the Hyper Liquid 100 for review purposes which feature an Intel Core i7-6700K overclocked to 4.4GHz, NVIDIA GeForce GTX 1080 Founders Edition and 16GB of high-frequency DDR4 memory. Also, the machine utilises a Samsung SM951 NVMe boot SSD, 2TB secondary drive, a Corsair CX600M power supply and attractive custom loop. This specification is housed in the NZXT Manta and has a 3-year warranty as standard. Priced at £1999.80, the Cyberpower Hyper Liquid 100 is a serious investment but the compact build and premium experience should help to make the cost more justifiable.
Specifications
Name: Cyberpower Hyper Liquid 100
Case: 
Motherboard: Gigabyte GA-Z170N-WiFi ITX LGA1151
Processor: Intel Core i7-6700K overclocked to 4.4GHz
Radiator: Alphacool NexXxoS ST30 Copper 240mm
Coolant: EK UV Green pre-mixed
Fittings: EK-HDC Fitting Nickel 16mm, EK-Extender G1/4 M-F, Alphacool HF Double Nipple G1/4 to G1.4 10mm
Pump: Phobya 12V DC12-260
CPU Block: Phobya UC-2
Reservoir: Alphacool Cape Corp Coolplex Pro 15 LT
System Memory: 16GB dual-channel Corsair Vengeance LPX 3200MHz
Main Boot Drive: 256GB Samsung SM951 NVMe SSD
Additional Storage Drive(s): 2TB Seagate 64MB Cache 7200RPM HDD
Graphics card: NVIDIA MSI GeForce GTX 1080 8GB GDDR5X Founders Edition
Power Supply: Corsair CX600M Modular 80+ Bronze
Peripherals: N/A
Monitor: N/A
Optical Drive: N/A
Wireless: Intel Dual Band Wireless-AC 8260
OS: Windows 10 Home
Warranty: 3-years labour, 2-years parts, 1-month collect and return plus lifetime technical support.
Price: £1999.80
Packing and Accessories
The system is contained a huge cardboard box which offers excellent protection against damage during transit. Additionally, the fragile notice ensures the courier adopts a gentle approach and handles the item correctly. Given the unit's ITX form-factor, I wasn't expecting the packaging to be so substantial. Saying that, it's better to be overly cautious and include enough room to incorporate loads of padding.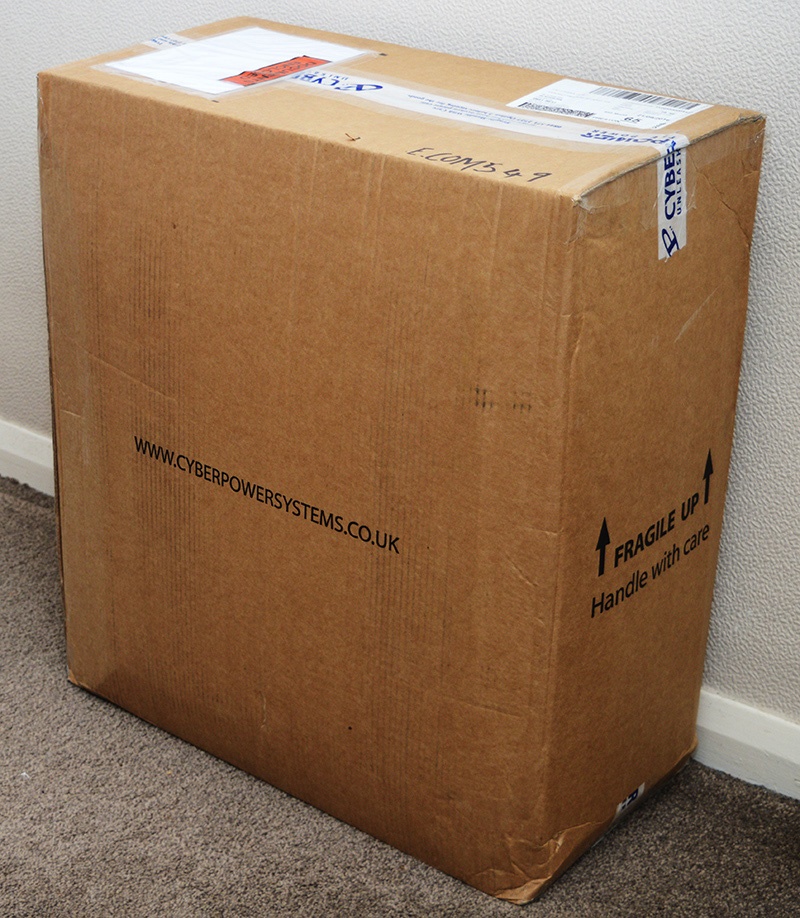 Once opened, we can see the main system box is held in place with foam inserts which stop the PC from moving around abruptly. This is extremely important when shipping a delicate custom loop system as any sudden drops or movement could have disastrous consequences. In theory, Cyperpower could have added some air bags but it's not something which dramatically improves the box's structural integrity.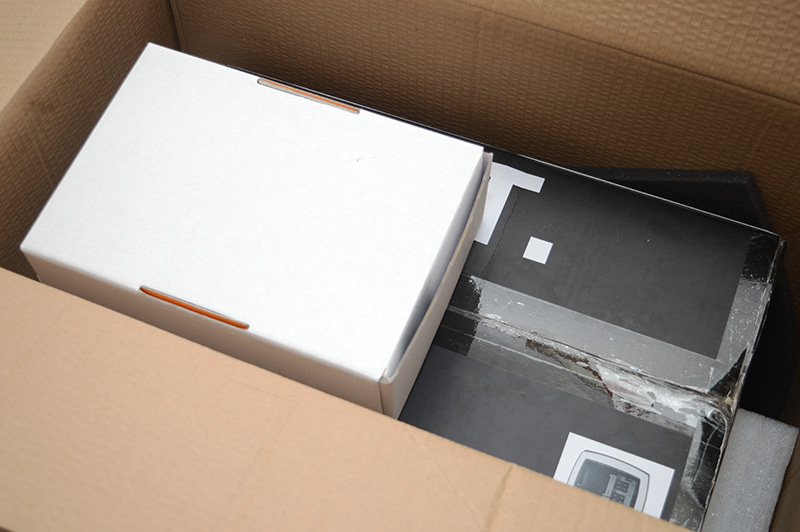 The NZXT Mantra box houses a stunning snapshot of the chassis on an understated white background. As you might expect, the packaging is very solid and I didn't detect any significant tears in the cardboard which would have raised my suspicions.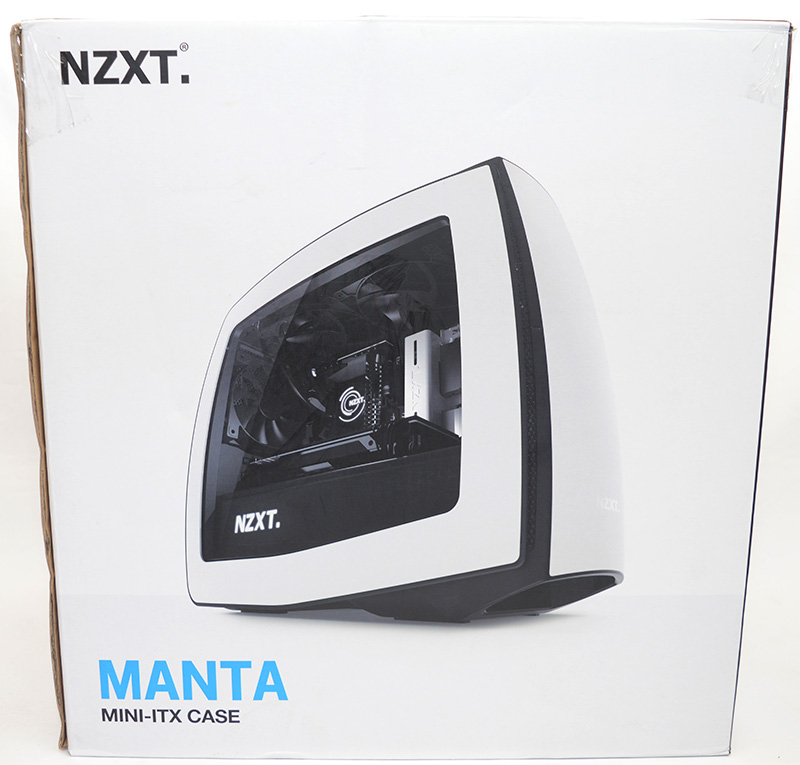 Inside the main box, there are two large foam supports which proficiently protect the system and show no signs of breaking even when a large force is applied.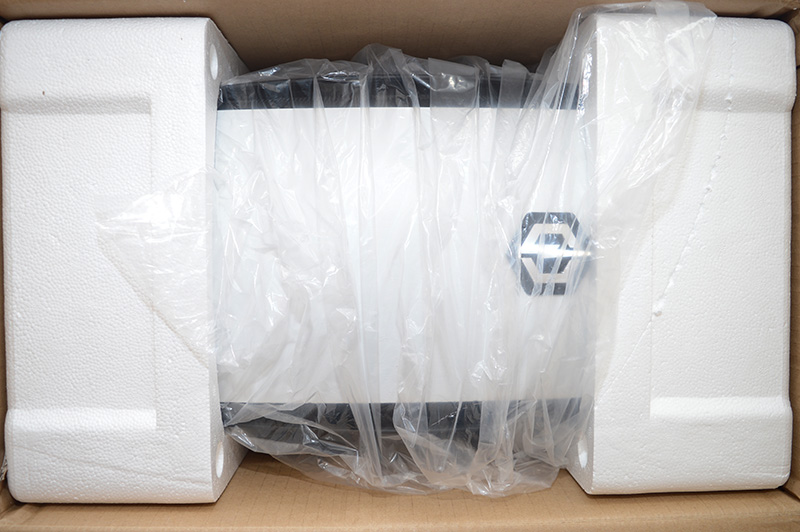 Instead of using a single foam instapack, Cyberpower opted for an assortment of airbags which surround key areas of the system such as the reservoir, pump, CPU block and graphics card. Usually, I'd prefer the foam pack option because it's stronger and doesn't fall out as easily. On the other hand, the air bags are really versatile and can slot into tight corners easily. This allows you to strengthen the supporting area around the custom loop without pushing too hard onto the tubing or fittings.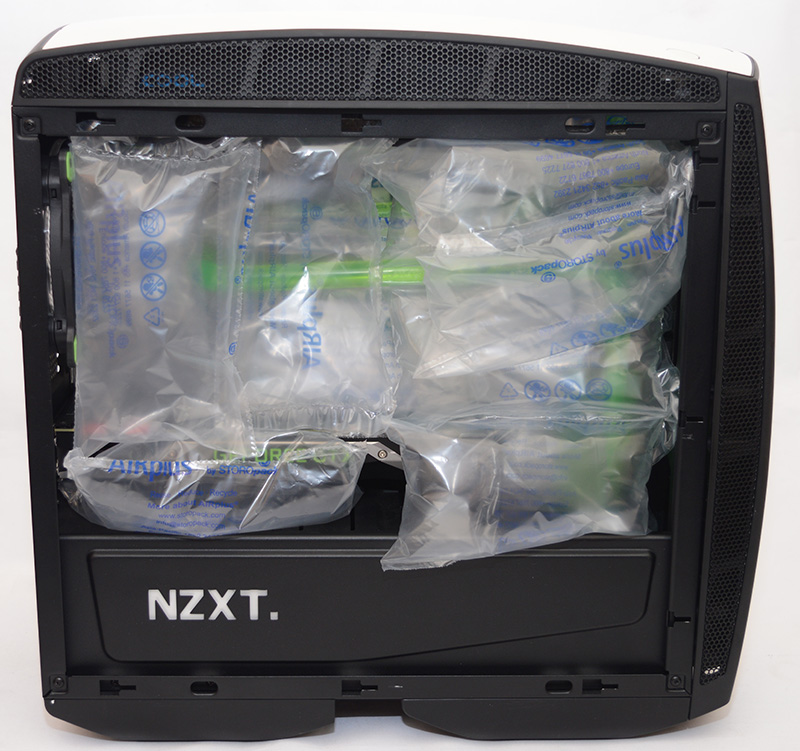 To ensure the buyer doesn't power the system on with the foam bags attached which could cause some damage, a clear notice is positioned over the power supply. This is a sensible strategy because the consumer is guaranteed to see the sticker just before preparing to connect a power adapter. Therefore, the likelihood of the system being switched on with the packaging in place is minimal.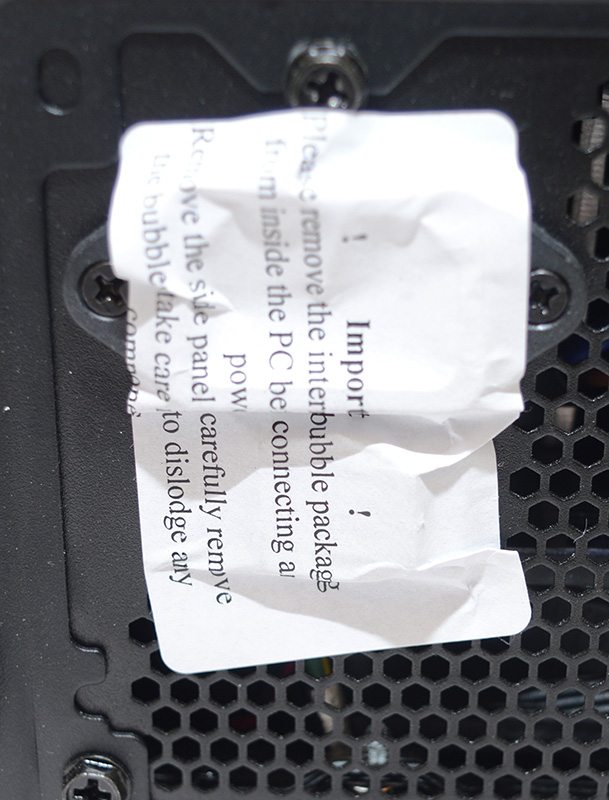 In terms of accessories, the system is bundled with component documentation, user guides, driver/installation disks, spare SATA cables, other power supply cables, zip-ties, PCI brackets that have been removed, mounting screens, CPU cover and a UK power adapter. This is everything you need to modify the build in the future or recover from a software fault. Additionally, everything is neatly arranged in the motherboard's box for safe keeping.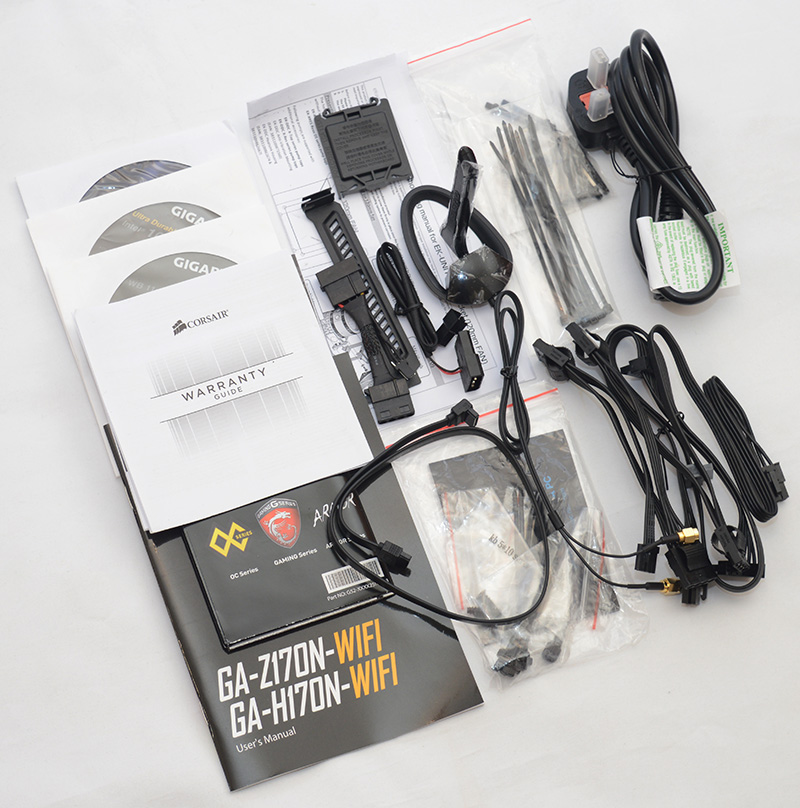 CPU-Z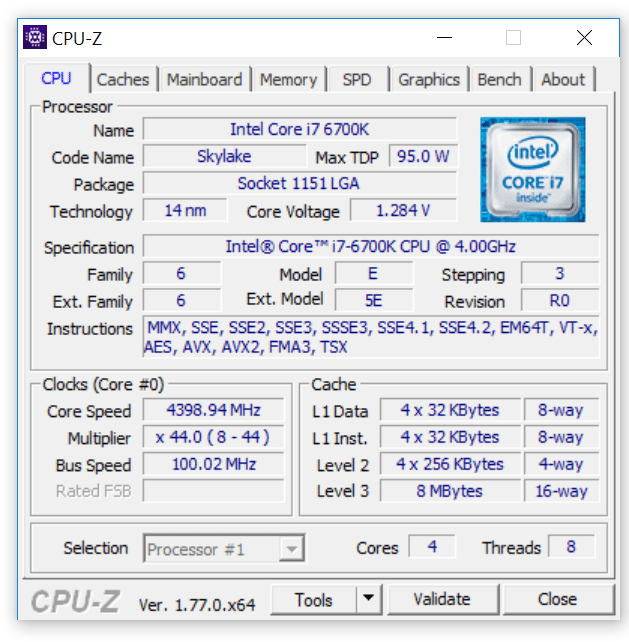 GPU-Z