CyberPowerPC Infinity Xtreme Halo Review
---
---
---
Colin Chambers / 8 years ago
Introduction
---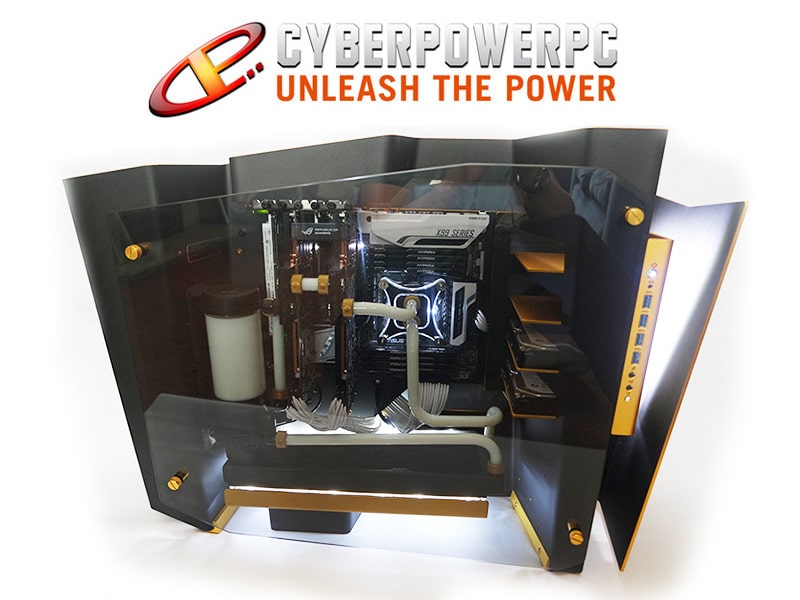 CyberPowerPC are making a sizeable impact in the UK PC market in recent years since they came across the water and settled in the sunny North of England. They contacted us offering not just a glimpse at one their flagship systems, but a completely built and ready to go review sample of which we were encouraged to "test", and by test I mean game on.
Naturally we were on scene faster than you can shake a stick at and soon we were pulling up outside Cyberpower HQ eager to get our mitts onto this mystery machine. We were not disappointed when we were warned that it would take 2 men to lift it, and that I would need to put my back seats down as the box would take up half of the back of my car. As we returned to eTeknix towers we could see on the box what chassis we had, but it wasn't until we got it unpacked that we seen what we had been given, and investigated the invoice properly. What they had in fact given us was a top end X99 system with not one but TWO GTX Titan X's in SLI, with a bespoke water cooling setup, a price tag of £6400, and that's just the beginning. Ladies and Gentlemen, hold onto your hats, I'm going in!
Specifications
Name: Cyberpower Infinity Xtreme Halo
Case: In-Win S Frame ? Black and Gold
Motherboard: ASUS X99 Deluxe INTEL X99,  4 Channel DDR4 ATX Mainboard w/ 8 RAM slots,UEFI Bios,Turbo APP,Thunderbolt Ready,Crystal Sound 2,Turbo LAN,USB3.0,SATA-III RAID,3 Gen3 PCIe x16 & 1 PCIe x4
Processor: i7-5960X Extreme Edition Eight-Core 3.00 GHz 20MB Haswell-E
Processor Cooler: Custom loop, featuring a resivior/pump combo, 360mm radiator with LED fans and rigid tubing.
System Memory: 32GB HyperX Fury w/Heat Spreader DDR4/2400MHz Quad Channel Memory (8 x 4GB sticks)
Main Boot Drive: (1x400GB) Intel 750 Series M.2 PCIe Solid State Drive Card, Read: 2500MB/Sec, Write: 1200MB/Sec
Additional Storage Drive(s): 2TB Seagate Hybrid Gen3 SATA-III 6.0Gb/s Cache 5400RPM SSHD in RAID 0
Graphics card: GeForce GTX Titan X (x2 in SLI, with full cover waterblocks)
Power Supply: Corsair 1200 Watts AX1200i Platinum 80+ Modular digital control Gaming Power Supply – Quad SLI Ready
Extras: ASUS USB 3.1 Expansion PCI-E card, provides extra two USB 3.1, Free Arkham Knight and The Witcher 3 – Wild Hunt
Optical Drive: None
Wireless: Wireless A/C
Monitor: Not included
Peripherals: Not included
OS: Windows 8.1 64 Bit
Warranty: 2 Year Warranty
Price: £6400 as configured Delivered.
Here have the huge box,  with oodles of padding, foam and air pockets to protect its precious cargo.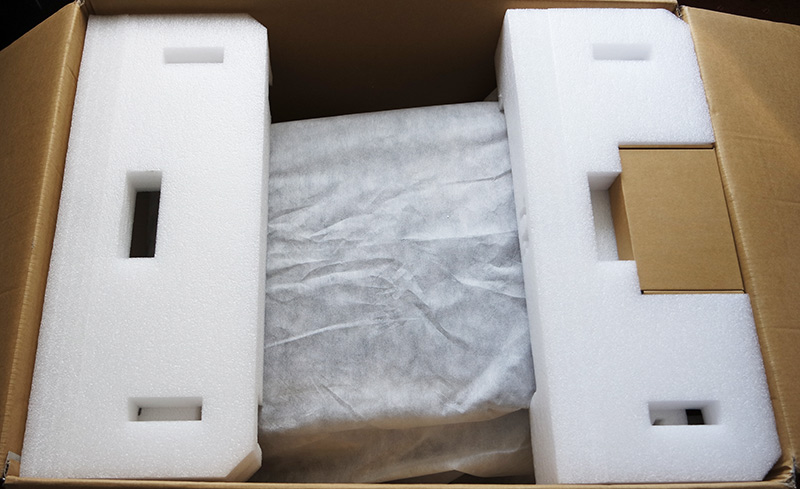 A motherboard box full of extra cables, goodies and more, including a Windows 8.1 disc.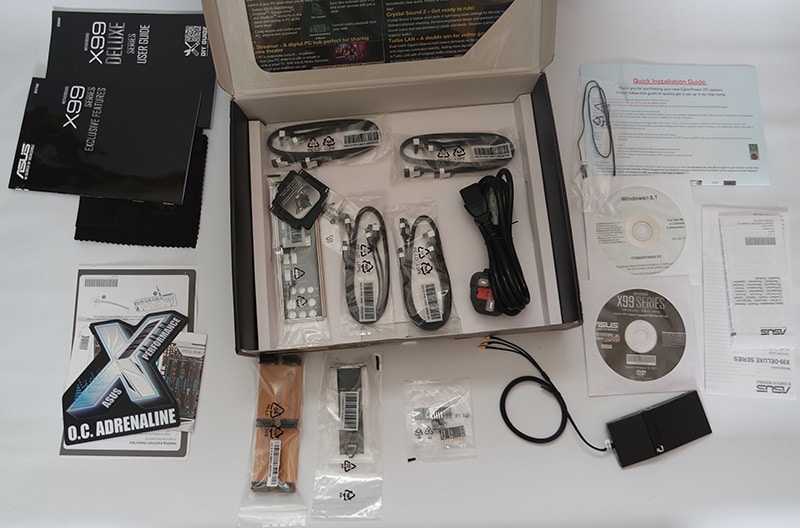 Unboxed and raring to go.  By this point I had smeared the glass with my clammy palms and had to give it a quick wipe down.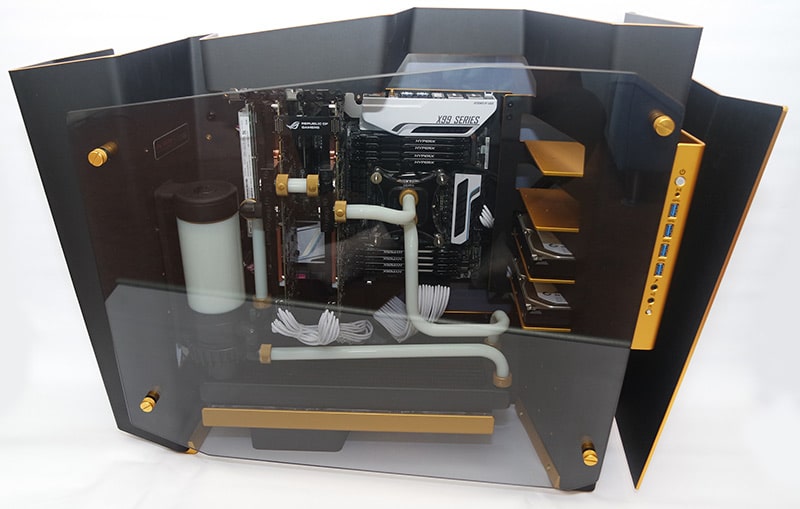 CPU-Z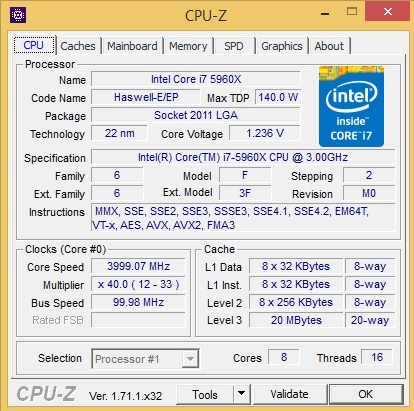 GPU-Z