CyberPunk 2077 – 40 GPUs Benchmarked!
---
---
---
Peter Donnell / 5 months ago
System Requirements
As you can see, the game will run on something equivalent to the Core i6-3570k or AMD FX-8310, which is basically any quad-core for the last 6 years or so. Back that up with an RX 470 or GTX 780 and you'll scrape by the minimum requirements. Fortunately, the High requirements are pretty decent too, requiring the RTX 2060 or 5700 XTpaired with a more modern quad-core CPU, but still within the reach of a lot of PC gamers. Beyond that, you're firmly into enthusiast territory though, with high-end RTX 3000 serries cards being suggested for ray tracing, and if you're wanting to push to higher refresh rates or more extreme resolutions, then you'll find hardware requirements will ramp up as expected.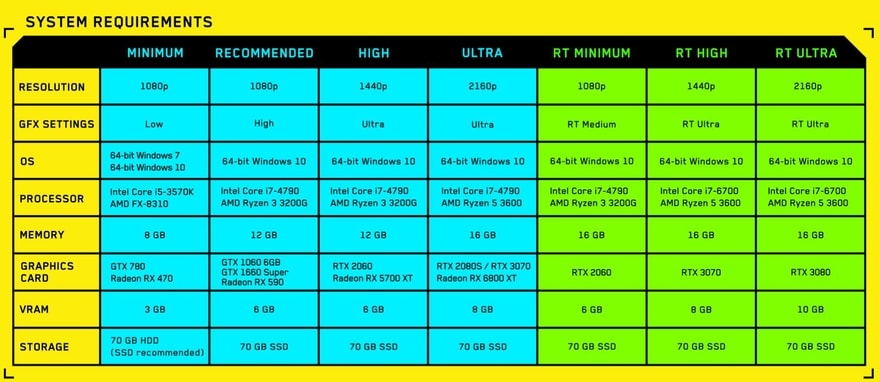 £Please note that the game is both graphics- and processor-intensive, so make sure these components meet or exceed the minimum requirements. Also note that the minimum is created with Low settings and 1080p gaming in mind and Recommended with High and 1080p."- CD Projekt Red
Test Bench
As per our usual testing methodology for graphics card reviews, all benchmarks are performed at three resolutions, 1080p, 1440p, and 2160p (4K) using the games built-in HIGH settings or equivalent, not ULTRA, but HIGH! We're firm believers that you should add quality settings after benchmarking to hit your desired performance rather than take them away. Three runs are completed and an average will be taken.
Since CyberPunk 2077 also features both Ray Tracing and DLSS, these features will also be tested at 4K. First at 4K with Ray Tracing enabled, then again with DLSS enabled, and finally, with both Ray Tracing and DLSS enabled.
| | |
| --- | --- |
| Motherboard | ASUS Crosshair VIII Hero (Wi-Fi) |
| Processor | AMD Ryzen 9 3900XT |
| RAM | TEAMGroup DarkZa 16GB 3600MHz (2x8GB) |
| CPU Cooler | Noctua NH-D15S |
| Power Supply | Phanteks Revolt Pro 850 |
| Storage | Seagate FireCuda 520 2TB |
| Chassis | Open Benchtable |
| Monitor | Dell UP3218K |
| OS | Windows 10 Pro Version 2004 |