D-Link DCS-935L mydlink Home Monitor HD Wi-Fi Camera Review
---
---
---
Bohs Hansen / 8 years ago
Introduction
---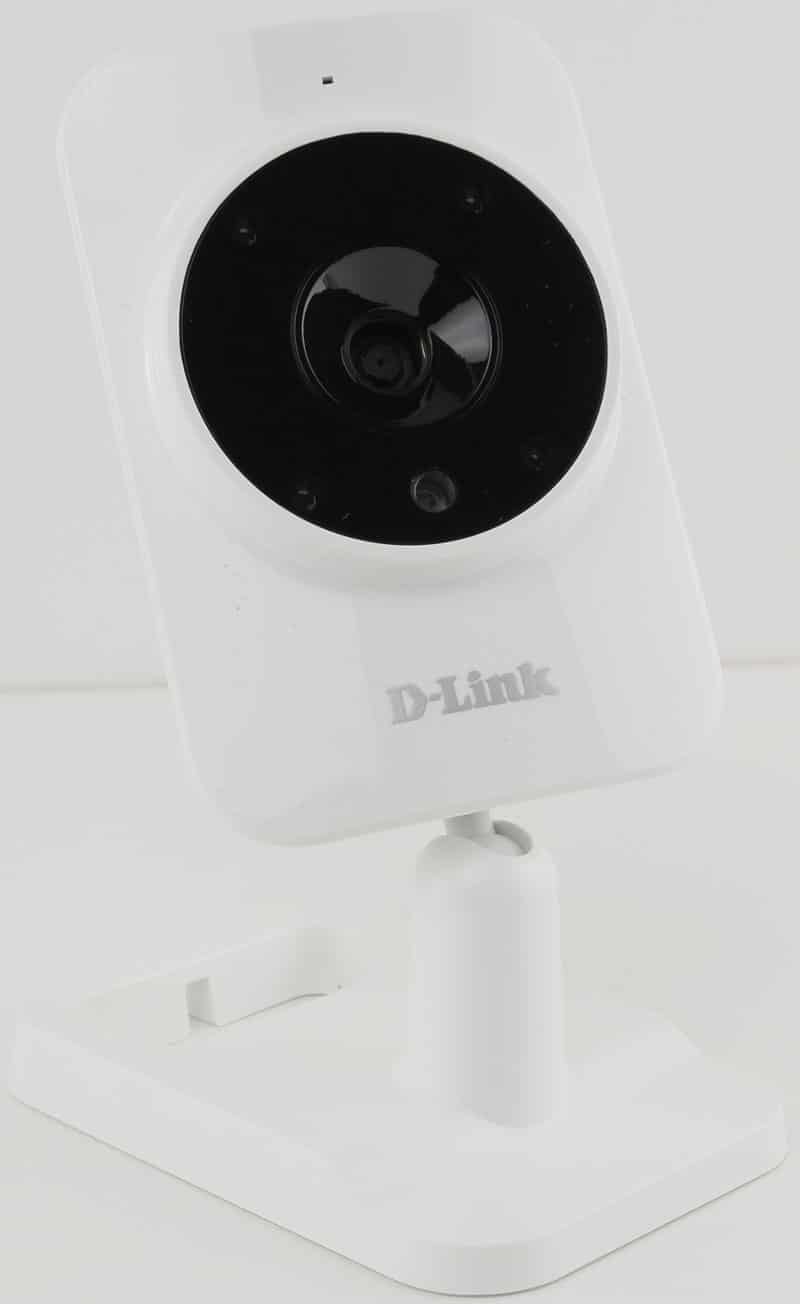 Today I'm taking a look at a somewhat different product than I am used to and that is a wireless home security camera. Security becomes a bigger and bigger issue for a lot of people and many would like to keep an extra eye on the home while they are away. The D-Link DCS-935L Home Monitor HD allows you to do just that and I'll be taking a closer look at the hardware and software that comes along.
The mydlink Home Monitor HD, as it is known by as full name, allows you to monitor your home from where ever you are and see everything in full-colour high-definition 720p with sound, may it be from a computer, tablet, or a smartphone. The WiFi camera also comes with built-in night vision that allows you to see up to 5 meters in complete darkness.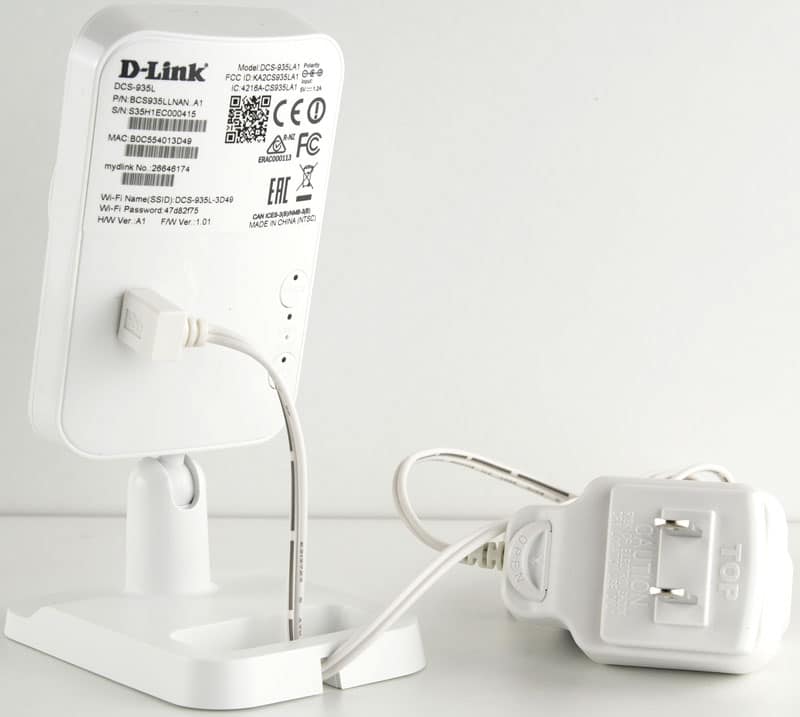 One of the places that held many people back in the past and stopped them up from entering the world of do-it-yourself home security was the setup. It could be very complicated and require a lot of running of wires at the same time. That made people hesitate and they rather invested in a commercial and subscription-based security plan. Granted, a camera like this cannot do the same, but in return it can be set up by anyone and it only requires the initial purchase.
The DCS-935L WiFi camera is as easy to set up and connects to your Wi-Fi network, all it takes is the press of a button. Simply press the WPS button and you are securely connected to your wireless network at home. There is no need for extra and additional control hubs or other hard to configure interfaces and router settings.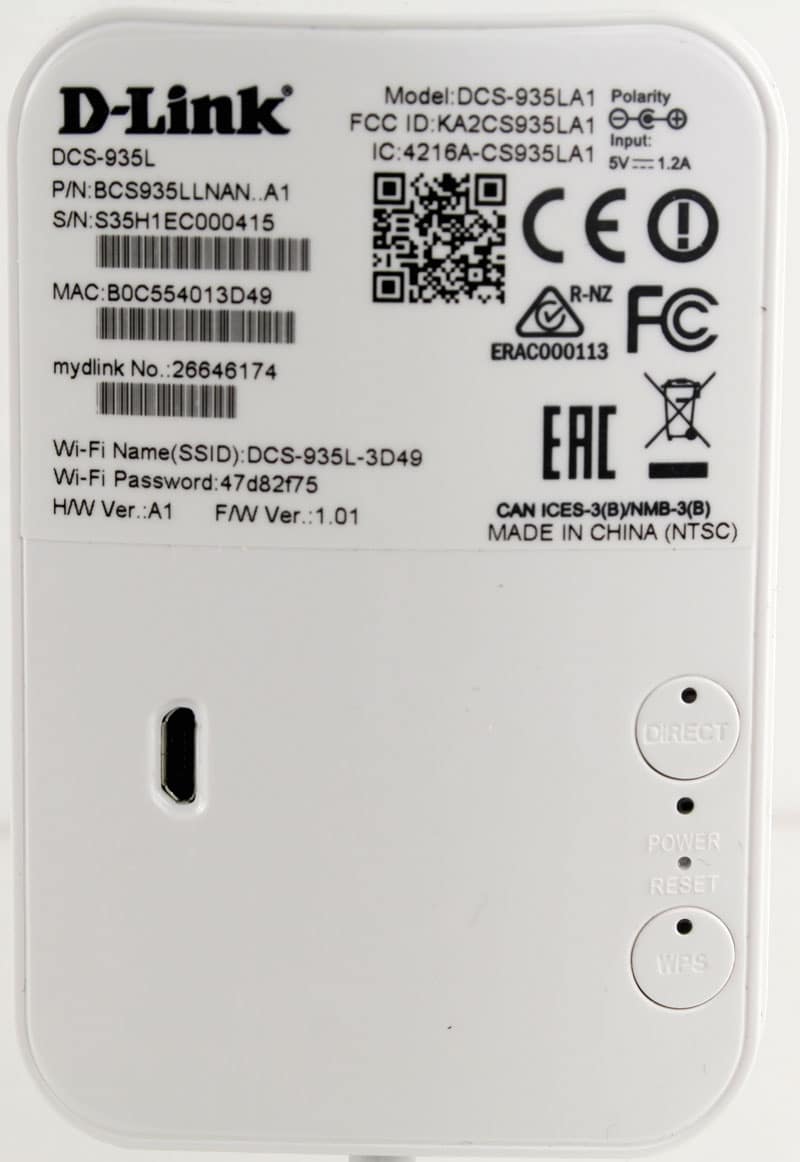 The DCS-935L WiFi camera is part of the mydlink structure of smart home devices, allowing you to create your own smart home, all without a complicated setup. Those devices include music streamers, Wi-Fi motion sensors, Smart Plugs, and also the Home Monitor cameras as the DCS-935L.
Everything is connected through the mydlink Home app that is compatible with both Android and iOS-based smartphones and tablets. You can view the stream from anywhere you are connected to an internet connection, allowing you to always know what is going on in your home. You can also set the camera to alarm you when sound or motion is detected. Again, everything without complicated setup, installation cost, or monthly subscription charges.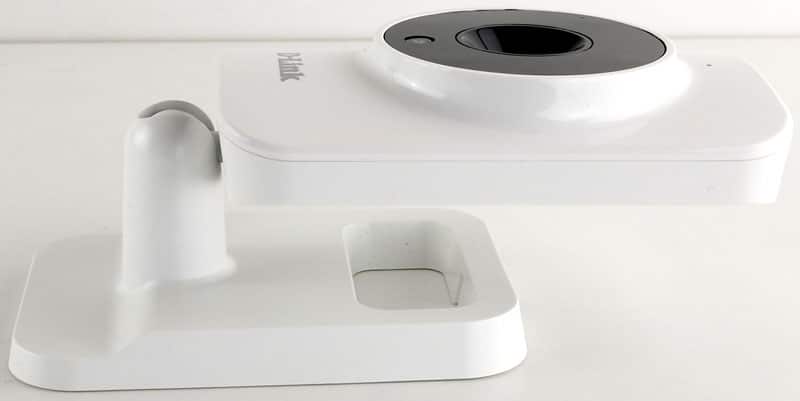 The camera stand on the DCS-935L Wireless camera can be used universally in may ways, allowing you to place the camera in a convenient place and at the same time having it pointed where you want it to. You can turn and tip the camera and also hang it on a wall or ceiling that way. The rear of the stand features a cut-out to route the power cable through and still have it mounted properly.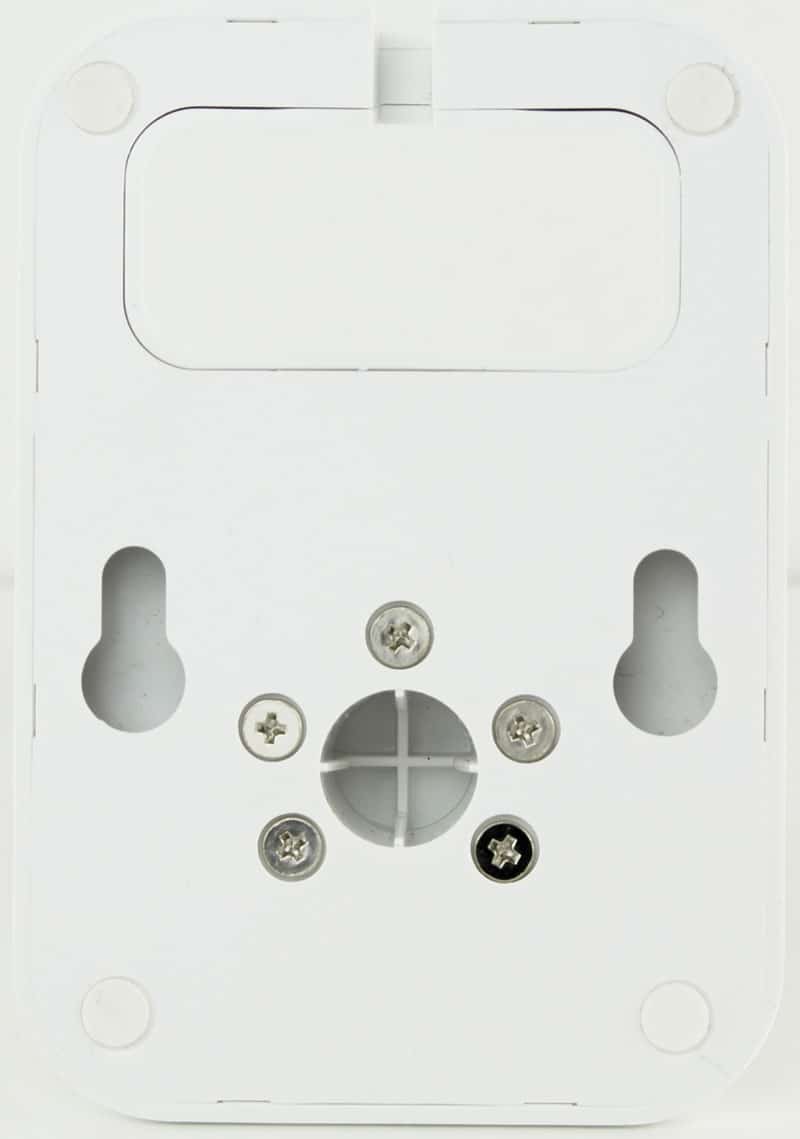 Whether you want the camera to keep an eye on your kids or pets while you're away, monitor for possible intruders, or something completely different, the D-Link DCS-935L could be a perfect choice. The smart hardware combined with the smart apps allow you to set up a smart home as easy as it rarely, if ever, has been seen before.
Specifications
The specifications are taken directly from the manufacturers specification page and can as such be subject to change in possible future revisions of the product.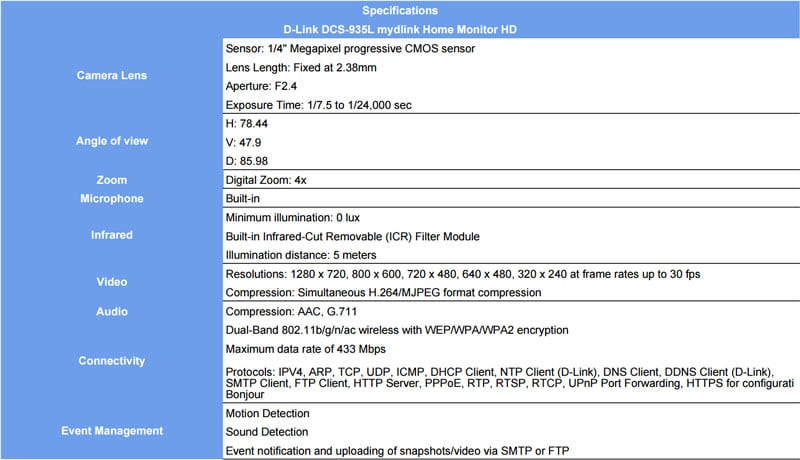 Key Features
WiFi with easy WPS setup
720p HD resolution
Microphone for sound recording
Nightvision for up to 5 meters in full darkness
Motion and Sound detection
No charges, fees, or complicated setups
Monitoring from Smartphones and Tablets
Packaging and Content
The DCS-935L WiFi camera comes in a little box that displays all the relevant information about the product easy to read. Inside you'll find a power adapter, the camera in itself, and manuals and guides that allow you to get started quick and easy.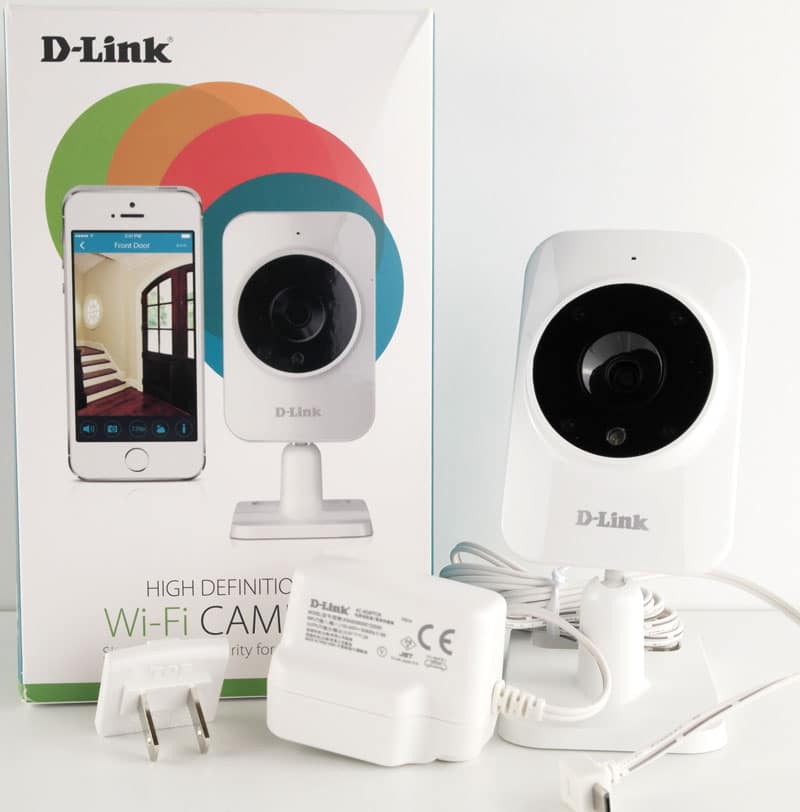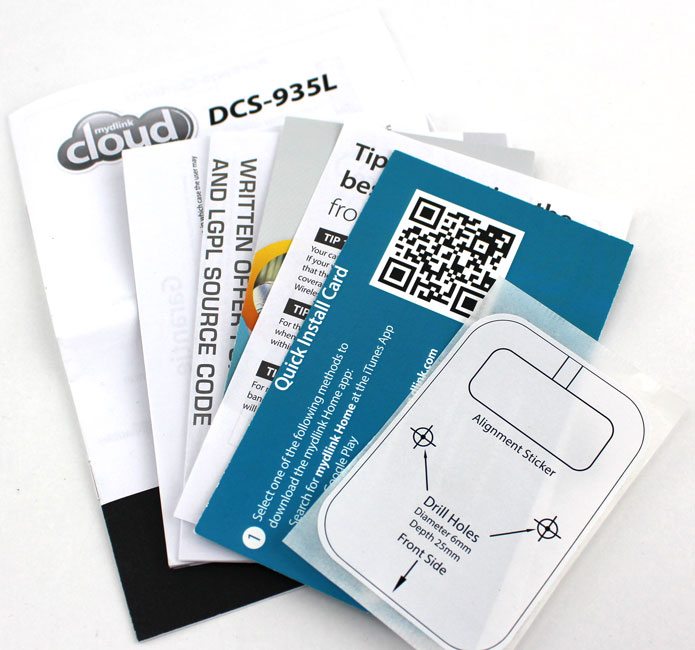 The included power adapter uses a universal plug switch as seen below. Even if you bought it in a foreign market or traveling with it, all that's required is a new plug part. Flip the old out, put a new in, and you're done. These plugs are used on many power supply units and there is a good chance that you already have one or multiple of the same principle.