D-Link DIR-890 AC3200 Ultra Triple-Band Wi-Fi Router Review
---
---
---
Bohs Hansen / 7 years ago
Introduction
---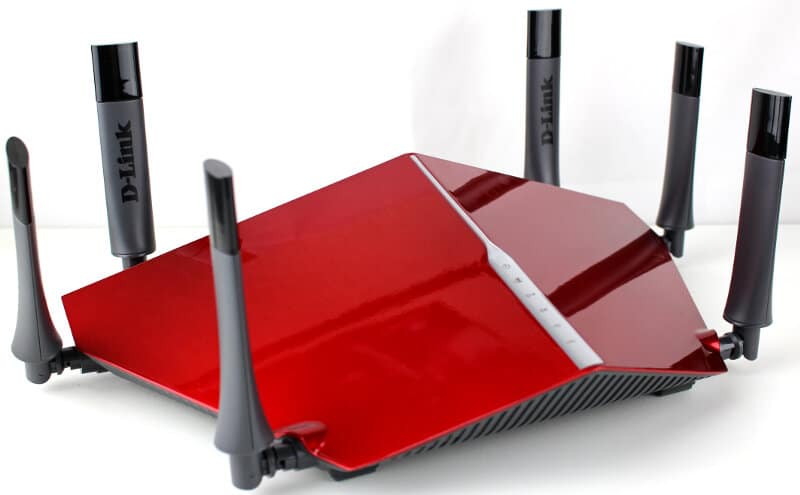 When you pick the router you want to own, you can either pick an ordinary router for your setup or a great one if you want just a little more. But there is also a third option and you have the choice to go for something extraordinary. Today I'm taking a closer look a router from the last category as I'm having D-Link's impressive DIR-890L AC3200 Ultra Wi-Fi router in my testing area.
The DIR-890L brings impressive performance via three bands instead of the normal two bands, and it also comes packed in a stylish design with six antennas for maximum range, coverage, and speed. D-Link's DIR-890L has a futuristic kind of design that somewhat resembles a drone or spaceship. A lot of the times this kind of designs can go too far, but D-Link seems to have nailed it and hit just the right spot between normal, futuristic, functionality, and design. It looks great!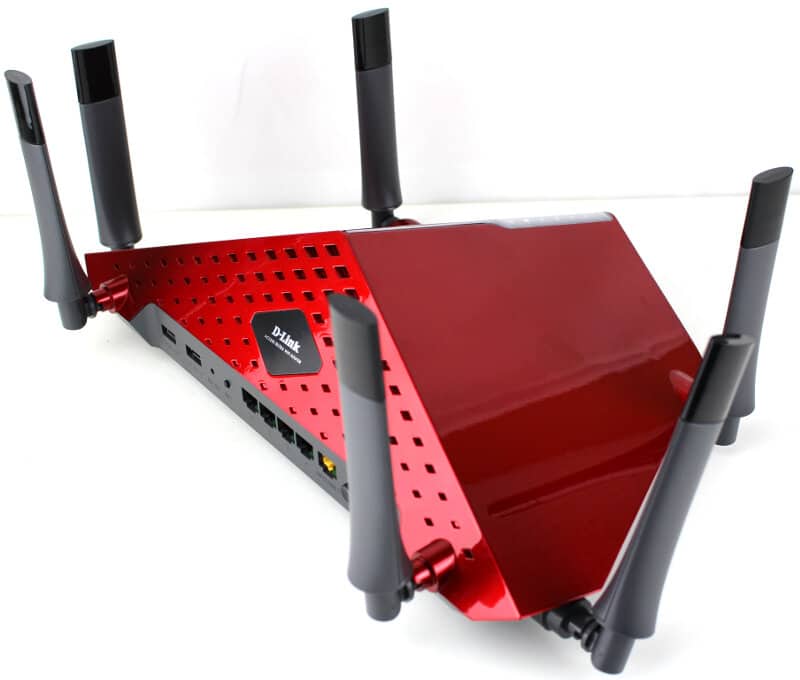 We get more and more smart devices in our homes and that is something that increases exponentially the more people live in the household. We have smart TVs, smartphones, laptops, tablets, game consoles, computers, and much more. All of these need an internet connection through our one and only entry and exit point, the router, which means that we quickly can reach limits around the available bandwidth and channels, and we experience bottlenecks and lag.
Traditional routers have a 2.4GHz band for up to 600Mbps throughput that is suited for surfing, emails, and instant messaging as well as the newer 5GHz band that has a little less range but a lot more performance. D-Link added one more on top of that in the DIR-890L AC3200 router, they added a third band. The third band is another 5GHz band, freeing up some space on the first one by balancing the connections out. It also prevents slower connected devices from bottlenecking the band from faster ones. Each of the 5GHz bands has a maximum throughput of 1300Mbps which gives the DIR-890L a total wireless throughput of 3200Mbps. Effectively this is like three routers in one.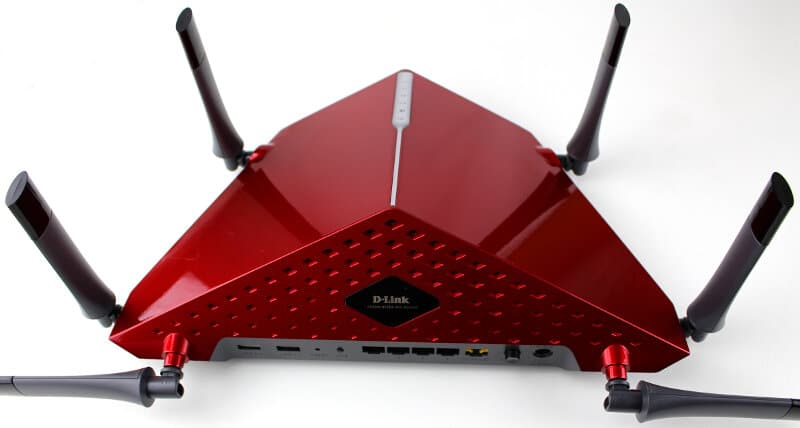 As mentioned above, not all wireless bands are the same, but that isn't something you need to worry about with this router. The Smart Connect Technology allows the router to choose from the three Wi-Fi bands and automatically connect each device on the network to the best and clearest band available at the time of connection.
The Smart Connect feature is awesome as it manages everything itself and removes any worry from the user's end what band to pick and choose from. You can still choose to use each band separately with their own individual SSID name and password settings should you wish to do so.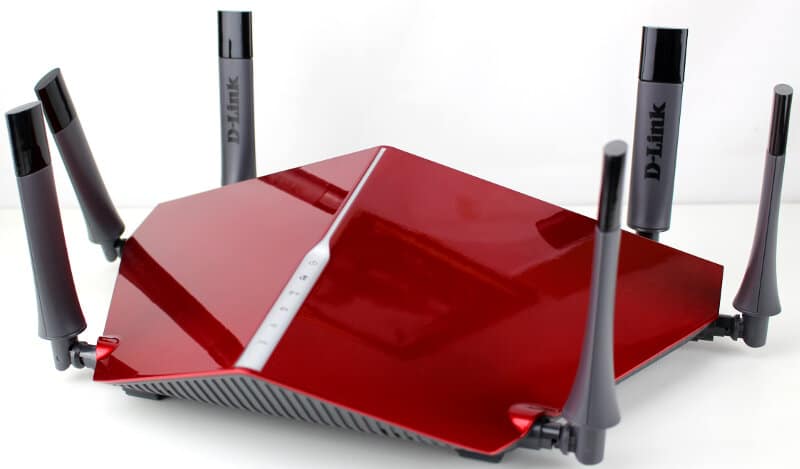 D-Link gave the DIR-890L six antennas and the router features beam-forming technology to improve coverage. With this technology, the router can direct the bandwidth in the direction of the devices connected and thereby give you a better overall connection experience whether you stream your movies, Skype with friends, or play online games.
The six antennas are adjustable in almost all directions, except down. So unless you want to place it upside down, then you can't have it look like a spider on six legs as some of you probably already imagined. It is not something I would recommend doing as it would place the vents upward and allow for more dust to settle inside the router. You sadly can't replace the antennas with aftermarket ones on the Ultra AC3200 and that might be a downside for some people.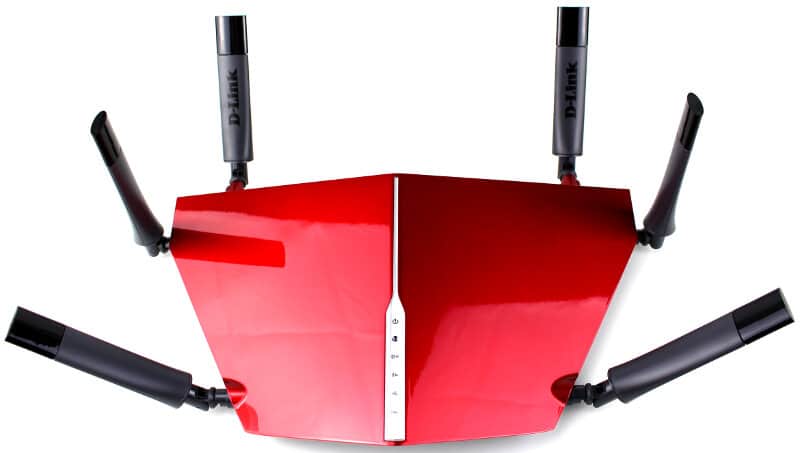 The router naturally also features wired connections and not just wireless ones, although the wireless features are the selling point in this router along with the great hardware base. You get one WAN port for the internet connection and four Gigabit Ethernet ports for your LAN. The DIR-890L also comes with one USB 3.0 and one USB 2.0 port for file sharing from external storage drives or creating a network printing environment from your old USB-based printer. The D-Link share port allows all this with ease and also allows you to use the built-in DLNA server and stream to compatible devices.
D-Link also packed the router full of useful software features such as parental controls, blocking of unwanted devices, internet activity monitoring, and Wi-Fi guest networks. Intelligent Traffic Prioritization selects the fastest Wi-Fi for every device and prevents older devices from affecting optimal performance. VPN setup and all common features such as NAT and port forwarding aren't a problem for the DIR-890L either.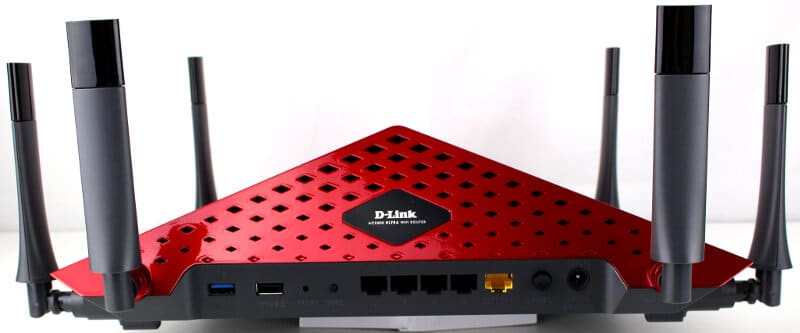 There are a lot more features, but we'll see them on the following pages when we take a look at the user interface and options. If all that shouldn't be enough, or you just don't like the interface for some reason and would like something else, then you can flash the router with DD-WRT, the open-source router firmware. The D-Link AC3200 Wi-Fi Router should be fully compatible with the open source Linux-based router operating system.
If all that shouldn't be enough, or you just don't like the interface for some reason and would like something else, then you can flash the router with DD-WRT, the open-source router firmware. The D-Link AC3200 Wi-Fi Router should be fully compatible with the open source Linux-based router operating system.
All this requires some power to run and that comes from a 1GHz dual-core processor that has no trouble keeping up the data packets for your gaming sessions or 4K media streaming. Speaking of 4K media streaming, the DIR-890L is a Nvidia GameStream-Ready product and certified for optimal compatibility with the newly released Nvidia Shield 4K Android TV Console.
Specifications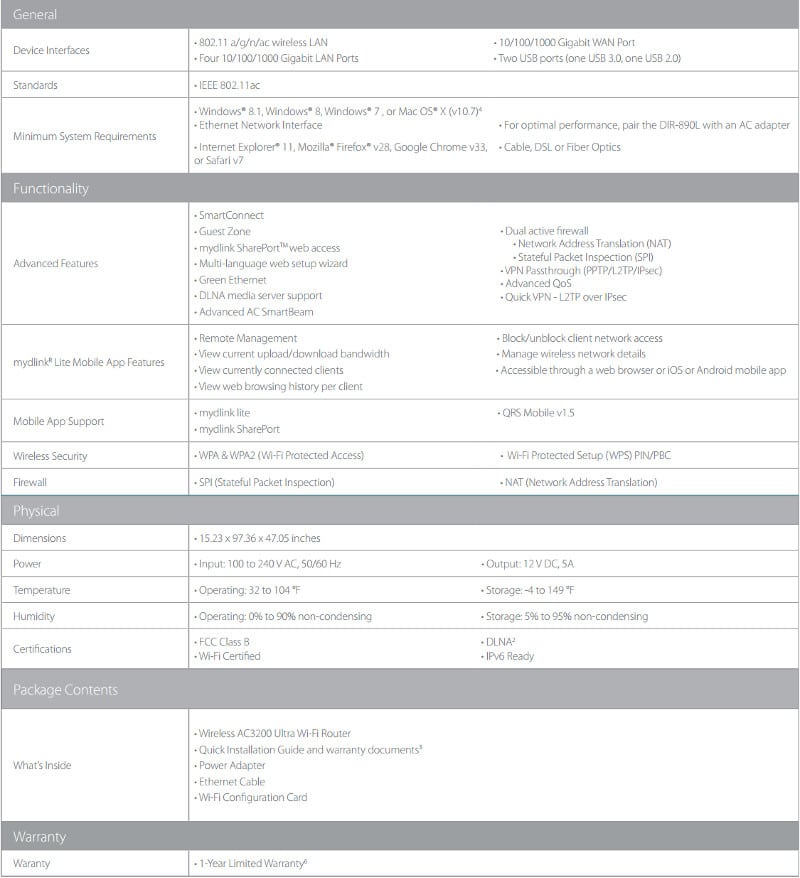 Packaging and Accessories
A Premium router also needs a premium package, and the D-Link AC3200 Ultra Wi-Fi Router has that. The huge box has a premium finish and is made from thick cardboard. The outside has a full-colour print with the router itself and the name on the front.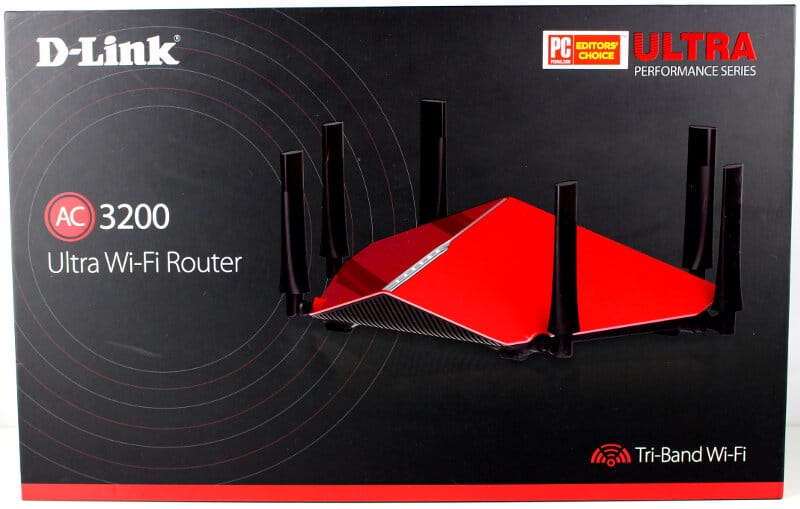 The rear of the box displays the main feature highlights in a graphical way, easy to see, read, and understand.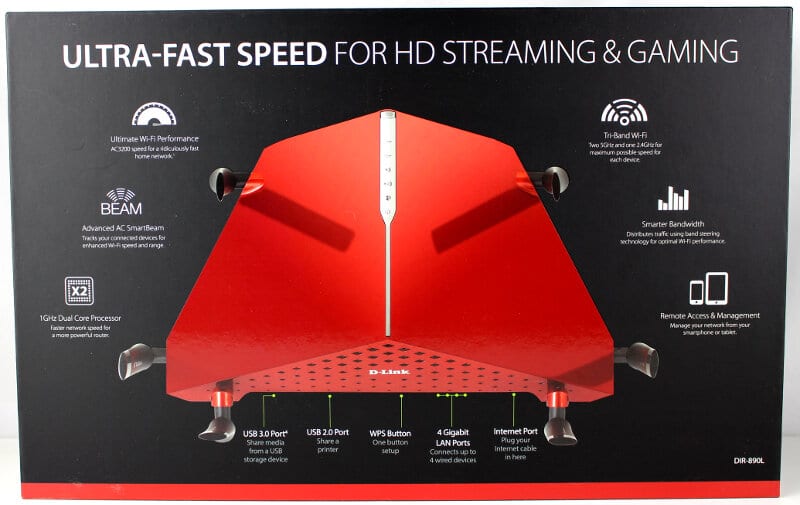 It isn't just a folded box around an inlay either, but a real box where you lift the cover up.

Inside you see the beautiful router right away, safely secured and with the accessories packed in the boxes on either side.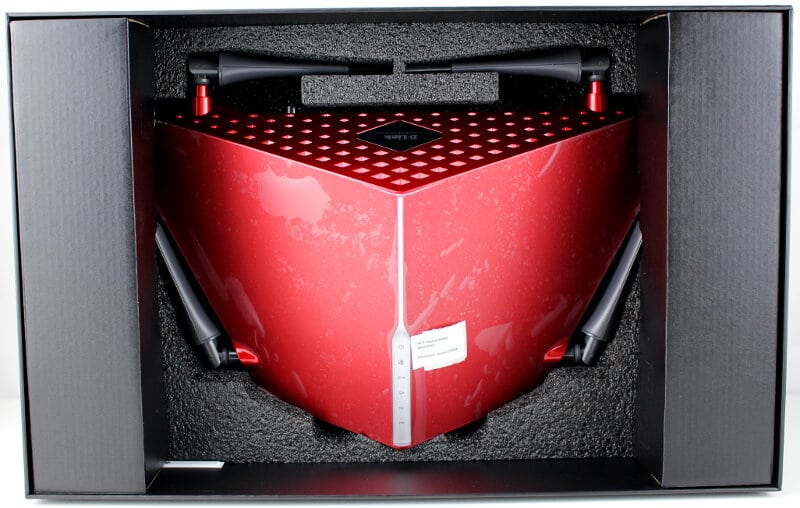 Inside is a power cord, AC power adapter, and an RJ45 LAN cable to connect your new router.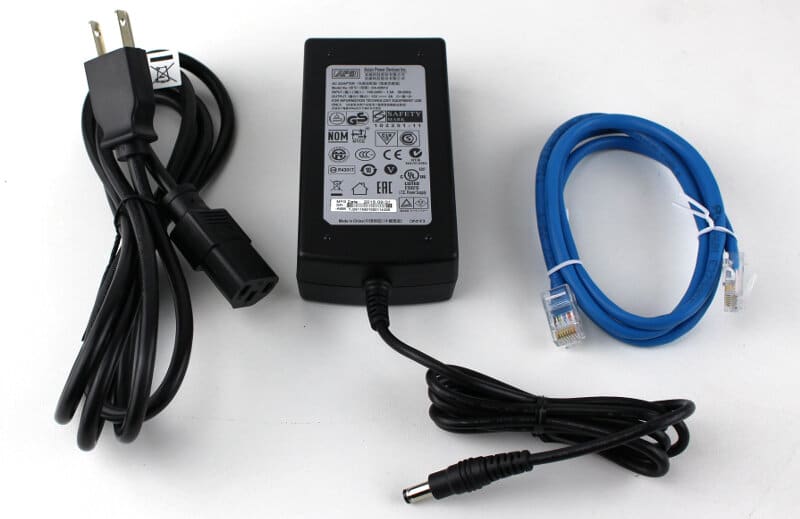 There's also a beautiful Quick Install Guide to help you get started, a configuration card with all the default settings and room to write you own as well as an extra sticker with the defaults for you to place where it is convenient.