D-Link DXS-1210-12TC 12-Port 10GBASE-T Web Review
---
---
---
Bohs Hansen / 7 years ago
Introduction
---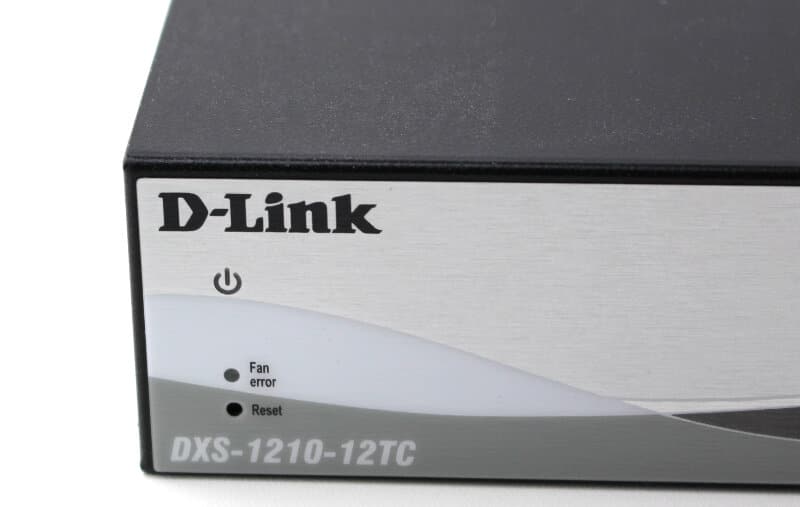 As a review site, we need to keep our testing equipment above or at least on the same level as the hardware that we test in order to provide you with relevant reviews and in that regards we've just upgraded our network test are with new 10 Gbps equipment. Among the new devices is the D-Link DXS-1210-12TC 10 Gigabit Ethernet Smart Switch that I'm taking a closer look at today.
In order to test this switch I need two systems with 10 Gbps capabilities and four CAT7 cables and below you see all but the one network card as that is onboard in one of my test systems. In my opinion, we have been stuck at Gigabit level for way too long and 10 Gigabit Ethernet is slowly starting to make an entry. It is starting to become more affordable which allows SMBs and enthusiasts to enter an area of the market that previously was limited to enterprise and large corporations.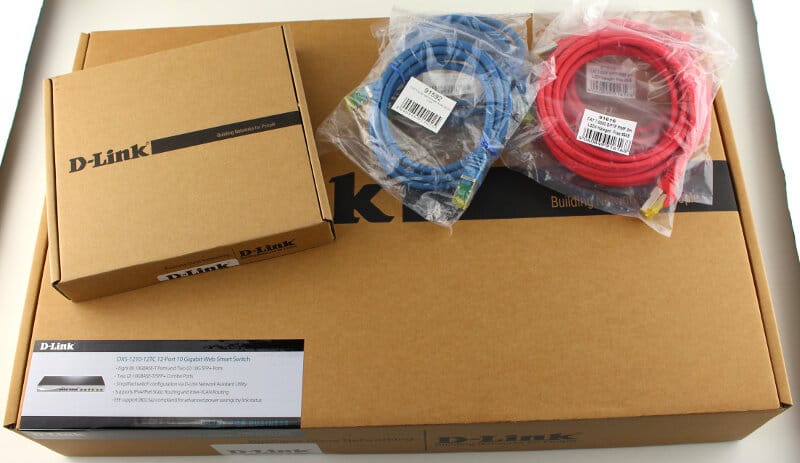 D-Link's DXS-1210 series is composed of several 10 Gigabit Ethernet Smart Switches and they are a cost-effective 10 solution capable of servicing a wide range of network needs in any business. Some of the switches in the series focus primarily on SFP+ connections which aren't optimal for my test scenario. I still test a lot of normal Gigabit equipment and my switch needs to stay compatible to those. Luckily D-Link also has this one with eight 10GBASE-T RJ45 ports and two 10Gbps SFP+ ports. Additionally, since it has two combo ports for use with either RJ45 or SFP+ connections.
The DXS-1210-12TC uses a default 19″ rack format which makes it easy to deploy in server cases and D-Link also included rubber feet in case you should run in placed on a desk or shelve somewhere. The 10GBASE-T copper ports utilize RJ45 interfaces and support 10 Gigabit speeds over CAT6a/CAT7 LAN cabling for up to 100m. That makes it easy to deploy no matter how far apart your systems are. The 10GbE fiber ports can be connected to other 10GbE ports with low-cost Direct Attach Copper (DAC) cables or with SFP+ optical transceivers over multimode or single mode fiber optic cabling.

D-Link made sure that there's plenty of overhead when it comes to transmission capabilities in the DXS-1210-12TC. It is capable of up to 240Gbps switching capacity, double what is needed, and has a maximum packet forwarding rate of 178.56 Mpps.
A device like this will naturally consume quite a bit of electricity as it has to perform flawlessly at any time and needs the power to do so, but D-Link applied their Green technologies in order to improve on this area without sacrificing operational performance or functionality. The DXS-1210-12TC features smart fans that don't run at full speed when it isn't needed, internal heat sensors that monitor and detect temperature changes in order to adjust the fans. The switch can also toggle ports into sleep mode automatically and it is built with hardware parts that in themselves are energy-efficient. The DXS-1210-12TC will still draw between 42.65 watts in standby mode and up to a maximum of 90.81 watts.

Feature wise you'll find anything you'll want in a smart switch starting with a complete lineup of L2 features. The DXS-1210-12TC supports port mirroring, Spanning Tree Protocol, and Link Aggregation Control Protocol (LACP). DXS-1210 switches also support Auto Surveillance VLAN (ASV), and Auto Voice VLAN, which are best suited for VoIP and video surveillance deployments. The DSCP markings on Ethernet packets enable different levels of service to be assigned to network traffic. As a result, these voice and video packets take precedence over other packets. In addition, with bandwidth control, network administrators can reserve bandwidth for important functions that require a larger bandwidth or might have high priority.
The DXS-1210 series also features an extensive list of safeguards against traffic flooding and other malicious attacks. It supports 802.1X port and host-based authentication as well as external RADIUS server authentication. It also features Access Control List (ACL) for enhanced network security as well as ARP spoofing prevention. The DHCP server screening feature can also detect rogue DHCP server packets from user ports in order to prevent unauthorized IP assignment.

Maintenance is an easy job when it comes to the DXS-1210-12TC smart switch where it also features a few extra functions to make the admins life easier. It includes loopback detection which is used to detect loops created by a specific port and automatically shut down the affected port. There is also a cable diagnostic feature that's primarily designed to rapidly discover errors and determine a cable's quality.
The switch has a smart discovery protocol built in which makes it easy to set up and manage through D-Link's Network Assistant Utility and it will detect all switches within the same L2 network. This allows extensive switch configuration and basic setup of discovered devices, including password changes and firmware upgrades. The switch also supports D-View 7 and Command Line Interface (CLI) through Telnet. D-View 7 is a network management system that allows for the central management of critical network characteristics such as availability, reliability, resilience, and security.
Feature Highlights
Green Technology
• Power saving via the following features: Link Status detection, LED Shut-Off, Port Shut-Off, System Hibernation
Security Features
• Access Control List
• IP-MAC-Port Binding
• Clientless MAC/Web access control
• D-Link Safeguard Engine
• Port Security
• ARP Spoofing Prevention
Intuitive Management
• D-Link Network Assistant Utility or Web-based GUI
• CLI through Telnet
Advanced Features
• Auto Surveillance VLAN
• Loopback Detection
• Cable Diagnostics
• Static Route
• LLDP/LLDP-MED
• Auto Voice VLAN
Package and Accessories
Equipment like the D-Link DXS-1210-12TC smart switch doesn't need a fancy package, it is what is inside that matters.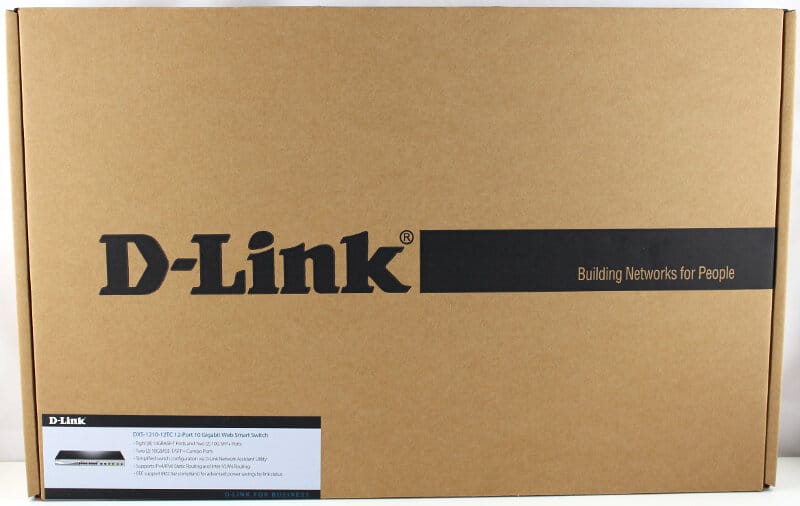 There is a small sticker in one corner of the box that shows what is inside and the feature highlights.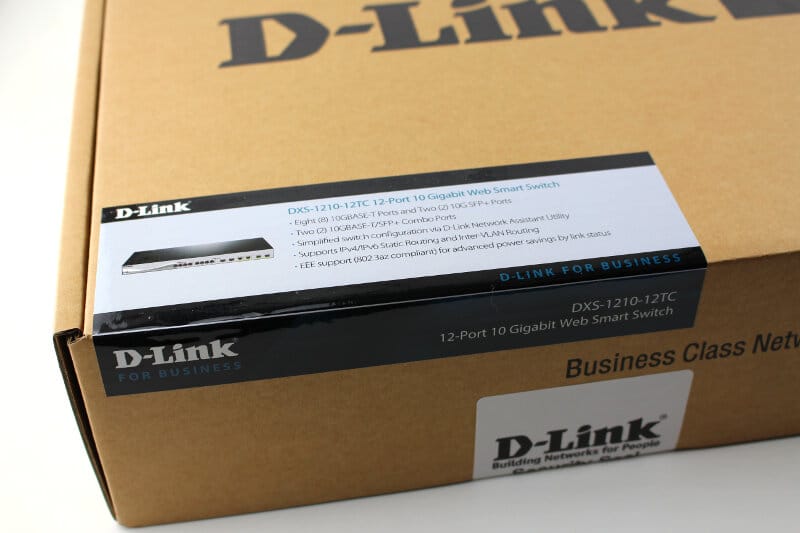 Inside the box are several leaflets about security and conformity as well as a Getting Started Guide and a Driver and Manual disk.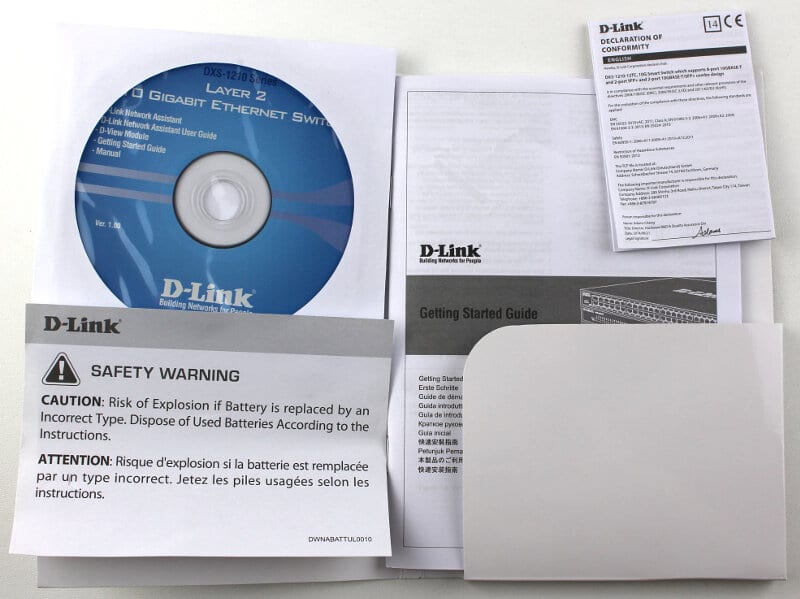 Included is a mounting system for use as a 19″ rack unit as well as four small rubber feet for those who wish to use it placed on a surface. Screws for the 19″ mounts are included too and so is a cable tie system for the power cord. You wouldn't want to jank that out by accident.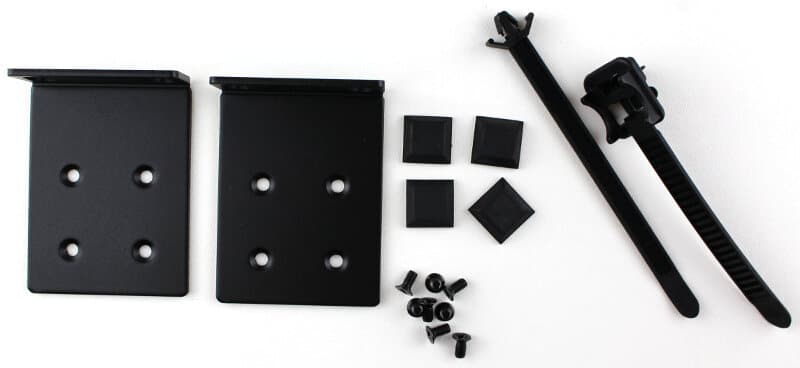 Naturally there's also a power cable for the region where you purchased the switch. The switch supports from 110V to 240V, so the only difference here is the plug on one end.