Death of Tick Tock – Intel Delays Cannon Lake for Kaby Lake
---
---
---
Samuel Wan / 6 years ago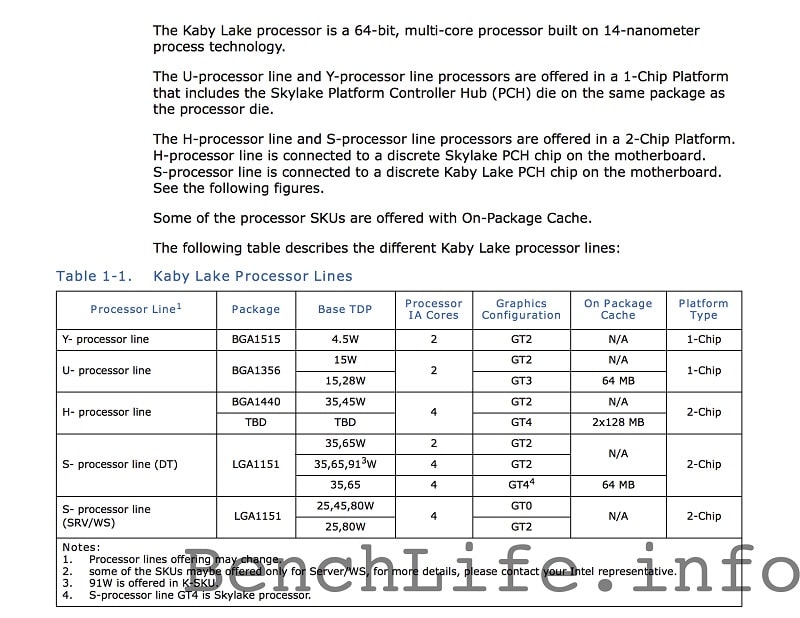 In a worrying sign for the semi-conductor industry, Intel appears to have delayed their 10nm process indefinitely. According to slides obtained by BenchLife, Intel no longer makes mention of Cannon Lake, the 10nm die shrink of Skylake. Instead, Kaby Lake will launch as its replacement for 2017, still at 14nm along with some refreshed Skylake processors.
Intel has previously faced significant difficulties in their transition to ever lower lithographies. Moving to 14nm was problematic, prompting a delay to Broadwell by nearly a year. While that single misstep didn't signal the end of the alternating cycle of shrink and architecture change, another delay will be pretty troubling. Intel has previously expressed confidence that they would reach 7nm on silicon, but these delays aren't inspiring confidence.
In terms of Kaby Lake, it seems largely to be the same as Skylake and in some ways, reminds us of Broadwell. Kaby Lake looks to be focused on being a mobile update. The desktop line continues on LGA 1151 but is still under the Skylake name which again reaffirms the mobile nature of Kaby Lake. Support for USB 3.1 is added for the PCH but AVX512 is not mentioned. The most interesting chip looks to be Kaby Lake-H which has 2x 128MB of eDRAM cache. This should be a big boon for the iGPU and acting as an L4 cache but may hit diminishing returns as results may not scale as well as before.
With Intel facing delays in introducing new processes and architectures, AMD has a golden opportunity to catch up. 2016 is also the year that AMD is introducing their new Zen CPU and APUs, which combined with a largely stagnant Intel, might provide a chance to reclaim market share. AMD may also have a counter for the eDRAM cache for the APU or even the CPU line with the now proven HBM. Next year looks be quite the set up for a rematch between AMD and Intel.
Thank you BenchLife for the information