der8auer Takes Core i7-7700K to New GHz Levels
---
---
---
Bohs Hansen / 6 years ago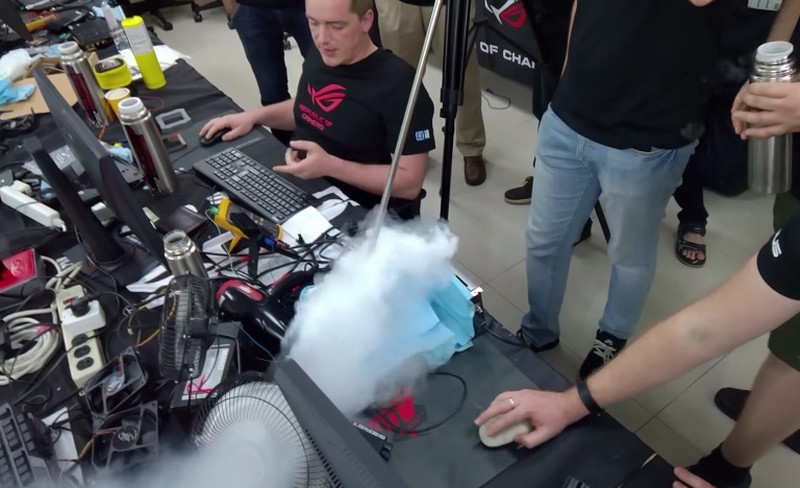 Asus has just held their Absolute Zero event which is an event purely for extreme overclocking. If you're interested in that kind of stuff, you're surely familiar with it. During this event, German overclocker der8auer has set a new impressive record as he pushed an Intel Core i7-7700K processor to new lengths.
The event focuses on processors that can function at extremely low temperatures. Normally this is achieved with liquid nitrogen, but that wasn't what der8auer used this time to set this new world record. Instead, he used liquid helium. Liquid helium costs quite a bit more, but it's also more effective at cooling. In fact, it goes 70 degrees Celcius below nitrogen for an extraordinary -269 degrees Celcius.
Now you're probably wondering, just how far up did he push the Core i7-7700K processor? der8auer managed to push the processor to an impressive 7.2GHz which in itself is quite the accomplishment. But that isn't all. He did so with all cores enabled, and hyperthreading was enabled too. Normally when extreme overclockers push these processors to the max, they do so with just a single core turned on, which makes it even more impressive.
The event took place in Taiwan and below you can watch a 15-minute video that doesn't show the record breaking result itself, but it does provide a lot of background info on the event and what generally went on there. While the video is in German, as der8auer is German, but it has been subtitled in English, allowing everyone to watch it and understand what's going on.
Now you might wonder, why don't these extreme overclockers don't use liquid helium all the time? Well, the answer to that is quite easy. It costs around four thousand Euro for 100 litres. That is simply not a cost ratio that most people can afford.