DinoPC Cryolos AMD Extreme PC Review
---
---
---
Peter Donnell / 4 years ago
The Exterior
Firstly, the DinoPC Cryolos really does look fantastic. I've got the window off the side here you can clearly see inside. Of course, I'll show it with the glass back on in a few moments when we fire up the RGB lighting. The Corsair Crystal series is by far one of the favourites. The 280X is especially stunning, and in white, even more so. It's certainly a case worthy of having up on top of your desk, and even more so with what DinoPC have done on the interior.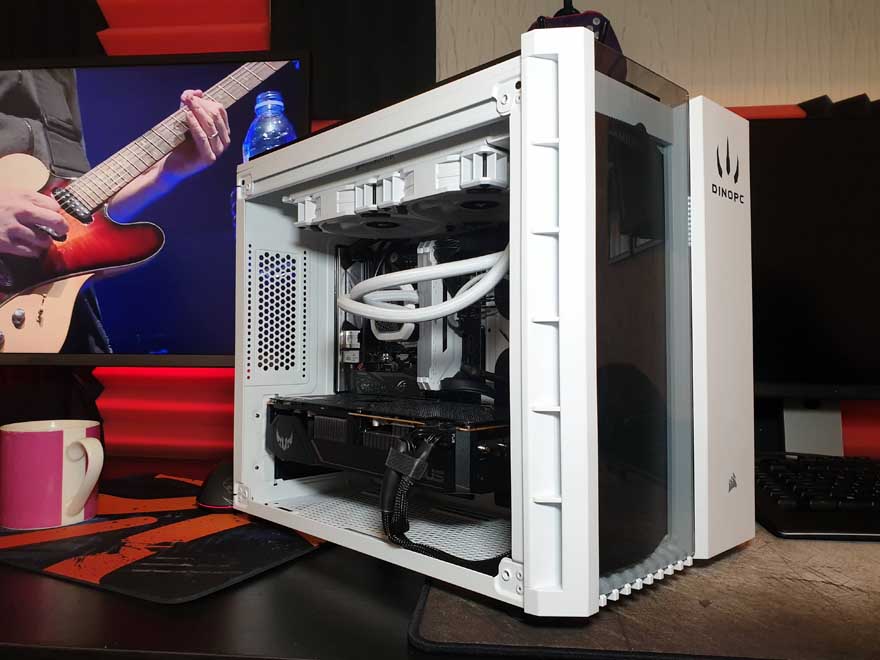 While the case does feature plenty of RGB lighting, they've kept the build 100% monochrome. I really appreciate that attention to detail with the theme, it makes it feel special.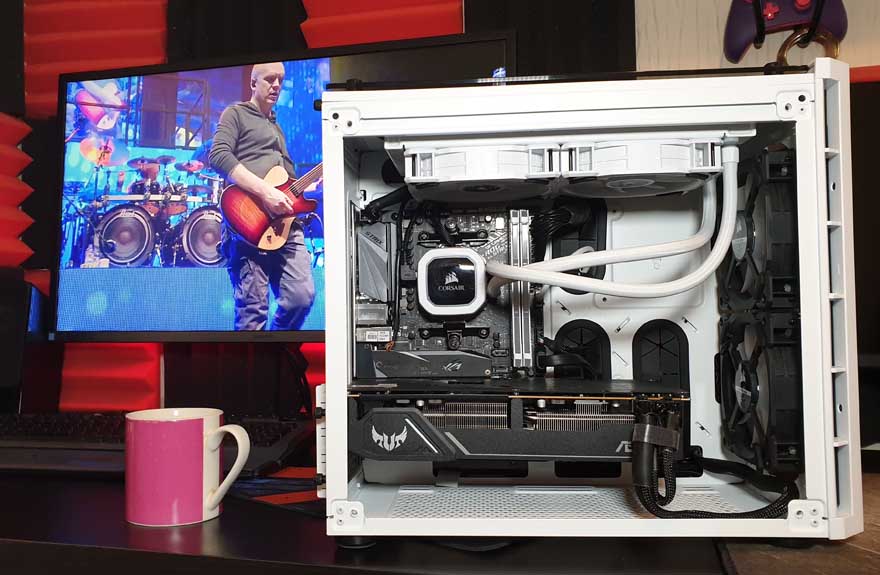 Water Cooled
The case is black/white, obviously. However, they've fitted a white 240mm AIO from Corsair, which also features white fans. These contrast well with the radiator and the black fans on the front, giving it some variety.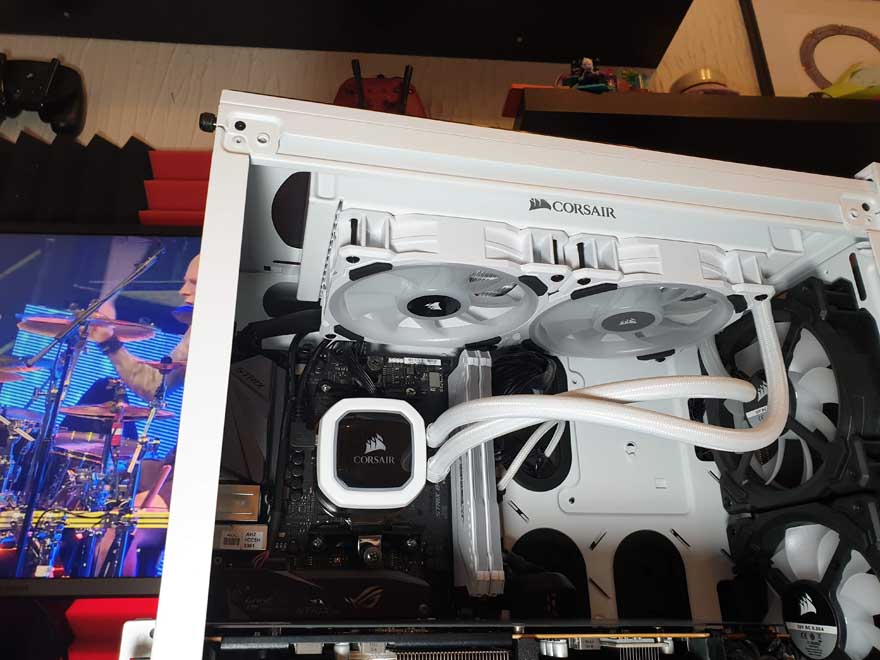 All of the fans are RGB too, which are what will provide plenty of light for the build. With so much white and tempered glass in here, it should light up beautifully too. There are two fans bringing cool air in at the front, while heat passively exhausts out the rear. However, the AIO blows up out of the top of the case, which will also help remove any ambient heat too.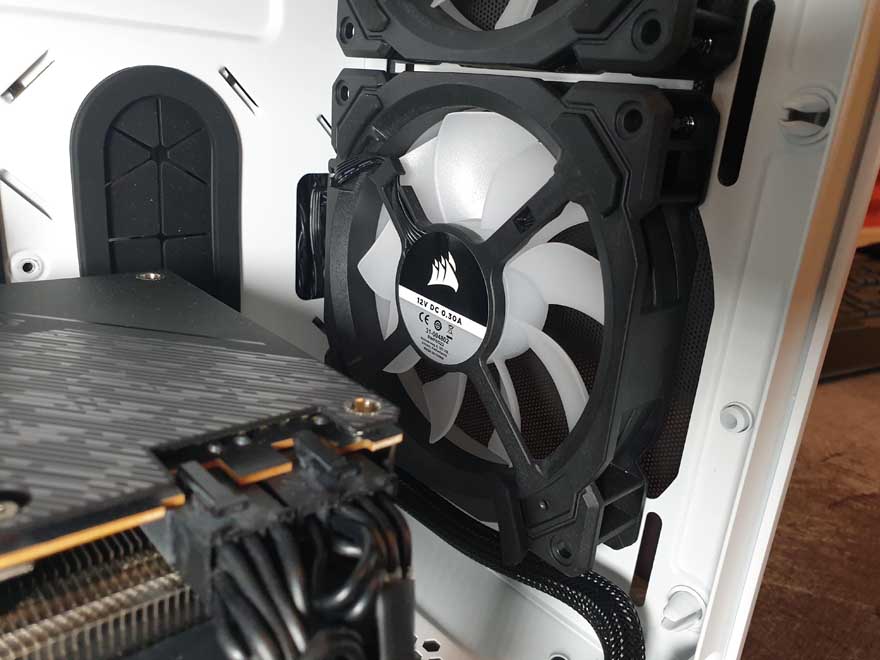 Radeon Graphics
Next up, we have the graphics card. It's an ASUS TUF Gaming Radeon RX 5700 XT. That's the fastest card AMD has in their arsenal right now and it's plenty fast for 1440p and high frame rate gaming. Plus, it's paired with the AMD Ryzen 7 3800X CPU, which is a bit of a beast in its own right; and strong competition for the Intel i9 series.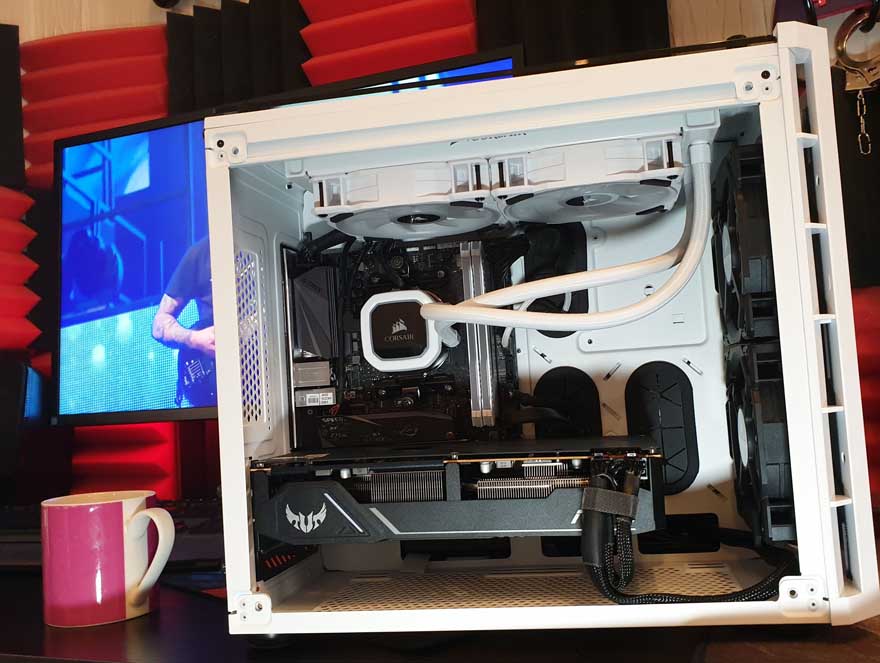 The GPU keeps that black and white theme too. I love the huge aluminium backplate on it also, which has a digital graphic design towards the back.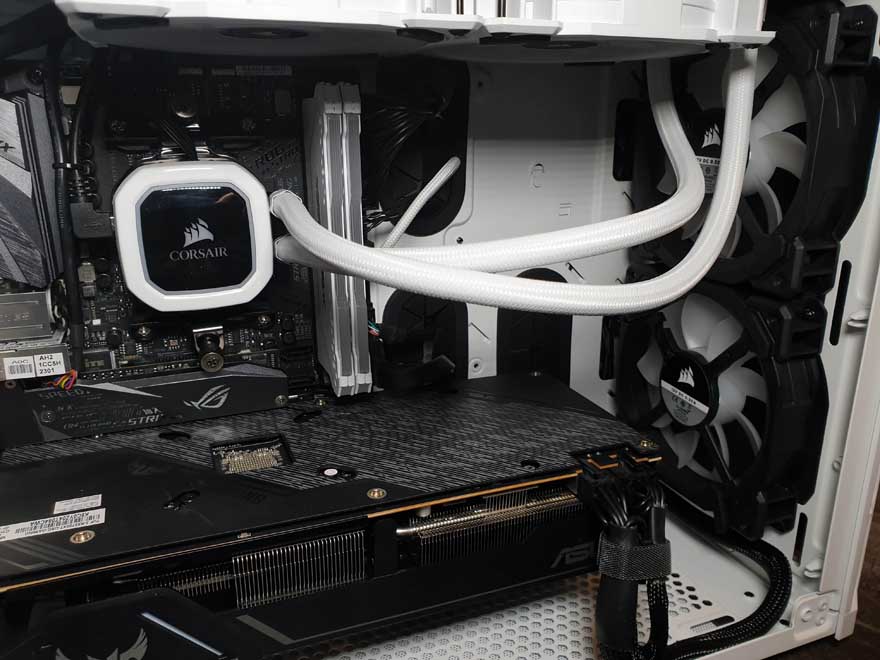 Super Fast Storage
Keeping with ASUS for a bit, we have their STRIX series gaming B450 series motherboard. This features an M.2 heatsink, behind which you'll find the Samsung NVMe drive. However, they tucked the 3.5″ drive in the back for mass storage too; out of sight, out of mind. Finally, we have that lovely white Corsair RAM, which features some big RGB lighting strips on the top.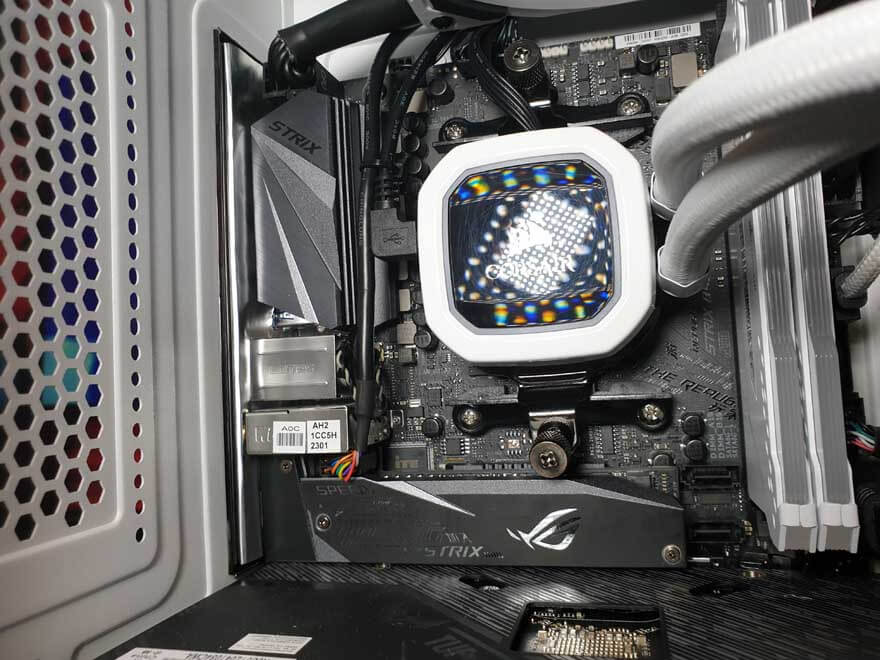 Overall, it's a very clean and tidy build. DinoPC clearly knows what they're doing, with tight cable management, and a good match of components regarding compatibility, performance, as well as aesthetics.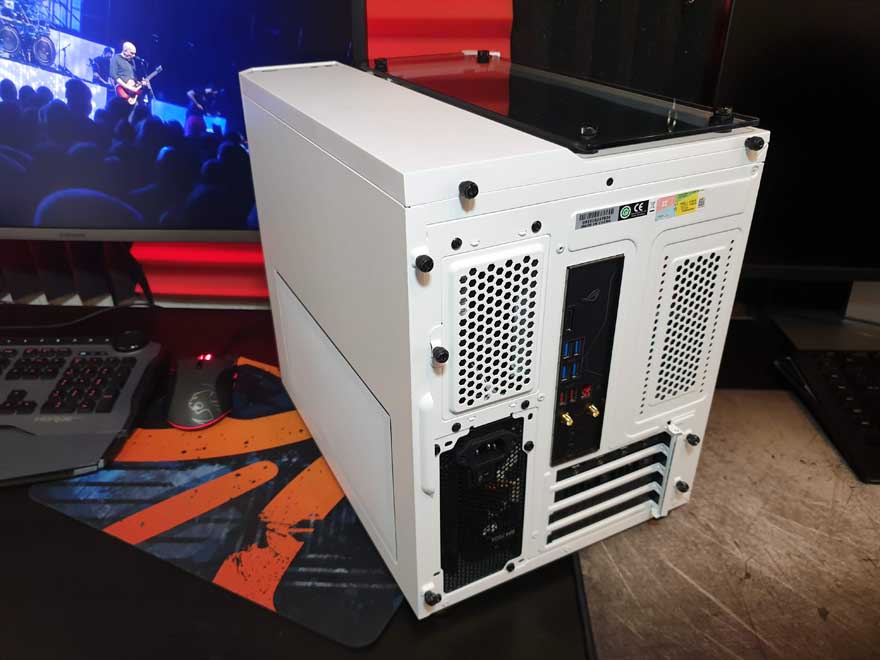 Free Keyboard and Mouse
Let's not forget that it also comes with this handsome Corsair K55 keyboard and Harpoon mouse bundle. We actually reviewed these peripherals, check em out here.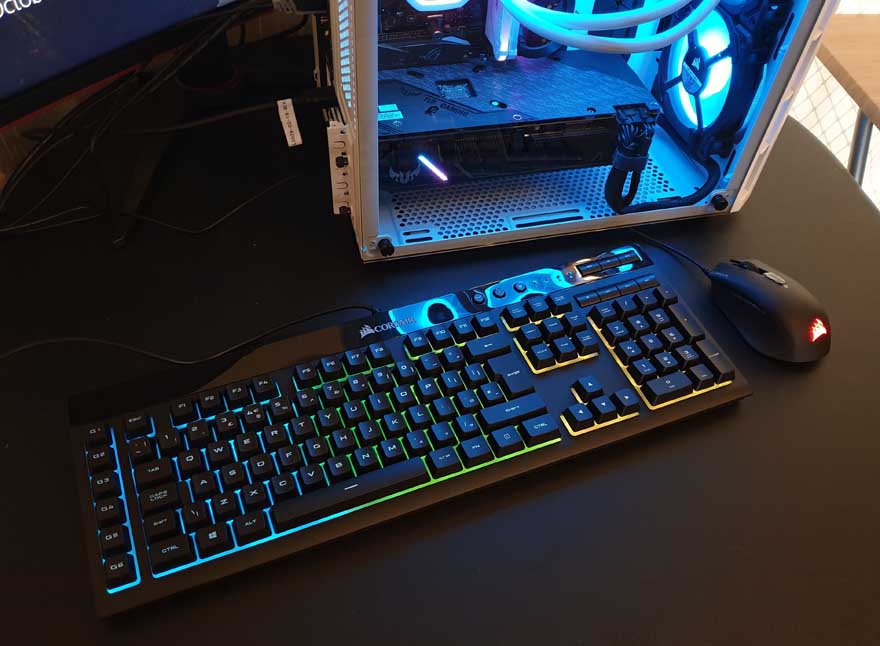 RGB
With RGB fans on the front panel, RGB fans on the radiator, RGB on the pump, RGB on the motherboard, and on the RAM, you're not short on colour here. Everything has been synced through the built-in hub too. What this means is that from the moment you power on your system, it all matches!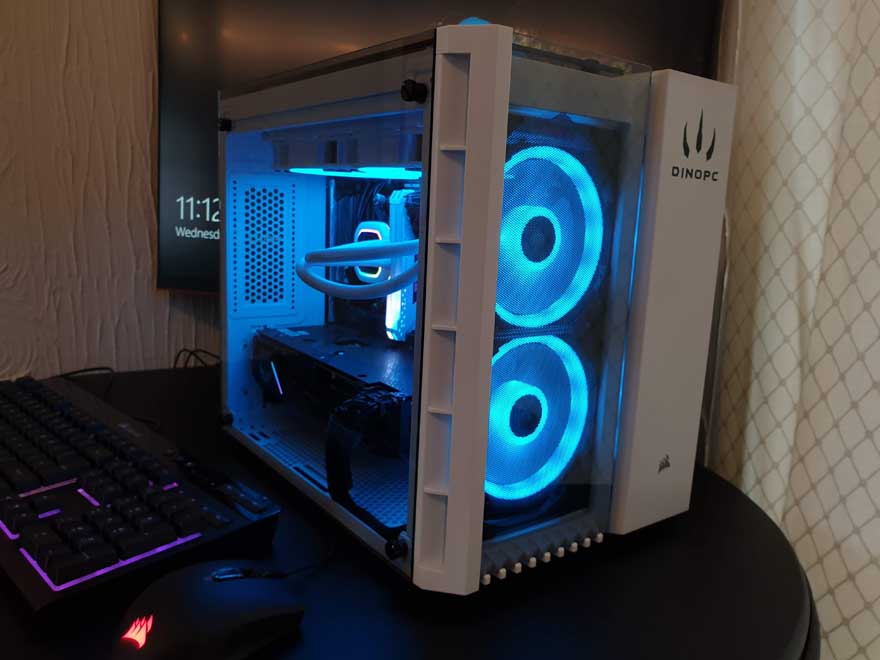 By default, it's on a slow colour cycle, which is perfect for me. However, if you really want to, you can use Corsair iCUE to customise everything to your liking. Effects, fades, brightness, reactions, or just turn them off. It's really up to you, but I must admit, the purple is alluring.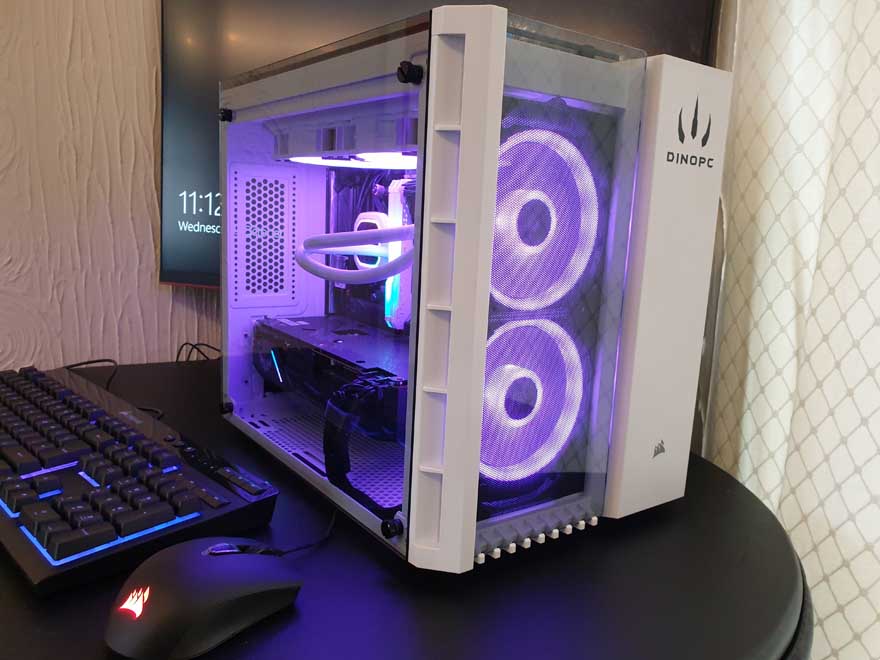 Get Ready for Benchmarks
So there we have it, a stunning and rather colourful build from DinoPC. However, we really want to see how it performs, so let's go fire up some benchmarks. Check out a few more bonus pictures first though!