Disabled Turtle Gets Lego Kit To Help Him Walk
---
---
---
Mike Sanders / 4 years ago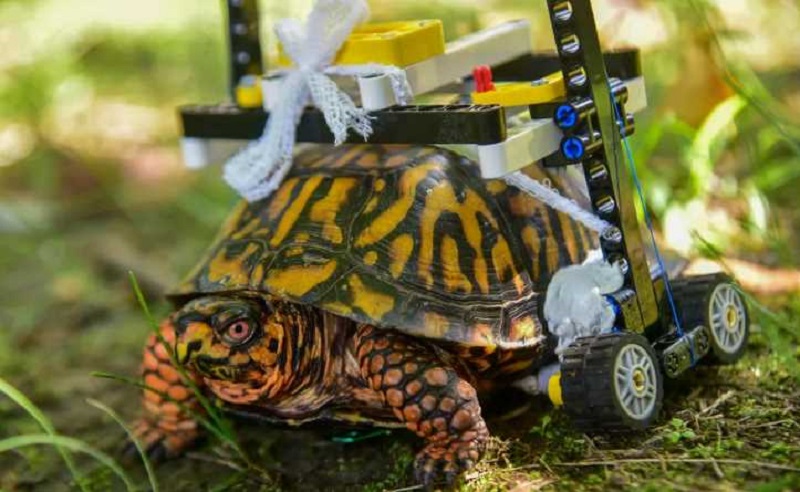 Disabled Turtle Gets Lego Kit To Help Him Walk
Breaking a bone can be a pretty nasty experience. When you're a creature that is mostly made up of bone though, particularly on the outside, this can obviously be a bit more of a problem. Owning a tortoise for many years, shell case is a very important factor. One poor turtle at the Maryland Zoo, however, had nasty fractures to the underside of its shell. While this could be fixed (and it was) there was clearly a difficult proposition in how to keep the shell off the ground and, by proxy, less likely to get dirty or infected.
Well, the team at the door have come up with a fantastic solution. Put simply, using pieces from a Lego kit, they have given him wheels.
This Is Turtly A Wheely Good Idea!
The wheels provided give the turtle just a small amount of clearance necessary to be able to walk without scraping the base of its shell (technically plastron) on the floor. The kit, which you can check out in the video below, has been applied using glue directly to the shell and has given the chap a fresh lease of life!
Not The First Time This Has Been Used!
This isn't, incidentally, the first time I've seen a Lego kit used on a shelled creature. For example, there was a tortoise who due to excessive shell weight, was unable to walk under its own power. A quick lego kit later and it was able to move with relative ease!
While I'm not suggesting that you modify your pet with a Lego kit, it's great to see it used in such a creative way.
Oh, and if you're wondering what the difference between a tortoise and a turtle is. If you put a tortoise in water, it'll sink!
What do you think? Impressed with the video? – Let us know in the comments!