Doctors Implant 3D-Printed Vertebrae
---
---
---
Gareth Andrews / 8 years ago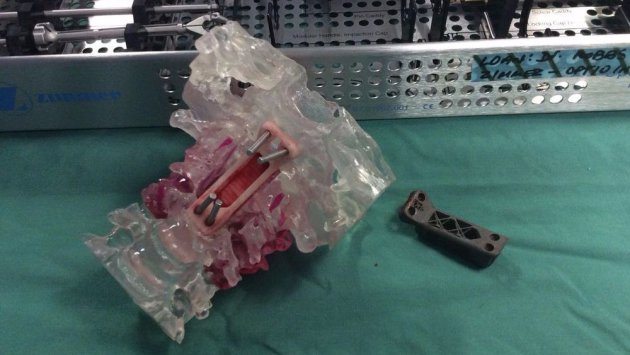 3D Printers have helped medicine come a long way, with the ability to customise and create things in an easy and cost-effective way that previously would have been impossible to do. 3D-printed ribs, to livers, eyes and even ears. While these are all amazing feats, they have always been generic items, things which are custom but not unique in their design. At the end of 2015, this changed though when a patient was implanted with two 3D printed vertebrae.
Vertebrae are the discs that cling to your spine and are responsible for giving you a lot of your movement. The patient in question suffered from a form of cancer that had formed on the top two of his vertebrae, potentially threatening his spinal cord as it developed. The top two vertebrae are the ones responsible for your heads movement, meaning that grafting one from another piece of bone or material would be particularly difficult given their custom nature.
The solution was to work with an Australian medical device manufacturer, Anatomics, who using a 3D printer created the top two vertebrae using a 3D printer and some titanium. Ralph Mobbs, the neurosurgeon who performed the surgery stated that it was "a pure delight" to perform the surgery knowing that you had already done it on a model.
The surgery itself took 15 hours to perform and given the location was not without risk. Described as "essentially disattaching the patient's head from his neck and taking the tumour out and reattaching his head back into his neck". The surgery was a success though and Mobbs was able to not only remove the tumor but also implant the prosthetic into the patient.
Is there anything people can't do when they work together with technology and each other?