Doom OpenGL VS Vulkan Graphics Performance Analysis
---
---
---
John Williamson / 7 years ago
Introduction
---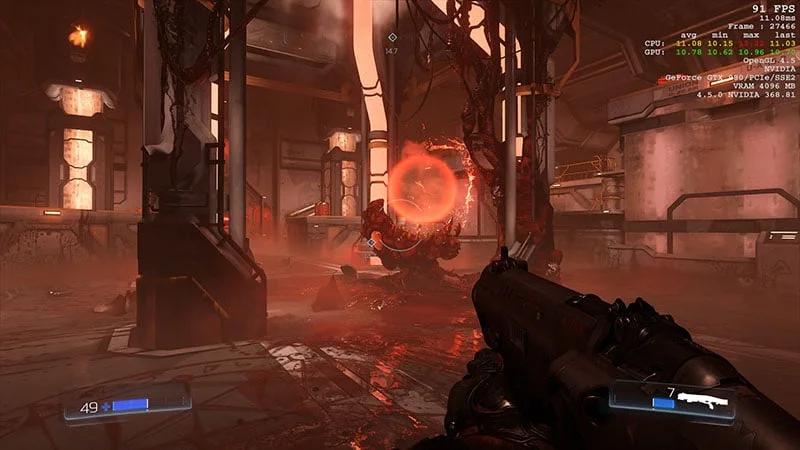 The Doom series popularised the first-person shooter genre and is still held in high regard decades after the original title's release. While hyperbole is often used to describe games, it's evidently clear that Doom deserves the critical acclaim and its place in video gaming history. The franchise's magical formula is based on an impeccable non-linear level design, fun gunplay, hidden secrets and a stunning soundtrack. Modern franchises including Arma, Call of Duty and Battlefield all take inspiration from Doom. Additionally, the innovative mechanics set a solid foundation for other games to replicate and add a modern twist. Sadly, most first-person shooters opt for an overly restricted level design with invisible walls and provides the player with little freedom to explore. This theme doesn't honour the Doom legacy and prioritises storytelling over the gameplay.
After a long hiatus, Doom has finally been rebooted and the latest entry received overwhelmingly positive reviews from both consumers and professional critics. Initially, there was some concern since the press embargo didn't lift until launch which typically means the publisher is trying to maximise sales before poor reviews are published. This wasn't the case with Doom and Bethesda didn't feel the online component was ready to be assessed during the short review time frame.
On another note, ID Software's rich pedigree as a PC developer has made Doom really interesting from a technical perspective. More specifically, Doom was unleashed using the OpenGL 4.5 engine before adding Vulkan support at a later date. This is significant because Vulkan offers reduced driver overheads which result in lower CPU demands. As a result, Vulkan should make CPU bottlenecks less of an issue through lower loads as the API employs batching. Also, Vulkan is optimised for multi-threaded scaling and utilises each core much better than OpenGL. It's important to note that Vulkan's programming stems from AMD's Mantle API and improved upon by the Khronos Group over time. Please note, AMD doesn't own Vulkan because it's an open-source project but their GCN architecture (1.0-4.0) is able to leverage extra performance remarkably well. Unlike DirectX 12, Vulkan can be deployed on a huge range of operating systems including Windows 7, Windows 8.1, Windows 10, Mac OS X and Linux.