Drobo 5c 5-Bay USB Type-C Self-Managing DAS Review
---
---
---
Bohs Hansen / 5 years ago
Introduction
---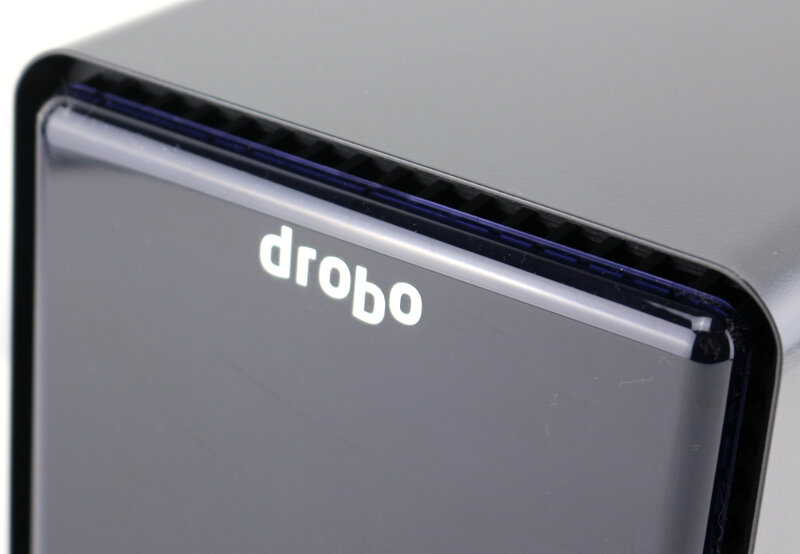 Today it is time to take a look at another Direct Attached Storage unit, and it is Drobo's latest DAS unit that's under the microscope today. The DAS is called the Drobo 5c, and the name simply originates from the five bay design and the USB Type-C connector. The Drobo 5c is built for easiest method of usage, and it is the world's first self-managing USB-C storage solution.
The Drobo 5c is a unit that has a classic tower design, so it is meant to be placed on your desk and thereby easy useable everywhere. It is built with a full metal chassis which gives it a great look, durability, and extra cooling abilities. It also features a large fan, so while it isn't passive, it doesn't make much noise either.
Drobo's strength is the self-managing setup that allows anyone to use this device, no matter what level of expertise they have in the field of technology. If you can connect a power cable and a USB cable, then you got all the skills needed. This feature is a fact, and it is what sets Drobo apart from all its competition. So self-managing setup, what does that mean? Said with the simplest words, it means that you plug in drives and power it on. The Drobo 5c will take care of the rest.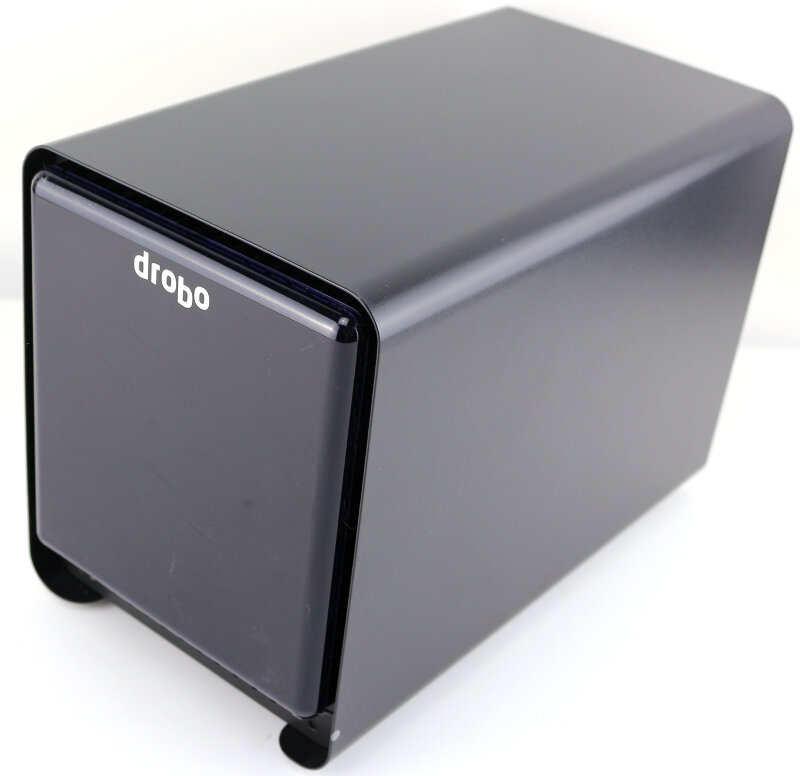 Most storage solutions that bridge multiple drives into volume require that you use drives of the same type and capacity to gain the full benefit from your setup. That's not the case with Drobo and it is an awesome feature. You can mix and match drive type and capacity as much as you want and still get as much total capacity as possible. At the same time, you'll have the same security that RAID 5 and RAID 6 offers – one or two drives can fail without you losing any of your precious data.
The technology behind this awesome feature is called BeyondRAID and it is a Drobo exclusive. You can easily buy the capacity you need today, and when you need more storage, simply replace your smallest drive with a larger one and immediately use that capacity within seconds. It also allows you to fully use older and smaller drives you have around until the total capacity ends up being too small. To further enhance the experience, every Drobo comes with Smart Volume technology. Smart Volumes are thinly provisioned volumes that automatically utilise capacity as needed from a common pool of storage. Additionally, as data is deleted, free capacity is returned to that common pool, immediately increasing the available capacity.
Or said with fewer words, it brings enhanced data protection, reliability, expandability, and easy-of-use together.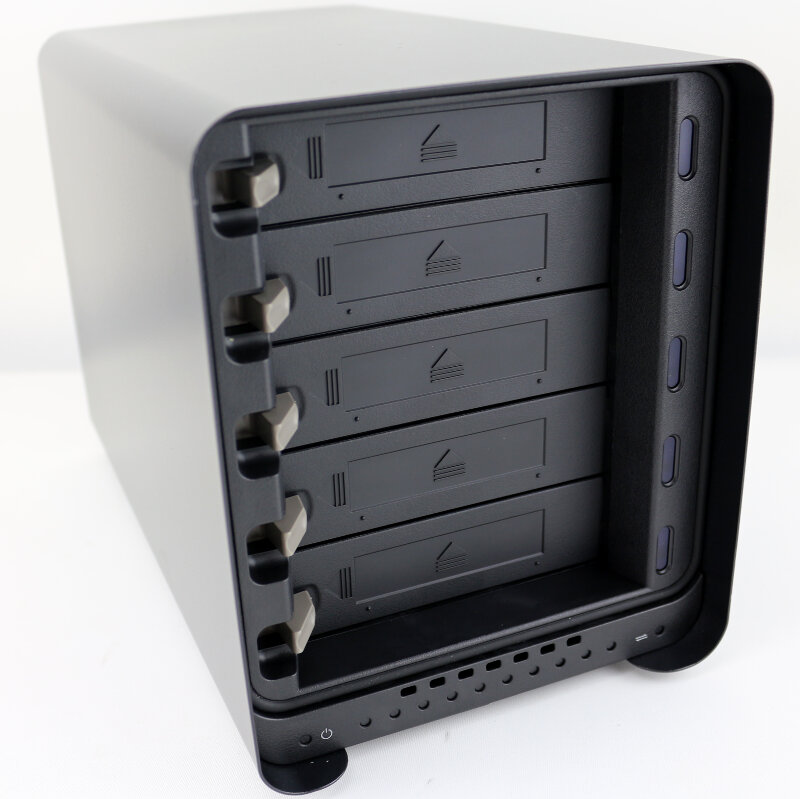 One of the first things that you notice when you unpack your new Drobo 5c unit is its weight. It is quite the heavy unit with its 4 kilos, but there is a reason for that. Drobo didn't just build a DAS unit that protects you from drive failure, they also build it to protect you from a potential data loss due to a power outage.
Every Drobo unit includes battery backup technology that protects all data in its memory or cache. If the power should cut spontaneously or unexpected, your data being saved is safe. Drobo moves any in-flight data to an onboard flash in your Drobo so it will be protected and moved to your disk drives once power is restored. This ensures that all your important information is safe and sound. Even better, the battery recharges itself when the unit gets power again and it is designed to last for the life of your Drobo 5C.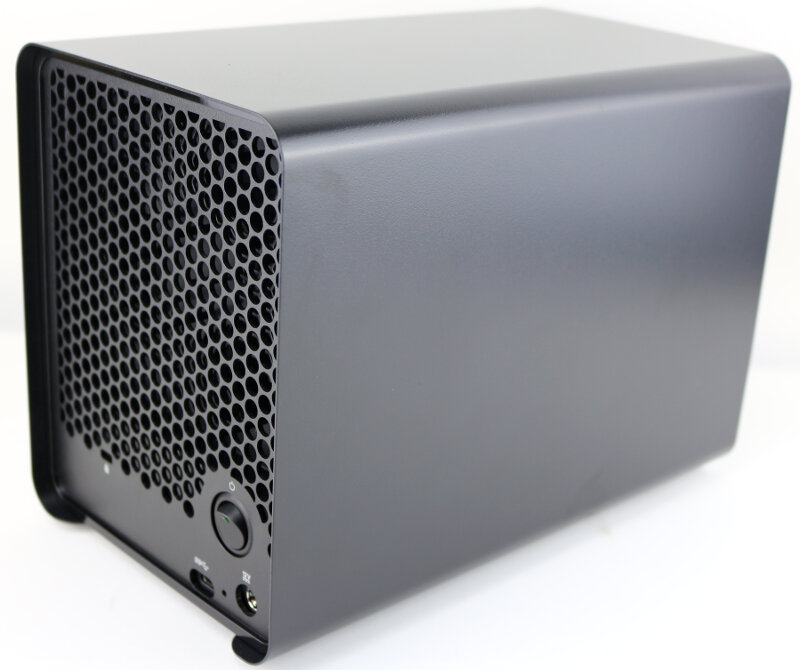 The 5c works well with both Windows and Mac OS based systems and it can handle both HFS+ and NTFS volumes. Beyond the normal volume, you can create a second one for system backups, and that includes Time Machine for Mac OS users. Pairing Time Machine with Drobo improves your data protection by ensuring your data is safe in the event of hard drive failure. The Time Machine support also includes storage limitation which removes the usual downside of this feature where it will end up using all disk space.
Migration to a new Drobo unit is just as easy as the rest. Should your unit ever fail on you or you just want to upgrade to a newer or better one, then you simply unplug the drives and move them to the new unit. Plug and play all the way.
So what's left to mention before we dive deeper into the 5c. Well, it is both tool-less and carrier-less. Just slide the drives into the slots and they are ready to be used. It also comes with physical security in the form of a Kensington lock slot. The drives spin down on inactivity which increases the drive's lifespan and also saves on your electricity bill. Oh, and the LEDs can be dimmed too, in case they are too bright for the location where you place it.
Warranty wise, the Drobo 5c is covered by up to 2-years, how much depends a little bit on where in the world you are located. That includes hardware replacement in case of a defect as well as a 90day technical support. You also get a 90 day free trial of DroboCare, entitling you to Migration Assistance and Rescue Kit. DroboCare itself can optionally be purchased for a three year period and then be extended by 1-year increments. DroboCare for the 5C will cost you $149  for the first three years and then $69 per additional year in which you want to extend the care program.
Feature Highlights
Five Drive Bays with up to 64TB Volume support
Self-managing setup with BeyondRAID
Built-in battery backup
Physical capacity meter
USB Type-C connector
Time Machine support
Specifications
The specifications are taken directly from the product page and might as such be subject to possible future changes or typos.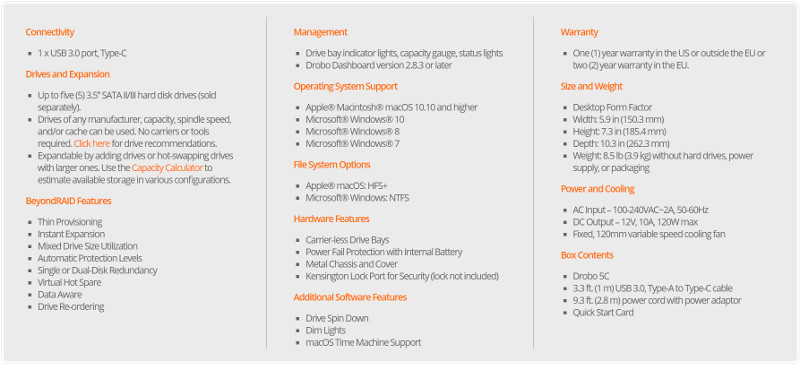 Packaging and Accessories
Drobo packed the 5c in a simple white cardboard box. The front displays how the unit itself looks along with its main feature highlights.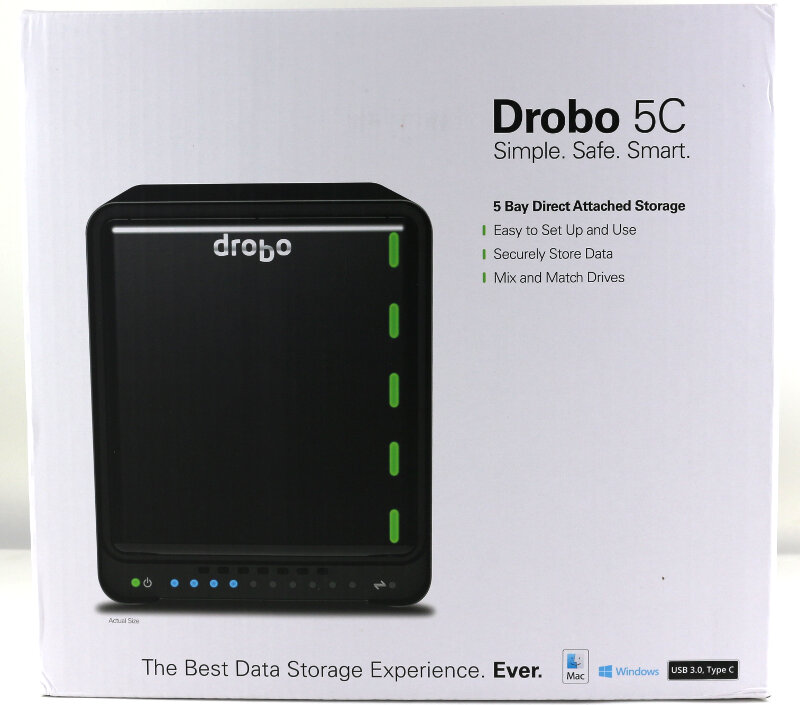 The rear side has more details on the usage scenarios and setup options.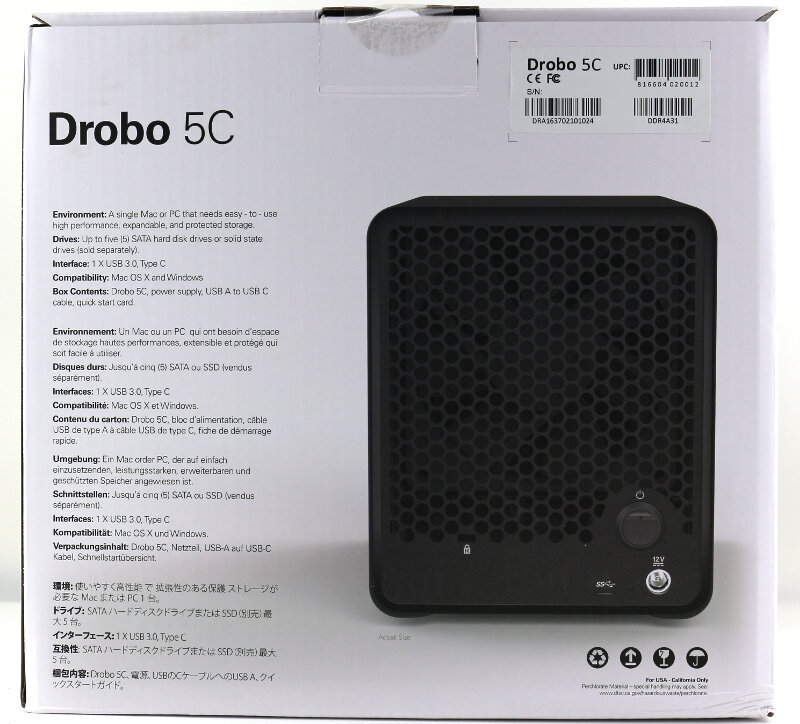 On the side, you'll find a comparison between this unit and other Drobo units.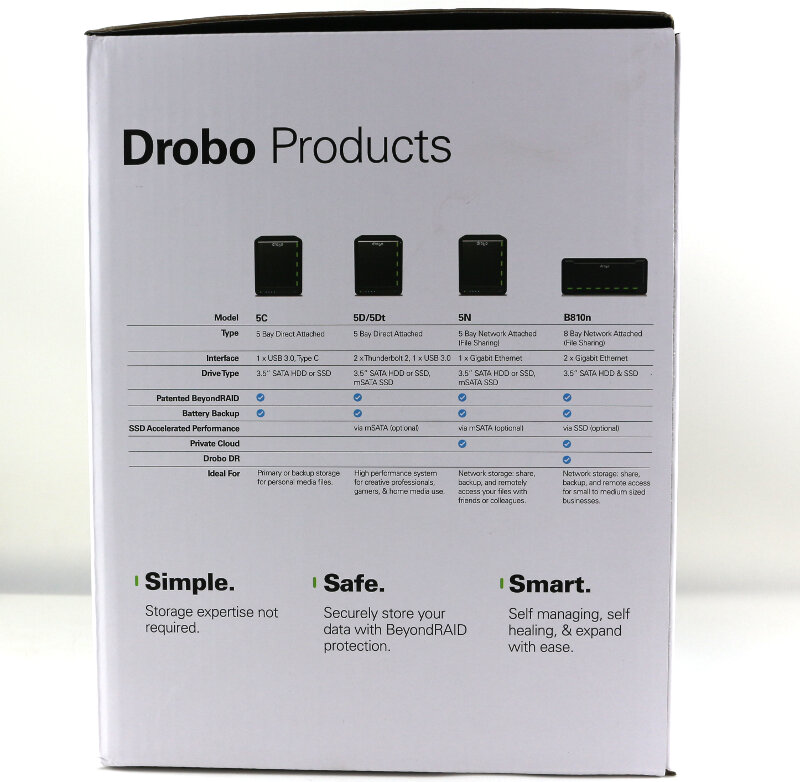 Once you open up the box, you're greeted welcome by the next box.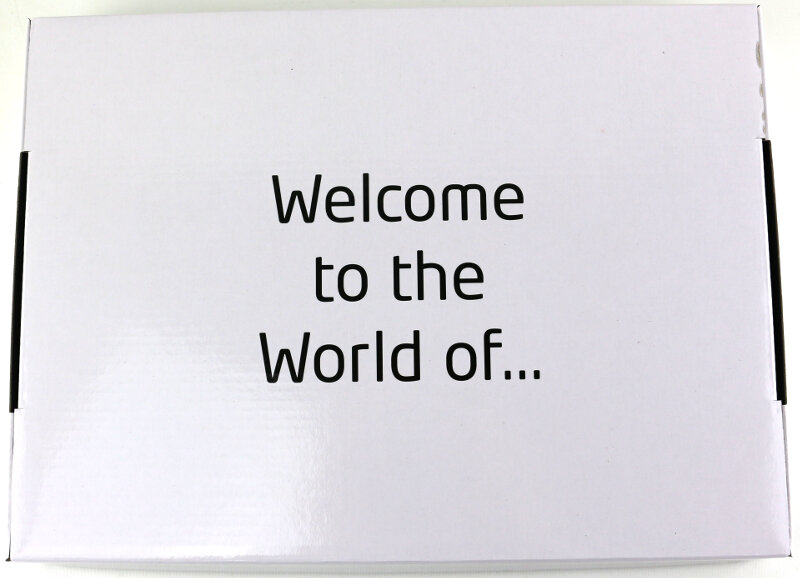 Inside the little box are all the accessories along with the quick start card.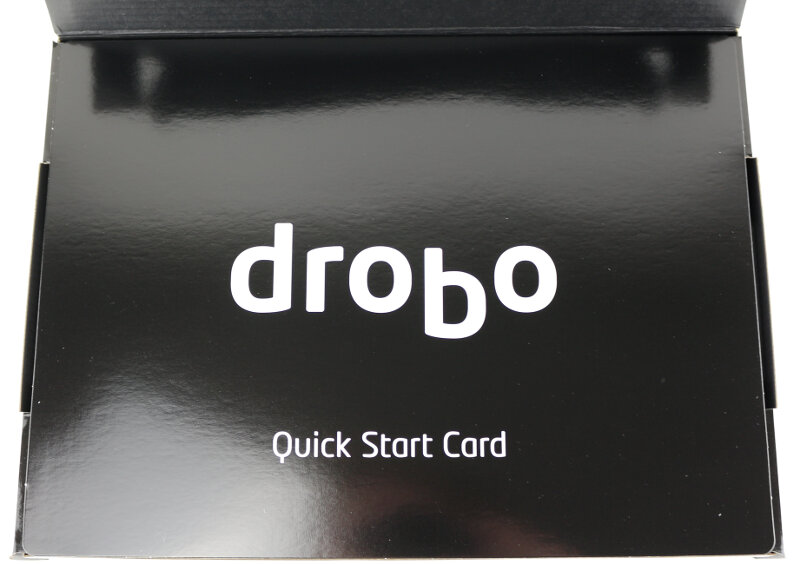 The quick start card doesn't just show you how to set the unit up physically, and it also explains how to set it up on your system and get access to your new Direct Attached Storage (DAS) unit.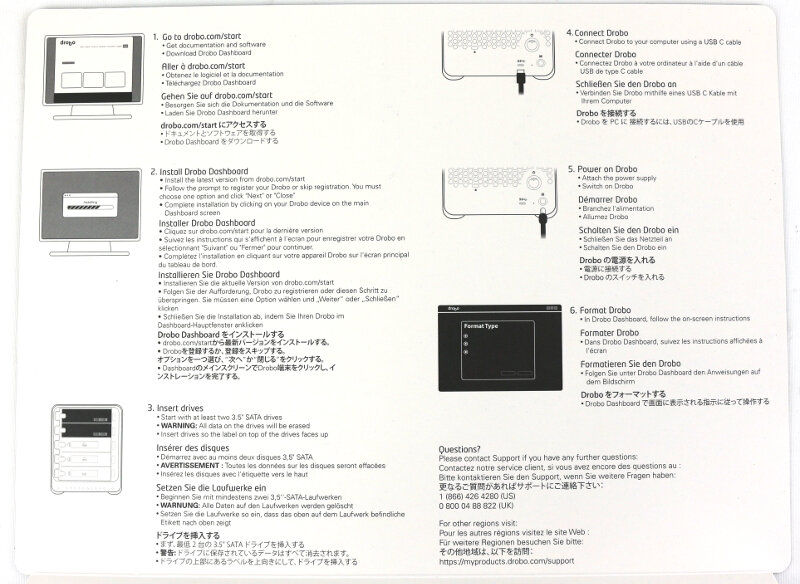 The include power supply came with two connector cables for me, but that might be because it's for review purposes. The retail version will at the very least have a cable fitting your region, but it's also possible that it has both as I have here.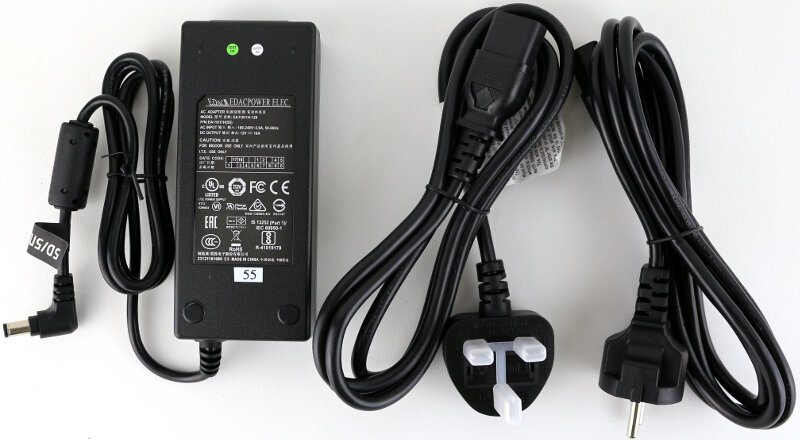 The connector cable is a Type-C to Type-A cable that's 1 meter long.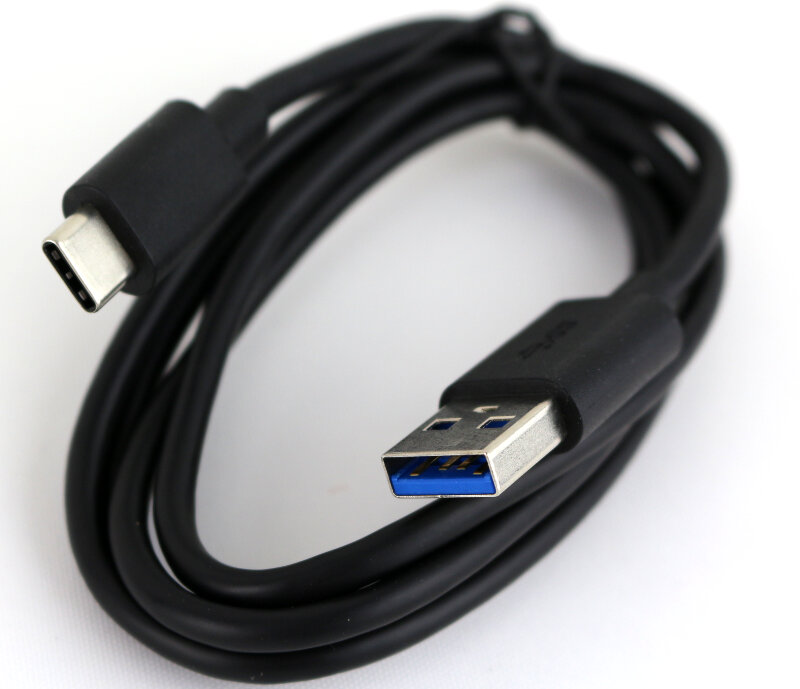 You also get warranty and safety notes along with stickers and a 90-trial on the optionally available DroboCare service.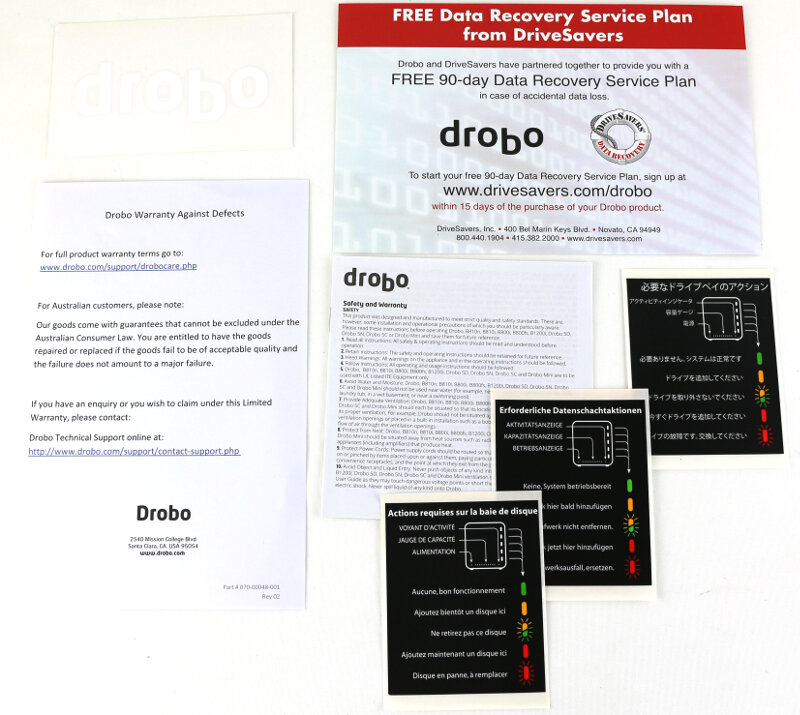 Once past the accessory box, we get to the DAS unit itself – and the DAS is packed inside a carry bag.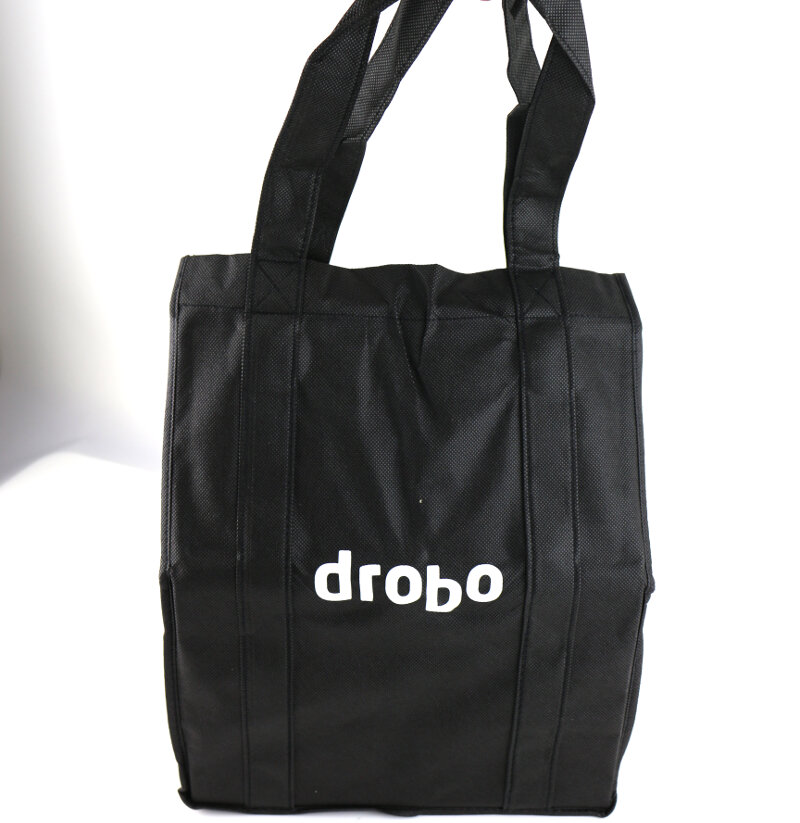 And then there's the DAS unit.