Drobo 5N2 5-Bay Self-Managing NAS Review
---
---
---
Bohs Hansen / 4 years ago
A Closer Look at the Drobo 5N2
---
The drives are inserted into the Drobo 5N2 without the need for tools or trays and the ejection is just as easy. Just press the button next to the drive and it will pop out.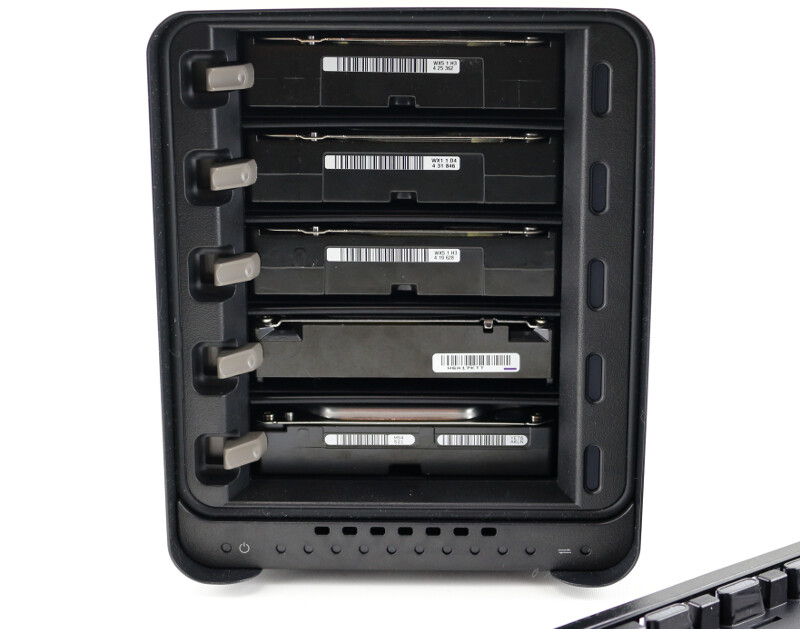 Removing the front cover plate is easy as it's just secured with magnets. On the inside is a sticker that explains the various drive LED indicators and what they mean. There's no need to remember anything. If you're in doubt, look here. This is also where you can place the other included stickers with other languages.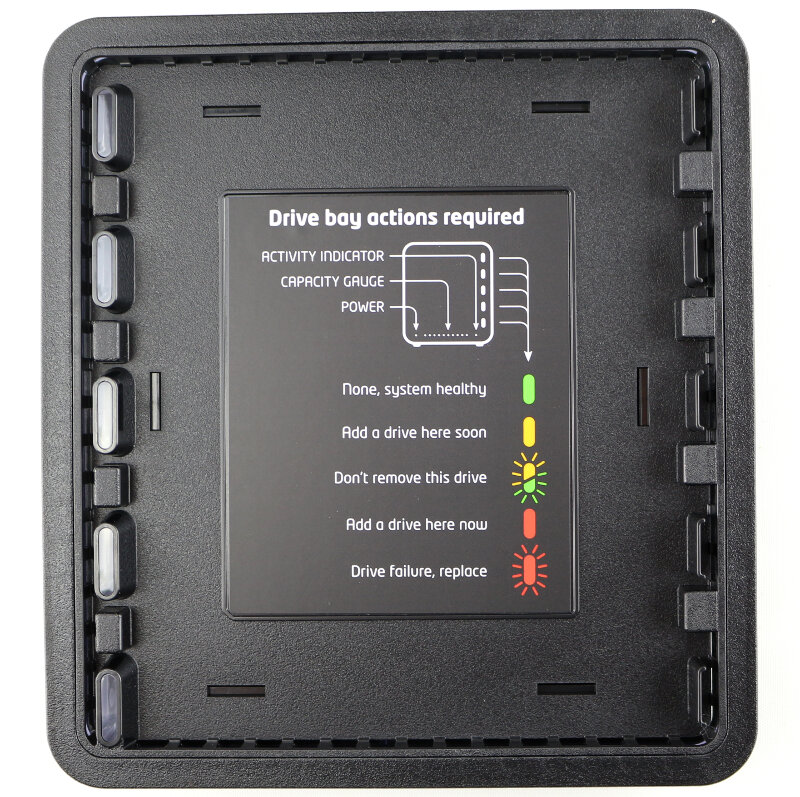 At the bottom of the NAS, there's a list of LEDs that will indicate how full your storage pool is. The more blue lights are on, the less space you got left. The drive bays are both tray-less and tool-less, only requiring you to slide the drive in. The button on the left side allows you to eject the drives if one should fail or you just want to replace it with a different one. Next to each drive bay, there's a LED indicator for the drive's status.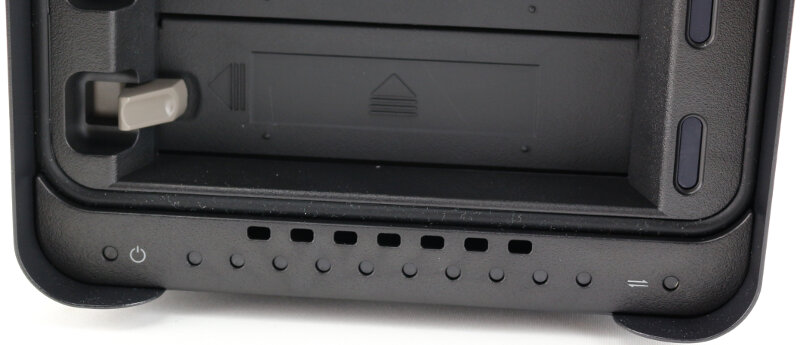 All the LEDs are multi-coloured and will display the status. The fillage LEDs will move around until it is fully booted after which they will show how full your NAS is. As you can see here, the drive LEDs are orange until it's finished booting too. If an error should occur, then they'll turn red.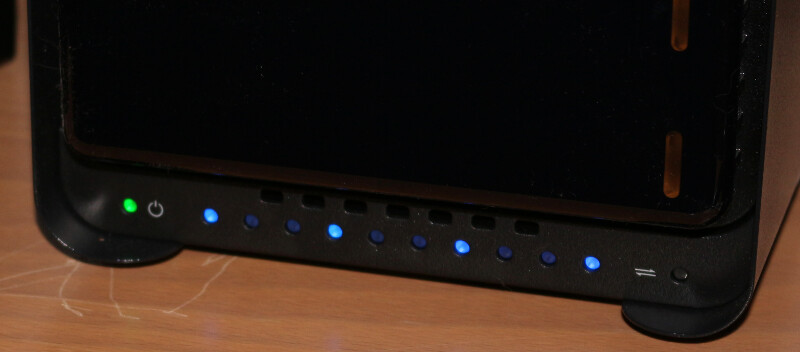 The bottom of the NAS has four rubber feet making sure that the NAS stays where you place it, a thing that the unit's weight also helps with. The rubber feet also help to prevent vibrations from travelling between the NAS and the surface.
The bottom of the NAS is also where you'll find the mSATA slot for the hot data cache function. This drive slot is also completely tool-less, allowing for the easiest installation possible. Just open the cover, insert the drive, and close it again.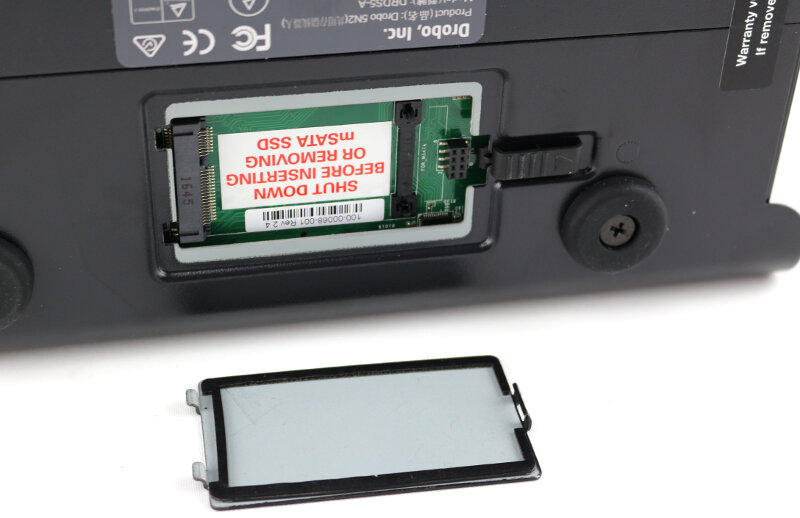 The NAS is compatible with any normal mSATA SSD module, so which you pick is your choice. This one is a 480/512GB module I took from an external MyDigialSSD drive.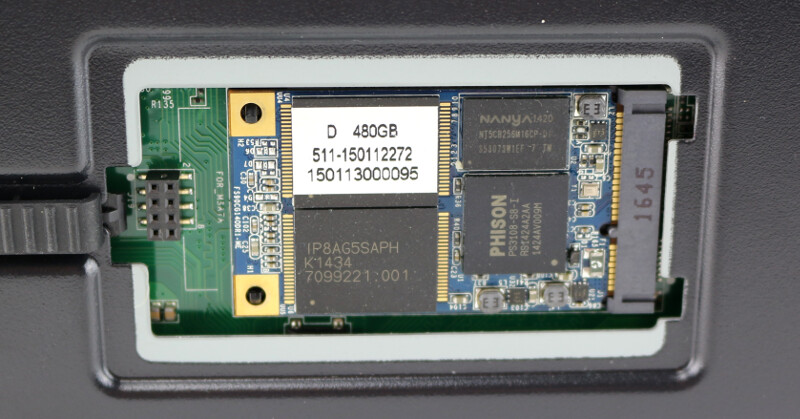 Moving on to the rear side and we see one of the real feature highlights of this NAS in comparison to the predecessor, the dual Gigabit Ethernet RJ45 network ports. The ports can be linked for load balance or increased throughput as well as be used for different subnets.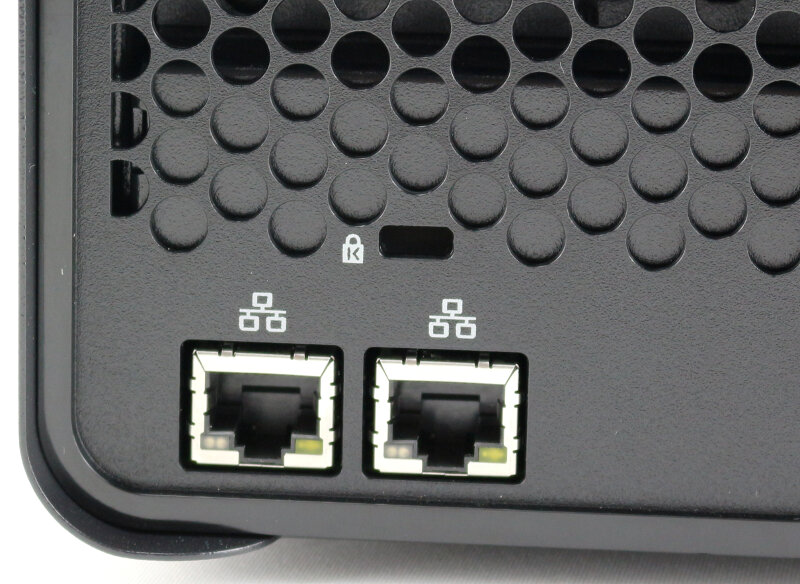 The power button and power connectors are also located on the rear of the NAS, just on the opposite side compared to the LAN ports.
The included AC/DC adapter can deliver 12V at 10A, making it a 120W power supply.