Drobo Showcased Their Solutions at The Photography Show 2018
---
---
---
Bohs Hansen / 5 years ago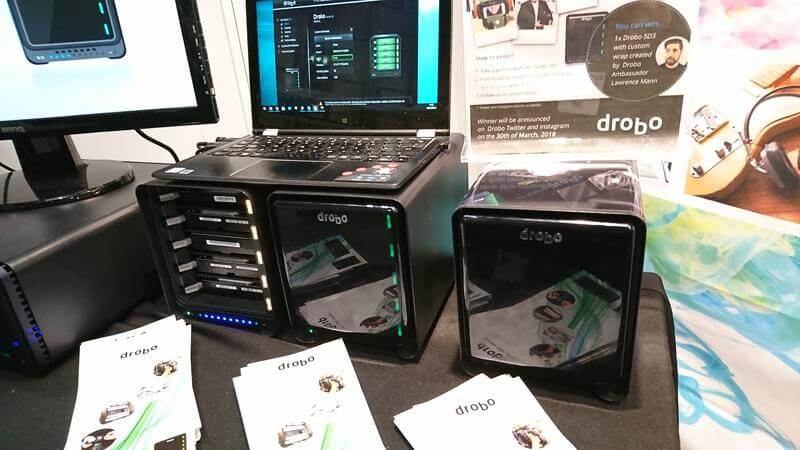 The Photography Show in Birmingham is over and we were there to check out the latest in this area. One thing that is as important as the camera equipment is the storage for all your captured moments. Drobo has a great line-up with the flagship being the Drobo 5D3. The Drobo 5D3 is a Thunderbolt 3 powered device and thereby able to deliver the best performance.
The Drobo 5D3
The 5D3 is a DAS which stands for direct-attached-storage versus the more commonly known term NAS which is a network-attached-storage. With Thunderbolt 3, it has 40Gbps bandwidth at its disposal, so it's no secret why it can perform as well as it does. The unit has been available for some time now, in fact, we announced the launch 9 months ago.
So why are we mentioning the device again? Well, that's quite simple. At the time of release, the unit was only compatible with MacOS devices and not with Windows. Most photo and videographers do use MacOS powered devices, so it's not a big issue. Still, Thunderbolt 3 has made its way to Windows-based systems too over the past couple of years and as such, Drobo wants to support them too. The company has been hard at work on this and it is almost here. The Windows support is scheduled to appear in Q2 this year, but we don't have a specific date for this yet.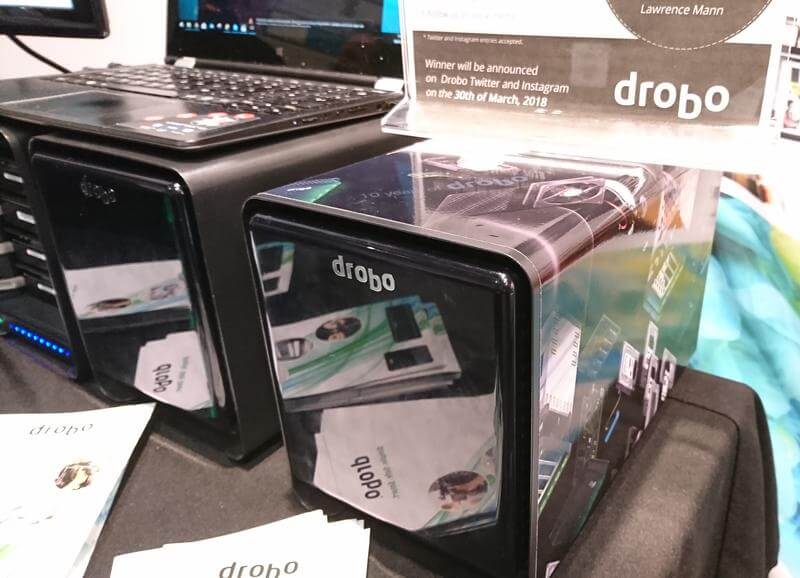 Same Look but different technology
While all Drobo devices look more or less the same, there is different technology under the hood. The NAS devices have network ports while the DAS units come with either Thunderbolt or USB, or both. Which you should pick depends on what kind of setup you have and what your needs are. Each has their merit and advantages.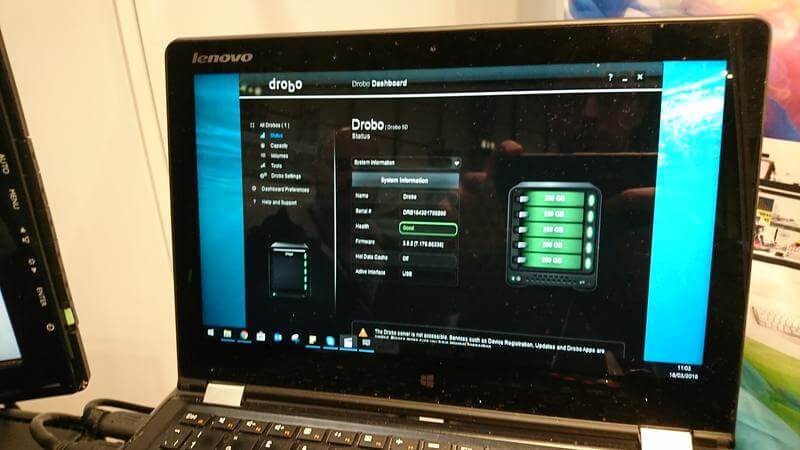 One thing they all have in common is the user interface and drive setup. Within the units is the BeyondRAID technology which, as the name suggests, goes beyond traditional RAID setups. With BeyondRAID, you can mix and match drive sizes, brands, and types. You can do this while still getting the redundancy benefit of normal RAID setups, but with a maximum available capacity.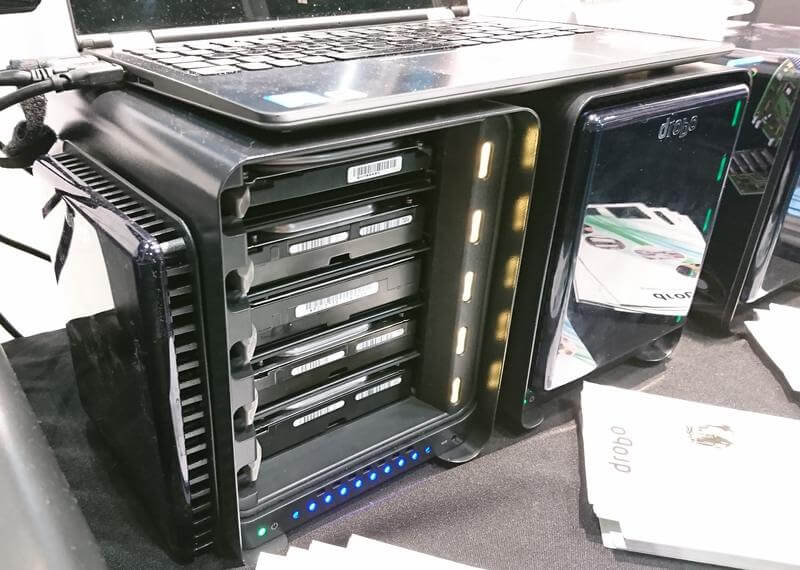 As you might be able to spot in the image above, the unit is running with different types of drives.
mSATA for Extra Caching
Another great feature in most Drobo units is the ability to install a mSATA model for caching purposes. The module is installed in the bottom of the device, and everyone can do that. Drobo units are tool-less units in every aspect, allowing you to install all drives without the need for screwdrivers and other tools. That goes for the mSATA caching module too.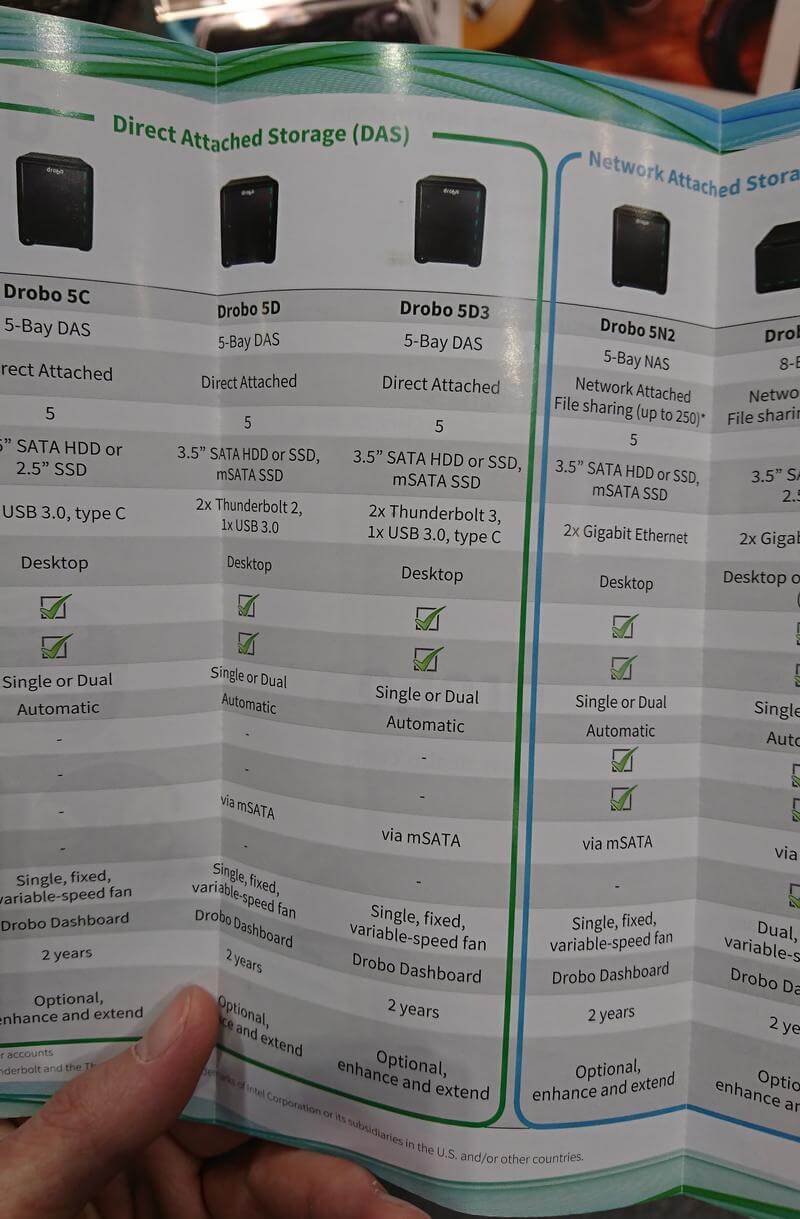 Connection Options
But let us get back to the Drobo 5D3 and have a look at its connection options. The DAS doesn't just come with a single Thunderbolt 3 connector, it has two. Thunderbolt 3 allows you to daisy-chain up to six devices to a single port and the Drobo 5D3 can accommodate that too. One port in, another port out. There's also a USB Type-C port for extra compatibility with non-Thunderbolt devices.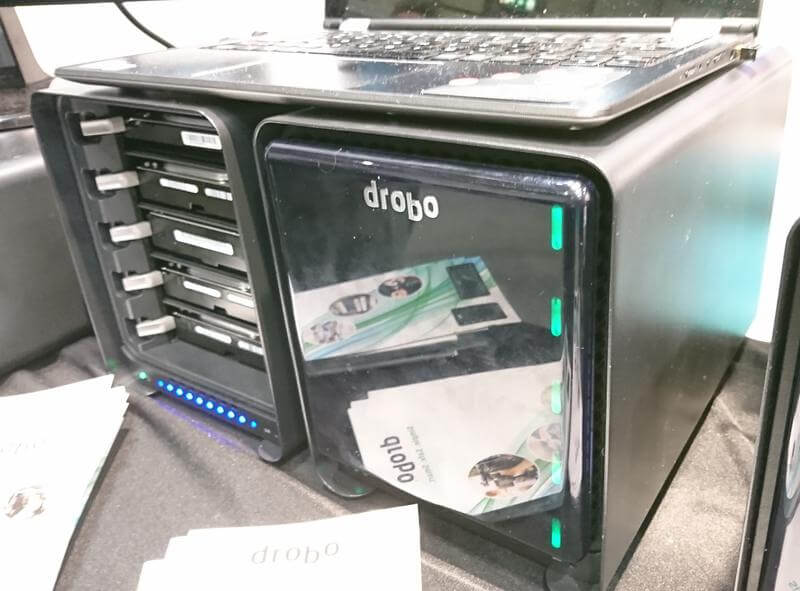 Drobo 5D3 Feature Highlights
Two Thunderbolt 3 ports, one USB 3.0 Type-C port
BeyondRAID Technology for storage simplicity and easy expansion
An upgraded processor for increased speed and throughput
Support for two 4K monitors or one 5K monitor
mSATA Accelerator Bay for an extra performance boost
Two-year warranty
Support eTeknix.com
By supporting eTeknix, you help us grow. And continue to bring you the latest news, reviews, and competitions. Follow us on Facebook and Twitter to keep up with the latest technology. Share your favourite articles, chat with the team and more. Also check out eTeknix YouTube, where you'll find our latest video reviews, event coverage and features in 4K!
Check out our Latest Video