Drone Hacked and Injures Athelete…YIKES
---
---
---
Ian Viado / 7 years ago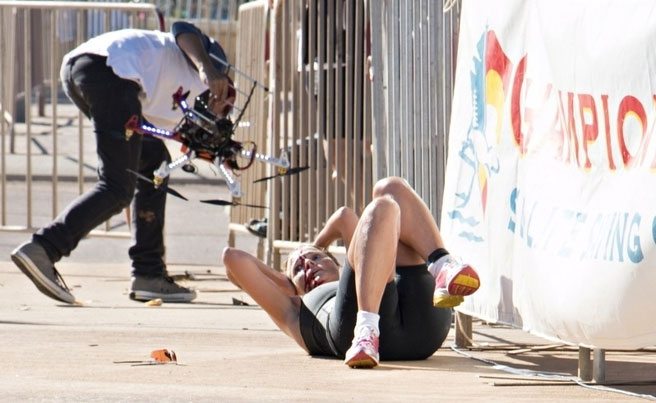 On the heels of our post about unmanned helicopters here's a great one to follow 🙂
In Western Australia, a drone used to capture footage of a Triathlon was "channel hopped" and crash landed on someone. "Channel hopping" can cause the drone to be uncontrollable to the original operator via a form of hacking. According to investigators the hack was most likely done via mobile phone.The camera drone that was filming the Endure Batavia Triathlon can be seen in the image above with the athlete bleeding as the drone is crashing down.
Also, unfortunately for the camera equipped drone operator, Warren Abrams, his company was not certified to be utilizing drones for the event and will most likely be fined an unspecified amount. CASA has stated that there are strict rules regarding the operation of an unmanned aircraft, which includes the requirement of flying at a minimum of 30 meters away from people. Abrams had admitted that he had earlier in the day experienced a similar occurrence that caused the drone to crash but thought it was a fluke. According to Abrams a full inspection was completed and tests in different areas were unable to replicate the issues thus giving the operator confidence to use it during the event.
"In a statement, Geraldton Triathlon Club president Simon Teakle said a full investigation would be conducted into how the accident occurred and the circumstances surrounding it."
OUCH!
Thank you to the team at ABC News Australia for this funny article.