ECS Liva SOC Mini-PC System Review
---
---
---
Colin Chambers / 8 years ago
Introduction
---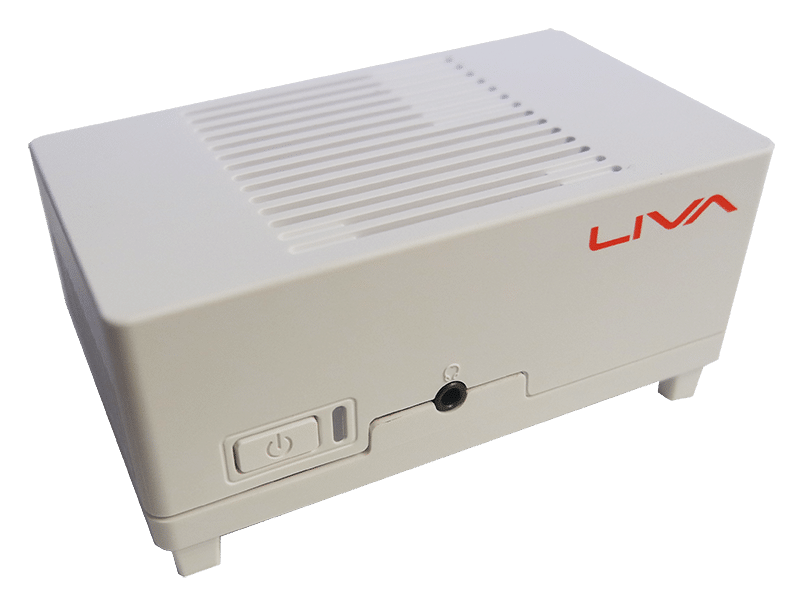 ECS (Elitegroup Computer Systems) are no stranger to the PC hardware game despite not being instantly recognisable by most as a PC hardware vendor. In fact, they are the fifth largest motherboard manufacturer in the world, producing hardware for some of the biggest PC brands such as Acer, Zoostorm, IBM and Compaq, and have been around since 1987. Although their bread and butter has been motherboards for years, they have occasionally deviated from this, releasing everything from graphics cards to SOC (System on a Chip) computers. Speaking of which, today's review is all about their latest SOC offering; the ECS Liva Mini-PC!
The mini PC/net-top market that followed the brief fad of netbooks never really seemed to take off – by the time everyone had realised that netbooks were generally awkward to use and fairly underpowered the tablet market had began to take off, with manufacturers realising that netbooks wouldn't survive the test of time. Interestingly, the net-top has had a recent resurgence of interest in recent times, with Android based net-tops offering low-cost media centres to Windows and Linux-based net-tops promising business users a cheap office worthy PC that uses a fraction of the power. ECS has come out swinging here, taking aim straight at the budget net-top market, providing the user with everything (with the exception of OS) needed to turn this little box of tricks into whatever PC they require, while undercutting rival offerings which often need extra components such as RAM or SSD's first to function.
Specifications
Name: ECS-Liva Mini-PC White Edition
CPU: Intel Celeron N2807 (2C/2T x 1.60 GHz (2.17 GHz Turbo), 22nm, 1MB L2, 4.3W)
RAM: 2GB 1600MHz DDR3 1.35w (8GB*4)
SSD: eMMC 64GB
GPU:Intel Integrated Graphics
LAN:10/100/1000/Gigabits Base T
WLAN: 802.11a/b/g/n/ac Built-in Bluetooth™ V4.0
I/O: 1x USB3.0, 1x USB 2.0 , 1x HDMI, 1x VGA, Headphone-out, 1x 1Gb LAN
OS: Supplied Barebones, Windows 8.1 used in this review
Dimensions: 118 x 70 x 56 (mm)
Weight: ~190g
Warranty: 1 Year
Price: $185
The box describes the product as a "build your own PC." All of the components are well packaged and protected and the motherboard was shielded by an anti-static bag.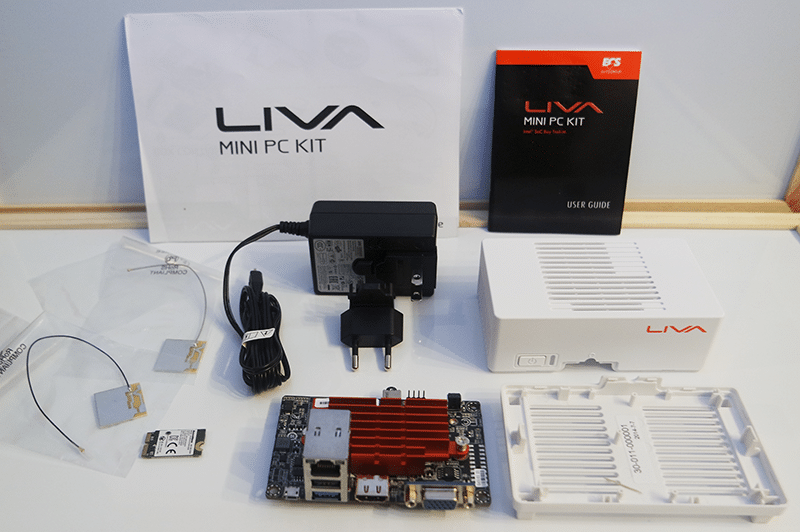 Contents (from back to front, left to right) Quick-Start Guide, User Guide, Wifi Antennae, USA/EU Micro USB 2000ma AC Adapter, Top Casing, Bluetooth/Wifi Card, Motherboard, Bottom Casing.
CPU-Z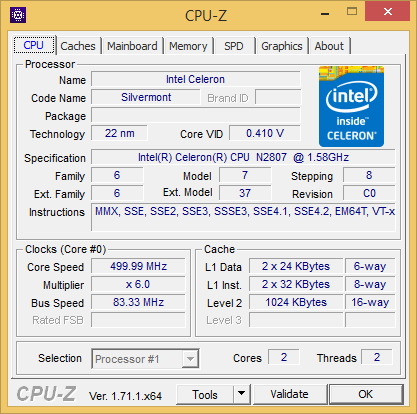 GPU-Z