EE Unveil Action Camera with Built-In 4G
---
---
---
Robert Ainsworth / 8 years ago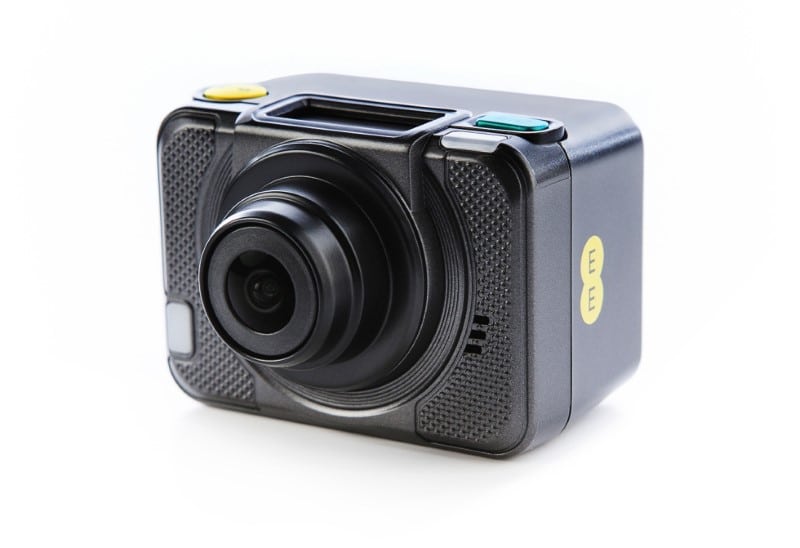 At a small event this morning in London, the UK's largest mobile service provider EE unveiled the next stage of their "Connected Vison" plan. The 4GEE action camera.
It is essentially a GoPro camera, but has built-in 3g and 4g connectivity so you can stream your crazy videos direct from your device. You will be able to add it to your monthly plan for £10 per month and will be available from Jue 16th. So what are the specs?
13-megapixel sensor
Can record at 1080p @ 30 FPS, 720p @ 60 FPS, 480p @ 120 FPS,
Still image capture resolution :(4288×3216).
Live streaming is limited to 720p @ 30 FPS.
F/2.8 lens
4GB internal memory
SD Card Slot
2260mAh internal battery
Streaming of the video will be done via EE's own video streaming platform, Skeegle. This then uses permission from Facebook to decide who can view your streams. It will ship with several accessories. Once of which will be a Viewfinder Watch (for setting up your shot), an underwater enclosure that's good at depths up to 60 meters and also an adapter to allow you to mount it on GoPro tripods and other accessories.
All this 4g streaming talk makes me wonder about data usage and caps. One hour of streaming will use around 1GB of data, EE charge roughly £30 for 5GB of data per month. You could buy the camera outright (£400) and then you get 2gb of data per month, for the year. You'll also be able to get the camera on contract, with a £50 one off charge, then £15 per month after for 2GB of data allowance. Pretty tight eh?!
Thank you to ArsTechnia for providing us with this information
Images courtesy of ArsTechnica