Eizo Introduces the FlexScan EV2430 Office Monitor
---
---
---
Ron Perillo / 3 years ago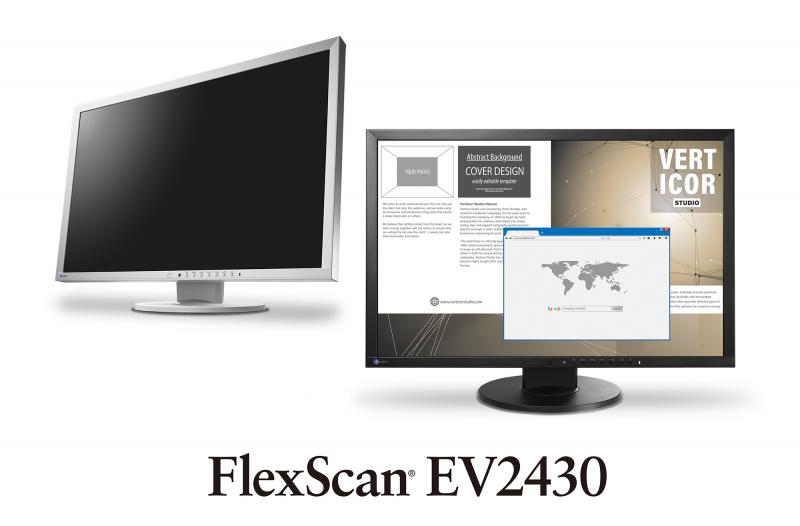 An Office All-Rounder Display
Eizo is announcing their new FlexScan EV2430 monitor specifically for office use. It provides plenty of ergonomic conveniences that improve productivity and consumes less power than typical office monitors.
Measuring 552.5 x 368 – 499 x 233 mm (without stand) with a viewable angle of 518.4 x 324.0 mm, the EV2430 supports resolutions of up to 1920 x 1200. This is a 16:10 aspect ratio that is a better fit for document and office work, rather than the 16:9 aspect ratio which is more ideal for media consumption.
It uses an IPS LED panel providing superior 178-degree viewing angles over TN panel displays. It also comes with a pair of 1.0W speakers as well as a 3.5mm stereo headphone jack for direct audio playback.
What Features Does the FlexScan EV2430 Have?
The FlexScan EV2430 has an Auto EcoView feature which detects the changes in the ambient brightness that occur throughout the day. It then automatically adjusts the screen to the ideal brightness level. The result is minimal eye fatigue and 40% reduction in power in comparison to the max brightness setting.
The EV2430 also has a preset called Paper Mode. As the name suggests, it simulates the look of printed paper. Which helps prevent eyestrain when reading documents by reducing the amount of blue light.
Another contributor to eye fatigue is the screen flickering due to LED backlighting. Which is why Eizo has a hybrid solution on the FlexScan EV2430 which regulates brightness and makes the flicker unperceivable. Furthermore, it does this without any drawbacks or compromises to colour stability.
What Connectivity Options are Available on the FlexScan EV2430?
The monitor has a full-size DisplayPort, a DVI-D port and a D-sub for connecting to a PC. Additionally, it has the 3.5mm audio in and headphone jacks previously mentioned, plus a USB upstream and two USB downstream ports.
Each EV2430 monitor comes with a 5-year warranty coverage. For more information, visit: http://www.eizoglobal.com/products/flexscan/ev2430/index.html