EK Releases Full-Cover Water Blocks for GeForce GTX 1080 Ti
---
---
---
Bohs Hansen / 5 years ago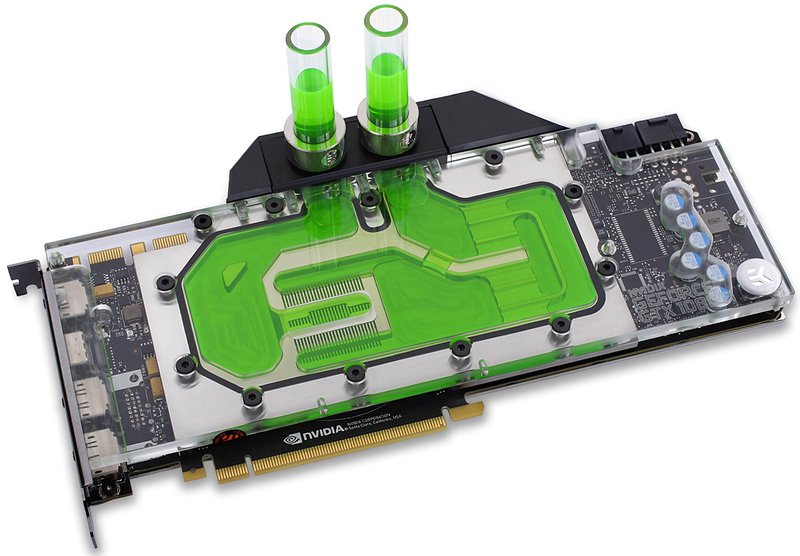 EK Water Blocks has been on a roll lately, releasing one new product after another. The latest is a full cover water block designed for Nvidia's latest flagship card, the GeForce GTX 1080 Ti. With this full cover water block, users will not only be able to liquid cool their new GPU for extra performance, it also turns the graphics card into a single-slot card.

The water block directly cools everything that needs it: GPU, RAM, and the voltage regulation module (VRM). Liquid flows directly across all these critical areas, allowing the card to remain stable under full load and high overclocks.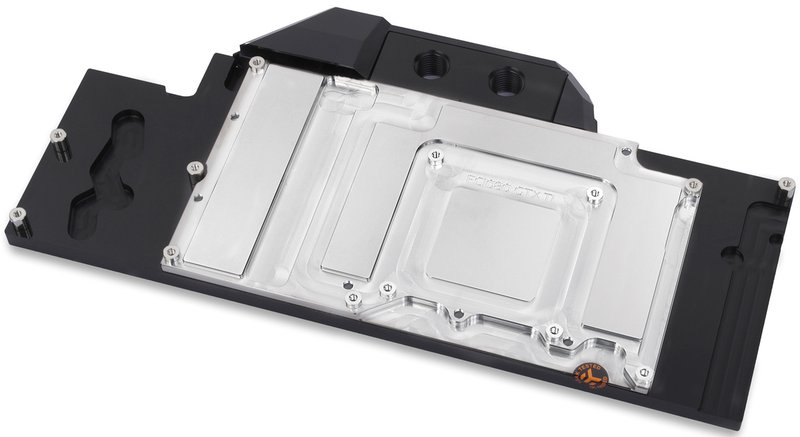 The EK-FC1080 GTX Ti water block features a central inlet split-flow cooling engine design for best possible cooling performance, which also works flawlessly with reversed water flow without adversely affecting the cooling performance. As with other EK coolers with this kind of design, it offers great hydraulic performance allowing it to be used in systems using weaker water pumps.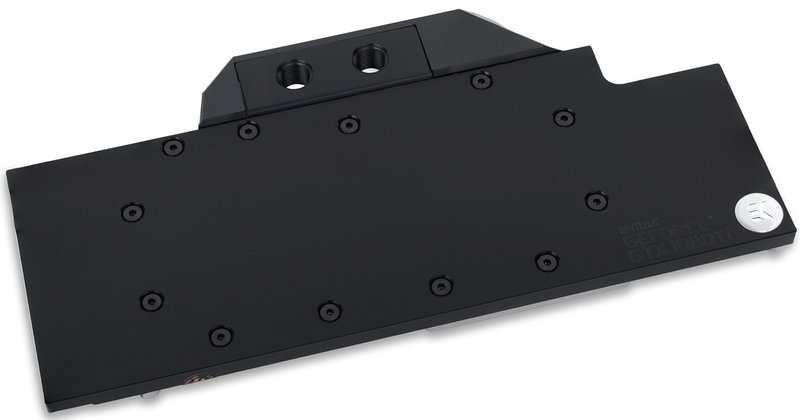 The base of the block is made of nickel-plated electrolytic copper and there are two different top models to chose from, one is made of a high-quality acrylic material while the other is made of POM Acetal material. The top material does not affect the block performance in any way, but the acrylic (Plexi) top also features two pre-drilled slots for 3mm LED diodes.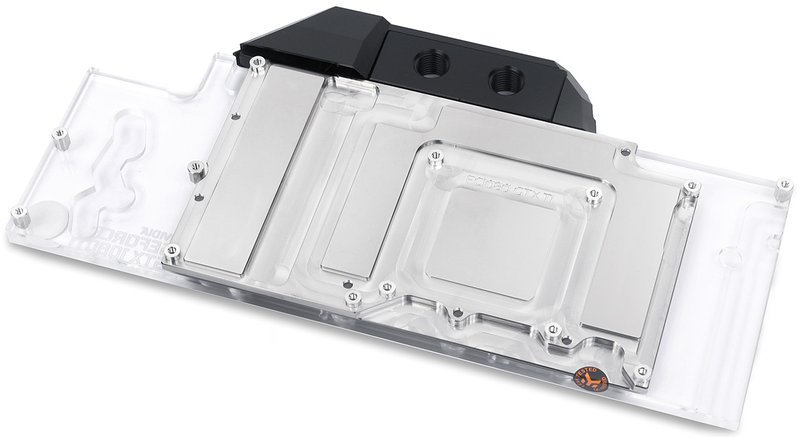 The block also features a special plastic cover over the block Terminal. This add-on is designed to reveal the graphics card model, visible from the side. EK also encloses a single-slot I/O bracket which replaces the original two-slot in order to make installation of multiple graphics cards easier and also transforms the GPU into a gorgeous single slot solution.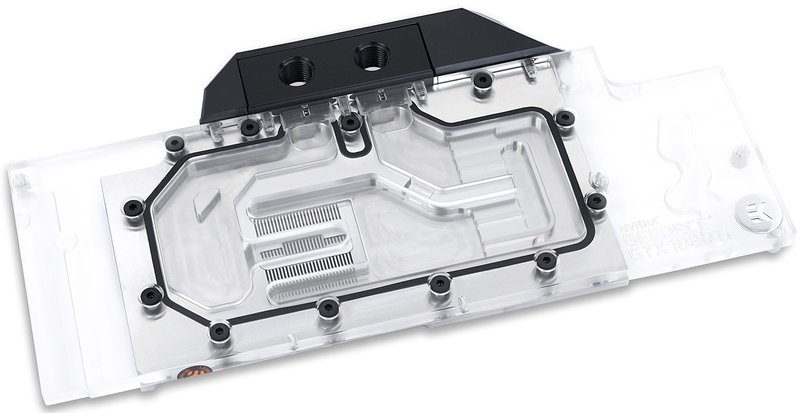 The new full cover water blocks are available for pre-order now and will become generally available next Wednesday, 12th of April, 2017. The water block comes with a €119.95 MSRP with the option to get a black backplate for an additional €29.95 or a nickel backplate for €37.95.
Compatible graphics cards include:
ASUS GeForce GTX 1080 Ti Founders Edition GTX1080TI-FE 11GB GDDR5X (90YV0AP0-U0NM00)
Colorful GTX 1080 Ti Founders Edition 11GB GDDR5X
ELSA GeForce GTX 1080 Ti Founders Edition (GD1080-11GERT)
Gainward GeForce GTX 1080 Ti Founders Edition 11GB GDDR5X (3897)
Gainward GeForce GTX 1080 Ti DuraPro 11GB GDDR5X
Galax GeForce GTX 1080 Ti Founders Edition 11GB GDDR5X (80IUJ3MDXXNM)
Galax GeForce GTX 1080 Ti 11GB GDDR5X (80IUJBMDP9VT)
GIGABYTE GeForce GTX 1080 Ti Founders Edition 11G 11GB GDDR5X (GV-N108TD5X-B)
Inno3D GeForce GTX 1080 Ti Founders Edition 11GB GDDR5X (N108T-1DDN-Q6MO)
KFA2 GeForce GTX 1080 Ti Founders Edition 11GB GDDR5X (80IUJ3MDXXNK)
KFA2 GeForce GTX 1080 Ti Blower 11GB GDDR5X
KFA2 GeForce GTX 1080 Ti EXOC 11GB GDDR5X (80IUJBMDP0EK)
KUROUTOSHIKOU GTX 1080 Ti Founders Edition (GF-GTX1080Ti-E11GB/FE)
Manli GeForce GTX 1080 Ti Founders Edition 11GB GDDR5X
Manli GeForce GTX 1080 Ti Blower/Komendar Fan 11GB GDDR5X (M-NGTX1080TI/5RIHPPP)
MSI GeForce GTX 1080 Ti Founders Edition 11GB GDDR5X (V801-1401R)
NVIDIA GeForce GTX 1080 Ti Founders Edition 11GB GDDR5X
Palit GeForce GTX 1080 Ti Founders Edition 11GB GDDR5X (NEB108T019LCF)
PNY GeForce GTX 1080 Ti Founders Edition 11GB GDDR5X (GF108IGTX11EPB)
Zotac GeForce GTX 1080 Ti Founders Edition 11GB GDDR5X (ZT-P10810A-10P)
Zotac GeForce GTX 1080 Ti Blower 11GB GDDR5X (ZT-P10810B-10P)