EKWB & MSI Unveil the Limited Edition MPG X670E Carbon EK-X Motherboard
---
---
---
Mike Sanders / 12 months ago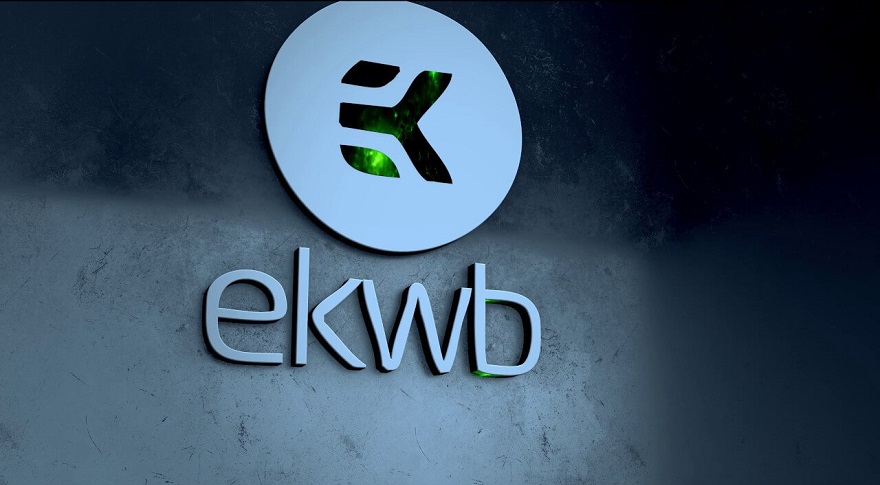 EKWB (EK Water Blocks) and MSI have partnered up to launch an X670E-based motherboard that comes packaged with a Quantum-design monoblock. This time, it will come in a Limited Edition run. The monoblock offers unparalleled cooling for the VRM section and the AMD Ryzen 7000 series CPUs, as well as a plethora of other nifty features, like the integrated flow meter and temperature sensor, allowing users to have precise checks on their loop status.
Cooling the Ryzen 7000 CPUs is no small feat, and air coolers struggle to get the most out of them. The new Ryzen 7000 series CPUs don't have a fixed frequency as CPUs used to. Instead, the boost clock is primarily contingent on thermals and, secondarily, power. Here's where liquid-cooled EK-Quantum Momentum² Monoblock comes into play. Not only does it make sure that your CPU is properly cooled, but it also ensures the power delivery system is as cool as possible. This allows the user to push performance to the limits while having a quiet system that stays as cool as possible.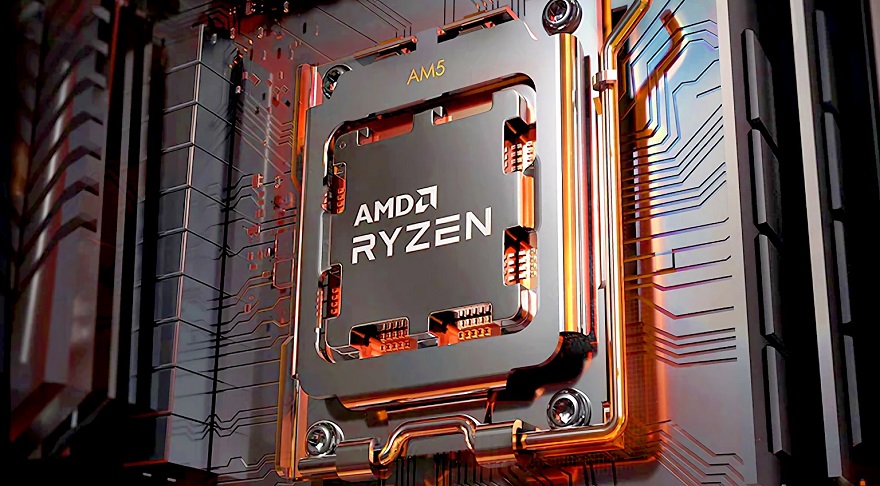 EKWB & MSI Limited Edition MPG X670E Carbon EK-X Motherboard
With its Momentum Monoblock, this new X670E motherboard sports a sleek, stealthy look in a modern monochrome pattern. A powerful 18+2+1 Power delivery System provides ample and stable power to the Ryzen 7000-series CPUs. The massive power delivery system allows for high overclocks and, by proxy, a significant boost in performance. The 7000 series Ryzen CPUs benefit greatly from low thermals, and boost clocks are primarily based on the temperature of the CPU. This is where the EK monoblock kicks in – to cool down both the CPU and the power delivery system, ensuring boost clocks that are unreachable with lower-end cooling.
This high-end X670E gaming motherboard and Momentum² monoblock cooling solution are packaged separately. The cooling solution is tailor-made for the EK-Quantum MSI MPG X670E CARBON only, and this bundle takes out all the guesswork from finding the right monoblock for your motherboard. With the monoblock come a few treats and features that are so far unseen on Carbon motherboards. The integrated temperature sensor allows you to monitor your coolant temperature and (in an ideal scenario) make fan curves based on coolant temperature. This will make sure the fans spin faster only when the coolant is actually warmed up and not when the CPU has a high peak load that spikes its temperature up for a brief time.
The EK-Quantum Momemtum² MPG X670E monoblock also features an integrated flow meter. This great little tool allows the user to monitor the flow of the loop and get ideal pump speeds dialled in for optimal performance-to-noise ratio. In case of a low or diminishing flow, it can also point out any potential clogs or issues in the system.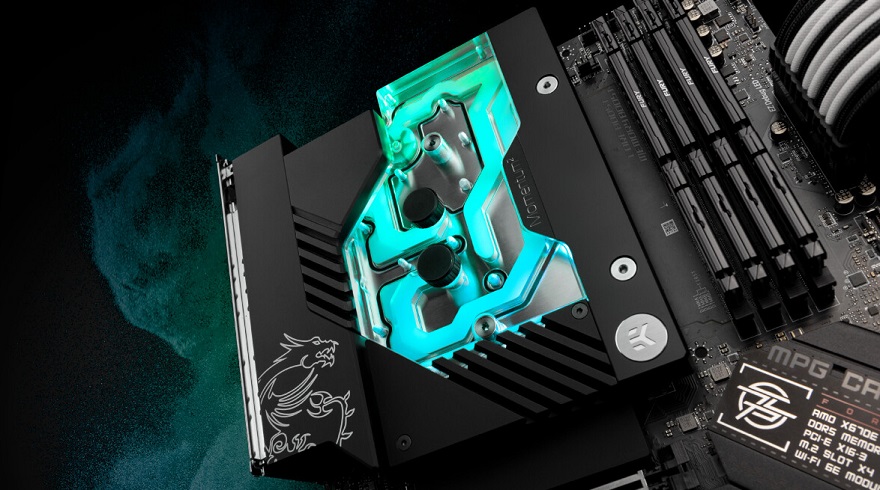 With the rising power requirements and heat output of the PCIe gen 5.0 SSDs, cooling the M.2 drives is now more critical than ever. The monoblock cools two front-mounted M.2 drives. An additional feature is that the monoblock part that cools these solid-state drives is removable, so you don't have to empty the system or remove the entire monoblock when replacing or adding new drives, allowing for a quick, easy, and very user-friendly process.
The monoblock base is made of nickel-plated electrolytic copper, while the top is made of high-quality CNC-machined cast acrylic glass material. The nickel-plated brass screw-in standoffs are pre-installed and allow for easy installation.
The lighting solution is covered with a premium-level black anodized aluminium piece, removing any unwanted hotspots and providing a more uniform lighting experience. The block is equipped with a 3-pin 5 V addressable D-RGB LED strip compatible with the motherboard's 3-pin 5 V addressable D-RGB LED header. The arrow marking on the 3-pin LED connector is to be aligned with the +5V marking on the addressable D-RGB header.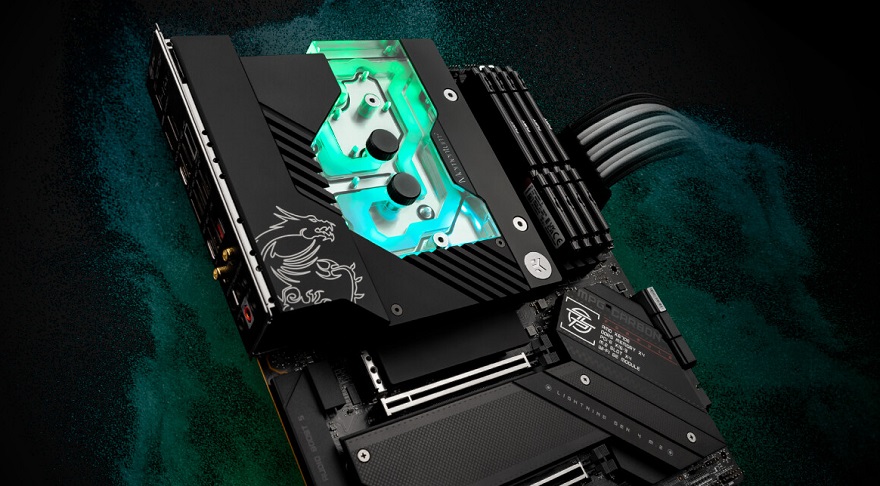 Features/Specifications
Supports AMD Ryzen 7000 series desktop CPUs
Supports DDR5 Memory, 6600+ (OC) MHz
Lightning Gen 5 PCIe and 2x Gen 5 M.2 solutions
Additional 2x Gen 4 M.2 SSD drive slots
Enhanced Power Design: 18+2+1 Duet Rail Power System (DRPS), 8+8 pin CPU power connectors, Core Boost, DDR5 Boost
MYSTIC LIGHT support
SMT (Surface Mount Technology) PCIe slot diminishes interference and electrical noise and fully supports the PCIe 5.0 signal.
M.2 Shield Frozr: Both M.2 slots with Shield Frozr are built for high-performance systems and a non-stop gaming experience
AUDIO BOOST 5: Isolated audio with a high-quality audio processor & amp for the most immersive gaming experience
2.5G LAN with LAN Manager, Bluetooth 5.2, and AMD Wi-Fi 6E Solution: Upgraded network solution for professional and multimedia use; delivers a secure, stable, and fast network connection
USB 3.2 Gen2 Type-C: Powered by AMD USB 3.2 Gen2 controller, with up to 20 Gbps
Pre-installed I/O Shielding: Better EMI protection and more convenience for the installation process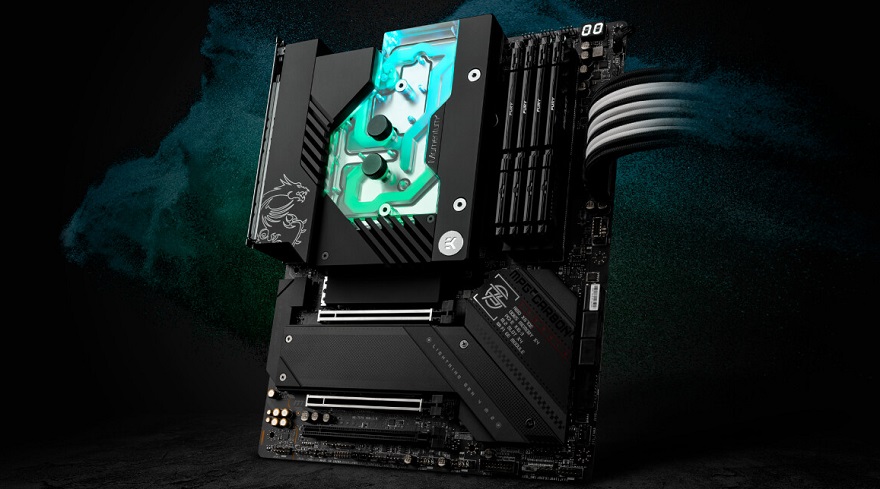 Where Can I Learn More?
The EK-Quantum MSI MPG X670E CARBON EK X motherboard is available for pre-order through the EK Webshop and worldwide retailers. This product is expected to ship out in mid-November 2022 for a price of €849.90.
If you would, therefore, like to learn more about this and other EKWB products, you can check out their official website via the link here!
What do you think? – Let us know in the comments!