EKWB Prepares Water Block for NVIDIA GeForce RTX 2080 Ti
---
---
---
Ron Perillo / 4 years ago

EKWB Taking Turing Underwater
Our very own Chief Andy Ruffell is present at Gamescom 2018 for the NVIDIA GeForce RTX 20-Series unveiling. Aside from the cards of course, there are other new items shown at the event. This includes EKWB's upcoming custom water block for the RTX 2080 Ti. The layout for the new RTX 2080 Ti is slightly different from the previous generation GTX 1080 Ti. Most notable in particular is the larger space for NVLink close to the rear.
The previous EK-FC did not even have a cutout in that area since the SLI connector can still plug in. There is still no cutout on the new version, except for the backplate area.
The power connector front end also has a protective notch cover with some cable sticking out. This is most likely due to the RGB LED lights along the edge which fires across the acrylic glass top.
The cooling engine at the center is also different, with the fins parallel now to the length of the card. So basically one connector passes directly into  the center instead of taking the long-way around. This should result in better cooling overall.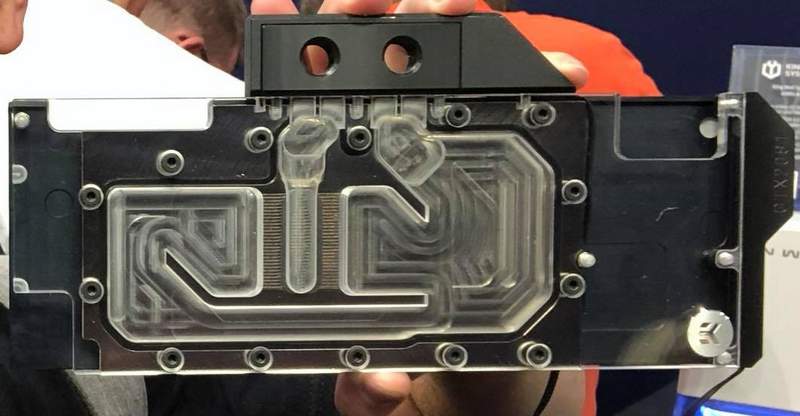 When Is This Water Block Coming Out?
The product is not listed yet on EKWB's website, but they have confirmed via Twitter that these will be available by September 20. The top end nickel plated acrylic glass top blocks with RGB LED are usually priced around $149 USD.
Here's a sneak peek. ?

Tags:#Nvidia #NvidiaGeForce #BeForTheGame #RTX2080Ti #RTX2080 #RTX2070
.
.
.
.
Coming soon on 9.20.2018 ? pic.twitter.com/opa0A0ocDj

— EK Water Blocks (@EKWaterBlocks) August 21, 2018