EKWB Unveil its Zotac 4090/4080 AMP AIRO and Trinity Water Blocks
---
---
---
Mike Sanders / 1 year ago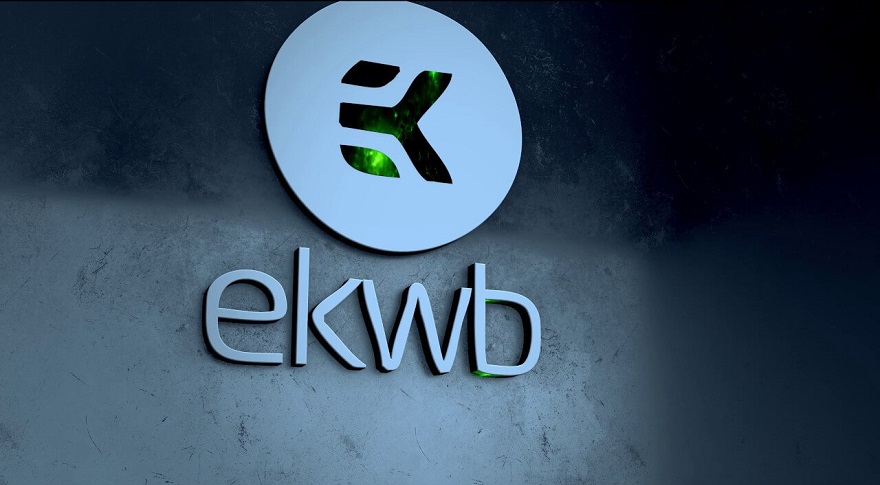 EK Water Blocks (EKWB) has announced the launch of the ultimate water cooling solution for Zotac AMP Extreme AIRO and Trinity GeForce RTX 4080 and 4090 graphics cards. Zotac's RTX 4090 cards get a water block with a passive backplate or a cooling solution with an active backplate that's sandwiching the card between two water blocks for the best possible cooling results. Zotac's RTX 4080 AMP Extreme and Trinity graphics cards get only a standard water block solution with a passive backplate and no active backplate.
The EK-Quantum Vector² AMP/Trinity RTX 4090 and EK-Quantum Vector² AMP/Trinity RTX 4080 are single-package liquid cooling solutions consisting of a Vector² series water block and a black-anodized aluminium backplate. As with the previous 30-series Vector² water blocks, its aesthetics are dominated by minimalistic straight lines and the backplate coming around the side of the GPU to cover the PCB completely.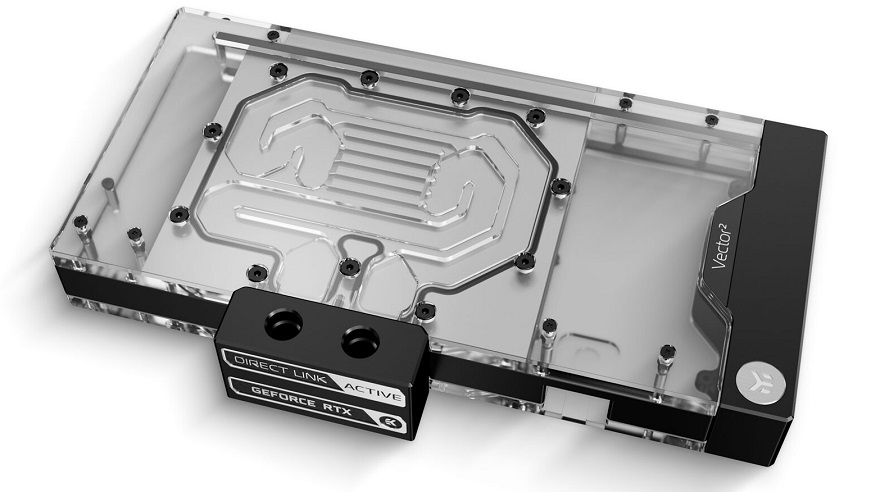 EKWB Zotac 4090/4080 AMP AIRO and Trinity Water Blocks
The Vector² cooling engine combines the jet plate with a 3D-machined Plexi insert to improve flow distribution and thermal performance. This cooling engine is based on an Open Split-Flow cooling engine design, which proved to be a superior solution for GPU water blocks. It is characterized by low hydraulic flow restriction, meaning it can be used with weaker water pumps or pumps running on low-speed settings and still achieve top performance. EK took great care to achieve a symmetrical flow domain by utilizing an internal bridge to secondary components. This was done to ensure the cooling of secondary components without sacrificing flow distribution over the GPU core.
All Vector² GPU water blocks use an 11 mm-thick copper cold plate with a directly attached acetal terminal and a robust single O-ring top design. This simple construction provides confidence during customization and maintenance. Both 4080 and 4090 AMP/Trinity water blocks include a black-anodized aluminium backplate and a base that is CNC-machined out of nickel-plated electrolytic copper.
The D-RGB LED lighting is deployed on the longest edge of the water block for improved uniformity and brightness. The PCB and diodes are concealed inside a clean aluminium extrusion. – Tactile magnetic covers are used to conceal the terminal screws, which allows the rotation of the badge when the GPU is inverted inside the case.
These GPU water blocks have a specific cutout that enables the use of the included multi-use tool for decoupling the PCIe safety on the motherboard and easy unplugging of the GPU. The same tool can also be used to detach the power cable more easily and tighten the standoffs.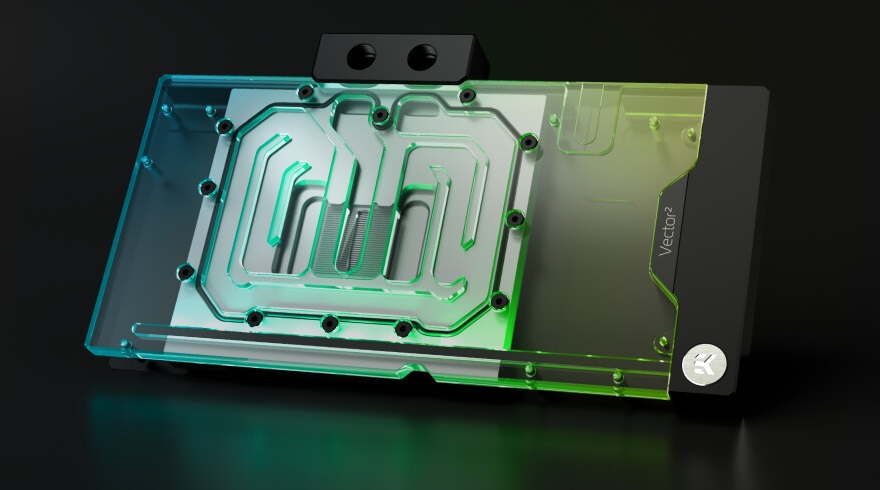 Features
EK-Quantum Vector² Backplate
Each Vector² water block comes with a CNC-machined black-anodized backplate. Captive nickel-plated mounting screws are included to replace the original black screws. The backplate has a new L-shaped profile that comes in contact with the water block's base and encloses the entire GPU while increasing the cooling surface. This connection between the backplate and the water block improves the performance even more by boosting the heat transfer efficiency.
EK-Quantum Vector² AMP/Trinity RTX 4090 D-RGB ABP Set
This ultimate cooling set consists of a high-performance GPU water block and the latest generation Active Backplate cooling solutions in a single enclosure. Although Zotac AMP Extreme and Trinity RTX 4090 GPUs don't have VRAM on the backside, the active backplate still helps lower the temperatures by cooling the PCB behind the core, VRM, and VRAM. Since there's a lot of copper in the PCB, it soaks a significant amount of heat and transfers it across its surface, thus warming other components. By effectively cooling the PCB, the entirety of the GPU becomes cooler.
The active backplate is a full-blown water block with its own copper cold plate and a full-length acrylic top. The connectivity is also taken to another level with "Direct Link" terminals that implement a conventional 4-port layout, allowing serial and parallel connections from adjacent or opposing sides of the block.
This is the ultimate combination of a Vector² water block, an Active Backplate, and a mounting mechanism, available in a Nickel + Plexi version. It comes with an included EK-Quantum Vector² AMP/Trinity RTX 4090 D-RGB ABP Side Cover in the anodized black finish. The side cover is placed between the GPU water block and the active backplate to conceal the GPU PCB. This allows users to buy the ultimate all-around cooling set for their GPU, ensuring the best possible cooling and performance uplift. – The combination of the EK-Quantum Vector² AMP/Trinity RTX 4090 water block, the EK-Quantum Vector² AMP/Trinity RTX 4090 Active Backplate, and the EK-Quantum Vector² AMP/Trinity RTX 4090 ABP side cover envelops the GPU from all sides.
EK-Matrix7 Standard
EK-Matrix7 standardizes the dimensions of products, including the port position and spacing, thus making liquid cooling loop assembly easier and more intuitive. All Vector² products feature full EK-Matrix7 compliance in every axis, ensuring easy integration and alignment with other EK-Matrix7 products. This perfect alignment of ports in both horizontal and vertical positions means less time is spent planning the loop and bending the tubes, with the end result being an epic build.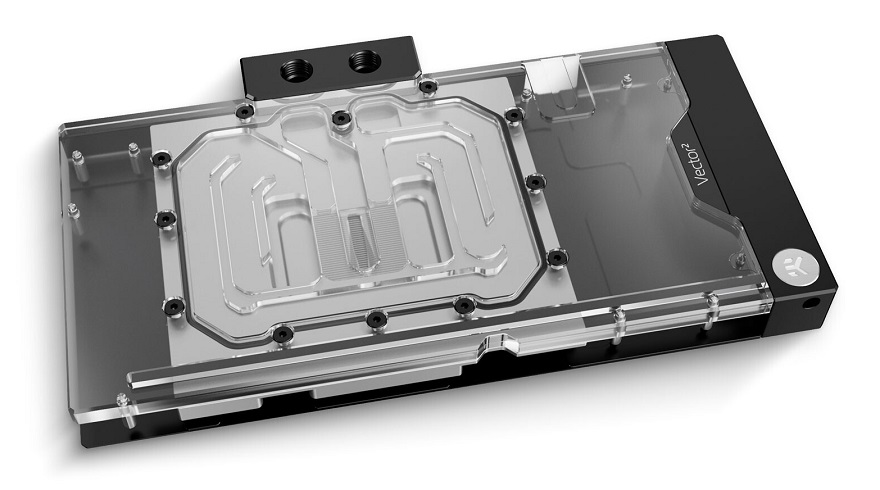 Price & Availability
The EK-Quantum Vector² AMP/Trinity RTX 4090 water blocks and ABP Sets, as well as EK-Quantum Vector² AMP/Trinity RTX 4080 water blocks, are available for pre-order through the EKWB Webshop and Partner resellers with shipments expected to start rolling out in December 2022.
EK-Quantum Vector² AMP/TRINITY 4080 D-RGB – Nickel + Plexi – €264.90
EK-Quantum Vector² AMP/TRINITY 4090 D-RGB – Nickel + Plexi – €264.90
EK-Quantum Vector² AMP/TRINITY 4090 D-RGB ABP Set – Nickel + Plexi – €399.90
If you do, therefore, want to learn more about this and other EKWB products, you can check out their official website via the link here!
What do you think? – Let us know in the comments!