Electric Supercar Sets 7 Minute 56.234 Second Time On The Nürburgring
---
---
---
Peter Donnell / 9 years ago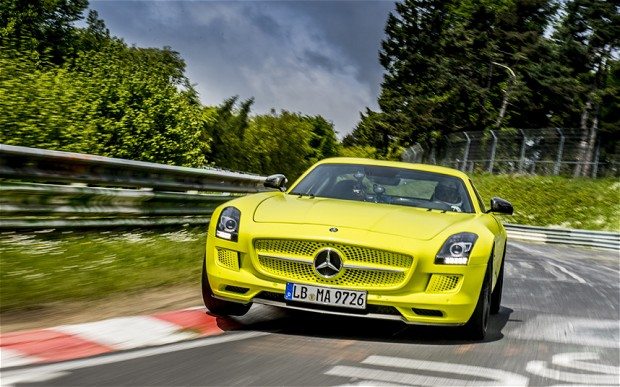 Mercedes-AMG has set a new world record for electric cars by blasting their way around the legendary circuit in under eight minutes, making their new electric car the new leader for electrically powered production cars.
The Mercedes-Benz SLS AMG Coupé Electric Drive is now the first car in the world to have broken the frighteningly quick 8 minute barrier at the Nürburgring, which is damn impressive given the course is 13 miles long and features some of the most demanding corners in race track history, a course that has taken many lives over the years due to its alarming complexity and scale.
The new car from Mercedes clocks in at a whopping 751hp, which was able to propel it around the track in 7 minutes and 56.234 seconds.
Ola Källenius, chairman of Mercedes-AMG GmbH, said: "Mercedes-AMG impressively shows the potential of the SLS AMG Coupé Electric Drive with this new record on the Nürburgring Nordschleife. Mercedes-AMG is the first vehicle manufacturer to have circled the Nordschleife in under eight minutes with an electrically powered series production vehicle. This record run is further proof for our constant innovative vigour."
The car is powered by a series of four electric motors, with one close to each wheel, this setup is effectively the same as four wheel drive albeit with each wheel powered individually. The car was able to hit 62mph in 3.9 seconds and reach a top speed of 155mph (limited).
This isn't even a "one off" model either and the car is available for a whopping £353,863, so long as you don't mind driving on the left only.
It's impressive to see just how far electric car technology has progressed and if the future really is electric vehicles then we really need a high end electric car motorsport to push the technology further, this  AMG is definitely a step in the right direct, green and blazing fast.
Source and image courtesy of Telegraph