Enermax ETD-T60-VD Low Profile CPU Cooler Review
---
---
---
Luke Hill / 9 years ago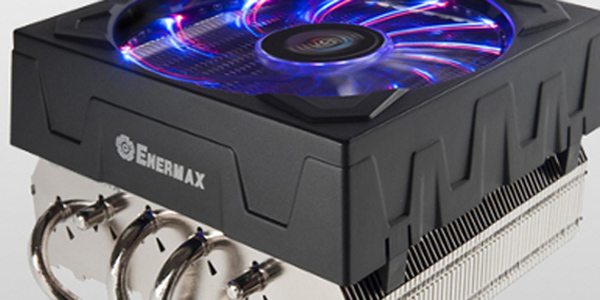 With the emphasis on small form factor (SFF) computing continuing to grow, the requirement to cool these space-constrained system grows alongside. Users who prefer a small chassis which can be easily hidden but still offers plenty of expansion for their needs also require thought by cooling manufacturers when they come to design a CPU cooler for every market. Enermax have done exactly that by offering a CPU cooler which appeals to a wide variety of markets. The ETD-T60-VD will keep SFF users happy by using a low profile, top-down design while people who like flashy lights and extravagant styles inside their system will love the multi-coloured Vegas Duo fan.
Enermax's ETD-T60-VD may not be your typical low profile CPU cooler. It utilizes 6 6mm high performance heatpipes which cross each side of the down-facing aluminium fin array. Performance enhancements such as Enermax's patented VGF (Vortex Generator Flow) and VEF (Vacuum Effect Flow) technologies ensure that the ETD-T60-VD won't falter when it comes to thermal loads. Nickel-plating ensures the lifespan of your CPU cooler is kept to a maximum while the down flow style of the ETD-T60-VD can help enhance the longevity of your motherboard components such as the MOSFET and North Bridge. Enermax use one of their highly regarded 120mm T.B. Vegas Duo fans which operates from a 4-pin PWM connector and features mutli-coloured, circular LED lights to produce an eye-catching style.
The ETD-T60-VD retails for around £45/€48/$49.99 meaning that it will have to offer excellent cooling performance to win over the low profile CPU cooling market. Compatibility with all modern Intel and AMD sockets except LGA 2011 ensures that almost anybody can make use of Enermax's pinnacle of low profile CPU cooling. So can Enermax offer the competitive performance necessary to survive in a competitive market?