ESO Flames of Ambition DLC and Update 29 Launches Today!
---
---
---
Peter Donnell / 3 years ago
It's been a tough year in more ways than one, and with the global pandemic, games are proving more popular than ever before. However, with the issues of working from home, lockdowns and all that jazz, game development had a fair few hurdles. I'm a big Elder Scrolls Online fan, but it's fair to say that it had some issues in 2020 as they tried to maintain their usual release schedule while working remotely, but also dealing with a huge increase in player numbers and hours on their servers. They've sworn to take their time and get it right this year, and so far, it seems that's exactly right.
Actually, today may be one of the biggest days in the game's history, as we're in for one of the most significant updates to the game since the release of One Tamriel as they roll out ESO Update 29!
That does mean the servers are down until 3 pm GMT today. However, we fully expect issues and extensions to that. History is a great teacher in that respect, and when they're making so many changes… well, they're bound to hit a snag, unfortunately.
Maintenance for the week of March 8:
[IN PROGRESS] PC/Mac: NA and EU megaservers for patch maintenance – March 8, 2:00AM EST (7:00 UTC) – 10:00AM EST (15:00 UTC)
Xbox One: NA and EU megaservers for maintenance  – March 10, 6:00AM EST (11:00 UTC) – 9:00AM EST (14:00 UTC)
PlayStation®4: NA and EU megaservers for maintenance – March 10, 6:00AM EST (11:00 UTC) – 9:00AM EST (14:00 UTC)
Flames of Ambition DLC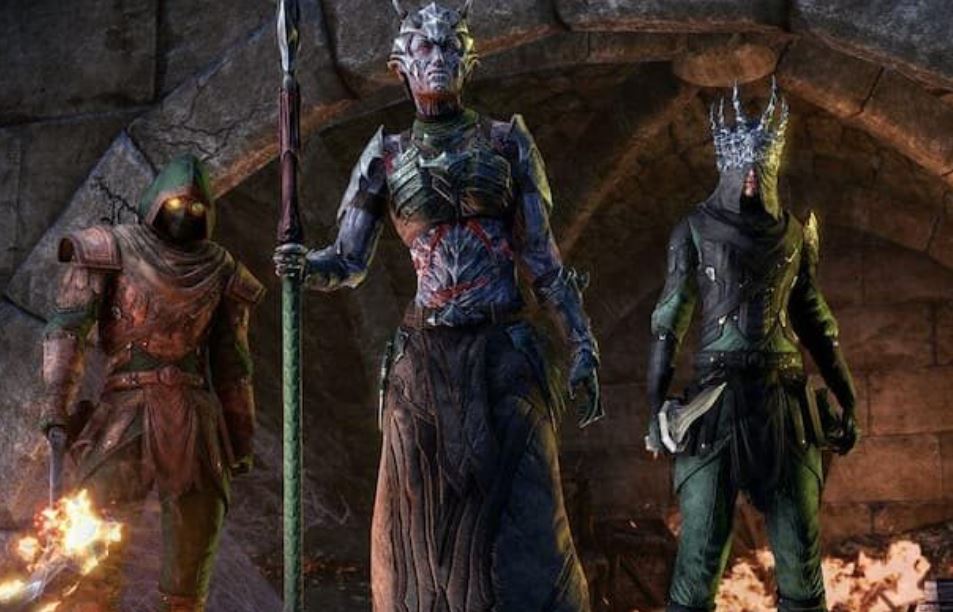 Two new dungeons will be added to the game with this update; Cauldron and Black Drake Villa, which also means new armours will drop from those runs, and offer a mixture of normal/veteran, and hard mode variants to play through. These will be included as part of your ESO Plus subscription, or can be purchased in the Crown Store.
Champion Points 2.0!
The long-standing level cap of CP810 is being replaced by the new cap of CP3600, which is a HUGE step up. This isn't just more levels to grind either, but also a completely new way of applying those skill points to each character. Base statistic are being rebalanced, and races are being tweaked, skills are being adapted. This is a sweeping and incredibly in-depth change. Basically, everyone in the game today will be given the ability to respec and adapt to the new system freely. It's going to be interesting, especially for me. I've got 12 characters to rework!
"We decided to rebuild the Champion System in Update 29 as this system ties up a lot of changes we've made over the past two years," explains Brian Wheeler, ESO's Combat Lead. "When you look at the original Champion System, it had a lifespan associated with it that meant that there was no real progression after a certain point. In addition, the original system also had a lot of power creep because it provided passive gains across the board for your damage, healing, and regen."
Build a New You
The Heroes Reforged mini-event launches with this update for each platform (PC/Mac: Monday, March 8 at 3 PM GMT; Xbox One and PlayStation 4: Tuesday, March 16 at 2 PM GMT), this event will run for two weeks and allow you unlimited free respecs from Rededication Shrines for the following:
Attributes (Health/Stamina/Magicka)
Skills (and Morphs)
Champion Points (from the Champion Point system menu)
Note that the above start times may shift depending on when Update 29 goes live and servers open, and when you first log in, all Skills and Champion Points will be automatically reset.
"While the changes coming with Update 29 impact only the Champion System, we know that you'll likely want to test many builds, so for two weeks you can reset, respec, and rebuild any and all of your characters as many times as you want for free when using a Rededication Shrine or the Champion Point redistribution function—easy!" – ESO
Finally, this is not a full in-game event (such as the Midyear Mayhem or the recent Tribunal Celebration), and as a result, it will not have Event Tickets or unique rewards—just free re-specializations. That's two weeks to experiment and test your builds at no cost.
Free Pet
Because Update 29 requires a mandatory skill respec (including both Champion Points and Skill Points), we're also offering the Ambersheen Vale Fawn pet from the in-game Crown Store, completely free!
Changelog
Well, it's extensive, with sweeping changes and minor adjustments covering everything from PVP to your guild traders. you can check them out here!
More to Come?!
Of course, this DLC release and update is merely the start of the Gates of Oblivion content cycle, things are only just getting started! The Blackwood DLC launches in few short months. So, here's a few things to keep you busy.
Where to Play?
You can pickup The Elder Scrolls Online in all its forms here.