ESPN to Air 10 Million USD Dota 2 Gaming Tournament
---
---
---
Chris Smith / 8 years ago

As released today, Valve has announced ESPN will be showing live coverage of their 10 million dollar electronic sports tournament, simply labeled 'The International'.
The International has been run yearly since 2011, with Valve pitting 1.6 million dollars of funded prize pool in recent times. To help increase this incentive, Valve pitched it to their Dota2 community for further support. For $10 USD, any player can purchase a 'compendium' which delivers $2.50 into the prize pool directly and also give the user a bunch of in-game items, skins and benefits. Doing the math, this means roughly 8.4 million was raised directly from the communities donation, with a ton more going directly to the game manufacturer.
Currently, the International has just finished its playoff stages and has come up with a final eight teams all fighting for the trophy. As according the Valves press release, ESPN are now set get in on the action:
"Valve today announced that coverage of The International Dota 2 Championships will be presented in collaboration with ESPN on its live multi-screen sports network, ESPN3. In addition, an exclusive show previewing the final match will be presented on ESPN2 on Sunday at 8:30 pm Pacific. Live access to ESPN2 is also available on digital platforms via WatchESPN." Steampowered

Valves Erik Johnson commented on the partnership:
"From the success of the Compendium to the collaboration with ESPN, this year's International really demonstrates how much competitive gaming has grown to rival traditional sports. We believe the teams have also pushed to a new level of play this year and will further demonstrate the incredible advances made across this tournament since it first began three short years ago." Steampowered
This is huge news for the eSports community, whom are always pushing for their favorite pastime (or in some cases, occupation) to be pushed into the mainstream-media spotlight. Another positive note is that this years 10 million dollar prize pool is a massive jump to that of 2013, which grossed only 2.8 million in comparison. This may be just the push that eSports needs to make its way into more homes.
Wondering how this 10 million dollar prize pool matches up with 'regular' sporting events? Thanks to Tournament.com we've had it laid out easily for us.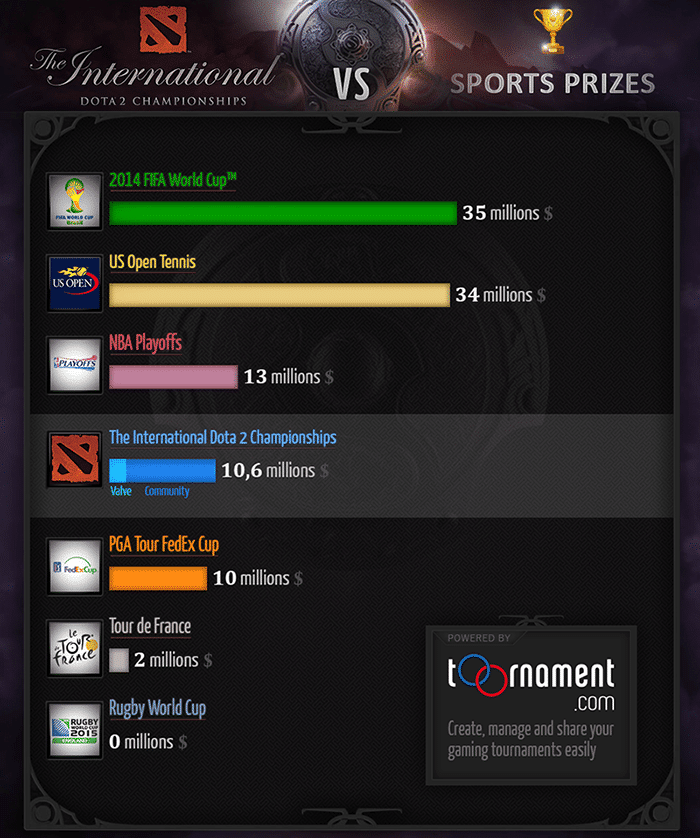 For those who don't have the ability to watch on ESPN, Twitch.tv will be running multiple online streams of the finals.
Is there anything else valve have up their sleeve? We're waiting with twitching anticipation for any further announcements.
Image courtesy of Gosu Gamers