Evercool Buffalo CPU Cooler Review
---
---
---
Andy Ruffell / 11 years ago

CPU coolers have always come in many flavours from various companies. A typical style has recently immerged for the use of huge heatsinks with fans mounted on one side, in the middle, or both sides. They usually have some form of heat pipes attaching the heatsinks to the copper base. The Evercool Buffalo is no exception to this template of design but might be more of a budget CPU cooler.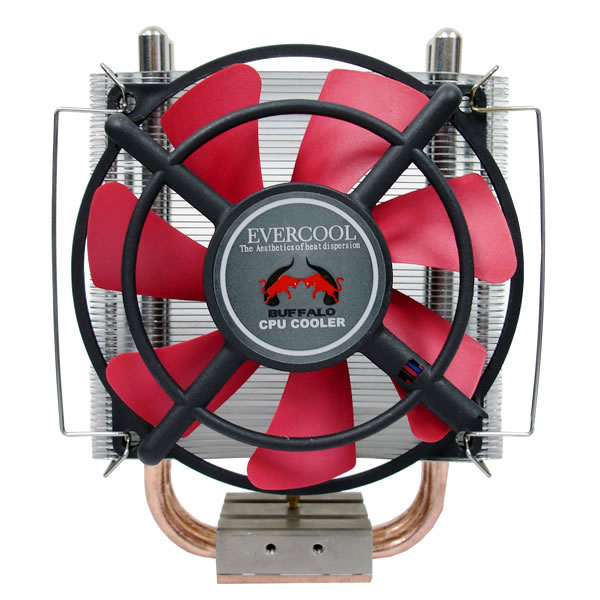 Evercool are a very experienced manufacturer of cooling products and their product line-up include; CPU Coolers, Notebook Coolers, VGA Coolers, H.D.D. Coolers, System Coolers, Memory Coolers, Games Console Coolers, Creative Coolers(for routers and other items) as well as case fans and other accessories.
Specifications[HR][/HR]
[TABLE=width: 277]
[TR]
[TD=class: ax1, bgcolor: #FFFFE6]Overall Dimension :[/TD]
[TD=class: ax1, width: 136, bgcolor: #FFFFFF]110 x 72 x 142.7 mm[/TD]
[/TR]
[TR=class: c7, bgcolor: #FFFFFF]
[TD=bgcolor: #FFFFE6]DC Fan Size :[/TD]
[TD=bgcolor: #FFFFFF]100 x 100 x 25 mm[/TD]
[/TR]
[TR=class: c7, bgcolor: #FFFFFF]
[TD=width: 130, bgcolor: #FFFFE6]Base Material :[/TD]
[TD=bgcolor: #FFFFFF]Heat Pipe[/TD]
[/TR]
[TR=class: c7, bgcolor: #FFFFFF]
[TD=width: 130, bgcolor: #FFFFE6]Bearing Type :[/TD]
[TD=bgcolor: #FFFFFF]Ever Lubricate Bearing
(Long Life bearing)[/TD]
[/TR]
[TR=class: c7, bgcolor: #FFFFFF]
[TD=width: 130, bgcolor: #FFFFE6]Speed :[/TD]
[TD=bgcolor: #FFFFFF]1800 ±10% RPM[/TD]
[/TR]
[TR=class: c7, bgcolor: #FFFFFF]
[TD=width: 130, bgcolor: #FFFFE6]Noise Level :[/TD]
[TD=bgcolor: #FFFFFF]<23 dBA[/TD]
[/TR]
[TR=class: c7, bgcolor: #FFFFFF]
[TD=bgcolor: #FFFFE6]Rated Voltage :[/TD]
[TD=bgcolor: #FFFFFF]12 V[/TD]
[/TR]
[TR=class: c7, bgcolor: #FFFFFF]
[TD=bgcolor: #FFFFE6]Weight :[/TD]
[TD=bgcolor: #FFFFFF]500[/TD]
[/TR]
[/TABLE]